Top 5 Magento 2 GDPR Extensions - Free and Paid
Magento 2 GDPR simplifies compliance with data protection regulations. It offers a seamless approach to safeguarding sensitive information. In this article, we cover the top 5 Magento 2 GDPR extensions. We'll also explore how these extensions enhance your e-commerce data protection strategies.
Key Takeaways
Discover 2023's top Magento GDPR extensions: Plumrocket, Mirasvit, Mageplaza, Aheadworks, and MagentiCity's Free GDPR Magento 2 Extension.

Understand how using these extensions helps ensure compliance with GDPR and protect customer data on your online store.

Explore how these extensions help build customer trust, avoid costly penalties, and streamline data management processes.
Top 5 Magento GDPR Extensions for 2023
1. Magento 2 GDPR Extension by Plumrocket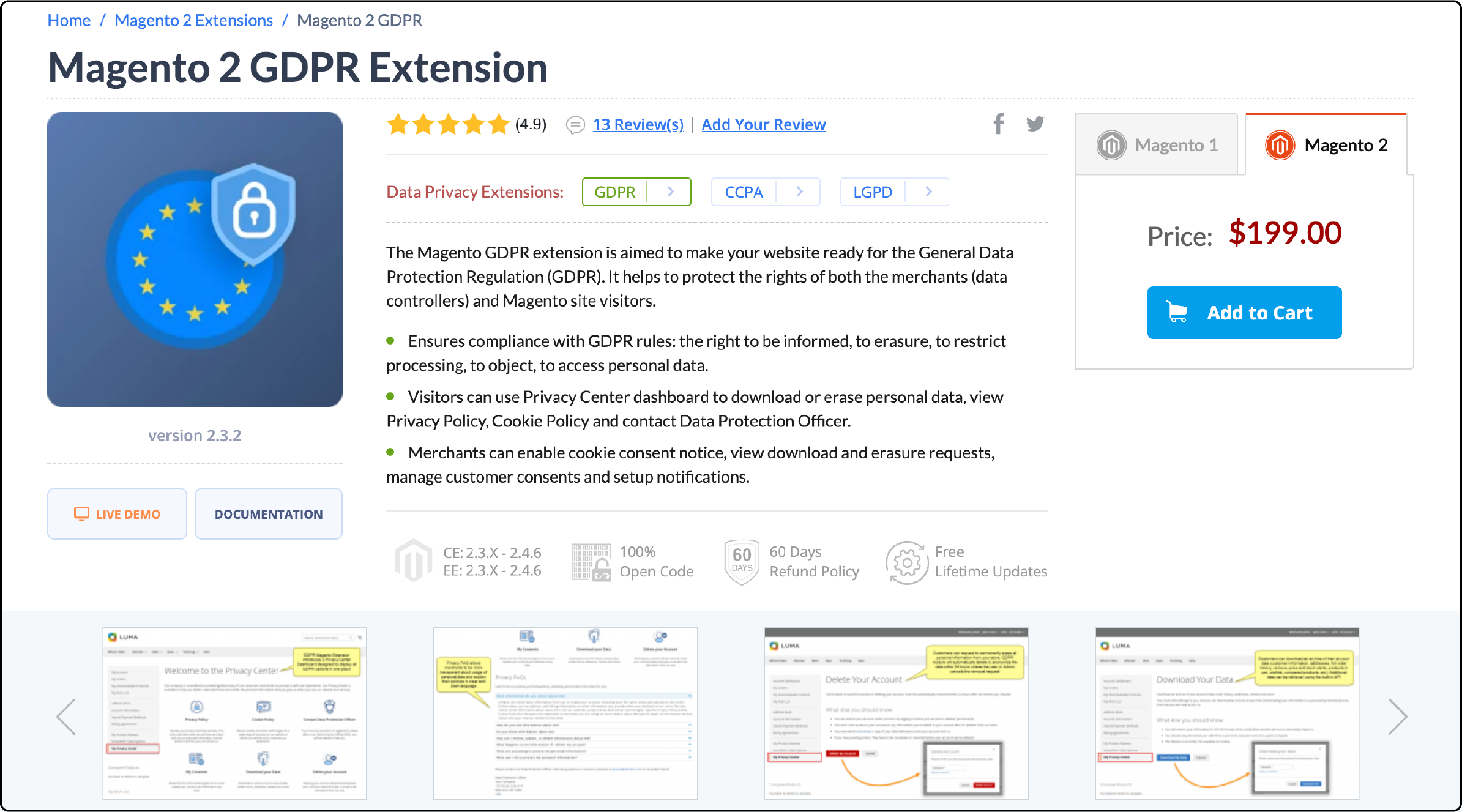 Magento 2 GDPR Extension by Plumrocket offers a top-notch Magento 2 GDPR Extension. This tool makes it easy to follow the General Data Protection Regulation (GDPR) rules. It deals with personal data safely, including the management of downloading personal data.
It allows store owners to keep track of all customer requests for their data. In the event of a problem, such as a data breach, it is used to notify customers and store owners. It ensures quick response and adherence to GDPR standards.
Features:
Central dashboard to view, download, delete, and update email preferences.
Custom cookie consent notice that complies with GDPR and other data privacy laws.
A way for customers to request access to downloading personal data, have it erased, or have it restricted.
Data exporting allows customers to download a copy of their data.
Removal requests to enable customers to either delete or anonymize their accounts.
Price: Starting at $199
2. Magento 2 Cookie Consent by Mirasvit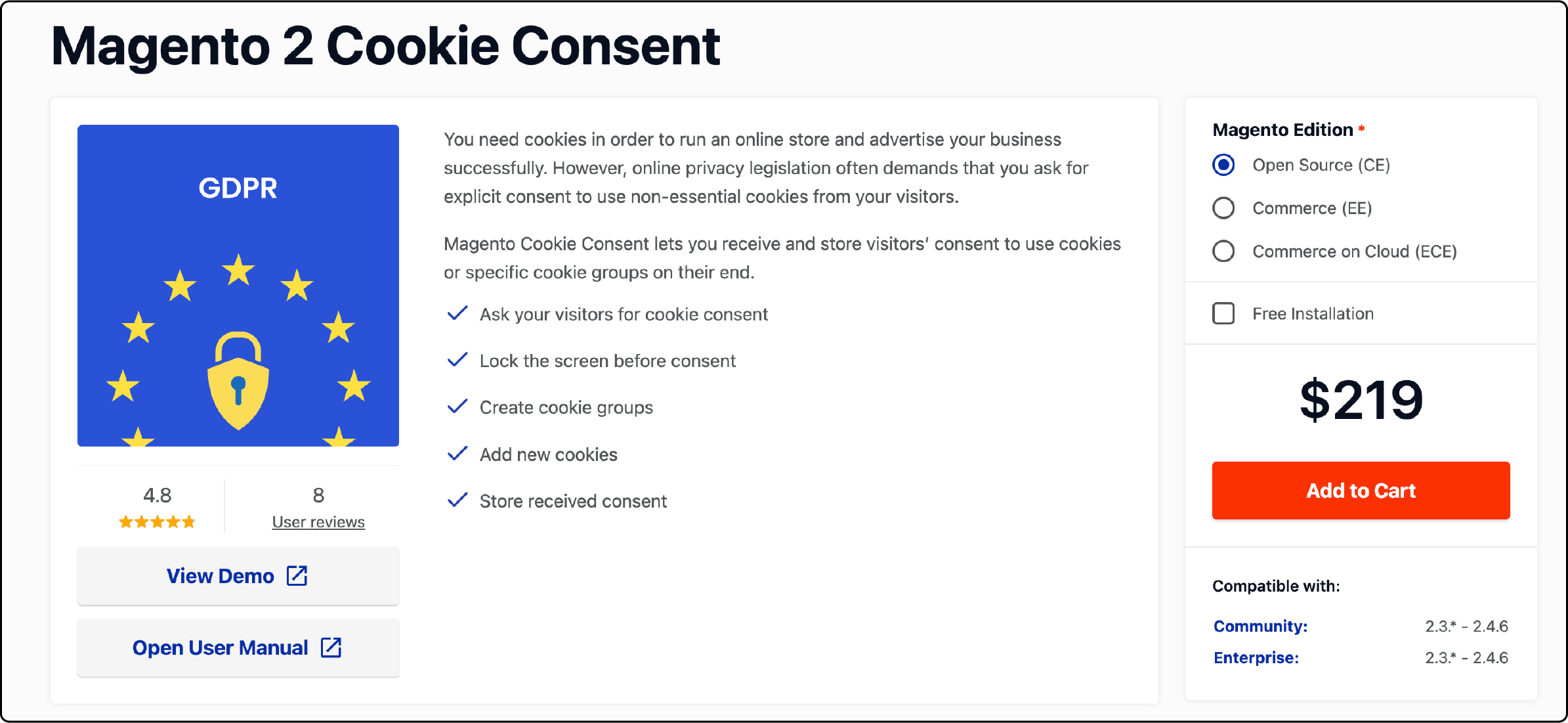 Magento 2 Cookie Consent by Mirasvit lets you manage customer data smartly and safely. This extension tracks all user actions. It also allows you to choose whether to share your account data with your details on the checkout page. You can even use it to delete your account data permanently.
Features:
Custom cookie consent banner to change the appearance and content of your cookie.
GDPR compliance for your website by obtaining user consent for cookies.
Categories for your cookies to allow users to opt in or opt-out selectively.
Automatic detection of the user's location to display relevant cookie consent options.
Specific time intervals or triggers for displaying the cookie consent banner.
Analytics tools to track user consent preferences and cookie usage.
Comprehensive cookie policy to inform users about your website's cookie practices.
Price: Starting at $219
3. GDPR for Magento 2 by Mageplaza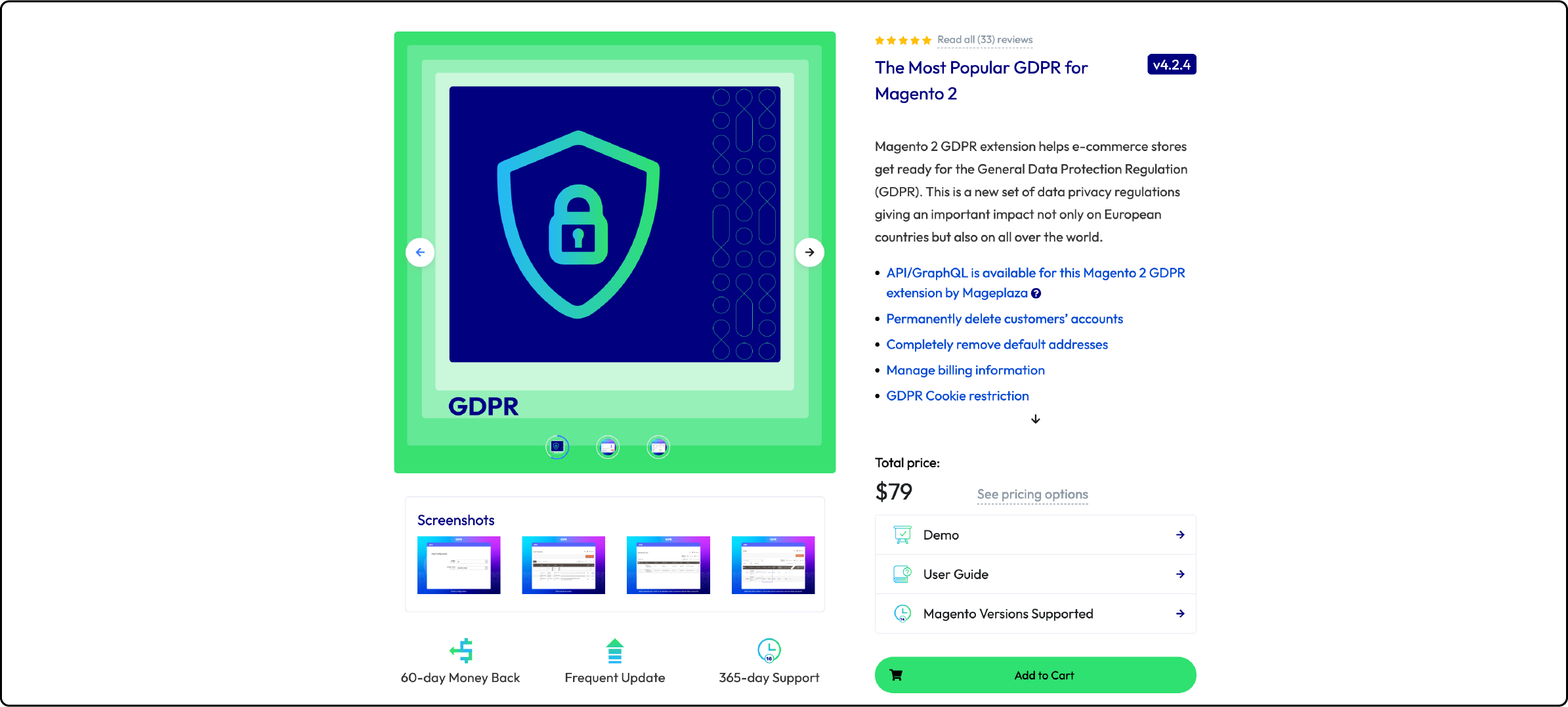 GDPR for Magento 2 by Mageplaza is crucial in safeguarding your store against hefty fines. It enables customers to erase, copy, or move their data. It offers free support and securely stores and manages customer consent.
Features:
Customized cookie consent banner for your Magento 2 website.
Categorized cookies to let users choose which type they want to allow.
Tailored consent banner to match your website's style.
Link to your cookie policy for transparency.
Automatic detection of user locations for region-specific consent settings.
Seamless integration with Google Analytics and other tracking tools.
Record tracking of user consent for legal documentation.
Price: Starting at $79
4. GDPR for Magento 2 by Aheadworks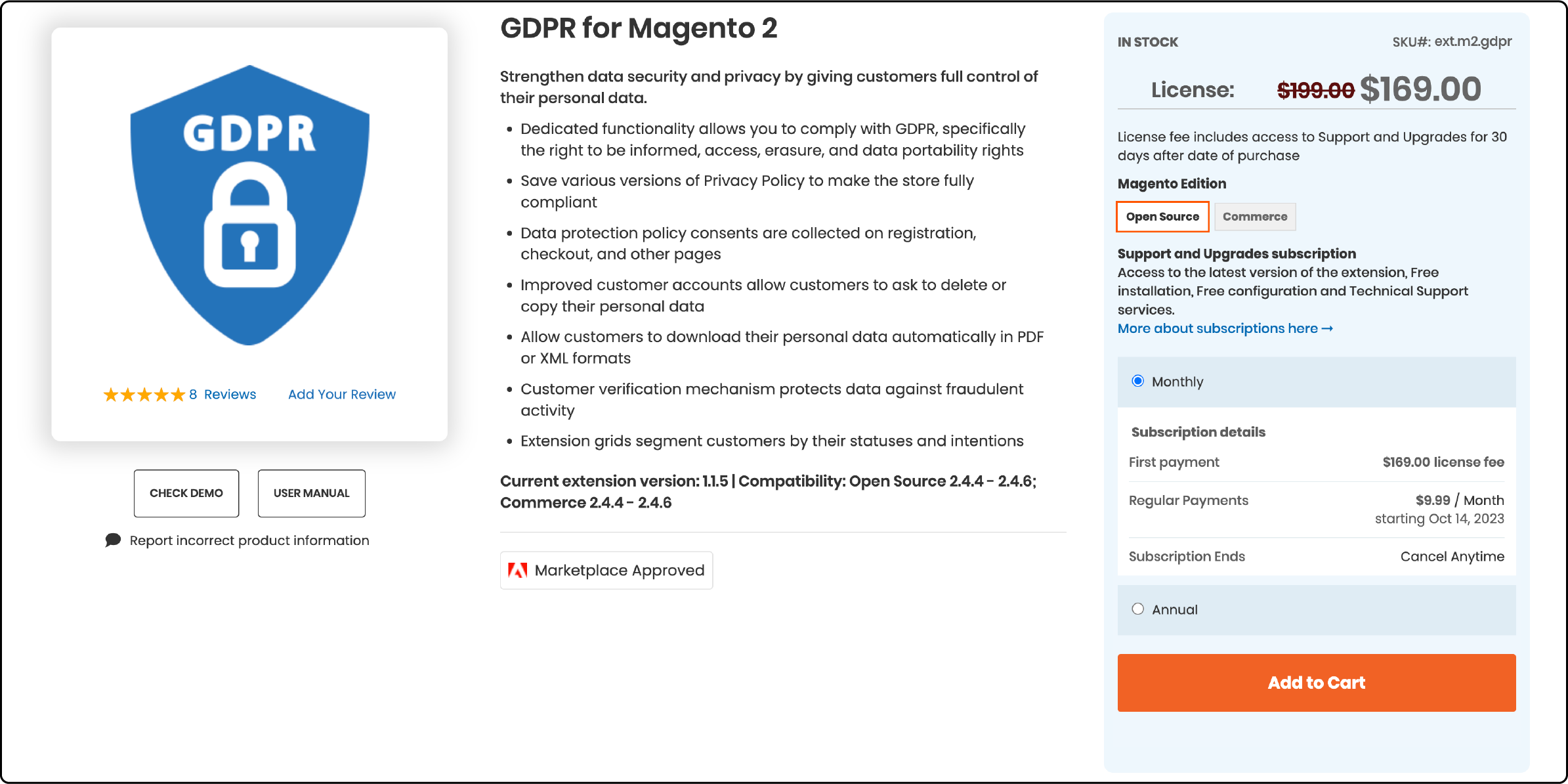 Magento 2 GDPR by Aheadworks helps store owners protect customer data and build trust. It allows customers to easily manage their personal information and account preferences, including deletion and removal requests. It also exports data in CSV file format. It retains customers' data, preventing costly penalties for non-compliance with removal requests.
Features:
Manage customer consent before processing personal data.
Allow customers to correct their personal information if it needs to be more accurate or complete.
Cookie consent banner to inform visitors about cookie usage and obtain consent.
Privacy policies to ensure transparency about data handling practices.
Compliance with GDPR requirements by promptly notifying authorities and affected customers in case of a data breach.
Price: Starting at $169
5. Free GDPR Magento 2 Extension by MagentiCity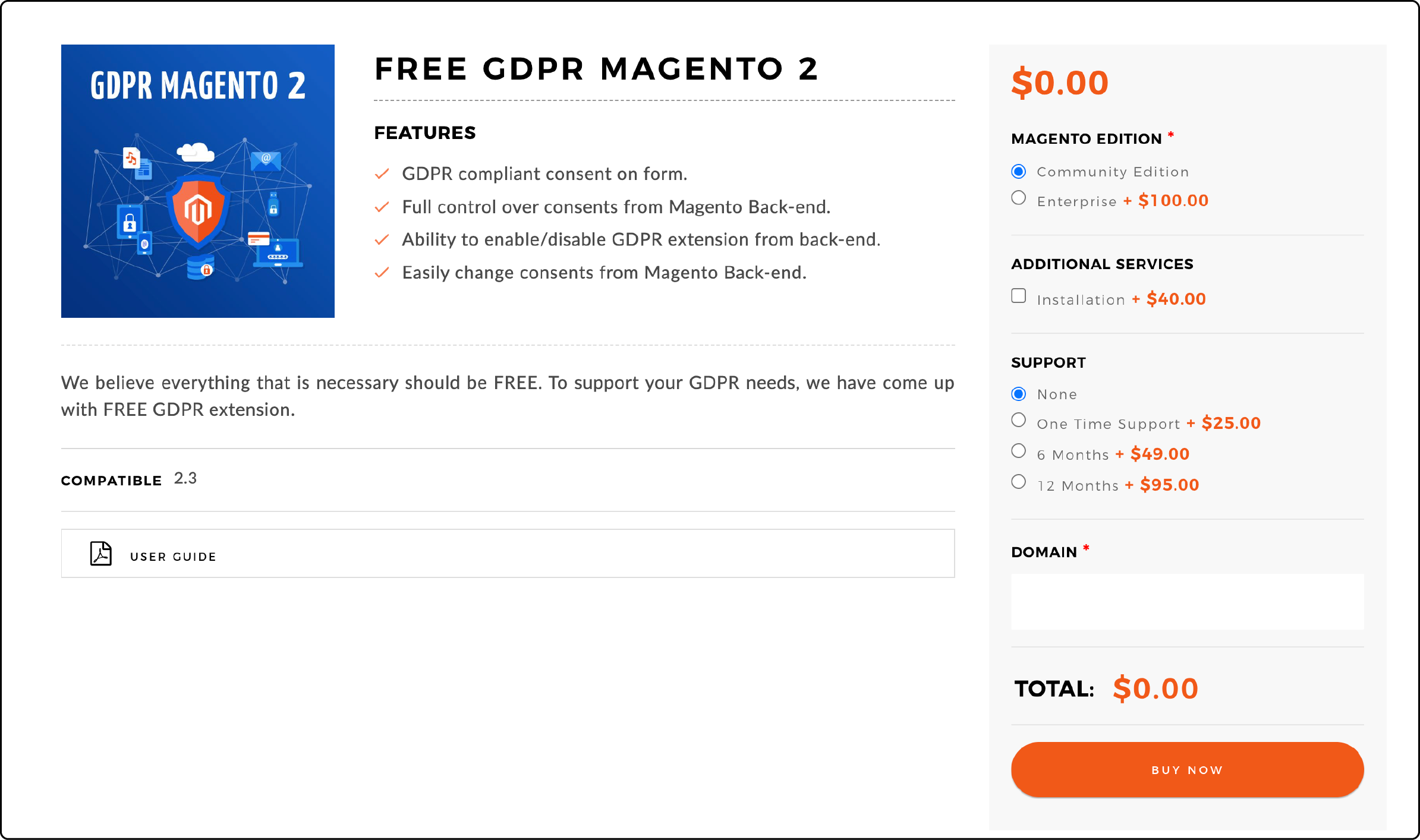 Free GDPR Magento 2 by MagentiCity helps online store owners comply with GDPR and protect customer data. This extension allows customers to easily access and manage their data, including the ability to request the deletion of their accounts. It ensures store owners meet GDPR, build customer trust, and avoid costly penalties.
It is also an open-source solution that provides essential features without cost. It offers free support and installation service, with an option to purchase additional features, such as extended support.
Features:
GDPR-compliant consent form.
Full control over consents from the Magento Back-end.
Ability to enable or disable GDPR extension.
Ability to export or erase personal data from your Magento 2 store.
Price: Free
Benefits of Using GDPR Extensions in Magento
GDPR extensions in Magento ensure GDPR compliance, protect customer data, build trust, avoid costly penalties, and streamline data management.
1. Compliance With GDPR Regulations
To ensure your online store follows the GDPR, using GDPR extensions in Magento is crucial. These extensions help manage and protect customer data, which is a key requirement of the GDPR.
It also streamlines data portability and management processes, making GDPR compliance easier. The right extension can protect personal data and customer consent while they browse your website.
2. Protection of Customer Data
GDPR extensions for Magento are essential for protecting data in your online store. These extensions help your online stores comply with the GDPR requirements set by the European Union. With these extensions, you can protect sensitive personal data and restrict access to guest users, including features like consent checkboxes.
GDPR-compliant measures like receiving customer consent checkboxes and offering customer account deletion can build trust and help you avoid penalties. You can also look into data security practices for enhanced protection.
3. Build Trust With Customers
Building trust with customers is crucial for any online store, and using GDPR extensions in Magento can help you achieve that.
By ensuring compliance with GDPR and protecting customer data, these extensions demonstrate a commitment to safeguarding personal information. It helps foster trust between the store owners and their customers. It also allows businesses to avoid the high costs of noncompliance and streamline data management procedures.
4. Avoid Costly Penalties
Through the use of GDPR extensions in Magento, store owners can ensure compliance with guidelines and the protection of customer data. These extensions simplify data management processes, making it easier to handle deletion requests and manage customer accounts. With a reliable GDPR extension, businesses can avoid fines and comply with the GDPR.
5. Streamline Data Management Processes
Magento GDPR extensions can help streamline data management processes in your online store. These extensions provide features like automated deletion requests, simplified consent forms, and enhanced data access controls. You can save time and effort while keeping sensitive data safe by using streamlined data management procedures.
How to Choose the Right GDPR Extension for Your Magento Store
To choose the right Magento 2 GDPR extension, assess your store, view specific compliance needs, and research different providers. Consider customer reviews, evaluate features and functionalities, and select an extension that aligns with your budget and requirements.
1. Assess Your Store's Specific GDPR Compliance Needs
To assess your store's specific GDPR compliance needs, you need to:
Gain a comprehensive understanding of the personal information you collect from customers.
Gain insights into where analytics data is stored and who can access it.
Consider whether you process sensitive data or data belonging to minors.
Determine which GDPR requirements apply to your business based on size and location
Evaluate whether your current processes align with GDPR principles, including obtaining consent and empowering customers to control their data.
Review the privacy policies, cookie practices, and security measures to ensure they meet GDPR standards.
2. Research and Compare Different Extension Providers
Studying and comparing different providers is important before finding the right GDPR extension for your Magento store. Find Magento-specific GDPR-compliant extensions. Evaluate each extension's features and functionalities to meet your needs.
3. Consider Customer Reviews and Ratings
Before choosing a GDPR extension for your Magento store, it's important to consider customer reviews and ratings. These reviews provide valuable insights into the performance and reliability of each extension.
Look for extensions with positive feedback from other users, which indicates that the extension is effective and user-friendly. Pay attention to any negative reviews or complaints, as these can highlight potential issues or limitations of the extension.
4. Evaluate the Features and Functionalities of Each Extension
To choose the right GDPR extension for your Magento store, evaluate each option's features and functionalities. Consider how the extensions handle data, GDPR compliance, and features like consent through the consent checkbox, submitted delete requests, etc.
Remember that choosing an extension solely on price may only meet some of your needs. Consider features that are necessary for your website's success and growth.
Note: Also, check if they provide adequate support and regular updates.
FAQs
1. What is the Magento 2 GDPR module?
The Magento 2 GDPR module is a tool to help make your online shop GDPR-compliant. It enables website owners to manage and protect data to comply with the European Union's General Data Protection Regulation (GDPR).
2. How does Magento 2 GDPR compliance protect customer data?
Magento 2 GDPR compliance keeps customers' visit data secure and only makes their account information accessible with consent from multiple customers.
3. Can these tools help avoid penalties under the General Data Protection Regulation (GDPR)?
Yes, utilizing a top-rated Magento 2 GDPR extension in 2023 can provide you with enhanced control over your store. It enables better compliance with the rules and helps you avoid potential fines.
4. Is there a feature for account deletion in these tools?
When selecting extensions, ensure they include data removal features. It is crucial for GDPR compliance, allowing users to delete their accounts.
5. Will installing a Magento 2 GDPR extension guarantee full compliance with the regulation?
GDPR extensions help achieve compliance, but they do not guarantee it alone. GDPR compliance requires reviewing your data handling practices, updating your privacy policies, and meeting all security and data access requirements.
6. How can a GDPR for Magento 2 extension help with customer account management?
Magento GDPR extensions let you securely and transparently manage customer accounts while complying with data protection laws.
7. Can you permanently delete account data with a Magento 2 extension?
Yes, these third-party services can delete account data upon removal requests by the customer.
Summary
Magento 2 GDPR extensions are purpose-built to streamline GDPR compliance. It helps safeguard customer data and optimize data management. In this guide, you'll discover the top 5 Magento 2 GDPR extensions. It also covers the significance of GDPR extensions for your Magento 2 store.
Ready to enhance your GDPR compliance strategy? Explore Magento hosting plans designed to support your secure and compliant e-commerce journey.