Best Magento Fraud Prevention Extensions: Prevent Chargebacks
Magento fraud prevention extensions are the key to enhancing online transaction safety and building customer trust. Given the critical nature of online transactions, Magento store owners must ensure proper PCI compliance levels and elevate online payment security.
You can ensure a trustworthy user shopping experience using a fraud detection extension. If you're keen on protecting your business against cyber attacks, this guide is for you.
Key Takeaways
Discover the best Magento fraud prevention extensions to shield your e-commerce platform.
Get insights on integrating with fraud detection tools for real-time protection.
Dive deep into features like vulnerability assessment and screening orders for heightened security.
Grasp how these tools enhance payment security, minimize chargebacks, and boost customer trust.
Key Benefits and Features of Fraud Prevention Extensions
1. Automated Risk Assessment and Order Screening
With the customer grid feature, automated fraud risk assessment and order screening become pivotal benefits of fraud prevention extensions for Magento.
For instance, by observing the customer account details, you can automatically analyze the risk level of each order placed on your website.
2. Reduction of Chargebacks and Revenue Boost
Magento fraud extensions, especially those with custom blacklisting rules, help reduce chargebacks and increase revenue. It includes support service, and suspicious orders get flagged, thus minimizing the chances of chargebacks.
3. Protection Against Spam and Fraud
Fraud detection extensions provide robust fraud protection against spam and fraud. Features like a customer grid and automated risk assessment ensure that every transaction on your Magento store is legitimate and secure.
4. Integration with Leading Fraud Detection Tools
Extensions offer integration with top-notch fraud detection tools. Merchants can leverage advanced algorithms to scan through the customer grid and assess potential fraud indicators in real-time.
5. Real-time Order Status Validation
The order status validation feature of automatic fraud detection extensions for Magento ensures every order's risk level gets assessed instantly. It saves time and minimizes the chances of fraud, thereby preventing chargebacks and increasing revenue.
6. Ensuring Compliance and Compatibility
As a merchant, ensuring your store's proper PCI compliance level is a prime responsibility. Magento store owners must review the marketplace terms and understand the level of their store.
Marketplace terms and conditions can vary, and understanding them ensures that your chosen fraud prevention solution won't affect your PCI compliance.
Top Fraud Prevention Extensions for Magento
1. Fraud Detector for Magento 2 by Mirasvit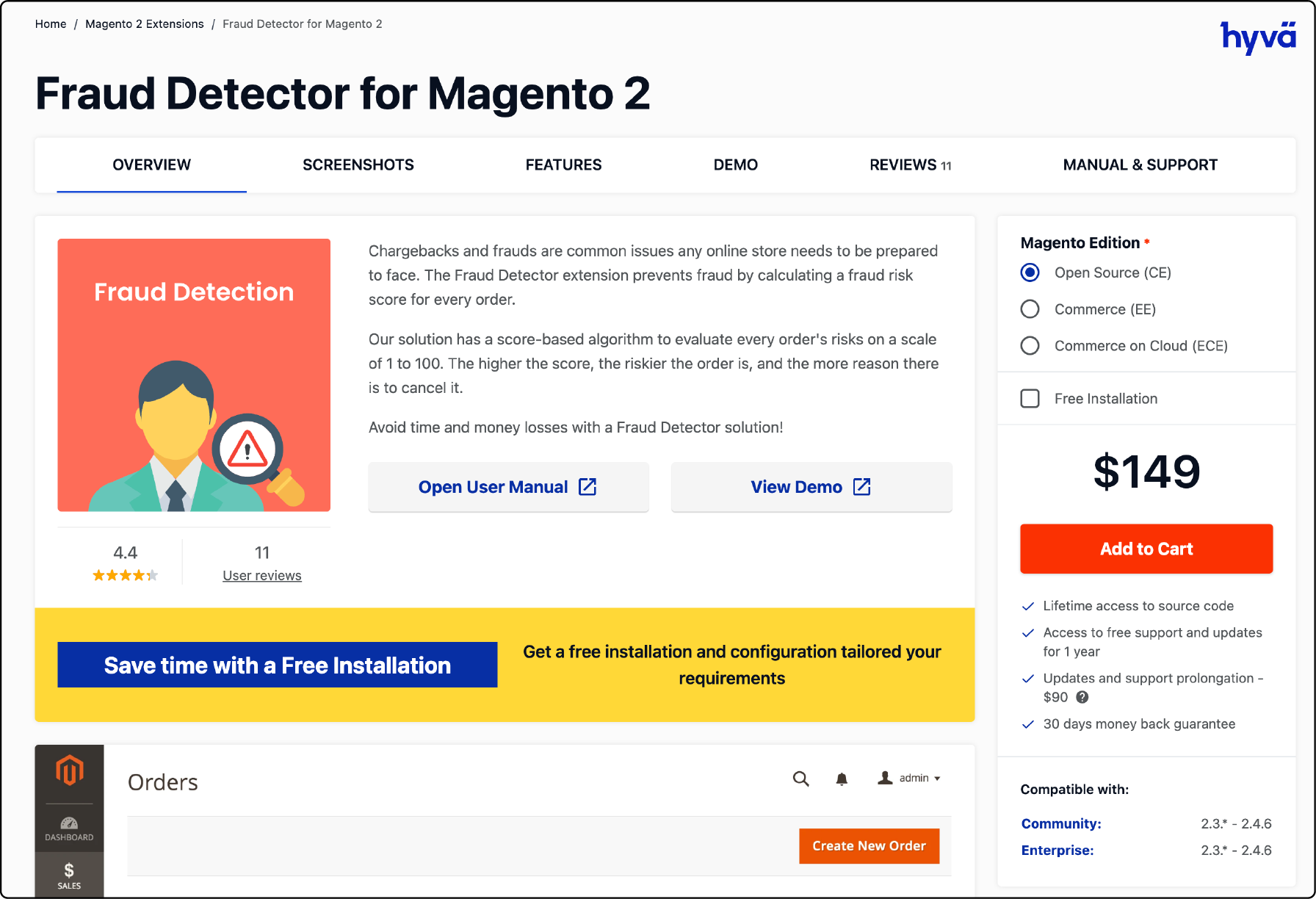 Fraud detector for Magento 2 can spot scams fast and stop fake orders before they harm your business. It allows automated risk detection for transactions and minimizes chargebacks.
While evaluating payment extensions, focusing on compatibility with Magento is crucial, especially if your store is powered by Adobe Commerce 2.4.6-p2.
The tool integrates seamlessly with Magento 2 and helps store owners ensure a secure shopping experience for customers.
Features
Scam Detection: Quickly identifies and prevents fraudulent orders.
Reduced Chargebacks: Helps you minimize chargeback issues.
Special Codes: Utilizes unique codes to determine order authenticity.
Peace of Mind: Takes the worry out of fraud detection, allowing you to focus on sales.
Increased Profits: Fewer chargebacks mean more money in your pocket
Pricing: Starting at $149.00
2. Maxmind Fraud Prevention Extension by Weltpixel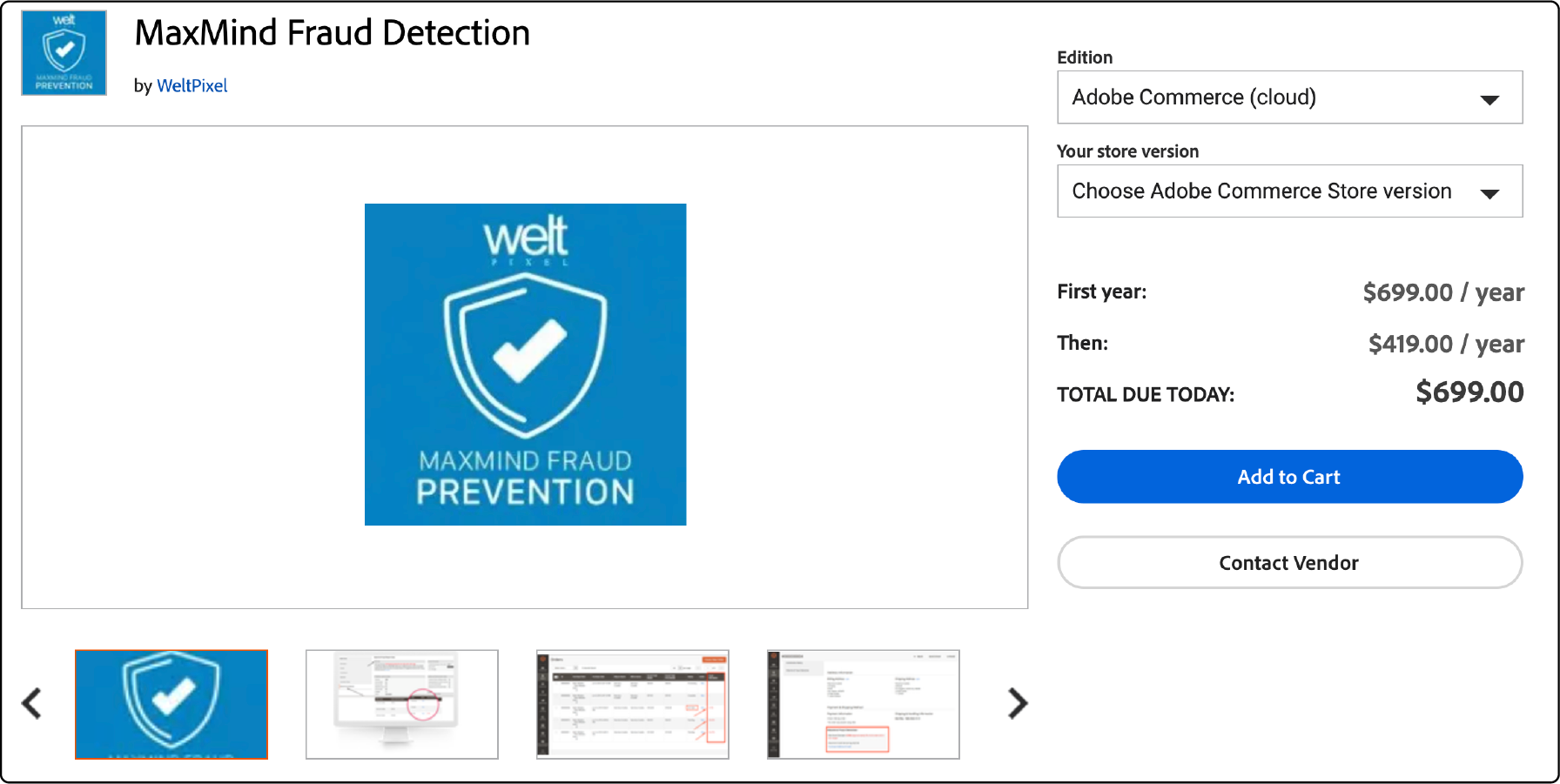 MaxMind Fraud Detection and Prevention extension is a top pick for fraud prevention. It helps lower risks from online sales and checks customer orders. MaxMind excels in the 'payment category' by ensuring all transactions pass a stringent review process.
The extension gives each order a risk score based on an algorithm. The risk score tells if an order may be fraudulent and protects your store in real-time. It offers customizable fraud score limits, allowing merchants to set preferred thresholds.
The ability to prioritize specific payment methods and instantly check fraud scores for every transaction significantly elevates the security of Magento stores.
Features
Automatically places orders "On Hold": prevent fraud by placing orders with high-risk scores on hold.
Effectively minimizes chargeback costs: Enables precise risk evaluations to cure fraud suspicions.
Customizable fraud score limits: Set your store's fraud score limit tailored to your preferences.
Prioritizes specific payment methods: Check only orders with a specified minimum order amount for scoring applications.
Grants instant fraud score checks: Real-time checks for every order help enhance transaction security on your Magento store.
Pricing: Starting at $249.00
3. Kount Fraud Prevention for Magento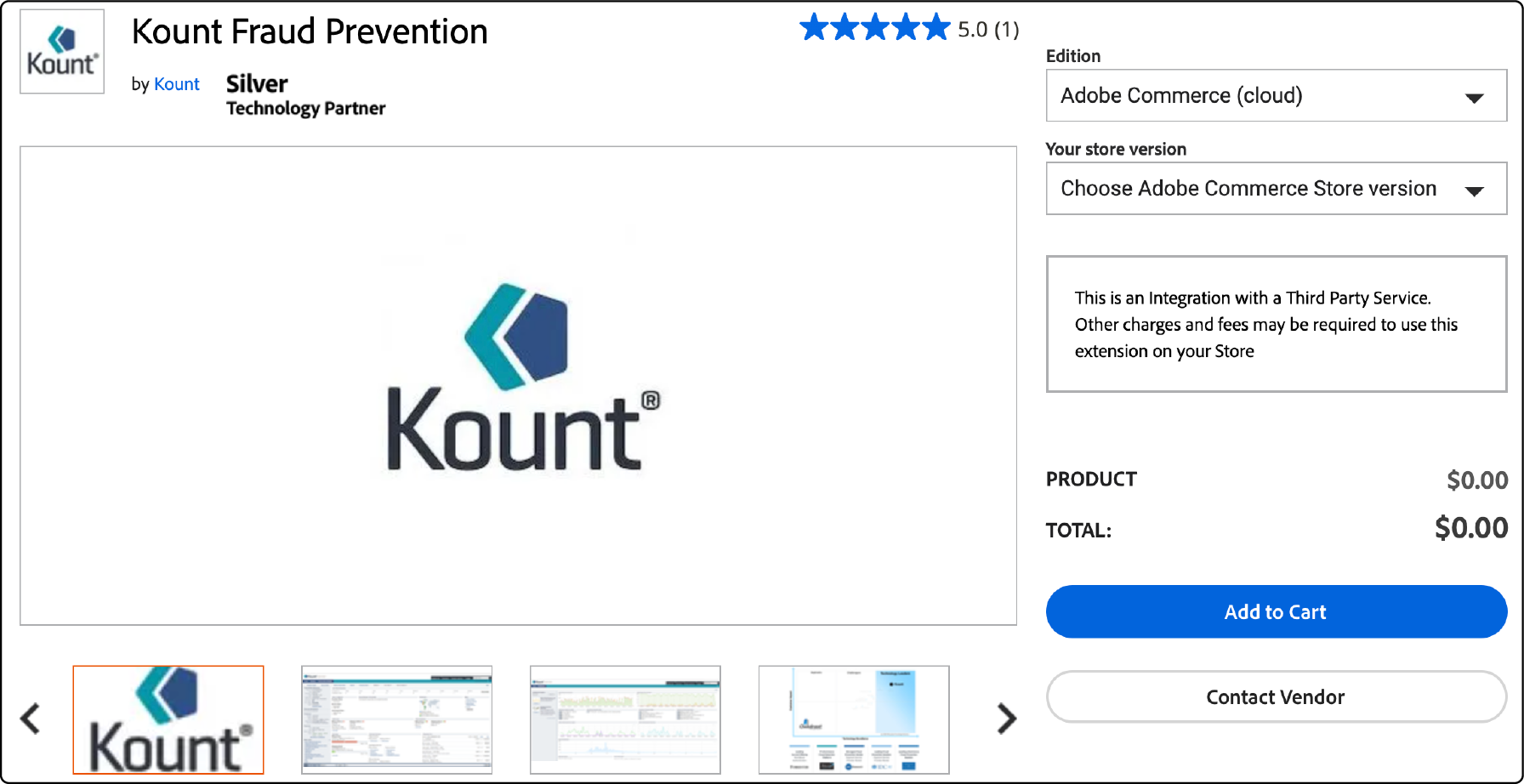 Kount Fraud Prevention for Magento fights off fraud and keeps your store safe. It is a cutting-edge solution that proactively combats fraudulent activities.
The extension uses advanced analytics and real-time insights to discern high-risk transactions, reducing chargebacks and operational costs.
Kount balances robust fraud protection and a frictionless customer experience. It benefits store owners from enhanced security and a seamless customer journey. The extension offers financial safeguarding, making it a valuable asset in e-commerce protection.
Features
Fraud Detection: Uses real-time insights to discern high-risk transactions and reduce operational costs.
Store Security: Keeps your online store safe from potential fraud threats.
Risk Assessment: Smart technology evaluates orders to detect potential risks.
Loss Prevention: Helps prevent financial losses and protect your inventory.
Seamlessly integration: Integrates with Magento 2 stores, ensuring optimal store security and a frictionless customer experience.
Pricing: Staring at $0.07 per transaction.
4. Security Suite for Magento 2 by Amasty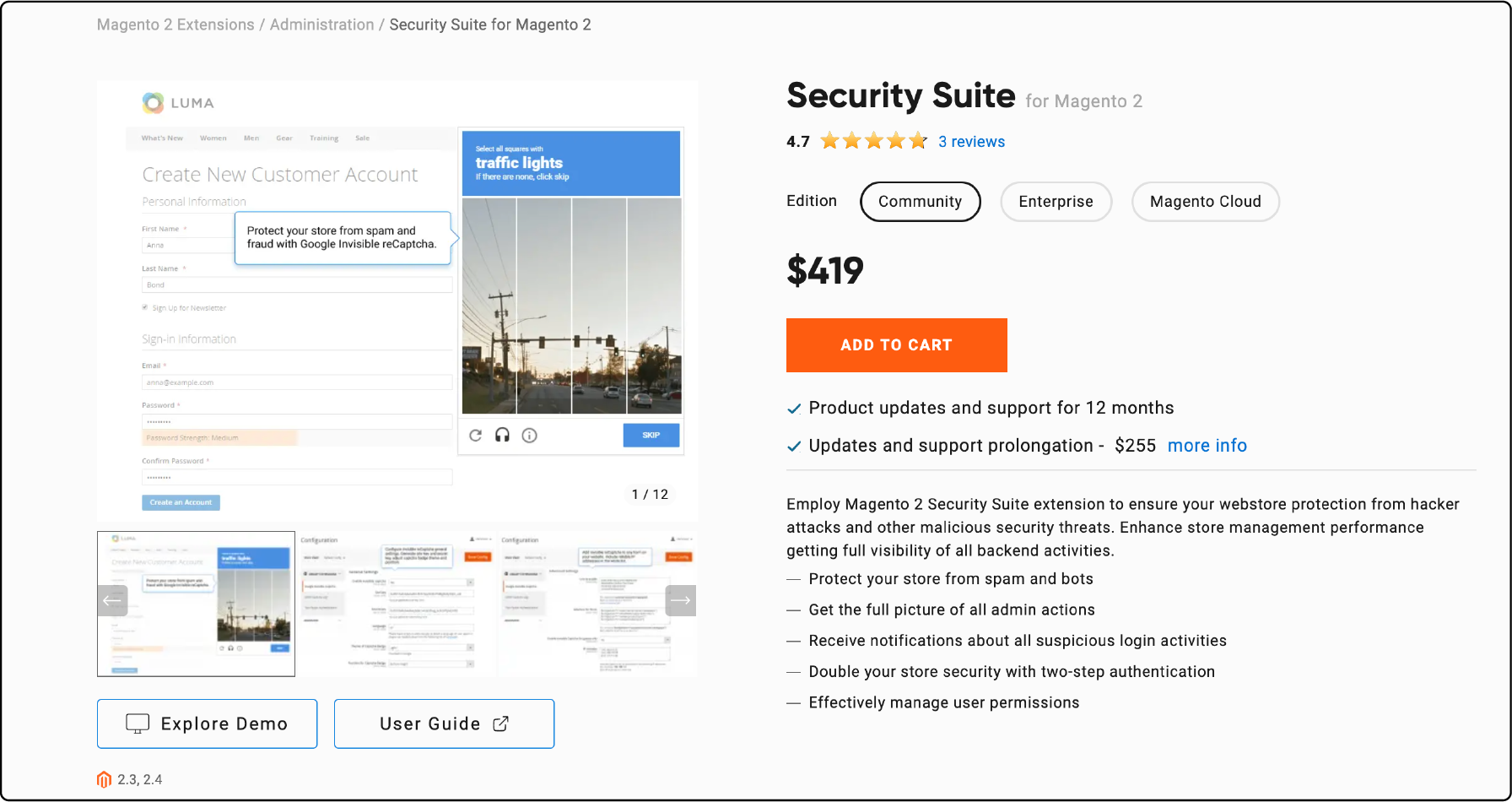 Security Suite for Magento 2 is a fraud prevention solution that helps protect your Magento store from spam and fraudulent activities.
Amasty's security suite extension specializes in proactive defense. It offers two-factor authentication, real-time security monitoring, and IP whitelist management, ensuring only authorized access is granted.
It further enhances security protocols with strong password guidelines and a defense mechanism against hacking. The Security suite extension allows Magento store owners to experience boosted site performance and reduced vulnerability.
Features
Two-Factor Authentication: Enhances login security, safeguarding against unauthorized access.
Action Logging: Tracks and monitors backend activities for transparency and traceability.
Dedicated IP Whitelist: Grants access only to specific IPs, preventing external threats.
Password Policies: Enforces strong password guidelines for enhanced protection.
Brute Force Defense: Detects and halts repeated unsuccessful login attempts swiftly.
Pricing: $419.00
5. Forter Fraud Management Platform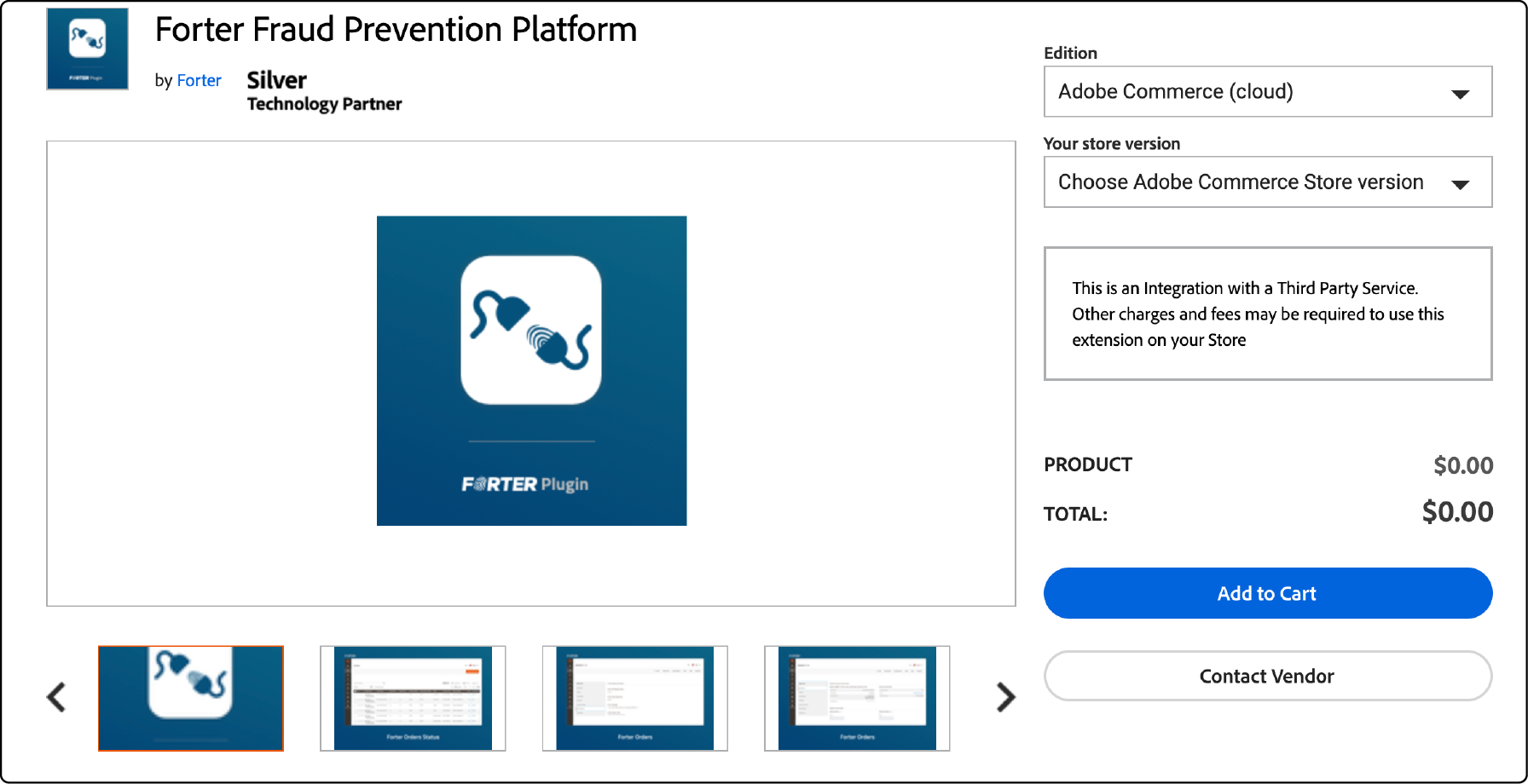 Forter's fraud management platform is an advanced solution to protect your Magento store from fraud. It offers real-time, fully automated fraud prevention, ensuring secure and seamless e-commerce experiences.
Forter's platform seamlessly integrates with e-commerce platforms, including Magento. It has an expansive Identity Graph encompassing over 1.2B identities, integrated chargeback protection, and payment optimization. The platform protects merchants from fraudulent activities while optimizing the customer checkout experience. It perfectly balances robust fraud protection and a seamless customer experience.
Features
Fraud Management: Make instant assessments at checkout, powered by our Identity Graph of over 1.2B identities.
Integrated Chargeback Protection: Offers a guarantee against chargebacks, enhancing confidence in transaction approvals.
Payment Optimization: Increase authorization rates and reduce friction and cart abandonment.
Seamless Customer Experience: Designed to reduce false positives, ensuring genuine customers face minimal transactional disruptions.
Real-time Decisioning: Forter's platform provides real-time fraud assessment, ensuring immediate and accurate transaction approvals.
Pricing: Customizable plans are available as per needs.
Plans Comparison for Fraud Prevention Extensions
| Feature/Factor | Fraud Detector by Mirasvit | MaxMind Fraud Prevention | Kount Fraud Prevention | Security Suite by Amasty | Forter Fraud Prevention Platform |
| --- | --- | --- | --- | --- | --- |
| Pricing (Monthly) | Starting at $149 | Starting at $249 | Staring at $0.07 per transaction | $419.00 | Customizable Plans |
| Risk Assessment | Yes | Yes | Yes | Yes | Yes |
| Chargeback Protection | Yes | Yes | Yes | Yes | Yes |
| Real-time Analysis | Yes | Yes | Yes | Yes | Yes |
| Integration Ease | Easy | Easy | Easy | Easy | Easy |
| Multi-Platform Support | Yes | Yes | Yes | Yes | Yes |
| Support & Maintenance | 24/7 | Business Hours | 24/7 | Business Hours | 24/7 |
FAQs
1. What are Magento fraud prevention extensions?
Magento fraud prevention extensions help protect your online store from cyber threats. They perform user authentication and data encryption functions to keep your business safe. These extensions also help ensure compliance as applicable by PCI regulations.
2. How do these extensions help secure payments on Magento?
These add-ons use advanced risk analysis, order verification, and two-factor authentication methods. It helps make sure all transactions are secure on the Adobe Commerce platform.
3. Can these tools prevent credit card fraud in Magento stores?
Yes. With new features, such as PCI Compliance and Secure Sockets Layer (SSL) certificates, fraud prevention extensions can aid in preventing chargebacks due to credit card fraud.
4. Can automatic fraud detection add-ons stop all types of cyber threats?
While the fraud prevention extensions reduce risks greatly, there's no 100% guarantee against cyber threats Using the plugins alongside practices like regular CAPTCHA checks significantly boosts cybersecurity for your store and customer accounts.
5. What role do extension files play in determining the fraud score?
Extension files in Magento contain essential data and functionalities. The files are examined to extract patterns and behaviors when assessing fraud protection measures. The insights derived help generate a more accurate fraud score for every transaction.
Summary
Magento fraud prevention extensions offer a reliable solution to protect customers of your online store from fraudulent activities. Installing and configuring fraud prevention extensions ensures secure payments and protection for your Magento store against cyber threats.
With features like automated risk detection and real-time order screening, these extensions help solidify customer trust and build a reputable business. Take proactive steps to protect your business with Magento Fraud Prevention Extensions.
Learn more about improving your website's security and find Magento hosting plans that suit your requirements.