How to Enable Magento 2 Guest Checkout?
Magento 2 guest checkout is an essential feature for optimizing the shopping experience in an online store. It allows customers to make purchases without registering for an account.
Store owners can streamline the checkout process, improve conversion rates, and potentially expand their loyal customer base.
This article will discuss the key features and benefits of enabling guest checkout in Magento 2. You'll get steps on enabling guest checkout and tips for store owners to improve the checkout experience.
Magento 2 Guest Checkout: Enhance User Experience and Conversion Rates
The Magento 2 Guest Checkout lets people that are shopping online buy things easily without making an account. This fast way helps people who want to shop quickly and easily.
Key Features of Magento 2 Guest Checkout:
Allows customers to make purchases without registering for an account.
Provides the option for customers to create an account after completing their purchase on the checkout page.
Reduces the amount of personal information required during the checkout process.
Benefits of Enabling Guest Checkout in Magento 2
1. Faster Checkout Process
Skipping the customer account registration step, the checkout process becomes faster and more convenient for users.
2. Better Shopping Experience
Providing a guest checkout option makes the shopping experience more enjoyable for customers. They can focus on purchasing products rather than being forced to create an account.
3. Increased Conversion Rates
With a simplified checkout process, customers are more likely to complete their purchases. It leads to higher conversion rates for store owners.
4. Attracting New Customers
Giving customers the option to checkout as guests can help attract new customers. The customers may be hesitant to share their personal information with an unfamiliar store.
Enabling/Disabling Magento 2 Guest Checkout
Magento 2 provides a seamless shopping experience for both registered and guest users.
Enabling or disabling guest checkout in your Magento 2 store can be quickly achieved through the admin panel. Follow these step-by-step instructions to adjust the checkout option as per your store's requirements.
1. Access the Admin Panel:
Log in to your Magento 2 admin panel using your credentials.
2. Navigate to Stores Settings:
On the left sidebar, click on Stores to expand the menu. Then, select Settings followed by Configuration.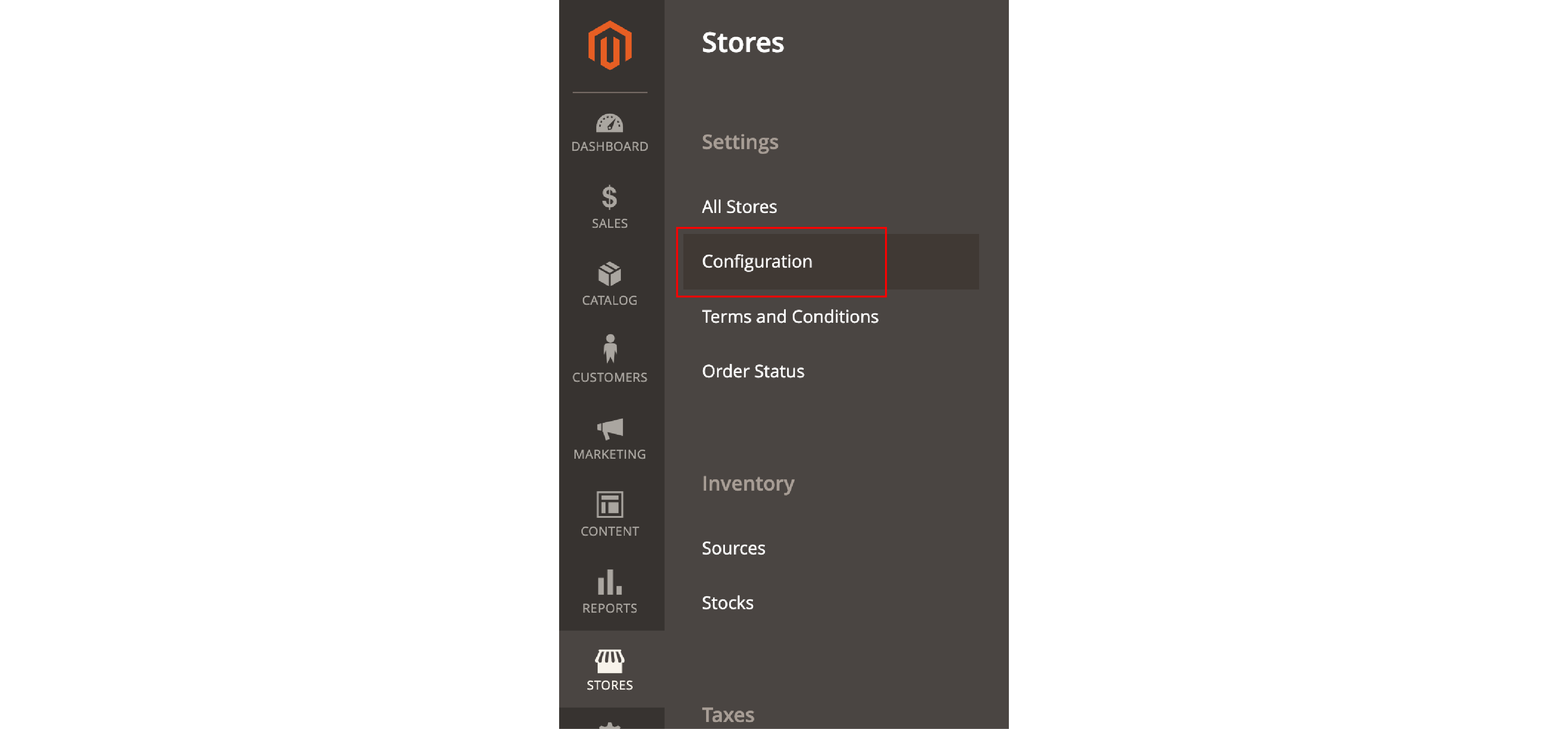 3. Access Checkout Options:
In the Stores Settings Configuration page, browse the left menu to locate the Sales tab. Expand the tab and click on Checkout.
4. Modify Guest Checkout Settings:
Go to the Checkout Options section. Click on the Allow Guest Checkout field to see the next option. Set this to Yes, which is required to enable guest checkout in Magento, or No to disable it.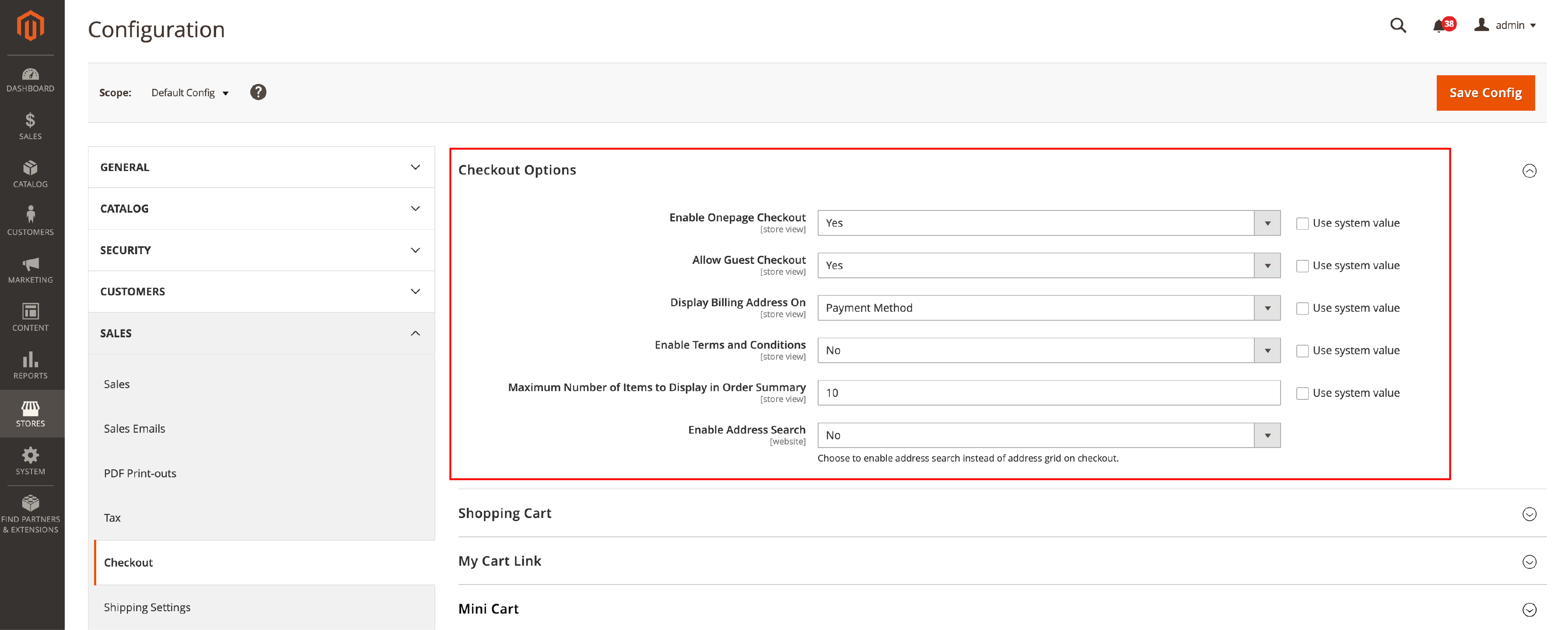 5. Save Your Changes:
Click on the "Save Config" button at the top right of the page. Your changes will now be applied to your Magento 2 store.
The Impact of Mandatory Registration
Forced registration can significantly impact the shopping experience. It may lead to higher cart abandonment and reduced conversion rates.
When people have to make an account before buying something, it can make them not want to wait. It results in customers leaving the website, thereby increasing the rate of cart abandonment.
Moreover, forced registration hinders the streamlined process that many online shoppers prefer.
People want things to be easy and fast, so businesses need to make sure their store is super simple to use. By doing so, they can effectively decrease cart abandonment rates and enhance overall conversion rates.
Third-Party Extensions for Magento 2 Guest Checkout
Boost your online store's potential with third-party extensions. These are designed to seamlessly convert guest users into registered customers.
With these plugins, changing a visitor to a customer in Magento 2 is more enjoyable. Various feature-rich alternatives exist, offering diverse strategies from guest checkout to registered account creation.
Conclusion
Magento 2 Guest Checkout is crucial for eCommerce store owners and developers.
Optimizing the checkout process, enhances customer satisfaction and helps to reduce checkout time. It helps to boost conversion rates and attract new customers.
Get more helpful insights on the Magento tutorials page!