How to Configure Magento Wishlist?
Magento Wishlists allow customers to save and share their desired products, increasing customer loyalty and sales. In this article, we'll provide a step-by-step guide on efficiently configuring wishlists in Magento 2.
Key Takeaways
Wishlists in Magento 2 allow customers to save products they want for later.
To configure wishlists, enable them in the store settings and choose options like sharing and email limits.
Additional features like multiple wishlists and sharing with friends can enhance the user experience.
FAQs about configuring and utilizing Magento wishlists effectively to enhance your online store's functionality.
What are Magento 2 Wishlists?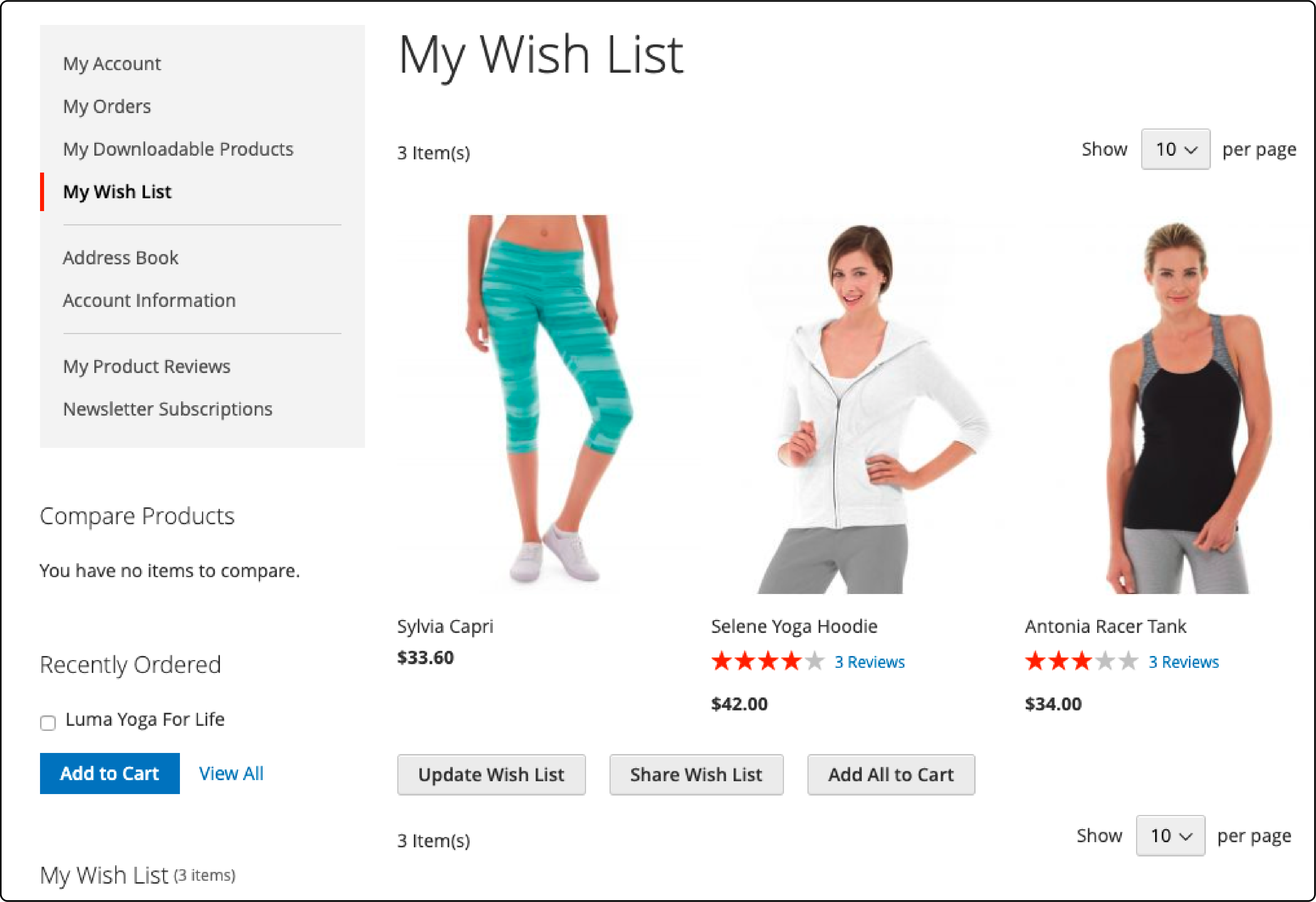 A wishlist in Magento 2 is a feature that allows customers to save products they are interested in for future reference or purchase. Customers can add items to their wishlist from the product detail page. The list appears in their customer account dashboard.
It helps the customer find the items easily when they decide to purchase. The feature also lets store owners see what products are most desired by their users.
How do Wishlists Work in Magento 2?
In Magento 2, shoppers use wishlists to save products they want but plan to wait to buy. When a customer clicks the 'add to wishlist' button on a product detail page, the item goes into their wishlist.
The list lives in the customer's account dashboard. Shoppers can see all of their saved items here and add-to-cart when ready. They can also share their wishlists with friends via an email address using the 'share wish list button.'
Store owners can set up how many emails are allowed for sharing. They can choose the email address and select the email sender from the store settings configuration in the Magento admin panel. The whole process uses Ajax technology, so everything gets updated automatically without needing to refresh the page.
How to Configure Wishlists in Magento 2?
Step-by-step guide for setting up wishlists from the backend
Log into your Magento 2 store admin panel.

Navigate to the Stores tab on the left menu.

From the drop-down list, click on Configuration.

Look for Customers in the left column on the new page.

Click on it and then click on Wishlist.

You will see a lot of options here. To turn wishlists on, set Enabled to Yes.

You get three primary options - General Options, Share Options, and My Wish List Link.

In the General Option, you can add Enable Multiple Wishlists and Number of Multiple Wishlists.
In the Share Options part, you can decide the Max Emails that can be sent simultaneously.
The number of items in one email is under Email Text Length Limit. Set these numbers based on what fits your store best.

The My Wish List Link section lets you show the wishlist link in different parts of your site.
Click on the Display Wish List Summary if you want the link to appear in the customer account dashboard.

Use the Save Config button at the top right of your screen to save the changes.
Enhancing Wishlists in Magento 2
Exploring additional features and extensions for wishlists can improve the user experience. You can allow customers to create multiple wishlists and easily share them with friends.
Extension features for Magento 2 wishlists
You can use third-party plugins that offer additional wishlist features for Magento 2. It includes:
Add multiple wishlists: Allow customers to create and manage various wishlists. Customers can organize their desired products more effectively.

Share wishlists with friends: Enable customers to share their wishlists with friends through email or social media.

Generate personalized email templates: Create custom email templates that include the store's branding and customized messages. It gives a professional look and feel to shared wishlists.

Leave comments and reviews: Customers can comment and review products in their wishlists. It helps them track why they added certain items or what they like about them.

Display the number of wishlist items: Show customers the total number of items in their wishlist, giving them a quick overview without visiting the page every time.

Set limits on the number of shared emails: Control how many emails a customer can share their wishlist with simultaneously, preventing spamming and abuse.

Customize wishlist display: Add a text link or graphic image to your store's theme, making it easier for customers to access their add to wish lists from any page.

Compile lists from different websites: Allow customers to compile wishlists from multiple online stores into one central location, making it easier for them to compare and make purchasing decisions.

Update wishlist quantities in the shopping cart: Automatically update the number of items in a customer's wishlist when they add them to their Magento shopping cart.
Magento 2 Multiple Wishlist Extensions
To enhance the user experience, you can add multiple wishlist extensions for Magento 2. It benefits customers who want to compile lists for various purposes, such as personal and gift ideas.
Some of the popular plugins include:
Amasty Multiple Wishlist for Magento 2
Aheadworks Multiple Wishlist Report for Magento 2
Magento 2 Guest Wishlist by FME Extensions
Magento 2 Multiple Wishlists by Landofcoder
With multiple wishlists, users can easily categorize and organize their desired products. It also allows them to share specific lists with friends or family conveniently.
FAQs: Magento Wish list
1. How do I configure wishlists in Magento 2?
To configure wishlists in Magento 2, go to the admin panel and navigate to Stores > Configuration > Customers > Wish List. From there, you can enable/disable wishlists and customize various settings.
2. Can customers create multiple wishlists in Magento 2?
Yes, customers can create multiple wishlists in Magento 2. They can name each wishlist and add or remove products as desired.
3. How can one customer account share the wishlists with others in Magento 2?
Customers can share their wish lists with others by clicking on the "Share Wishlist" button within their account dashboard. They can then send the wishlist link via email or social media platforms.
4. Can customers manage their privacy settings for wish lists items in Magento?
Customers control the privacy settings for their wishlist items in Magento 2. They can choose whether to make their wishlist public or private, allowing them to decide who can view it.
5. How can I find and manage the wish list link section in Magento?
In Magento, the wish list link section can typically be found in the customer account dashboard, specifically under the 'My Wish List' tab. Users can manage all items they've added to their wish list. It allows users to move items between wish lists, add items to the cart directly from the wish list and even share wish lists through email.
Summary
Configuring the Magento wishlist is essential for enhancing the customer experience on your online store. Following the step-by-step guide, you can easily set up wishlists and improve user experience. You can also take advantage of Magento extensions that allow for multiple wishlists.
Looking to enhance your Magento store experience? Explore Magento hosting solutions to complement your store functions and boost customer satisfaction.