What Is WAF? Answers To All Questions About Web Application Firewall
When starting an e-commerce business, considering and taking actions for your site's safety is one of the first things to do. Neglecting this can lead to severe problems.
Stolen business data can cause you at the best loss of your customer's trust but worst hard consequences like compensation claims.
A Web Application Firewall (WAF) is an essential component of your safety measures.
Therefore, it is useful to understand how WAF works, against what it protects, its implementation methods, and the best possible WAF solution, the Amazon Web Services Web Application Firewall.
What does WAF mean, and how does WAF work
The most basic question has to be answered: WAF is short for Web Application Firewall.
WAF protects web applications from application-layer attacks and malicious HTTPS traffic.
The three general tasks for WAF are:
Filtering
Monitoring
Blocking
Based on a defined set of strict security policies that categorize which traffic is safe and malicious, WAF aims to prevent unauthorized data from leaving the app.
Are you using Magento as an e-commerce platform? Please take a look at our checklist and tips on how to secure a Magento site.
We will happily consult you for free for advanced information about effective protection and a suitable solution for you. Contact us now!
Why is the WAF required?
But why use WAF? The reason is obvious: running an e-commerce site without WAF is an invitation for hackers or scammers to attack you.
Attacks on apps are the easiest way for hackers to get access to your sensitive business data.
When using WAF, you can effectively block these attacks and make sure that no one can compromise your system.
WAF is specially designed to analyze HTTPS requests at the application layer and protect against the Open Web Application Security Project's well-known top 10 security risks (OWASP).
The OWASP is a non-profit online community that publishes and regularly updates the "OWASP Top 10", a report with the 10 most critical risks seen by security experts worldwide.
Presenting a few of the most common risks, *WAF is required to protect you against:
Injection attacks
Broken Authentication or Access Control
Cross-Site Scripting (XSS)
XML External Entities (XEE)
Security misconfigurations
DDoS Attack Mitigation
For e-commerce shops that take their security seriously, a WAF is a must-have.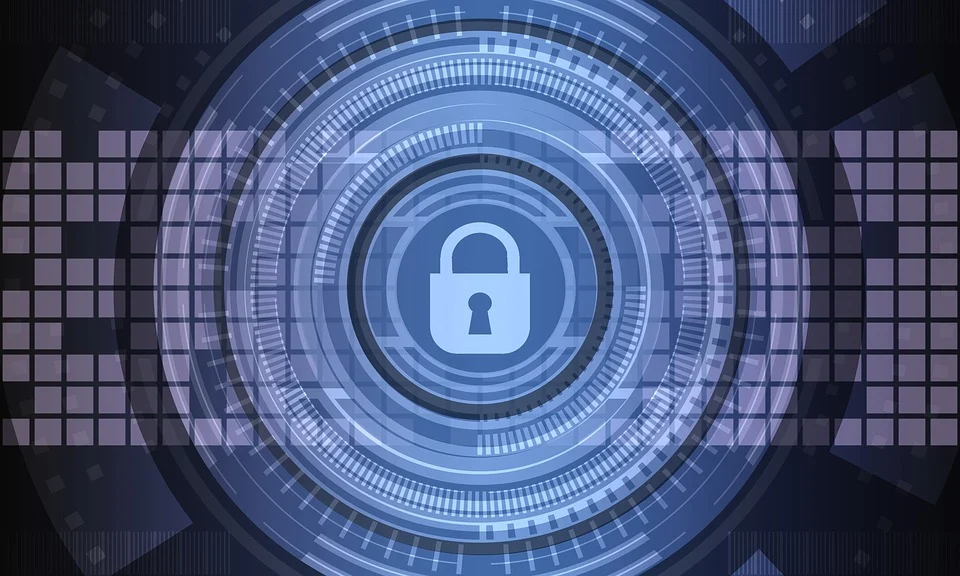 How to install WAF? Three ways of implementation
There are three different ways of implementing a Web Application Firewall:
Network-based (NWAF)
Host-based (HWAF)
Cloud-based
Each of them brings advantages and disadvantages. Here is our overview: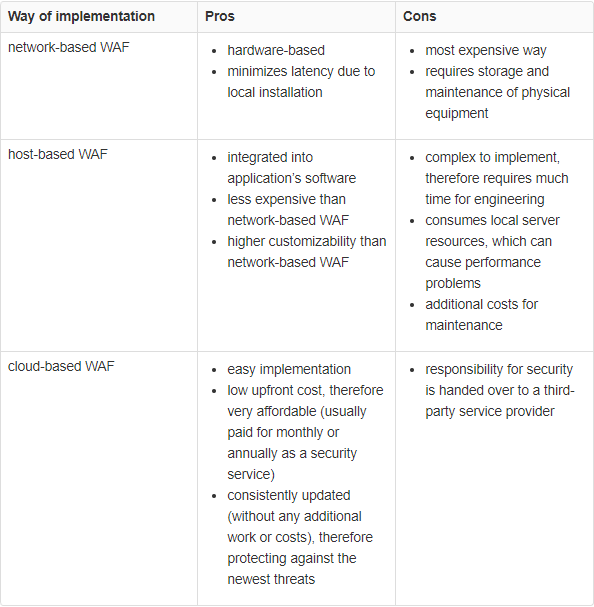 Even if there is not a standard solution suitable for every e-commerce shop, due to its many advantages, we highly recommend using a cloud-based Web Application Firewall.
Apart from WAF, the cloud brings you a broad range of advantages. There are many cloud benefits in e-commerce hosting as well.
Please find out about our hosting plans and high-performance Magento hosting. We want to assist you in finding the perfect hosting plan for your e-commerce business.
Contact us now for a free consultation!
How does AWS WAF work? Useful facts about Amazon Web Services Web Application Firewall and AWS WAF pricing
A popular web application firewall solution comes from Amazon Web Services (AWS).
AWS WAF is a way to let you monitor and control HTTP or HTTPS requests that are forwarded to:
An Amazon CloudFront distribution
An Amazon API Gateway API
An Application Load Balancer
After creating a web access control list (ACL), which protects a set of AWS resources, you can define its protection strategy by adding individual rules or reusable rule groups.
Amazon Web Services Web Application Firewall gives you many configuration options and ensures a high-security standard.
Nevertheless, for protection, only the best one is good enough.
Our managed web application firewall as a service on top of AWS WAF protects your Magento shop against common web exploits.
That's why our MGT WAF – Web Application Firewall is the number one security solution.
MGT WAF is tightly integrated with the Application Load Balancer (ALB), attached to the ALB, and filters malicious traffic before it reaches your server on which your Magento shop is running.
This ensures you the highest security possible.
Benefits of MGT WAF – Web Application Firewall for Magento are:
Denial-of-Service Attack Mitigation
SQL-Injection and Cross-Site Scripting Protection
Linux Attacks
A country as well as Bot and IP Blocking
Auto updates
MGT WAF is included in our Multi-Server and Auto Scaling hosting plans. Purchasing it as an add-on for all other Managed Hosting Plans is possible as well.
Are you unsure which hosting plan is the best for you?
Learn everything about the benefits of AWS Auto Scaling with Varnish.
Feel free to contact us about MGT WAF – Pricing or any other questions about our hosting plans and their outstanding protection advantages.
Conclusion
Only the best Web Application Firewall (WAF) is good enough
To meet your customers' security expectations when browsing your e-commerce site, a Web Application Firewall is strictly necessary.
With its easy implementation combined with comparatively low costs, cloud-based WAF brings you many benefits over a network- or host-based WAF.
In addition, you can use a regular Magento security scan to keep track of possible security issues.
When you want to surpass the standard WAF protection, only an advanced solution is suitable for you.
We offer the best Magento hosting and our managed MGT WAF on top of AWS WAF. With MGT Commerce, you don't have to worry about anything.
Contact us now, and we will find the best plan for you in a free consultation!