How to Set Up Zoho CRM with Magento 2?
Integrating Zoho CRM with Magento lets you improve customer relationship management.
You can better manage sales operations and customer accounts.
It lets you follow customers' behaviors and categorize them as leads for better conversion.
We cover the steps to set up Zoho with Magento 2.
Features of Zoho Integration for Magento 2
1. Sync Magento 2 data with Zoho CRM
You can sync product inventory, customer data, orders, and more. Besides general info about the product, you also get the current stock status.
Some of the sync and update data features include -
Syncs customer details into Zoho CRM leads, contacts, and accounts.

It can be done both manually and automatically.

Synchronizing and updating orders and invoices from Magento store into Zoho CRM sales

Promotion rules are synced from Magento store into Zoho CRM

campaigns.

Updating Products from the Magento store into Zoho CRM products.

Subscribers are updated from the Magento store into the Zoho CRM system.
2. Performance and Analytics
Zoho CRM offers reports and analytics of your store in real-time. You can check the sales performance and measure marketing campaigns.
The CRM also shows forecasts of sales and order activity. It allows you to develop campaigns using predictive analytics.
3. Multichannel Experience
The Magento 2 Zoho CRM integration lets you connect with customers on all channels.
It combines email, phone, live, chat, social media, and other channels under the same admin panel.
Get notified when a customer interacts with your website.
The multichannel features include -
SalesSignals - The system that organizes all channels.

Email – Organize the email campaigns based on the CRM.

Live Chat – Use live chats to convert visitors into buyers.

Portals – allow customers to access accounts for previous purchases, cases, and invoices.

Social media – Get insights about your brand on social media.
4. Artificial Intelligence
The AI function of Zoho CRM offers the following features -
Zia Voice - Get information via call or chat about the store.

Lead and Predictions – Collect data and analyze sales activities and forecasts.

Intelligent Automation – Automate daily tasks and use Zia to monitor automation. Get suggestions to improve the workflows.

Email and text sentiments - Analyze your customers' tone and writing style to create suitable chat responses.

Anomalies – Use Zia trends to predict future irregularities.

Data Enrichment - Analyze customer demographics, and keep the social media accounts updated.
5. Customization
Zoho CRM offers customizing capabilities to analyze store data. It includes custom views, filters, and show/hide data.
You can choose a specific language for the store.
Some of the customizing features include -
Create layouts for different processes.

Link records across multiple instances.

Add Zoho CRM modules.

Custom functions and add to queue orders.

Personalize views and filters.

Multi-language support to localize your sales and marketing.
How to Set Up Zoho CRM with Magento 2
1. Sign Up with Zapier
First, you have to sign up with Zapier. You can do that on the official Zapier website.
Then, Sign up for a Zoho CRM Account.
2. Integrate Magento 2. x
After the Zoho account is successfully made, click on Make A Zap from the Zapier Dashboard.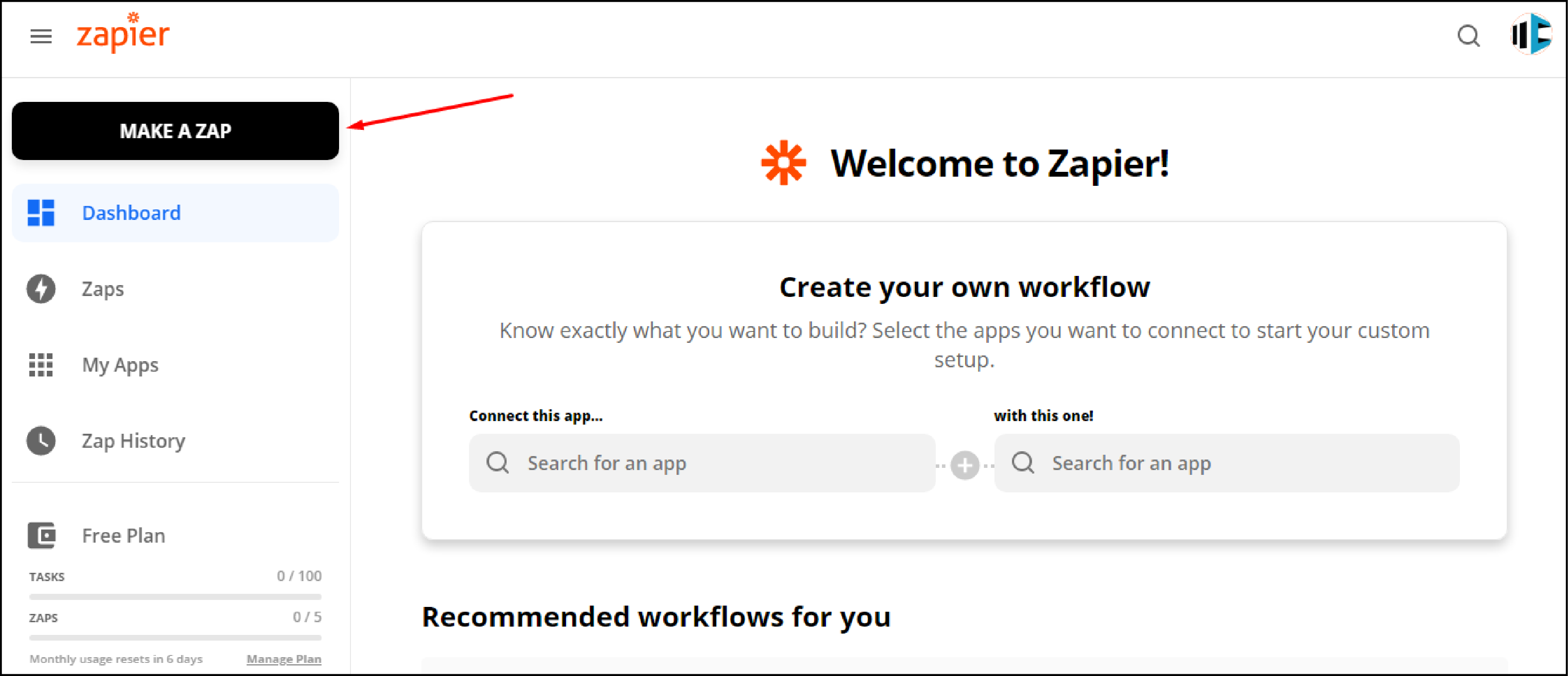 Next, select the Trigger App, and click on Magento 2. x as shown below.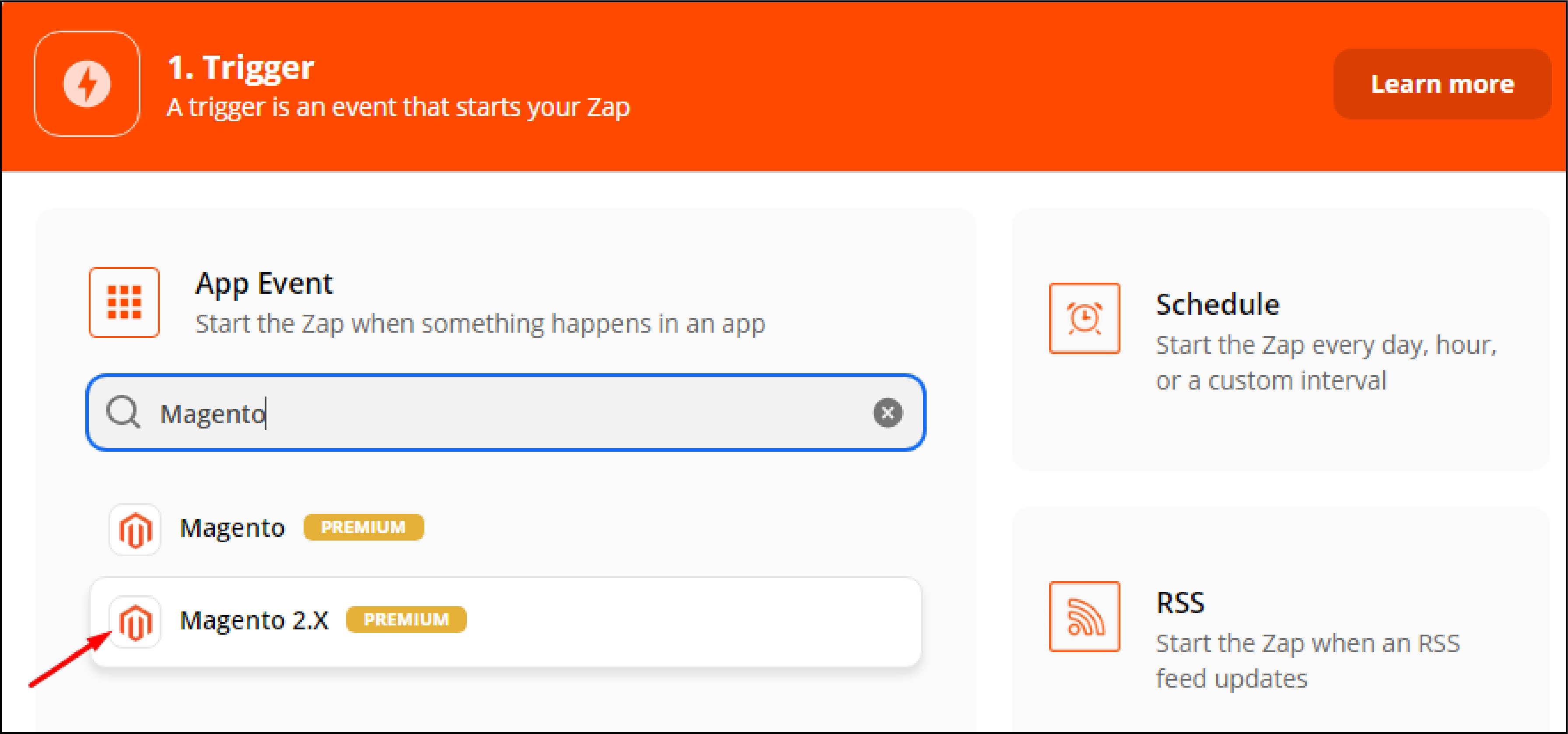 In the Trigger Event section, select New Customer and click on Continue.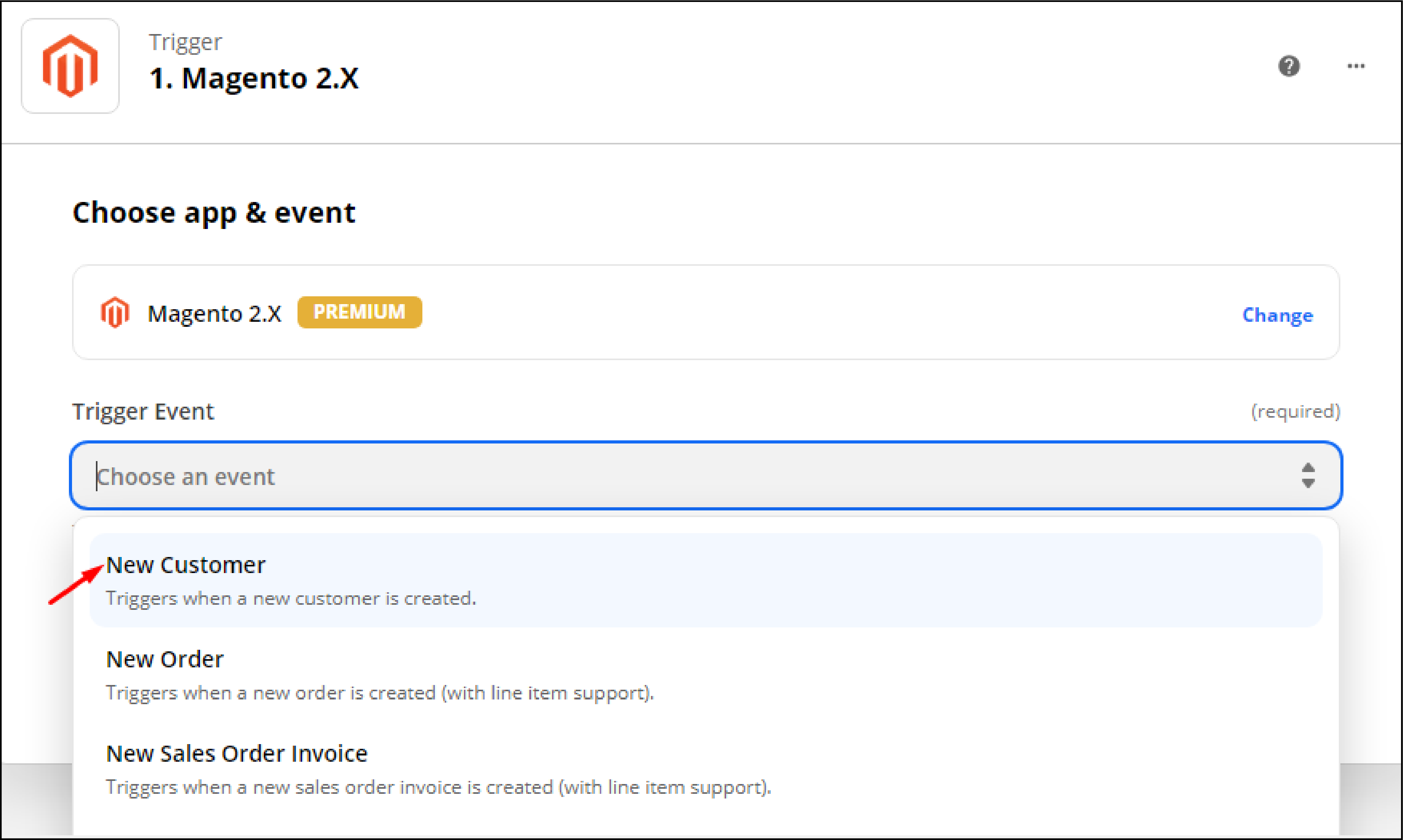 Select an account to sign in to Magento 2. x. Add the details such as Full Domain, Admin Username, and Admin Password. Click on Yes, Continue.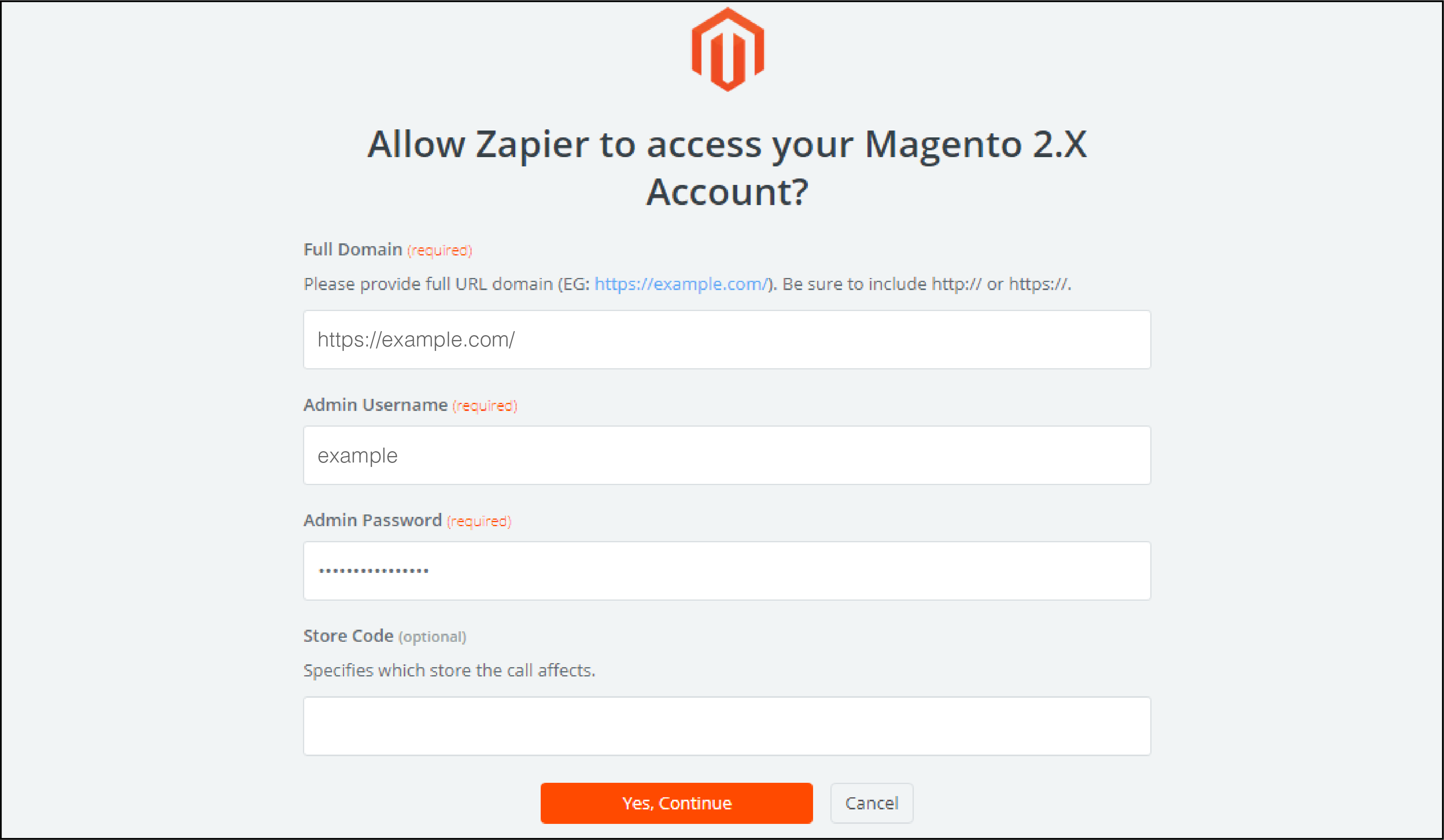 You have now successfully created a Magento 2. x account. Test the access to see if everything works well. Name the zap as per your preference.
3. Integrate Zoho CRM
Choose Zoho CRM as an event from the Zapier account.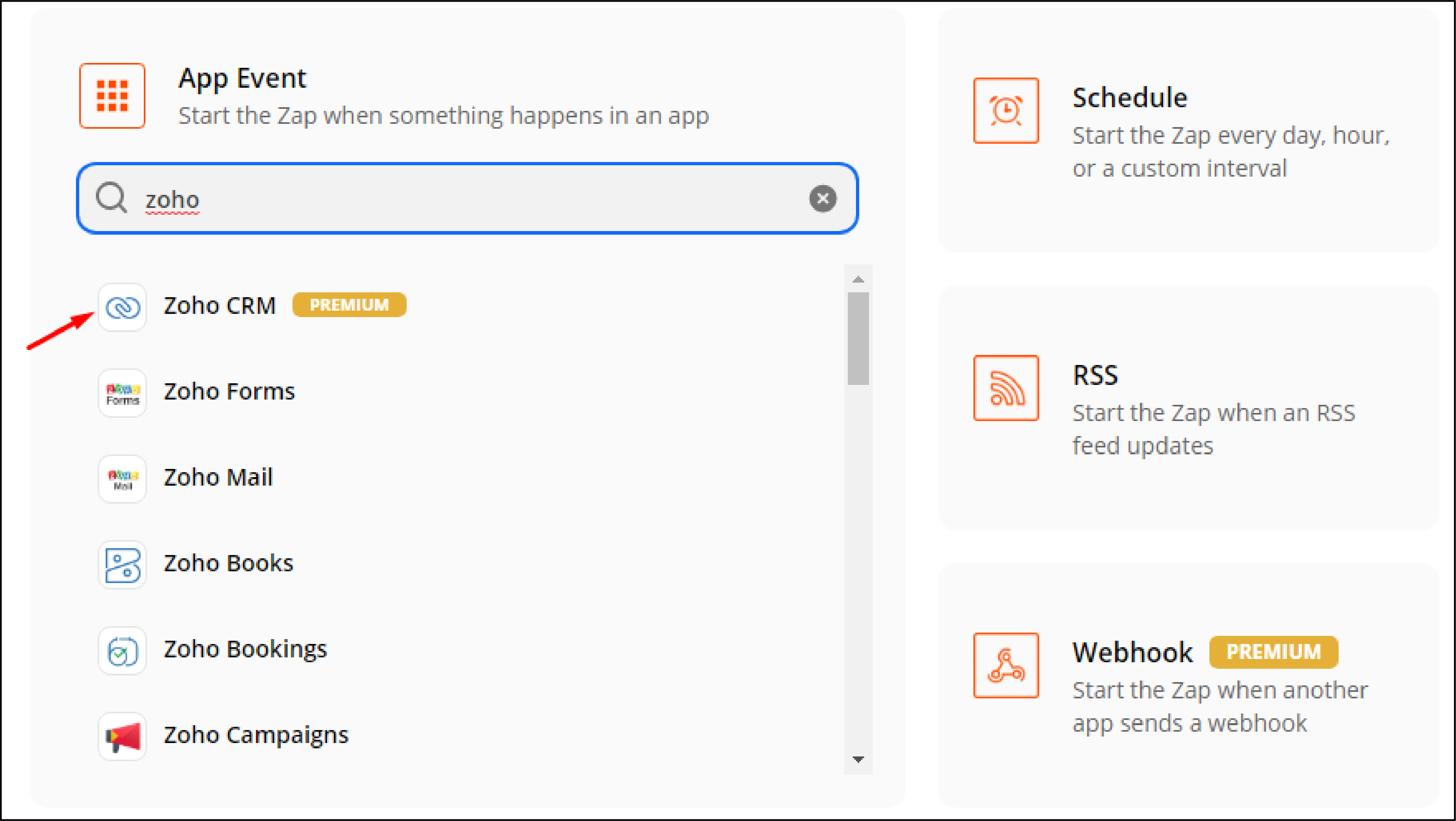 Then select New Contact and click on Continue.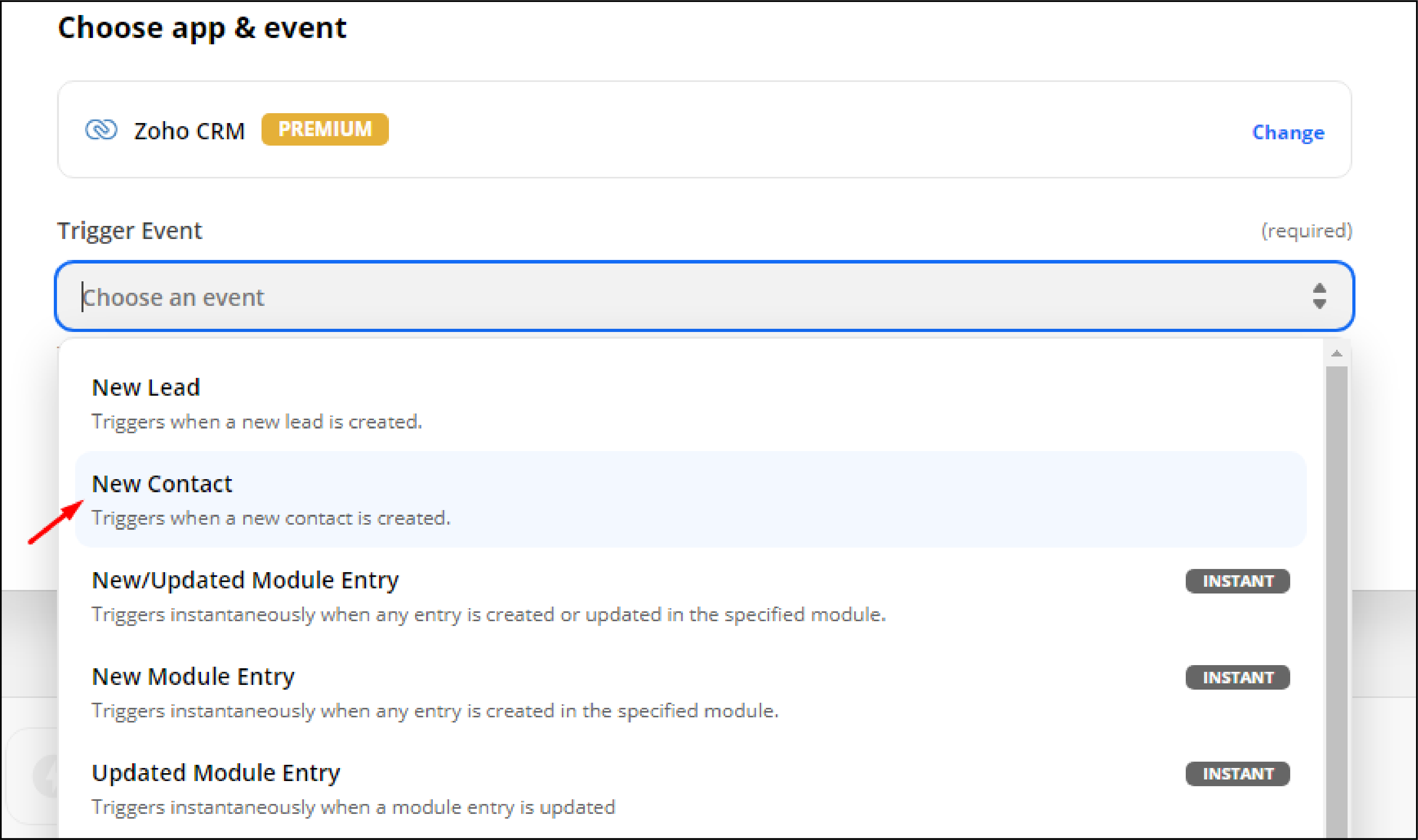 Now you have to Sign-in into your Zoho Account.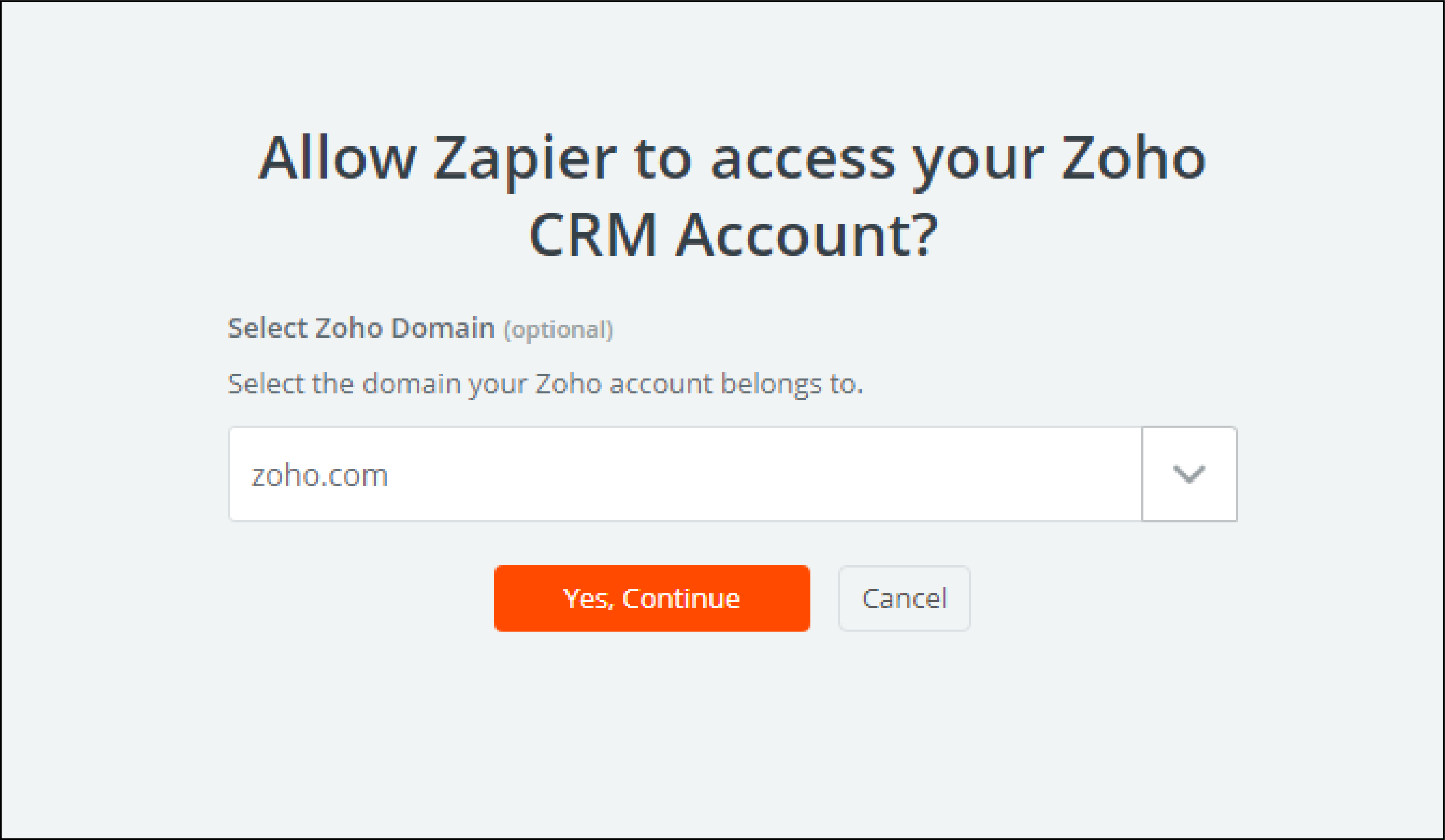 You can test the Zoho CRM account to see if it's running successfully and name your zap.
You have now set up Zoho CRM with Magento 2.
Benefits of Integrating Zoho CRM with Magento 2
1. Manage Leads and Contacts
With Zoho CRM, you can analyze customer behavior and segment the users into leads and contacts.
Sales managers can strategize their approach to different customer groups and convert them into buyers based on the data. It also includes field mapping for leads and conversions.
2. Reporting & Analysis
The CRM allows you to analyze the data visually. Get insightful reports and dashboards to track sales performance and KPIs.
You can share the reports and collaborate with team members. You get 75+ pre-built reports for the sales data.
The CRM offers the following -
Collaborative analytics

Sales forecasting

Email and print reports

Pre-built reporting templates

Zia- Smart analytical assistant
3. Automation
Zoho CRM can help you automate routine business tasks. You can easily track sales and integrate with customers' cross-platforms.
Zoho CRM keeps updating the sales data, including customer orders and products from Magento 2.
The automation features include -
Zoho Workflow Automation
Blueprint -top-down and locked automation process
Custom Functions - Custom triggers that initiate third-party or other Zoho applications.
4. Improved Inventory Management
Track the products and orders of the store from multiple channels. The Zoho CRM automates many processes and sync inventory data.
The inventory management features include -
Track inventory from various sources

Automate order management

Multiple shipping integrations

Manage accounting and sales

Warehouse management
5. Mobile version of CRM
The Zoho system offers a mobile version of the CRM. It lets merchants track store processes from mobile devices.
6. Third-party integration support
You can integrate Zoho with third-party applications. It enhances the store and works with popular business modules.
Integrate Magento 2 extensions with the system. It includes applications such as -
Microsoft Outlook
MailChimp
QuickBooks
ConstantConnect
Google Apps
7. Enhanced Customer Support
The on-demand HelpDesk and knowledge base offers extensive support to customers. You can manage customer support requests on many channels.
The Zoho customer support includes -
Automate the help desk workflow

Combine and separate tickets from various sources.

Integrate the knowledge base to answer support queries

Setup business plans, contracts, SLAs

Use ticket assignment, auto-tasks, and alerts setup.

Track the response to customers within the resolution time.

Identify potential HelpDesk issues with the inbuilt reports.
FAQs
1. How to integrate third-party software into Zoho CRM?
To integrate third-party software into Zoho CRM, which is part of the broader Zoho Magento integration process, you typically need to access the Setup section in Zoho CRM and select Marketplace. Here, you can find a third-party software integration app, which, when installed, can connect your Zoho CRM with the software.
2. How to set up Zoho CRM?
Setting up Zoho CRM is the first step for any integration, including Magento 2 Zoho CRM integration or any other third-party software integration. You need to sign up for an account on the Zoho CRM website, complete the registration process, and then customize your CRM to suit your specific business needs.
3. How to integrate Zoho CRM with a website?
The Magento Zoho CRM integrations process often includes integrating Zoho CRM with your website. To do this, you need to search for the appropriate website integration app within the Zoho Marketplace, accessible via the Setup section in Zoho CRM. Once you've installed the integration app, your Zoho CRM and website will be connected.
4. How to integrate Outlook with Zoho CRM?
The integration of Outlook with Zoho CRM is usually achieved through the installation of the Zoho CRM Plug-in for Microsoft Outlook. This is often an integral part of Magento Zoho integration, as it allows the syncing of emails, contacts, and calendar events between Outlook and Zoho CRM.
5. How can I achieve Zoho Magento integration for my online store?
To achieve Zoho Magento integration, which includes Magento Zoho CRM integration and Magento 2 Zoho CRM integration, you must use a reliable extension or module that facilitates this integration. Download and install this to your Magento 2 CRM store, and configure it within your Magento admin panel to connect with your Zoho CRM account.
These instructions should provide a solid foundation for Zoho Magento integration, whether you're working with Magento 2 CRM or an earlier version, and provide a comprehensive approach to the broader Zoho Magento 2 integration process.
6. What are the benefits of integrating Magento CRM with Zoho?
Magento CRM integration with Zoho provides multiple advantages, such as efficient data management and improved customer relations. The zoho CRM setup is easy and allows you to map and sync data fields like customers, orders, and products from your Magento CRM to Zoho. Notably, the Magento 2 Zoho CRM integration provides seamless operations with a more updated version of the platform.
Furthermore, following a 3-step process to integrate the best CRM for Magento (like Zoho) is simple. These steps involve installing the integration module, configuring the connection settings, and syncing data.
As with any Zoho CRM Magento 2 connection, integrating Magento 2 with Zoho inventory, part of the wider Zoho Magento integration, will undoubtedly streamline your inventory management. Finally, do not hesitate to refer to a Zoho CRM tutorial or seek professional assistance for a smooth and efficient Magento CRM integration process. This will ensure you make the most out of your CRM Magento operations.
EndNote
Zoho CRM lets you maintain the customer relationship and streamline the store's workflow.
It is helpful to sync store data in real-time and analyze various metrics.
Automate processes and optimize sales using visual data analytics.
Manage all customer accounts on one database. It lets you view products, order status, and more from multiple channels.
The tutorial shows simple steps to set up Zoho CRM in Magento 2.
To learn more about Magento, check out the MGT Commerce Blog.