Magento 2 Product Review Extensions: Manage Customer Ratings
Integrating Magento 2 product review extensions can enhance customer trust and engagement on your e-commerce platform. Reviews impact the customers' purchasing decisions and help create an awareness about a company's products and services. In this blog, we will dive deep into how the Magento 2 Product Review Extensions can improve your customer feedback process, boost sales, and enhance the shopping experience in your online store.
Key Takeaways
Magento 2 Product Review Extensions help build customer trust by showing positive and negative reviews, establishing transparency in your online store.
Reviews engage customers and foster two-way communication. They also simplify decision-making for potential buyers.
By enabling customer ratings and reviews, product review extensions impact an online shop's conversion rate as potential buyers trust products with many positive reviews.
Magento 2 Product Review Extensions help collect genuine product reviews, improving your online store's transparency and trust factor.
Store owners can customize review settings to their needs. Various extension types cater to different store needs.
Benefits of Magento 2 Product Review Extensions
Magento 2 Product Review Extensions offer several benefits, such as establishing trustworthiness, engaging customers, and boosting sales.
1. Establish trust
Trust is an indispensable part of the online shopping experience. It grows when people see honest feedback on your product's quality. Honest reviews allow you to show customers you have nothing to hide and paint a real picture of your offer.
Customer reviews make people feel safe buying from your online store. Magento 2 Product Review Extensions allows showing positive and negative testimonials to the public.
2. Engage customers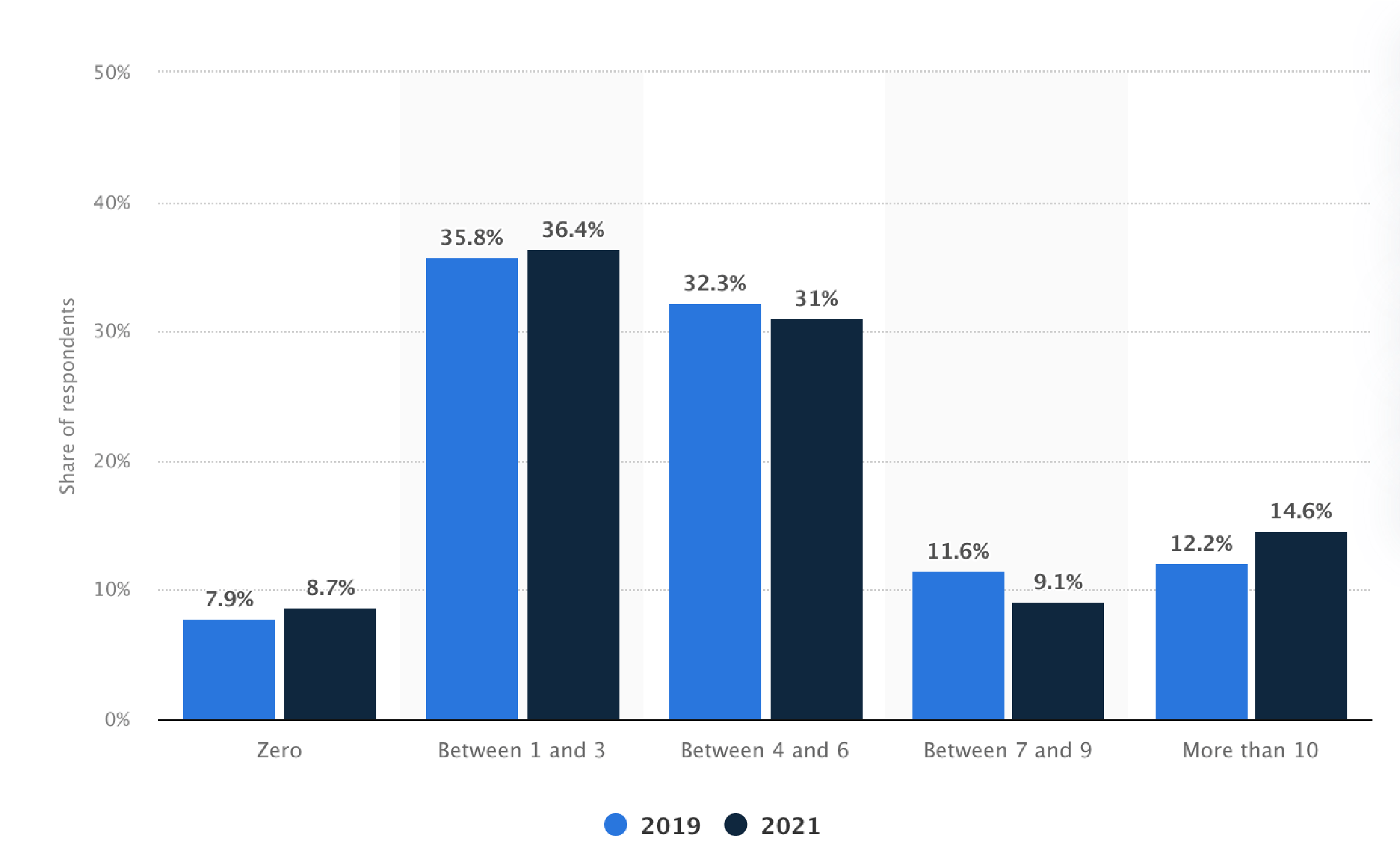 Magento 2 product review extensions create a two-way street. Product reviews allow store owners and customers to chat openly and increase trust. Reviews allow customers and store owners to keep in touch after a sale.
Enabling reviews on a website leads to happy customers who want to come back more often. According to Statista, nearly 70% of customers read three to six reviews before purchasing.
3. Boost sales
Positive reviews significantly impact sales. Customers like to read about other people's experiences before they buy. They trust products with reviews over the ones with few or bad reviews.
A study by Search Engine Land suggests that reviews impact purchasing decisions. Only 25% of people would buy from a business without reviews, whereas 70% of customers rely on positive reviews.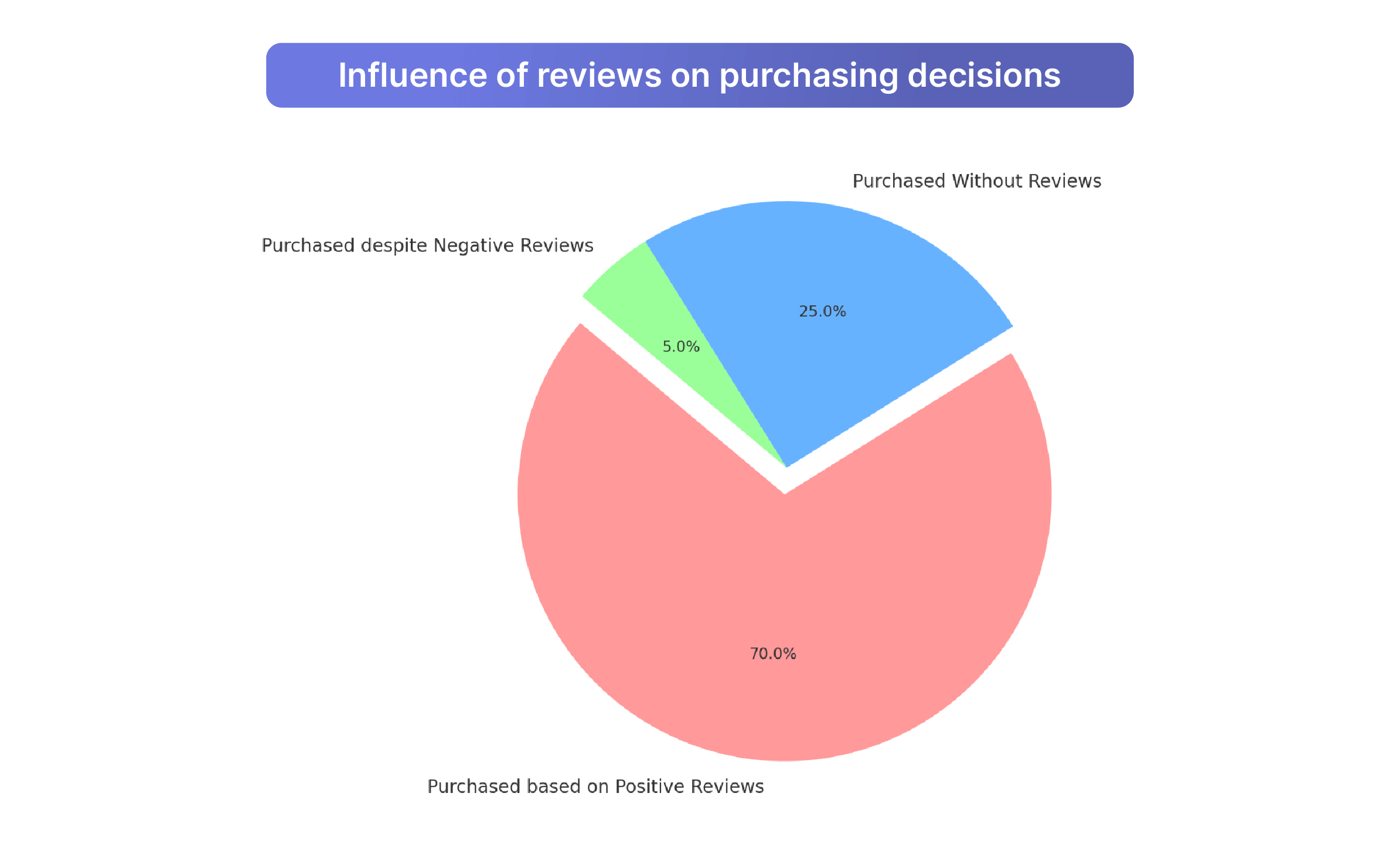 Having many confident reviews on your online store can lead to an increase in sales. Magento 2 product review extensions allow customers to share their thoughts and rate products easily, leading others towards smart buys and boosting overall sales for your store.
4. Facilitate the decision-making process
Magento 2 Product Review Extensions can help facilitate the decision-making process for customers. Reading reviews and ratings from other customers helps potential buyers gain insights into the product's quality and performance.
It helps customers make more informed decisions before making a purchase. An option to attach images (or videos) with reviews visually represents the product they purchased.
Consumer reviews on online stores enhance customer trust and confidence in their buying choices. Ultimately, reviews make purchase decisions easier and faster!
5. Collect feedback from customers
Collecting feedback from customers is an invaluable aspect of running an online store. With Magento 2 Product Review Extensions, you can easily gather customer feedback.
Enabling reviews in Magento stores helps gain valuable insights about product quality, delivery process, and overall customer experience. Review extensions also offer reply functionalities, so you can engage with your customers directly and address any concerns they may have.
The feedback offers a clear direction for product enhancements and assists the support team in addressing customer concerns.
Key Features of Magento 2 Product Review Extensions
1. Enable customer ratings and reviews for products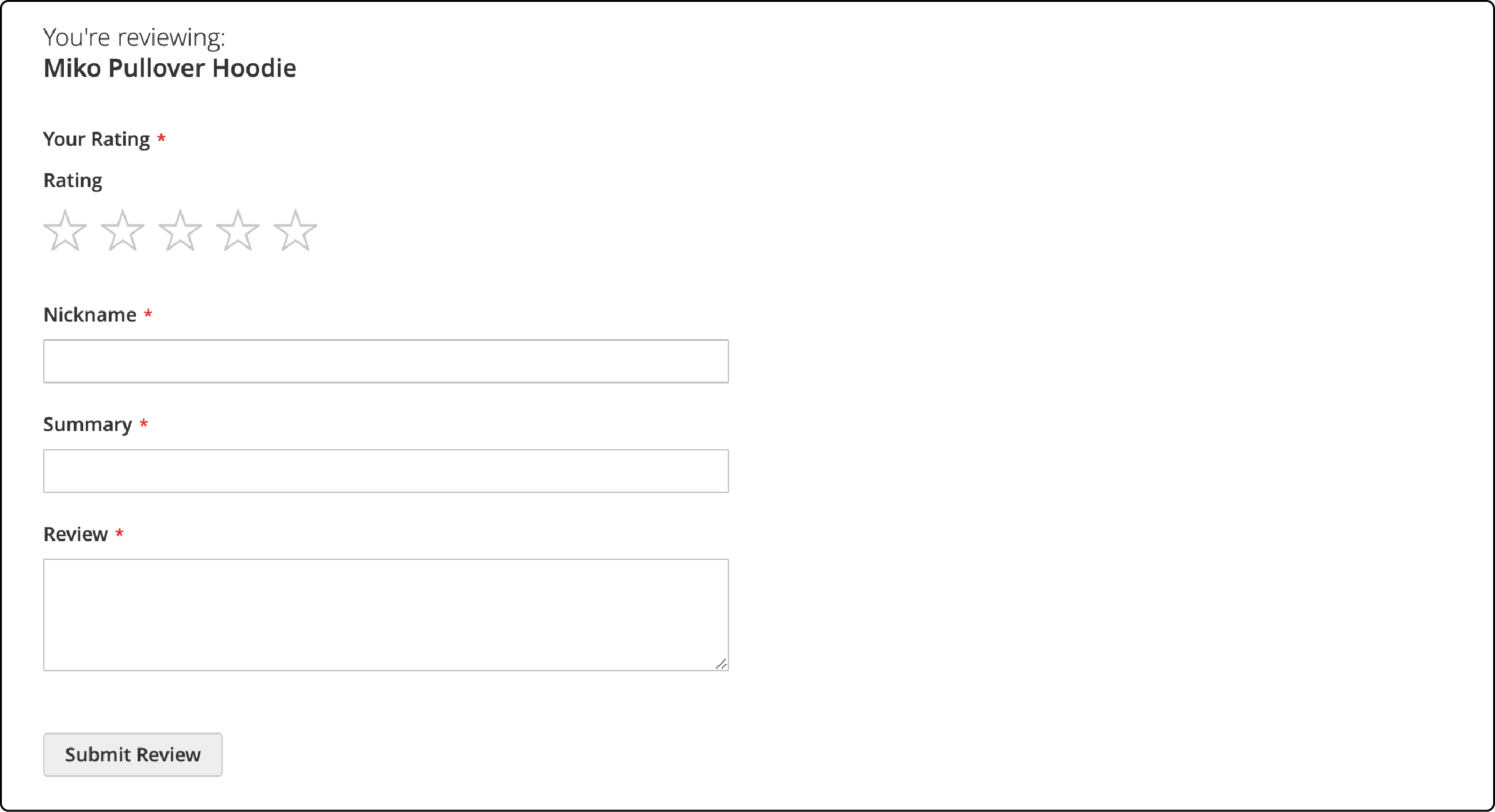 With Magento 2 Product Review Extensions, you can easily enable customer ratings and reviews for your products. The feature allows customers to share their thoughts and experiences with other shoppers.
By enabling this function, you allow potential customers to read the reviews and make informed decisions about purchasing a product. You can customize the settings of the reviews to suit your store's requirements.
2. Allow customers to attach images and videos with reviews

Allows customers to easily add pictures and videos when writing their reviews. The feature allows them to provide visual evidence of the condition of a purchased item.
It also helps demonstrate how they use the product, giving potential buyers a better understanding of its features and benefits. By allowing customers to share multimedia content, online stores can increase engagement, build customer trust, and boost sales.
Having visuals in reviews also helps other customers make informed purchase decisions by seeing real-life product examples.
3. Reply functionality for users and customers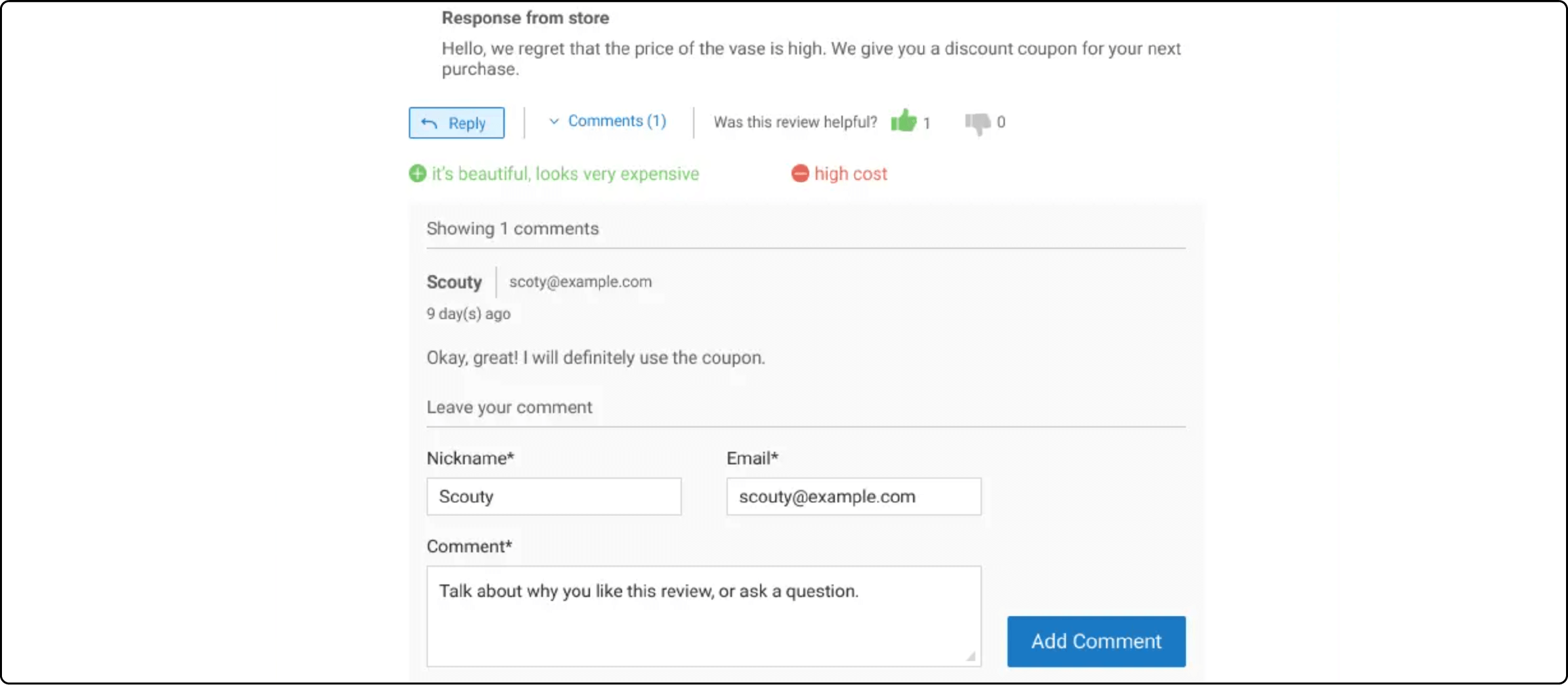 With Magento 2 Product Review Extensions, store owners and customers can benefit from the reply functionality. The feature allows them to respond directly to reviews left by other customers or users.
It promotes engagement and interaction, creating a community within the online store. Users can address any questions, concerns, or feedback others share, providing a platform for open communication.
Ultimately, the reply functionality enhances the overall customer experience and helps build trust between buyers and sellers.
4. Voting and flagging options for comments

Users can take advantage of voting and flagging options for comments. The feature allows customers to vote on the helpfulness of specific testimonials. It gives store owners valuable insights into which reviews their customers consider most useful.
You can also flag comments that may be spam or contain inappropriate content. It helps maintain the integrity of the review section and ensures that potential customers can trust the information they read.
Overall, the voting and flagging options enhance customer engagement and provide a more reliable review system for online stores powered by Magento 2.
5. Easy customization and settings
Review extensions offer easy customization and settings options for online store owners. Extensions allow easy configuration of the review settings according to your preferences.
You can enable or disable product reviews, set approval settings, customize the display of reviews, and more. It ensures that the review system perfectly aligns with the online store's brand identity and overall aesthetics.
Store owners have complete control over how they want to showcase customer reviews and testimonials on their Magento 2 website.
Top Magento 2 Product Review Extensions
Several types of 'free' and 'paid' Magento 2 Product Review Extensions are available. You must choose the one that fits your needs. Here are some considerations:
1. Advanced Product Reviews for Magento 2 by Amasty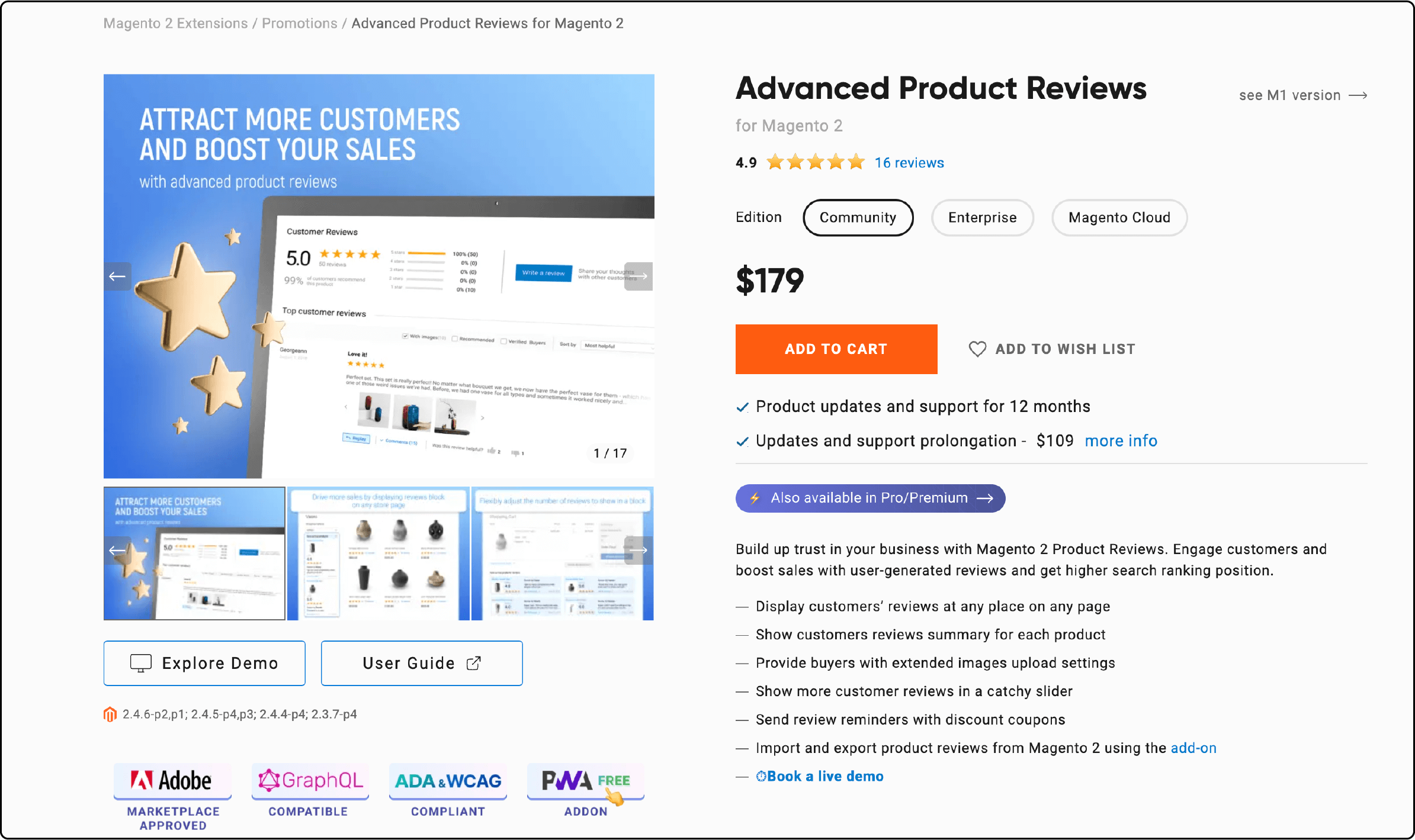 Amasty's Advanced Product Reviews for Magento 2 offers a robust solution to elevate e-commerce feedback mechanisms. Tailored for Magento 2 platforms, it empowers businesses by enhancing the customer review experience on your online store.
It allows easy customization options and settings configuration and helps boost sales by establishing trustworthiness and engaging customers in making informed purchase decisions.
Features
It allows showing top-rated reviews on any store page.
Automatically generates discount coupons for customers.
The extension allows advanced review filtering for Magento 2 reviews.
Enables reminder emails to gather reviews.
Allows enabling admin replies to customer reviews.
The extension enables 'one-click' feedback approval.
Provides reCAPTCHA for protecting customer testimonials from bots.
It allows Google reviews and verified purchase labels.
Pricing: starting at $179.
2. All Product Reviews by Sparsh Technologies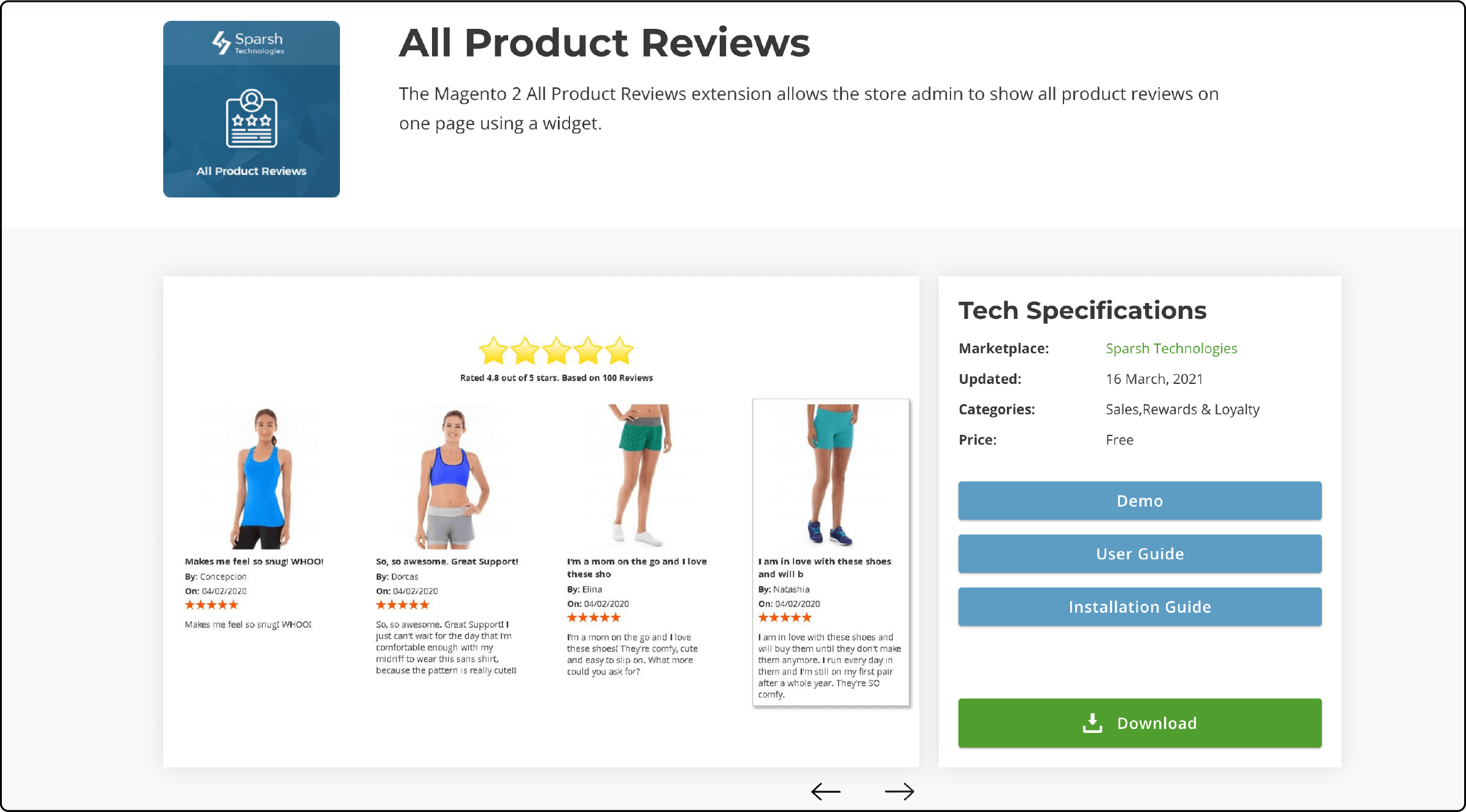 Sparsh Technologies' All Product Reviews extension for Magento 2 stores centralizes customer feedback by displaying all reviews on a single dedicated page. It enhances the shopping experience by letting potential buyers quickly gauge product quality and satisfaction levels across the store.
With features like easy navigation, filter options, and responsive design, it boosts trust and adds a layer of transparency, helping merchants effectively showcase genuine customer opinions.
Features
Enables showing all reviews of all the products of your website on a single page
Allows showing or hiding total reviews of the ratings
Includes a reply functionality for users and customers
Enables showing or hiding review ratings
Provides options for voting and flagging comments to maintain the authenticity of testimonials.
Enables showing or hiding the product image for each review
It provides Magento multi-store support.
The extension comes with 12-month product updates and a user-support facility.
Pricing: Free
3. Magento 2 Product Reviews by Magetrend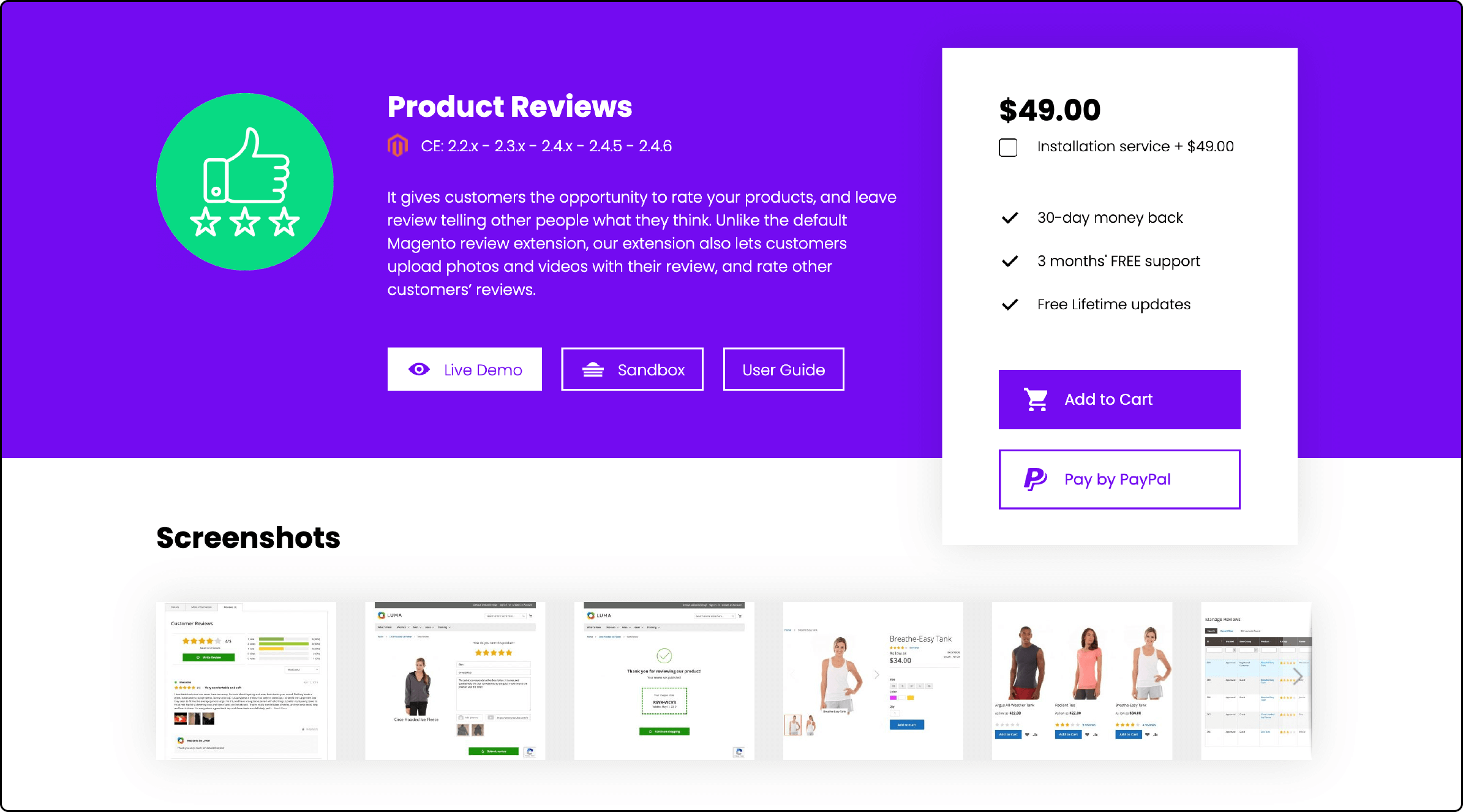 Magetrend's Magento 2 Product Reviews extension allows customers to leave ratings and reviews for products on your online store. It enables the review function and customizes the settings according to your needs.
Customers can write detailed reviews, attach images or videos, and vote or flag comments. The extension also provides a reply functionality for both users and customers.
Features
Enables built-in follow-up feature for sending 'review request.'
Allows creating an email chain to send repeat customer requests after a specified time.
Allows customers to upload photos of the products they receive.
Provides a mark as 'Helpful' functionality, which allows keeping the most useful reviews at the top.
Enables adding review videos in the form of YouTube URLs.
Allows choosing who can post reviews: everyone, registered users, or customers
It offers three months of free user support.
The extension comes with a 30-day money-back guarantee.
Pricing: $49 + $49 for installation service.
4. Advanced Product Reviews & Reminders for Magento 2 by Mageworx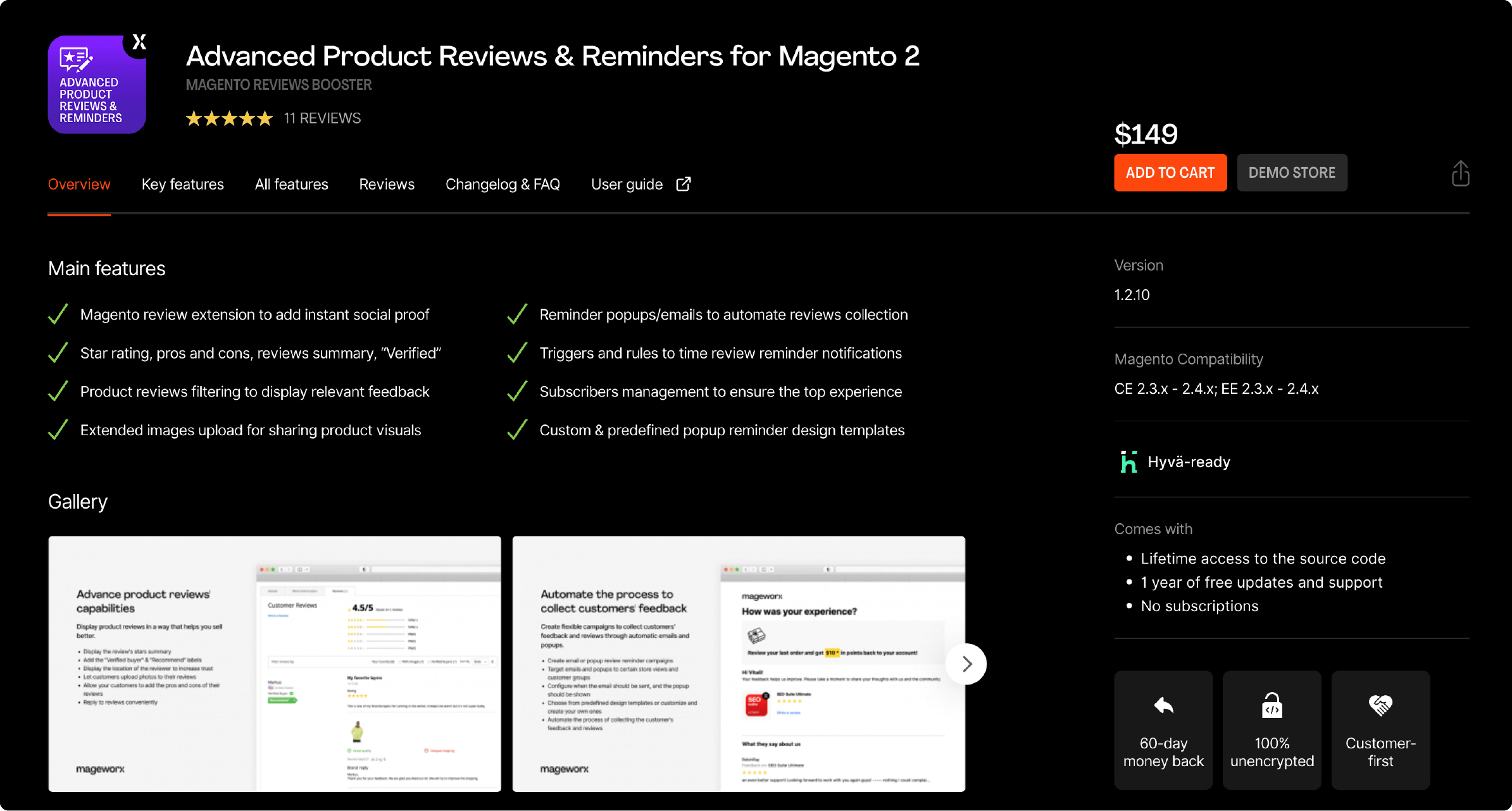 Mageworx's Advanced Product Reviews & Reminders extension for Magento 2 is designed to optimize customer feedback collection and presentation. The tool facilitates gathering in-depth product reviews and automates reminder emails for feedback solicitation.
With advanced filtering, user-friendly interface, and image inclusion capabilities, the extension enriches e-commerce sites to foster transparency and customer trust. It allows benefiting from a holistic view of customer opinions and driving informed business decisions.
Features
Allows sending popups and emails for Magento 2 review reminders
It enables star ratings in search results for enhanced Magento SEO.
Enables 'Verified customer" and 'I recommend' badges
It offers a 'review summary' option for Magento testimonials with a star rating graph.
Allows reward points with custom text as a 'thank you' for sharing feedback (Mageworx Reward Points installation is necessary for this review functionality.)
Enables a widget for displaying product reviews and ratings on Product pages.
Comes with lifetime access to the source code
It offers free updates and user support for one year.
Pricing: Starts at $149.
FAQs
1. How do Magento 2 product review extensions improve the integration of online reviews?
The Magento 2 product review extension allows store owners to manage reviews efficiently and decide how to display reviews on their websites.
By collecting online reviews, businesses can enhance their online presence and foster trust among potential customers.
2. How do I enable product reviews in my Magento store?
You can turn on product reviews through the Magento 2 admin panel. Find the 'reviews function' in the store settings configuration to enable it.
3. How can users import reviews into Magento product reviews?
Yes, with 'advanced reviews' extensions for Magento, users can import reviews seamlessly. Once imported, you can choose 'save review' and make the necessary adjustments later.
4. Can customers rate different aspects of my products?
For an enjoyable user experience, allow them to rate various attributes of your products using the stars rating system introduced by the Magento 2 product review extensions.
5. How can customers view review details and provide valuable customer feedback?
Customers can easily click on the review section of a product to view detailed feedback.
When writing reviews, they can provide insights and add multiple review images, offering a comprehensive perspective for future shoppers.
6. Can online store owners ask guests to write reviews, and how to manage pending reviews?
Many Magento 2 product review extensions allow guests to write reviews for online stores. Store owners can easily manage pending reviews in their dashboards.
Summary
Magento 2 Product Review Extensions can help improve the conversion rates of e-commerce sites. They help establish customer trust, engage them in decision-making, and boost sales. Features like the ability to attach images and videos, easy customization options, and product review extensions provide valuable insights for customers. So, if you're running an e-commerce business on Magento 2, consider using a product review extension to enhance your customer experience.
Are you seeking reliable Magento hosting services for a fast loading online store? With the right expert support and insights, the sky's the limit for your e-commerce store!