Magento vs. Shopify Comparison Guide
E-commerce is a competitive landscape with constant market changes. You require an ecommerce platform that lets you build a successful online store.
The right ecommerce solution depends on your business needs. You have to analyze your business goals. It can involve technical skills, brand vision, and scaling.
This article compares Magento vs. Shopify to help you decide the best option for your online shop.
Overview of Magento
Magento is an open-source ecommerce platform written in PHP. You can build customized ecommerce sites that scale globally.
It is a leader for digital commerce across B2B & B2C industries. More than $155 billion in gross merchandise volume is transacted on Magento annually.
It is recognized as a leader in the Gartner Magic Quadrant for Digital Commerce. The title has been for the fifth year in a row.
According to Adobe, merchants that use Magento grow 3x faster on average.
Magento's flexibility allows personalized shopping experiences. You can use next generation technology that is quick to market.
Magento offers a wide range of features for ecommerce. Some of the primary Magento features include:
Site management
Page builder & content staging
Marketing & promotions
Checkout, payment & shipping
Customer accounts & customer service
Order management
Analytics & reporting
Business intelligence
The top 3 Pros & Cons of Magento ecommerce platform:
| Magento Top 3 Pros | Magento Top 3 Cons |
| --- | --- |
| Robust & Scalable platform. Suitable for any business size. | Requires technical support for customizing. |
| Highly customized with third-party extensions. | Costs for a highly personalized store with developers & plugins. |
| Global platform with extensive community support. | Resource hungry if not optimized. |
Overview of Shopify
Shopify is a Canadian ecommerce platform founded in 2006. The first web application framework was built with Ruby on Rails.
It offers subscription based online selling & retail point-of-sale systems. You get a drag & drop store builder to set up your online shop.
With Shopify, you don't require a lot of coding knowledge. It provides an easy to use platform for beginners & small businesses.
In May 2021, Shopify had more than 1,700,000 online stores. It is spread across 175 countries. Shopify's total gross merchandise volume reached $ 119 billion in 2020.
Some of the main features of Shopify include:
Storefront management
Shopping carts & payments
Marketing & SEO
Inventory management
Web hosting service
Reporting & analytics
Mobile app
24/7 support team
The top 3 Pros & Cons of Shopify ecommerce platform:
| Shopify Top 3 Pros | Shopify Top 3 Cons |
| --- | --- |
| Easy to use platform. You don't require technical skills. | Costs for plugins and payment integrations. |
| 24/7 technical support from Shopify. | Customizing limits. You cannot build a personalized store. |
| Pre-built themes & plugins to extend store functions. | Not easy to scale if you have a large inventory & want to expand globally. |
Magento vs. Shopify Comparison
1. Ease of Use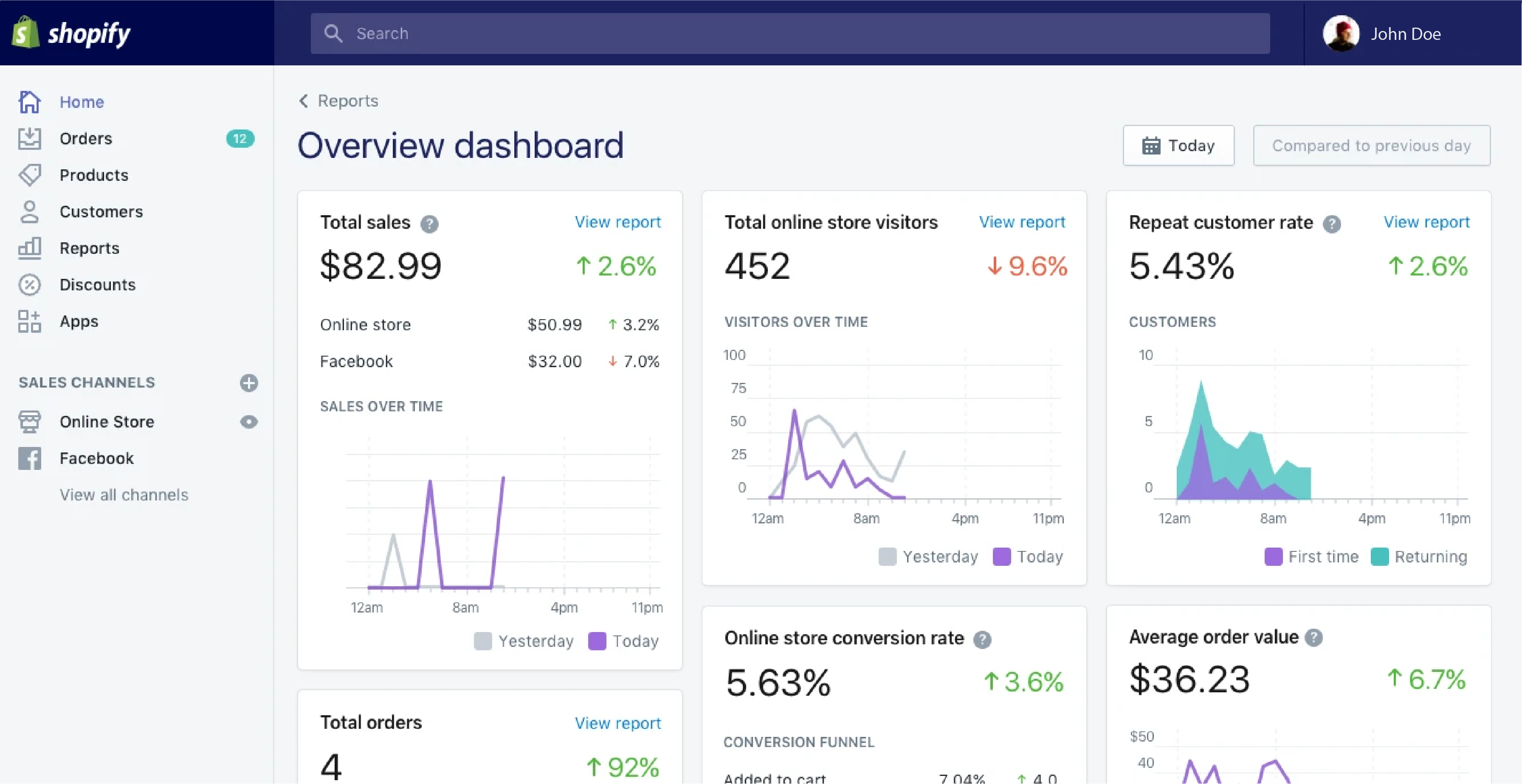 Shopify offers a drag & drop website builder. You can quickly build & manage your store on a user-friendly interface.
Beginners can move the elements around to create a customized page. There is no programming required or dealing with long lines of code.
However, the ease of use lacks deeper functionality. You may only be able to build a basic customized website.
The page builder offers a finite set of functions. Its source code is not accessible, so you cannot make code changes.
Shopify's admin dashboard is intuitive, with explanations on every section. You can understand the analytics, order management & reports quickly.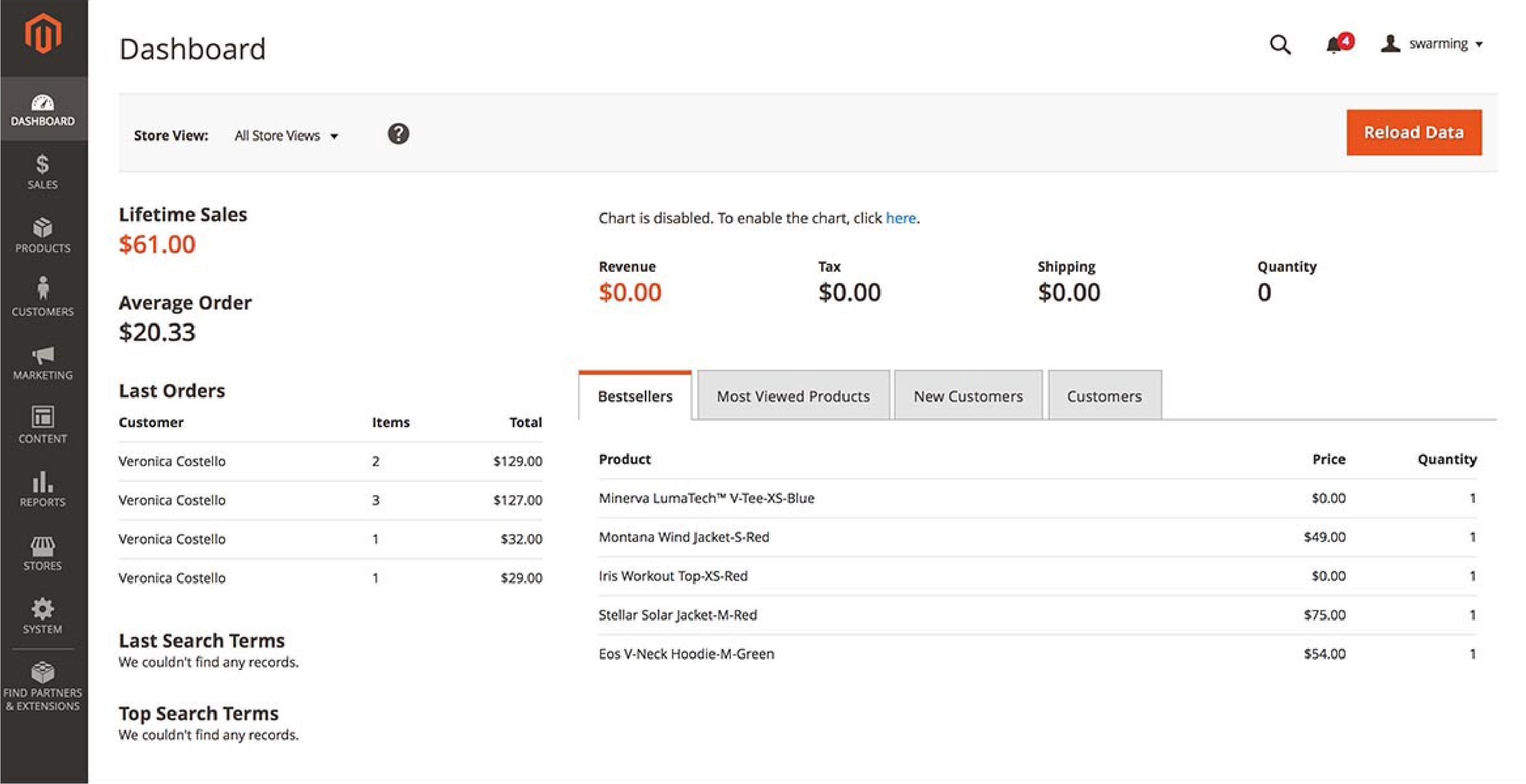 Magento website building requires Magento developers if you need a customized shop. There is a learning curve for Magento store management.
If you are a beginner, you will also have to meet Magento installation requirements. Without technical skills, Magento usability can seem a bit complex.
The upside is that Magento has unlimited potential for customizing. Developers build creative shops on fast API-led architecture.
The Magento dashboard is clean and intuitive. It offers a detailed navigation menu for products, promotions, sales reports, and so on. Admins get all the ecommerce information on a single dashboard.
2. Performance
The Shopify team manages the performance of your websites. For a small store, the page load time is around 1 to 2 seconds. However, your site can become slower if you add plugins.
The more products & images, the more your site may face speed issues. You have to get in touch with the Shopify team to resolve any performance issues.
Magento can offer consistent performance for large inventory & plugins. But you will have to optimize the store performance.
It is recommended to opt for Managed Magento hosting. The store speed is taken care of by Magento level experts. That way, you get high Magento performance & uptime.
With proper optimizing, your store can reach less than 0.3 seconds of page loading time.
3. Themes & Design
Shopify offers 70+ professional themes to build your ecommerce website. Around ten of the primary themes are free to use. Other theme layouts cost $ 150 - $240, depending on your brand style.
You can choose the themes based on grid layouts, inventory size, industry, and more. The designs are trendy, minimalist, and sleek. It lets you display the products efficiently.
The themes are also mobile responsive. You won't have to optimize them separately to be mobile friendly.
But you cannot change the themes any further with Shopify. The lack of custom themes may affect the on-brand requirements.
Magento offers thousands of custom themes made by community developers. Some are free, while other themes can cost between $30 - $ 400. It is based on your branding requirements.
Sites like Theme Foster and Template Monster offer a variety of Magento templates. The themes are categorized by industry, product size and offer a wide range of designs.
You can further update the templates to create on-brand experiences. A UX report states that 88% of consumers are less likely to return to a site after a bad experience.
Magento platform lets you modify the themes to optimize the user experience.
4. Scaling & Flexibility
Shopify Scaling & Flexibility
With Shopify, you cannot create multiple stores from a single account. To scale to different regions, you have to upgrade to an expensive plan.
Shopify Advanced plan starts at $299. However, it still has limitations for scaling. The maximum is 8+ storefronts, or else you have to migrate your shop.
To have multiple stores from one account, you can go for Shopify Plus. It provides ten stores, and the pricing starts at $2000 per month!.
Overall, for large stores, Shopify is not a good option for global scaling.
There are limits when it comes to flexibility. You also don't get advanced store features for different regions.
Magento Scaling & Flexibility
Magento is a robust platform that offers excellent scaling capabilities. You can create multiple stores and expand to many regions globally. It also allows a large inventory and can handle traffic spikes more effectively.
Magento is a suitable platform for any growing ecommerce business. You get built-in support for global selling. You can transact in multiple countries.
The platform evolves with business changes. You can scale your stores & personalize them for your target audiences.
You also get high flexibility because Magento is open source. The code is available to everyone to work on. You have the freedom to build stores based on consumer demands & changing markets.
5. Add ons & Extensions
Shopify App Store offers around 4000 free & premium plugins. You can use them to extend the functionality of your store.
Some of the primary categories include:
Shipping & delivery
Store design
Marketing & conversions
Dropshipping
Store management
Merchandising
The plugins are easy to integrate with a click of a button. You won't require the tech team to add the extensions. Too many plugins can make your website slower. It is essential to choose the correct add ons for your store.
Magento offers more than 5000 extensions, both free & premium. You also get Magento third-party extensions from various development agencies.
The featured Magento extensions categories include:
Payments & security
Marketing & promotions
Customer support
Accounting & finance
Shipping & fulfillment
Site optimization
To add the plugins, you may require some technical skills. Many extensions are easy to integrate.
The Magento team checks these extensions before use. Magento offers all the extensions for a large & growing ecommerce company.
6. Multilingual Capabilities
Shopify Multilingual features
Shopify does not offer built-in features for multiple languages. You also cannot configure localized payment methods.
To create multilingual stores, you have to use third-party extensions. You will require a Shopify developer to build such localized websites. Every website has to be configured separately.
Magento Multilingual features
Magento offers native features for multiple languages & local payment methods. You can build multilingual shops based on your target countries.
With Magento, you can optimize site content to fit the regional language. It allows you to change the product units & currencies.
You can also build marketing campaigns & promotions for localized marketing.
7. Hosting & Data Centers
Shopify is a fully-hosted e-commerce platform. You do not have to pay additional fees to host your website. The hosting is included in your monthly plan.
You also get uncapped bandwidth, so you are not charged for traffic spikes. You also get Fastly's content delivery network.
Shopify claims to manage 4000 checkouts per minute for your stores. You can use an existing domain name or purchase a custom domain from Shopify.
As it is not self-hosted, you don't get access to the full codebase.
The primary data centers for Shopify are located in North America. Check the SLAs & legal requirements before going for Shopify hosting. You may be selling in the EU region. In that case, you have to comply with data protection laws such as GDPR.
Magento is a self-hosted platform. You can install the software for free, but you have to pay for hosting. It gives you the freedom to pick your preferred Magento hosting provider.
Before choosing the Magento host, consider these factors:
Performance & security
Years of experience in Magento hosting
24/7 technical support with fast response time
Data centers close to your target countries
Managed services such as updates, backups, and server maintenance
Magento level experts with server knowledge
A suitable Magento hosting provider will help optimize your site. The server-side workloads are reduced. It helps you to focus on growing your store.
8. Security & Compliance
Shopify is an overall secure platform. It offers regular patches & security updates which are added automatically. Shopify is PCI DSS Level 1-compliant. You also get an SSL encryption certificate to protect sensitive information.
You have limited security control for Shopify. There is no option for advanced security for your store.
Magento releases security patches to secure your store. You can use the Magento Security Scan tool to find security loops in your store.
The platform also provides many security best practices in blogs. Magento Commerce is PCI DSS Level 1-compliant.
The Magento team offers some built-in security measures:
Enhanced password management
Flexible file system & permissions
Prevention of cross-site scripting (XSS) attacks
Use of non-default admin URL
With Magento, you can also outsource server-side security to your hosting provider.
9. Marketing & SEO features
Shopify provides many marketing tools to promote your store. Some of the primary marketing features include:
Email marketing
Google smart shopping
Facebook Ads
Campaign performance reports
Content marketing on blogs & social media
Along with these, you get SEO tools to edit title tags and meta descriptions. You can add specific product details.
Magento has a lot more features for marketing & promotions. You can create promotional pricing for specific stores. It also lets you add coupons, promotions, and rewards. You can use advanced consumer segmentation. You can use it to create targeted shopping experiences.
Some of the primary marketing features include:
Gift registries & reward points
Set promotions based on consumer behavior
Customize newsletters & emails
Support for Google Analytics, AdWords, and Google Tag Manager.
Related products, upsells & cross-sells
The Magento SEO tools allow you to create search-engine ranking URLs. It allows URL rewrites. You can add sitemaps and also data markup to product pages.
10. Payment Methods
Shopify has 70+ payment gateways such as PayPal, Stripe, and Amazon Pay. It also has a payment processor called Shopify Payments. You have to add transaction fees if you're not using Shopify Payments.
Magento has more than 150+ payment gateways. You can also install payment methods from the Magento marketplace. There are no additional transaction fees for Magento.
11. Support
You get 24/7 support from a dedicated Shopify team. You can contact them via chat, email, or phone to resolve any issues. You have to rely on the Shopify team for technical support. It limits your control over the system.
Magento offers dedicated technical support for Adobe Commerce & Commerce Cloud editions.
A lot of support is available via Magento forums and documentation. The Magento community has a large number of global developers.
You can ask your doubts & issues on the Magento community page.
12. Pricing
Shopify has three pricing plans which are billed monthly.
Shopify Plans
Pricing
Best suited for businesses.
Basic Shopify
$29/month
Suited for newly formed, small businesses.

You get two staff accounts, four inventory locations.

Payment transaction fees are 2.0%
Shopify
$79/month
Suited for small growing businesses.

You get five staff accounts, five inventory locations.

Payment transaction fees are 1.0%
Advanced Shopify
$299/month
Suited for businesses that require advanced reporting.

You get fifteen staff accounts, eight inventory locations.

Payment transaction fees are 0.5%
Shopify also offers an enterprise version called Shopify Plus. It is for high-volume merchants. Shopify Lite allows you to add a "Buy" button to your existing site. It comes at $9/month for merchants.
You also get a 14 day free trial with Shopify to see if the platform is suited for your business.
Magento Open Source is free to download. However, you will have to pay for hosting & site maintenance.
The paid plans of Magento come in 2 editions. It is mainly for enterprise level businesses.
Magento Paid Plans
Pricing
Best suited for businesses
Adobe Commerce
$22,000+/year
Large-scale businesses that require in-built site maintenance.

Have complex business processes with more than 10 million transactions.

Require B2B tools and business intelligence.
Adobe Commerce Cloud
$40,000+/year
Large-scale businesses that require native cloud hosting.
It is advised to opt for the free Magento Open Source edition. It is suited for all business sizes to build an ecommerce store.
Learn about Magento editions on the Open Source vs. Magento Commerce blog post.
Which Ecommerce Platform is Right for Your Business Case?
Shopify
Shopify is suited for small-scale businesses with limited products & storefronts. You won't require extensive technical knowledge or experts.
It is beginner friendly and allows you to build a store quickly.
If you plan on scaling, Shopify may not be an excellent option. Shopify does not let you grow your business. It has limited features & functions for scaling.
Shopify is a suitable platform for merchants that have small to medium sized inventory.
Magento
Magento works for all business sizes. You can creatively build your store based on consumer demand.
You have to invest in hosting and technical support. It is also well suited for businesses with an extensive product catalog.
If you want to grow your ecommerce business, Magento offers high scaling capabilities. It is flexible & robust so that you can create unlimited custom stores.
Conclusion
Picking the ecommerce platform has a massive impact on your business.It affects your scaling, revenue & consumer loyalty.
To decide between Magento and Shopify, you should consider your business requirements.
Shopify is good if you want to get started with a store quickly. It is helpful for lower complexity processes. If you want native technical support, Shopify is a suitable option.
For a growing business that requires customizing, Magento is an excellent choice. You get the creative leverage to build unique websites. It lets you scale globally and can handle a large inventory.
Magento is recommended for SMEs as well as large-scale businesses.
To learn more about Magento hosting & ecommerce, check out the MGT Commerce blog.