PrestaShop vs. Magento Comparison -Which one to choose?
Introduction
To run a profitable online store, you need a suitable e-commerce platform. It needs to be secure, high performing, and offer a wide range of features. You also need to evaluate the platform's pricing, support, functions, and scalability.
Both Magento and PrestaShop are prominent solutions in the market. But which one is better for your requirements?
We compare Presta vs. Magento under different categories. Get insights into which platform is suitable for your business requirements.
Overview of PrestaShop
PrestaShop is an open-source eCommerce platform. It is written in PHP and supports MySQL database management. PrestaShop is free to download, but you will need to invest in hosting and site maintenance.
It is easy to customize your store based on your needs. The platform is available in 75 languages. PrestaShop is used by 300,000+ shops worldwide.
Overview of Magento
Magento is an open-source eCommerce platform written in PHP. It was released in 2008 by Varien. Magento is one of the most popular shopping carts. It is used by Nike, Canon, Ford, among other big brands.
Magento has powerful built-in features for high-volume selling. Around 250,000+ merchants use Magento.
Magento comes in these editions:
Magento Open Source
Adobe Commerce (self-hosted version)
Adobe Commerce (Cloud)
PrestaShop vs. Magento Comparison
1. Ease of Use
The PrestaShop interface is simple and easy to use. It allows non-technical merchants to customize their shops easily. Admins can quickly navigate the dashboard and perform daily management tasks.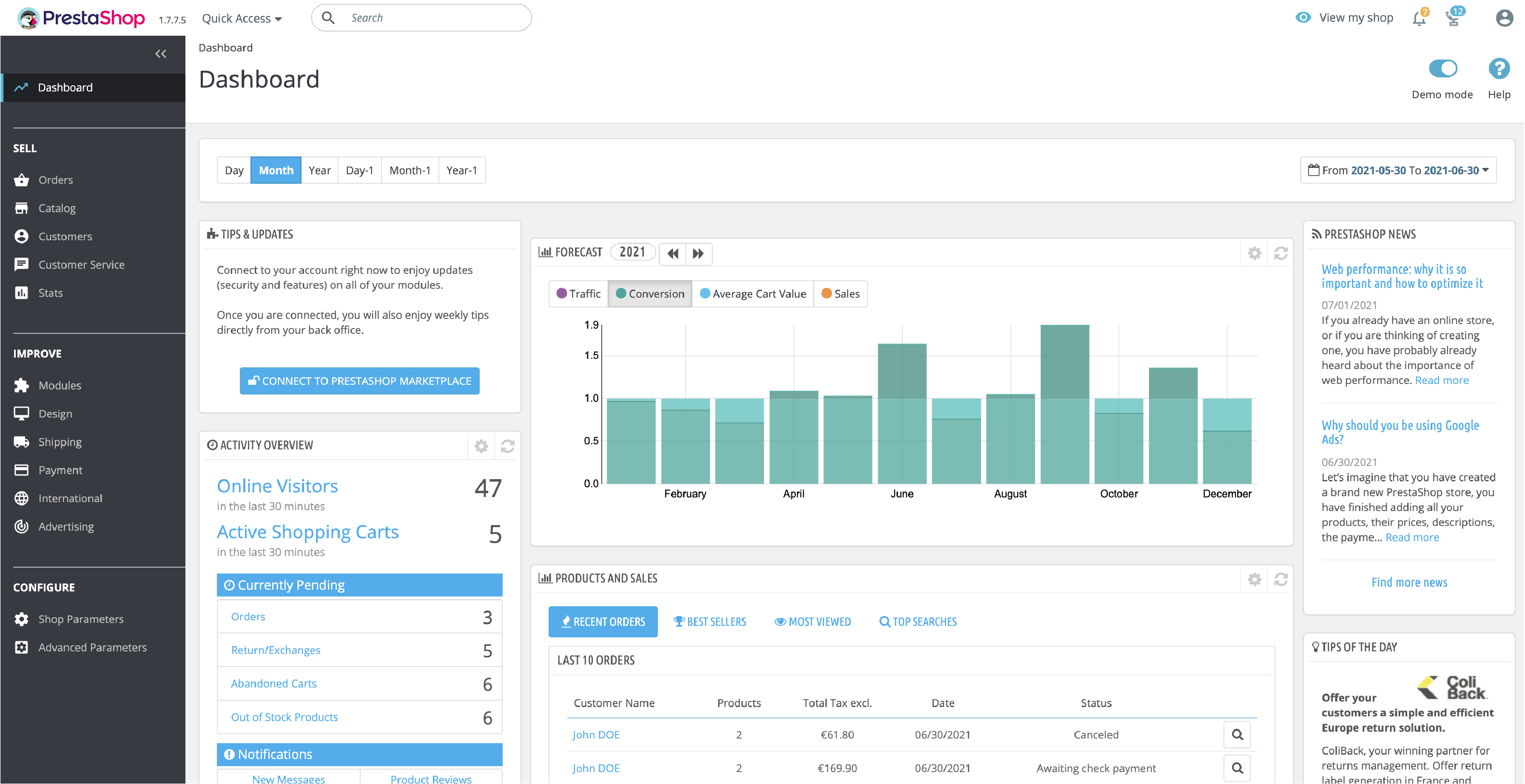 Magento setup & installation requires some technical knowledge. In our documentation, we explain step by step how to set up PrestaShop 1.7 with CloudPanel. If you are not tech-savvy, you will need help from experts to get you started.
Magento dashboard has more options to build your store. You can use the dashboard for all aspects of Magento management. However, it may take more time to configure.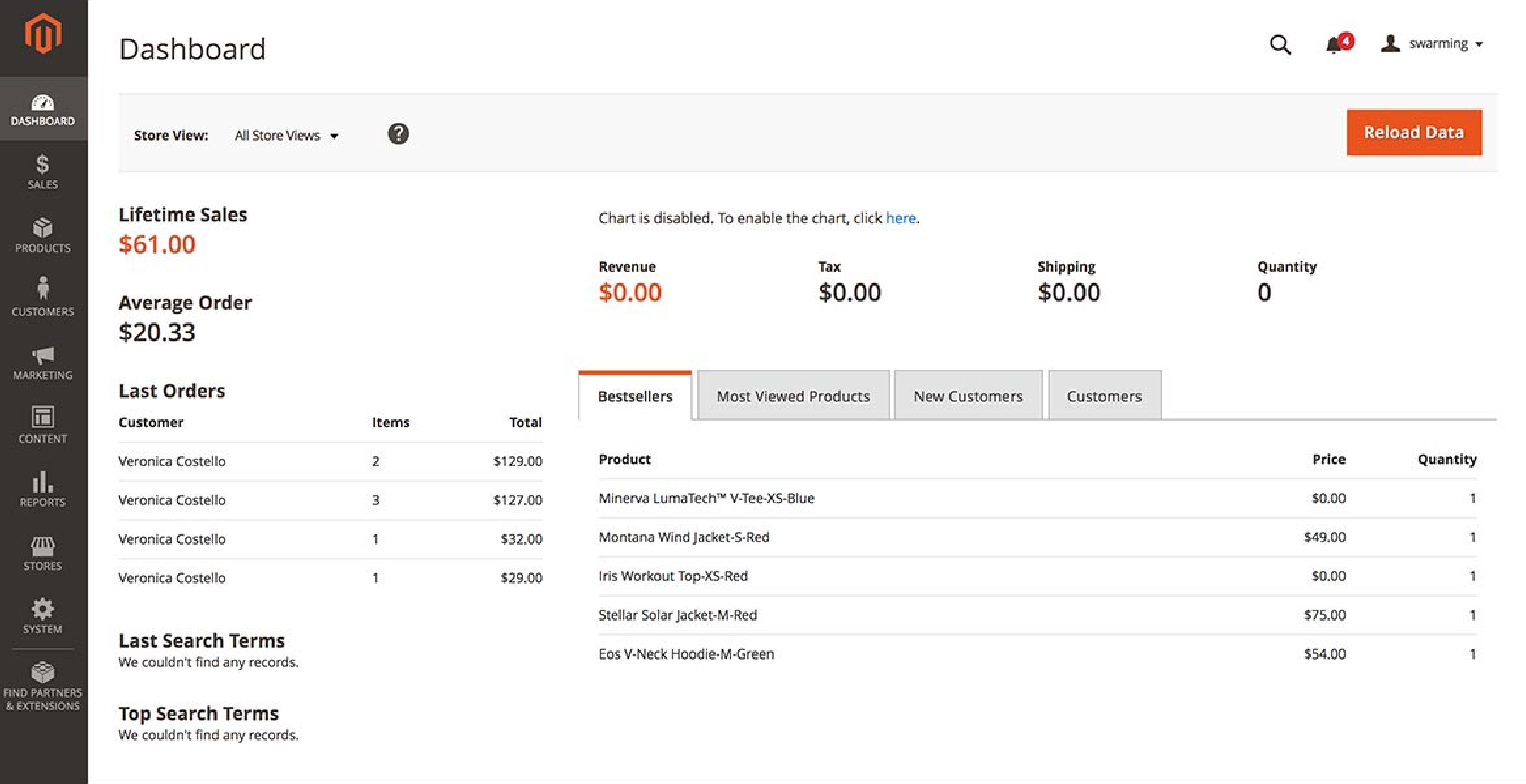 Both platforms are intuitive and user-friendly. PrestaShop is easier to install than Magento. It has fewer system requirements.
It is possible to start using PrestaShop without any programming skills. For Magento, you will need more time to learn the dashboard settings.
2. Design & Templates
Prestashop themes are elegant and professional. You get to choose from around 4000 free and paid templates. You will also get advanced features to add product columns, reviews, theme style, and more.
The themes come with features such as:
Custom colors and fonts
Mega menu
Mobile friendly
Newsletter subscription form
Extra fields on product page
PrestaShop also provides over 3000 modules to customize your shop. You can use them to increase traffic and improve conversion rates. It also helps build customer loyalty.
Magento offers modern and responsive website themes. You will find many thousand free and paid themes for Magento.
You can visit providers such as ThemeForest to get a variety of themes for your store. Magento offers more flexibility for themes.
3. Functionality
PrestaShop offers 500+ built-in features. It covers all the essentials to run an online store.
PrestaShop top features include:
Unlimited product listings
Store Builder
SEO capabilities
Inventory management
50 payment solutions & gateways
Search & Navigation
Customized checkout process
Compatible add-ons
Visitors, sales, and order statistics
You also get small add-ons such as special offers, multiple currencies, and reducing abandoned carts.
Magento also offers out-of-the-box features. It includes everything from promotions, listings to client segmentation.
Magento top features include:
Page Builder
Content Staging & Preview
Product recommendations
Inventory Management
Mobile Commerce
B2B eCommerce
Business Intelligence
Shipping & Payments
Customer Service
Magento offers better third-party integrations. If you need more features, you can find them in the Marketplace.
4. Performance & Scaling
Slow loading times due to traffic spikes directly affect business revenue. Your store should be ready for increased traffic on events such as Black Friday sales or Cyber Monday.
Magento is a robust platform in terms of performance & scaling. You can optimize the Magento platform to reduce loads. It is done on the client-side, server-side, and databases.
PrestaShop also offers excellent performance and scaling. However, it cannot scale and handle traffic spikes like Magento. PrestaShop is built for SMEs. If you have a small audience, you will not face any problems.
Your store performance depends on a lot of factors. You need server-side management and excellent hosting. The platforms alone cannot affect site performance.
5. Security
Security is an essential aspect of all e-commerce stores. Magento and Prestashop both offer security measures. It helps avoid data breaches.
Magento releases security patches for emerging threats. It also offers Content Security Policies to combat malicious attacks. You can use the Magento Security Scan Tool to monitor and update store security.
PrestaShop offers various modules for store security. For example, the Official GDPR Compliance module ensures that your store is GDPR compliant. The Protect My Shop module helps prevent code injections and content theft.
For both platforms, you can use third-party security tools to protect your store.
We recommend a Web Application Firewall for both e-commerce systems to prevent bad traffic before it reaches the store.
6. Plugins & Extensions
Magento Marketplace offers over 5000 extensions, both paid and free. While comparing Magento, we see that it is very compatible with third-party extensions.
The extensions are segmented into groups such as Accounts, Marketing, Sales, and so on. Magento's QA team reviews the extensions before it is officially listed.
PrestaShop Addons Marketplace offers over 3000 plugins for your store. These free and paid modules can quickly improve your store capabilities.
The modules are categorized based on your goals, such as:
Increase customer satisfaction
Increase traffic
Optimize conversions
Make browsing easier
They are also available based on features for Design, Promotions & Marketing, Payments, and so on. You'll find helpful modules to grow your e-commerce business.
7. Marketing & SEO
Both PrestaShop and Magento offer SEO features such as:
Page title
Personalized URL
Meta description
Sitemap
301 redirects
PrestaShop offers a range of modules to increase your traffic and user engagements. For example, SEO Expert Module fills in meta tags & social media meta tags to optimize your store.
Magento also provides many SEO extensions such as SEO Toolkit. It allows automated meta tags templates and unique product URLs.
For marketing, both platforms offer Google Adwords, newsletters, and emails. These tools help in better visibility on search engines and social media platforms.
8. Support
Magento support depends on the edition you choose. The Magento Open Source platform only offers community support. You can use the ocumentation. The Magento community is vast, with Magento forums, Magento DevDocs, and help centers.
The paid Magento edition comes with technical support. You can contact Magento experts via email, ticket, and live support.
PrestaShop also offers support services under different plans. You can choose the support plan that matches your needs. PrestaShop has better support than Magento. But the support comes with a fee.
9. Pricing
Magento offers a free edition called Magento Open Source. You can install the software and freely customize it.
The paid edition is Adobe Commerce. It comes with an annual fee, and the costs rise with your store revenue. It starts with $22,000 for Adobe Commerce and $40,000 for Commerce Cloud.
PrestaShop is open-source and free to download. You can go for one-click hosting solutions, but it comes with a charge.
Both Magento and PrestaShop offer free versions for users. Magento's paid version is suited for large enterprises.
Which platform is best for my use case?
PrestaShop is a good option if you need to build a simple small online shop. It is easy to use and manage. The platform does not require high technical skills.
You get a user-friendly interface with plenty of themes and modules. It is ideal for beginners and SMEs (Small & Medium Enterprises) that want cost efficiency.
Magento platform is a good option for all business sizes. You can quickly scale your store and add large volumes of products. If you plan on growing your store, Magento will be the right option for you.
You can create a stable and long-term online business with Magento.
Conclusion
PrestaShop and Magento are both excellent eCommerce solutions. The choice mainly depends on your requirements.
Magento 2 offers a lot more customizing features. If you opt for managed Magento hosting, it will help you grow your business quickly.
PrestaShop works well for small businesses. It requires a lower investment.
Want to learn more about Magento hosting? Check out this post on Magento Hosting.