Top 10 Magento Websites: Best eCommerce Brands Using Magento
How are Magento websites transforming the landscape of various industries? Magento, a powerful eCommerce platform, is trusted by numerous sectors ranging from sportswear to automotive, electronics to cosmetics, due to its unparalleled flexibility and diverse functions.
This article explores the 10 best brands that are harnessing Magento capabilities to create high-performing online stores for their vast range of products and services.
Key Takeaways
Magento is a robust eCommerce platform used by numerous industries, including sportswear, automotive, electronics and cosmetics.
Magento sites list - Top brands like Helly Hansen, Fred Perry, Ford, Graze, Sigma use Magento for their online stores.
Magento websites offer a great user experience with fast load times, user-friendly navigation and mobile optimization.
The platform flexibility allows brands to effectively showcase their products, manage their catalogs and offer a seamless shopping experience.
Frequently Asked Questions about Magento provide useful insights into the capabilities and features of this powerful eCommerce platform.
Magento continually improves performance and enhances user experience with each new version update.
Brands use Magento to deliver a personalized and engaging online shopping experience.
Good website structure, user-friendly design, and mobile-friendliness are key features of successful Magento websites.
Top 10 Magento Stores: Best Websites Using Magento in 2023
Sportswear Brands Using Magento
The sportswear industry relies heavily on eCommerce to reach its global audience. Magento has proven to be an excellent platform for sportswear brands, thanks to its flexibility and scalability.
Some of the top sportswear brands that use Magento include:
Helly Hansen, Fred Perry, and Paul Smith. These brands have leveraged Magento's features, such as optimized load speed, easy navigation, and user-friendly mobile experience, to create successful online stores.
1. Helly Hansen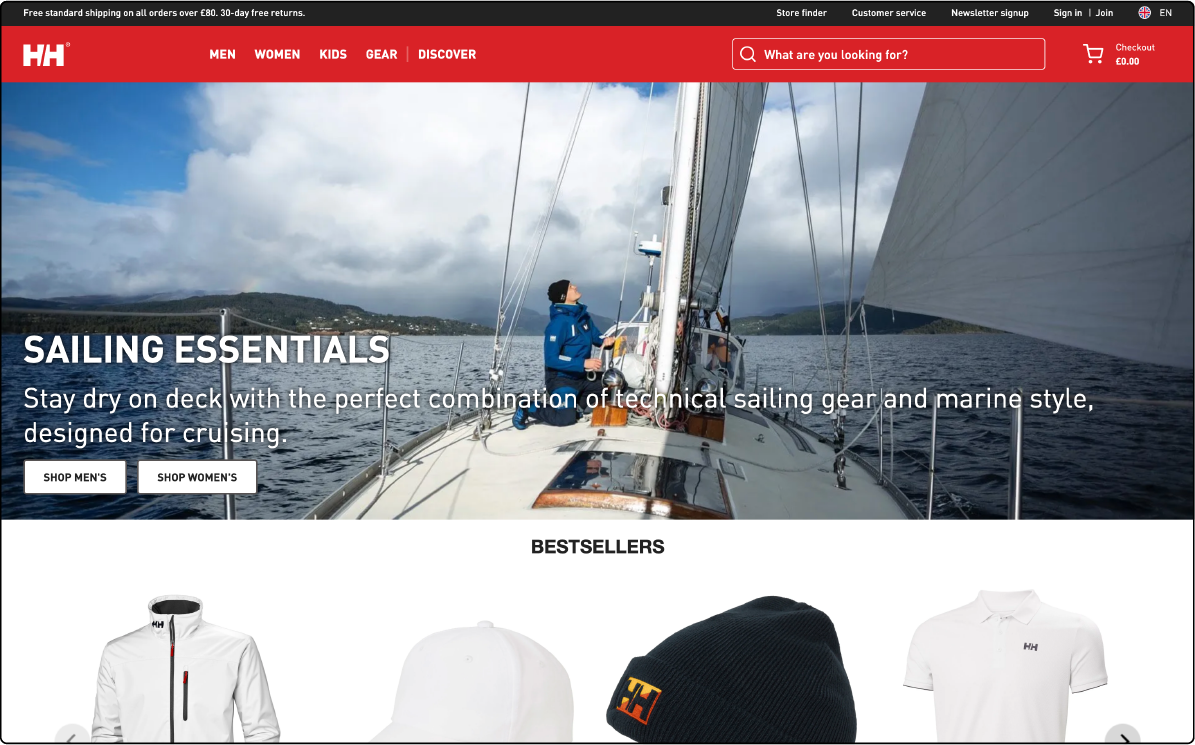 Helly Hansen is a famous brand, known all over the world for outdoor gear. Their items are top-notch, mainly for outdoor sports. They have been providing quality products for 140 years. They use Magento for their eCommerce stores.
It allows them to showcase their wide range of products in a user-friendly way. Magento has helped them to manage their online store more efficiently and reach out to a global audience. Key aspects of their strategy include:
Optimized site performance and load times
Mobile-responsive design
Intuitive navigation and product filtering
Personalized content and promotions
Streamlined checkout process
2. Fred Perry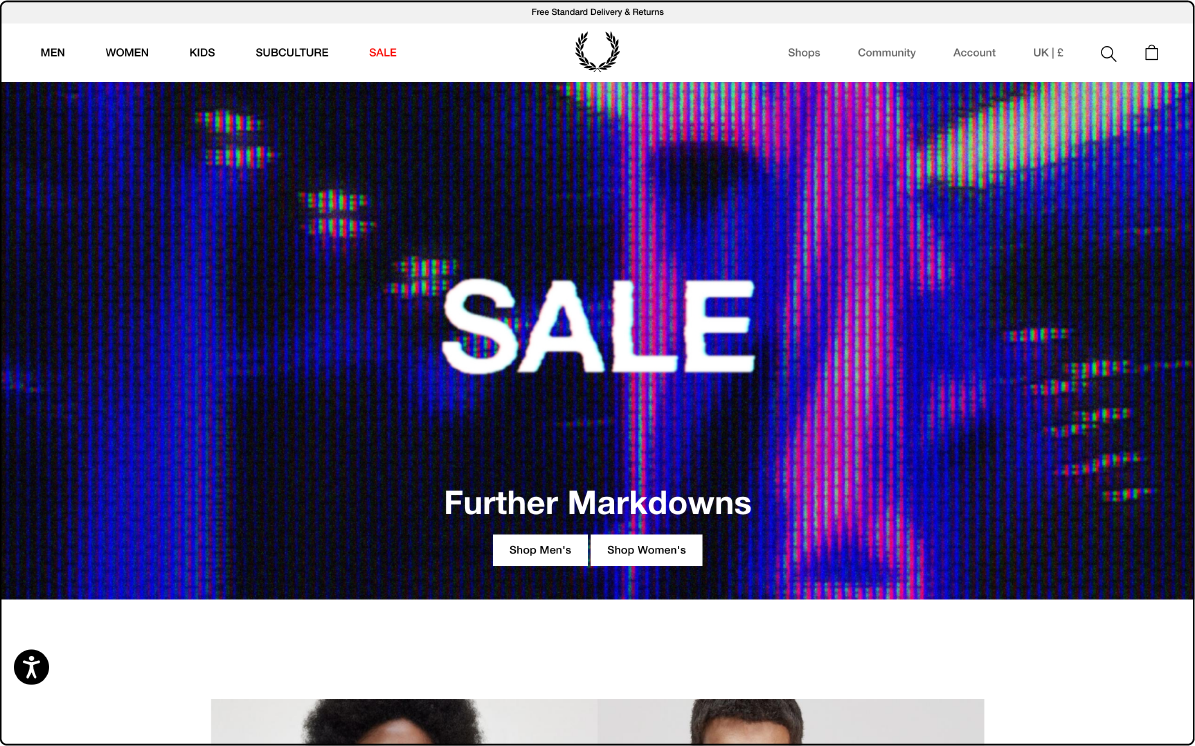 Fred Perry is an internationally recognized brand that designs preppy clothing. Their products range from sportswear to casual wear. Fred Perry has been around since 1952 and is loved for its classic designs.
Using Magento has given them control over the customization of their online store. They can now manage their virtual inventory easily and provide a seamless shopping experience for customers worldwide.
Its key Magento features include:
Full control over online store customization
Easy management of virtual inventory
Provision of a seamless shopping experience for customers worldwide
3. Paul Smith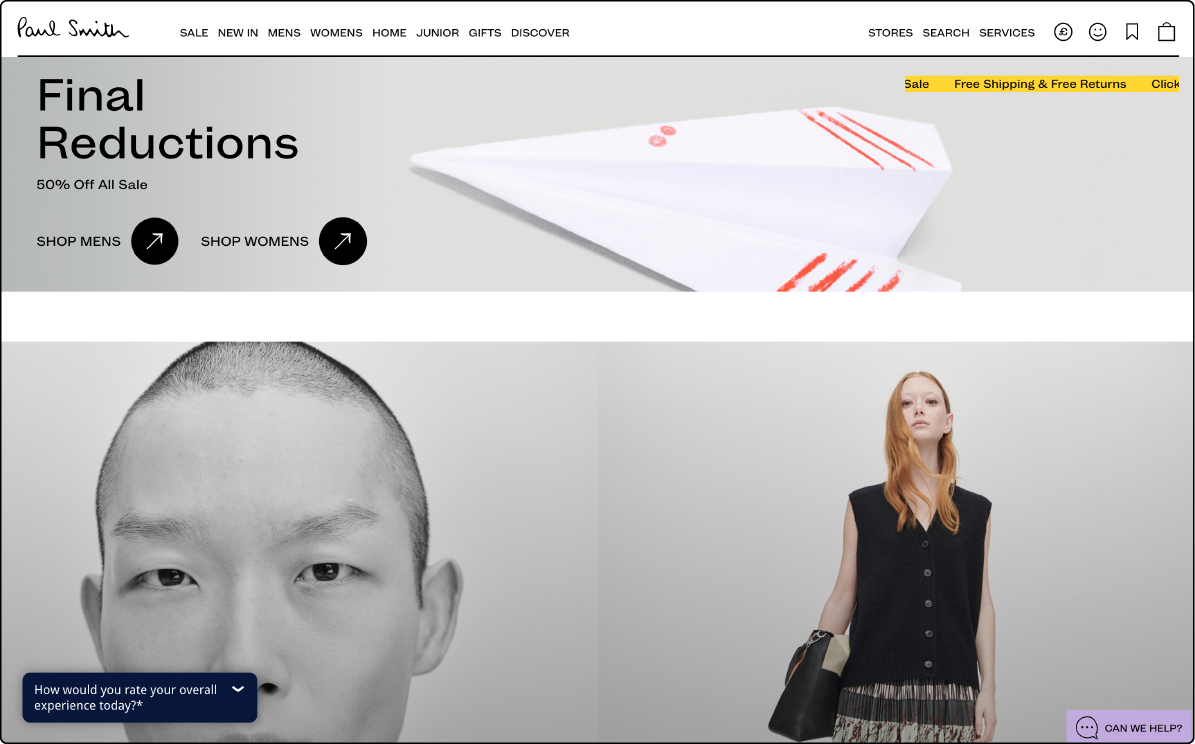 Paul Smith is a British designer brand famous for its men's clothing. It has been in the market since 1970. Their website houses a vast range of fashion items, all showcased wonderfully using Magento.
It helps them manage the multi-language feature smoothly, allowing them to cater to diverse customers. With Magento, Paul Smith successfully offers a personalized and engaging online shopping experience to its users. The key Magento features include:
Effective showcasing of a vast range of fashion items
Smooth management of the site's multi-language feature
Provision of a personalized and engaging online shopping experience for diverse customers.
Automotive Industry
The automotive industry is another sector that benefits from the power of Magento. Brands such as Ford and Land Rover use Magento to create engaging and functional online shops. These automotive industry giants choose Magento for its ability to handle complex product catalogs, manage multiple storefronts, and provide seamless integration with third-party systems such as inventory management and CRM.
1. Ford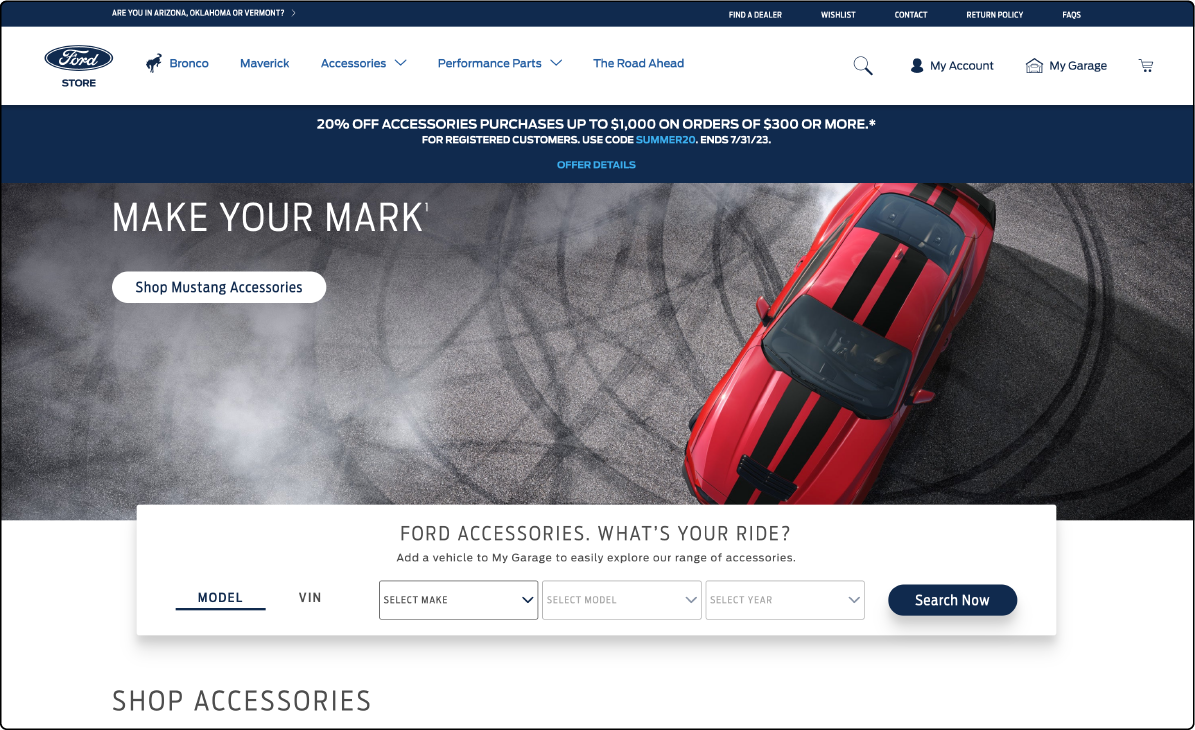 Ford, a leader in the automobile industry, uses Magento for its eCommerce platform. The globally renowned car manufacturer has an impressive website where customers can explore and buy merchandise. Here are some Magento features that Ford utilizes:
Effective Product Viewing: Users can view products using 360-degree images.
Responsive design for mobile devices
Comprehensive product filtering options
Integration with their global dealer network
Secure payment processing
2. Land Rover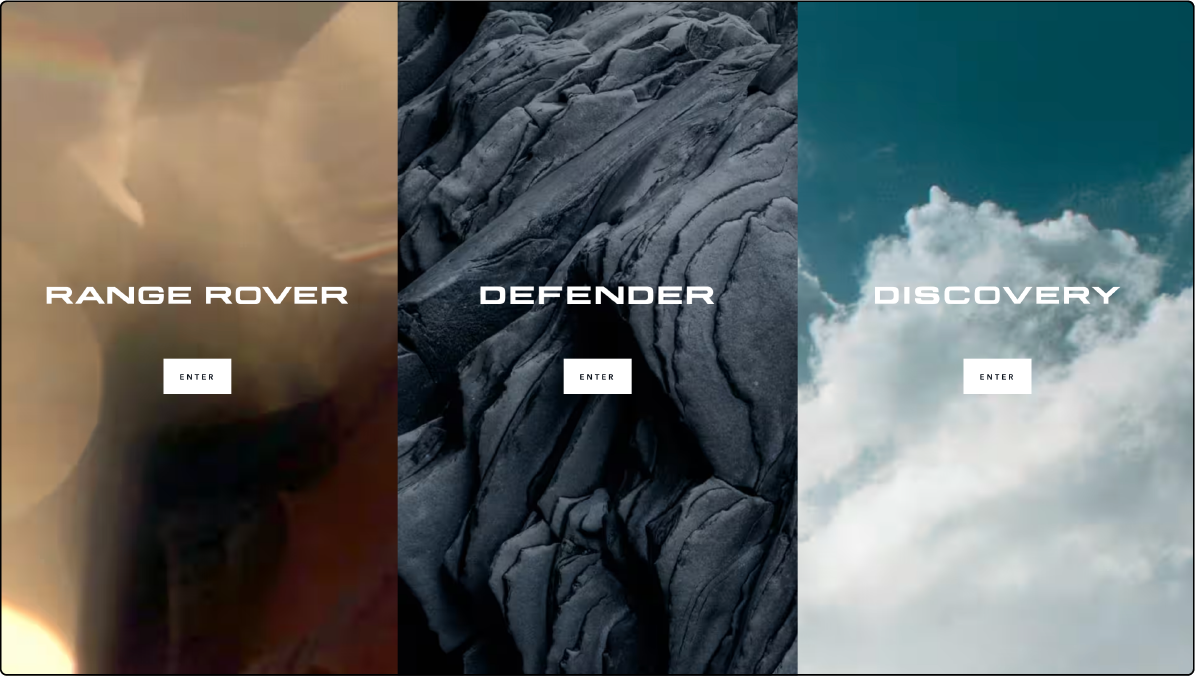 Land Rover is another standout brand in the auto industry using Magento. They offer an interactive browsing experience for customers who are interested in purchasing Land Rover branded merchandise. Features of Magento used by Land Rover include:
Mobile-responsive design
Streamlined navigation and product filtering
Integration with their global dealer network
Secure payment processing
These brands show how Magento can be creatively utilized to present and sell products effectively.
Electronics, Home Decor Ecommerce Store using Magento 2
Electronics retailers need a platform that can handle a vast array of products and technical specifications. Magento's robust product management system makes it an ideal solution for electronics retailers.
Some of the top electronics brands using Magento include Graze and Cox & Cox. These brands benefit from Magento's streamlined checkout process, advanced search functionality, and Elasticsearch integration.
1. Graze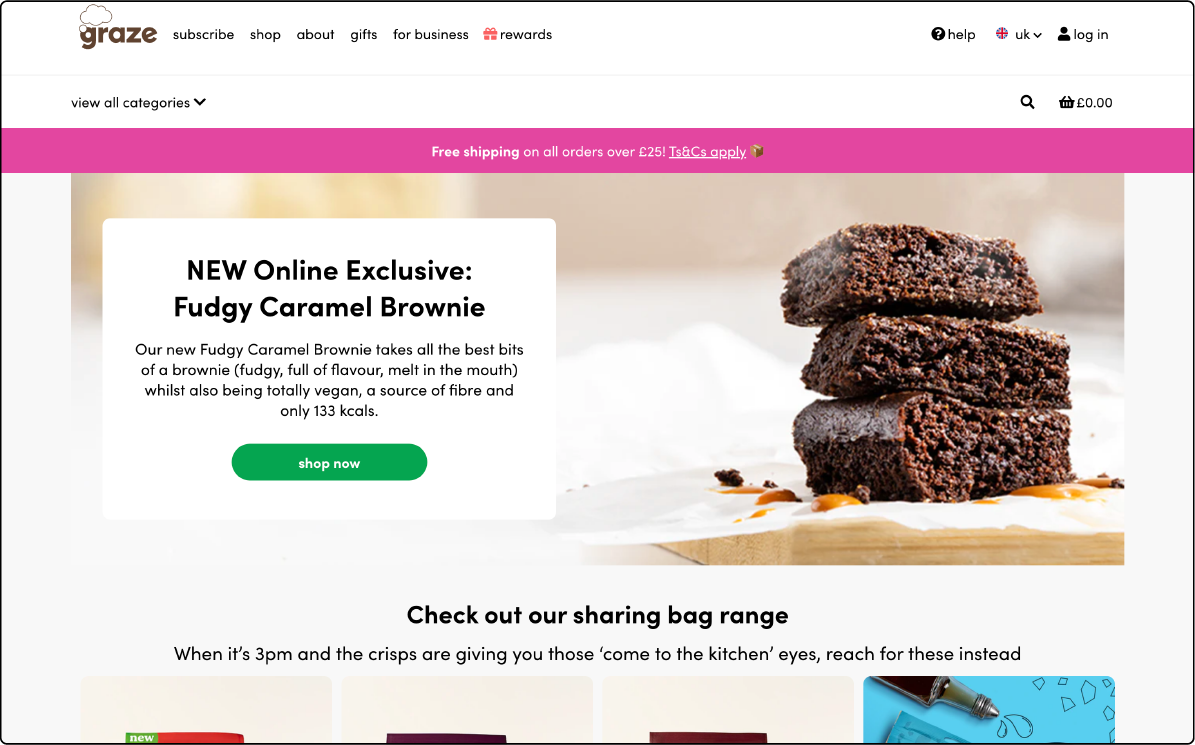 Graze is a popular healthy snack company. They use Magento to run their online store. The website lets customers order their favorite snacks directly to their doorstep. Graze uses Magento features like:
Easy Subscription Management: Allows users to subscribe to regular snack deliveries.
Customization: Lets users customize their snack boxes based on personal preferences.
Analytics: Assists in understanding customer behavior, helping to provide personalized offers.
Secure Payments: Offers multiple secure payment options to ensure customer satisfaction.
2. Cox & Cox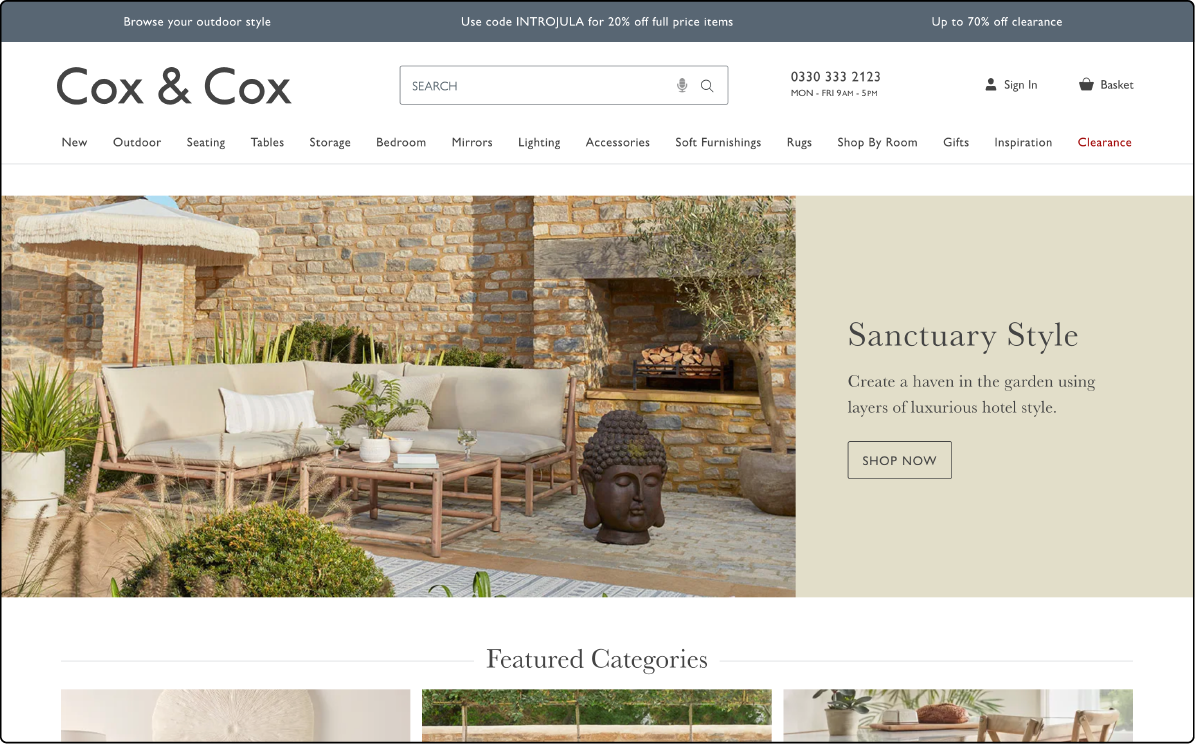 Cox & Cox is a home decor company. Through Magento, they showcase their quality home and garden items. Magento offers them benefits like:
Wide Product Display: Helps them display a wide range of products effectively.
User Experience: Provides a smooth, enjoyable shopping experience for their customers.
Catalog Management: Allows Cox & Cox to effectively manage and update their product range.
Mobile Optimization: Ensures the website runs smoothly on mobile devices, allowing customers to shop from anywhere.
3. Canon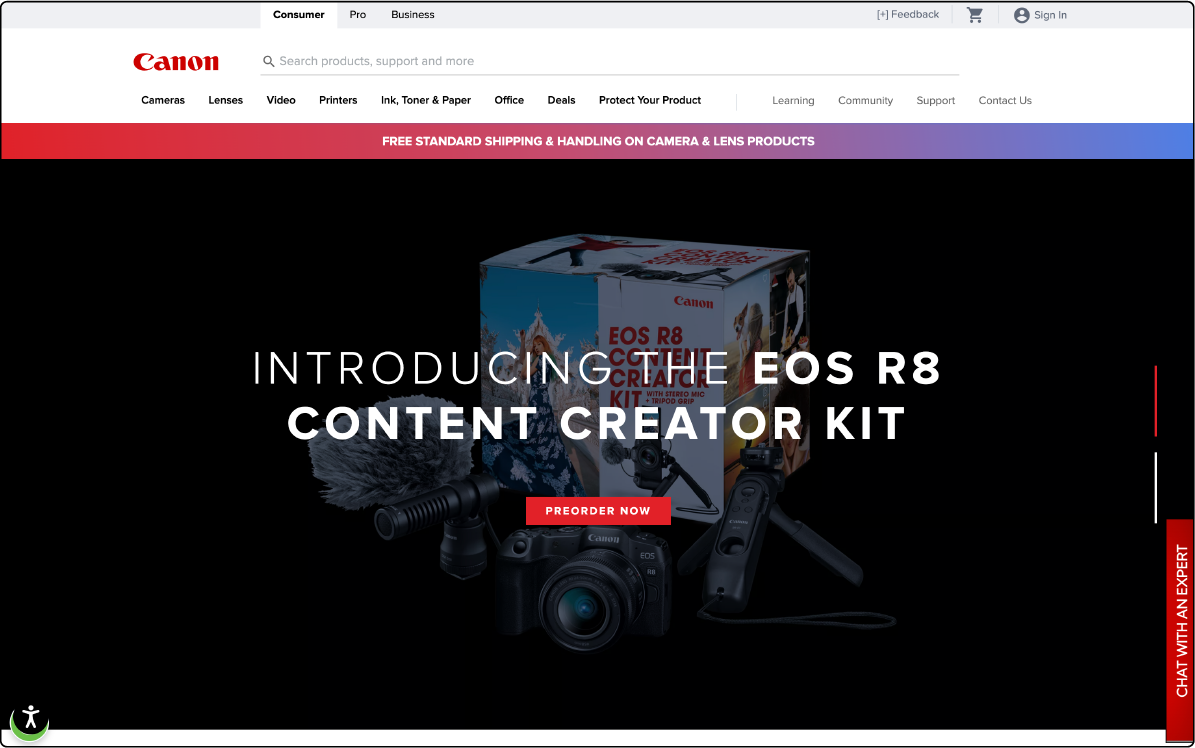 Canon, a leading manufacturer of cameras, lenses, printers, and medical equipment, uses Magento online shop for their high-performing eCommerce store. The brand takes advantage of Magento's features to provide a personalized shopping experience, efficient navigation, and smooth transaction processes. Some of the high-impact features they leverage include:
A comprehensive product catalog: Canon uses Magento's product management capabilities to organize their wide range of products effectively.
Personalized recommendations: Canon uses Magento's customer segmentation and personalization features to recommend products based on customers' shopping behavior and preferences.
Seamless checkout: Canon uses Magento's streamlined checkout process to make purchasing easy and stress-free for their customers.
Cosmetics
The cosmetics industry has seen significant growth in online sales, making it more important than ever to have a reliable eCommerce platform.
Magento is the platform of choice for cosmetics brands such as Sigma Beauty and Byredo. These brands use Magento to create visually appealing, easy-to-navigate online shops that cater to their target audience's unique needs.
1. Sigma Beauty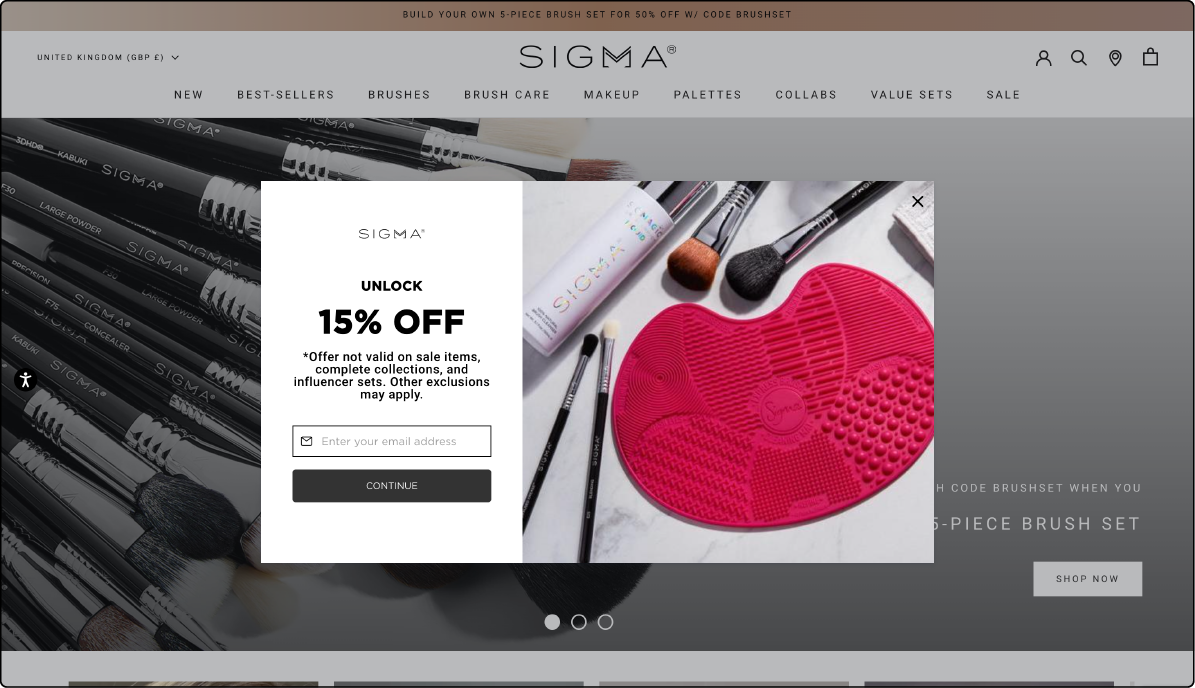 Sigma Beauty is a well-renowned brand in the beauty industry. Established in 2008, the company has succeeded in setting high standards in beauty and makeup tools.
Their mission is to create innovative beauty products that will enhance and simplify your makeup routine. The brand is notable for its wide range of quality makeup brushes that have garnered attention worldwide. They chose Magento as their eCommerce platform to manage their inventory and offer a seamless shopping experience to their customers.
Their website showcases the following best practices:
Beautiful and responsive design
Easy-to-use navigation and product filters
Personalized product recommendations
Integration with social media platforms
Sigma Beauty's Magento store effectively reflects their brand identity, while providing an engaging shopping experience for their customers.
2. Byredo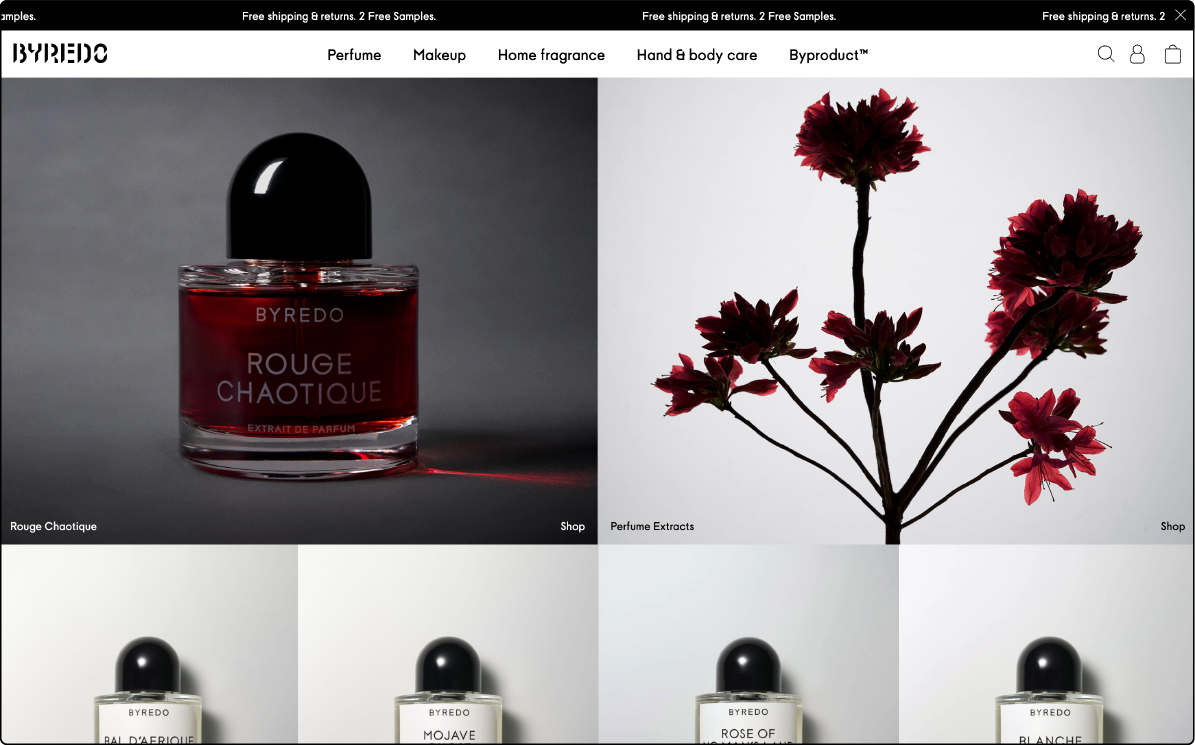 Byredo is a European luxury goods brand established by Ben Gorham in Stockholm in 2006. The brand is famous for its line of perfumes and home fragrance products, each designed to invoke distinct personal memories.
In addition to fragrances, Byredo also offers a collection of leather goods, accessories, and beauty products. They use Magento for its eCommerce platform to efficiently handle their worldwide online sales. Byredo uses Magento to provide customers with a detailed and easy-to-navigate catalog of their products, ensuring a luxurious online shopping experience.
Multi-site Functionality: Allows Byredo to manage different versions of their site for various regions all in one place.
Customer Service Tools: These tools enhance the overall customer experience.
Up-sell and Cross-sell Capabilities: Help in boosting sales by suggesting additional or alternative products to the customers.
Key Features of Successful and Best Magento Websites
A successful Magento eCommerce website includes several essential components that contribute to improved customer experience and increased sales. In this section, we will discuss the key features of the best Magento websites, which include good structure, load speed, user-friendly navigation, user experience (UX), and mobile-friendliness.
1. Good Website Structure
A well-structured Magento site enables visitors to find the information they need quickly and efficiently. This involves having a clear and organized layout, with distinct categories, product listings, and descriptions. Proper organization of content makes it easier for both users and search engines to understand and index your website, resulting in better SEO performance.
2. Page Load Speed
Page loading speed is a crucial factor in determining the success of an eCommerce website. A fast-loading site ensures a smooth and seamless user experience, reducing bounce rates and increasing conversion rates.
3. Design and User-friendly Navigation
Effective navigation is essential for any successful Magento website. User-friendly navigation helps users find the products they are looking for quickly and easily, minimizing frustration and encouraging them to stay on your site longer.
A well-designed and intuitive navigation menu, along with a powerful search function, can greatly enhance the overall user experience on your Magento site.
4. User Experience (UX)
A positive user experience is paramount for a successful Magento eCommerce website. This involves ensuring that your site is visually appealing, easy to use, and provides a seamless shopping experience.
To achieve this, focus on creating a visually attractive design, optimizing product pages, streamlining the checkout process, and offering personalized recommendations to your customers. By prioritizing UX, you can foster customer loyalty and drive repeat business.
5. Mobile-friendliness
A Magento site that is responsive and optimized for mobile devices allows users to browse and shop with ease, regardless of the device they are using. This can lead to increased engagement, higher conversion rates, and better overall performance.
FAQs
1. How many products can Magento handle?
Magento is a robust eCommerce platform that can handle a large number of products effectively. The actual limit depends on various factors, including server capacity, Magento setup, and the complexity of your product catalog. However, many Magento stores manage several thousand and upto a million products without any issue.
2. How does Magento search work?
Magento Search is designed to help the customers find what they're looking for quickly, making the shopping experience more efficient. It uses Elasticsearch, a powerful search and analytics engine, to provide fast and reliable search results. This helps in increasing conversion rates and meet customer demand as they can find and purchase products easily.
3. What is the latest Magento version?
As of this time, the latest version of Magento is Magento 2.4.6. This version comes with improved performance, enhanced security, and new tools to increase the efficiency of your eCommerce store.
4. How does a Magento online store improve user experience?
Magento offers a variety of features designed to improve user experience. These include easy navigation, intuitive site structure, fast load times, mobile optimization, and flexible checkout options. By leveraging these features, businesses can provide a user-friendly online shopping experience that can increase customer satisfaction and loyalty.
5. How can Magento improve site performance and page load time?
Magento has several features you can use and apply it to the online store to help improve site performance. These include full-page caching, image optimization, and the use of a content delivery network (CDN). Moreover, Magento continually updates its platform to enhance performance and speed.
6. How is interior design displayed in Magento online stores?
Interior design firms often use Magento to showcase their works. They can use Magento's robust product listing features to display their portfolio in a categorized and systematic manner. The 'Cox & Cox' home decor brand, for example, uses Magento to effectively display a wide range of home and garden items with ecommerce website development.
7. How does Magento contribute to an improved conversion rate?
Magento site helps to boost conversion rates in several ways. Through its user-friendly design and navigation, fast load times, and optimized checkout process, customers are provided with a seamless shopping experience. Features such as personalized product recommendations also aid in cross-selling and up-selling, effectively enhancing the conversion rate.
8. How does Magento manage the shopping cart system?
Magento's shopping cart system is designed to make online shopping a breeze. Customers can add products to the cart and continue shopping, save items for later, and more. The checkout process is also designed to be fast, efficient, and secure, accepting various payment methods for the customer's convenience.
9. What is Magento Commerce?
Magento Commerce, also known as Adobe Commerce, is a platform specifically designed for eCommerce websites. It offers powerful out-of-the-box features such as advanced SEO, marketing, and catalog management tools to simplify the management of your ecommerce websites and enhance the online shopping experience.
10. What are the Family of Products and Material Groups in Magento?
Family of Products and Material Groups are not standard features in top magento website solutions. However, can be configured through its flexible product attributes and catalog management system. Businesses can arrange their products into 'families' or 'material groups' based on their own organization and presentation needs.
Summary
So, what makes Magento websites a preferred choice for various industries? Successful brands such as Helly Hansen, Fred Perry, Ford, Paul Smith, Graze, Sigma Beauty, and Canon have answered this through their effective use of Magento.
The platform's advanced features like seamless navigation, secure payment processing, global network integration, demonstrate its robust capabilities. Whether you're a business owner looking to enhance user experience, optimize load speed or improve website structure and mobile-friendliness - Magento has got you covered. Interested in experiencing the power of Magento for your online store? Take the next step in your eCommerce journey. Explore a range of high-performance Magento hosting solutions.