Magento 2 Change Logo Tutorial
Brand awareness is an essential task for merchants after launching an ecommerce store. It includes changing the Magento 2 default logo in the header for quick brand recognition.
We will cover the steps to upload and configure the logo for Magento 2.
How to Change Logo for Magento 2
1. Upload the Logo
The first step is to upload your logo from the store's Admin panel. The store's theme influences the size and location of the logo in the header.

You can save the logo as a GIF, PNG, JPG, or SVG file type. The default Magento logo in the sample data is an SVG file, and it is scalable as an XML-based vector graphic format.
The logo image resides in the following location on the server. Any image file with that name and location is used as the theme logo.
Path: app/design/frontend/[vendor]/[theme]/web/images/logo.svg
Know the size of the logo or any images used in the theme. You can open the page in a browser, right-click the image and inspect the element.
Along with the logo in the header, the logo also appears on email templates, PDF invoices, and other sales documents. The email templates and invoices logos have different size requirements and are uploaded from the admin separately.
2. Upload FrontEnd Logo in Magento 2
Navigate to Stores > Settings > Configuration
Under General choose Design
For multiple stores, set Store View and clear the checkbox after each field
Expand the Header Section.
For Magento 2.1 and above, you can find the header section with the following steps:
Go to Content > Configuration
Select your theme
You will see the Header Section
The Magento 2.2 and higher, you can find the header section here:
Go to Content > Design Configuration.

Find the store view to configure and click Edit in the Action column.

Expand the Header section.

To upload a new logo, click Upload and choose the file from your system.

Add the Logo Image Width and Logo Image Height in pixels.

For Logo Image Alt, add the text that should appear when someone hovers over the image.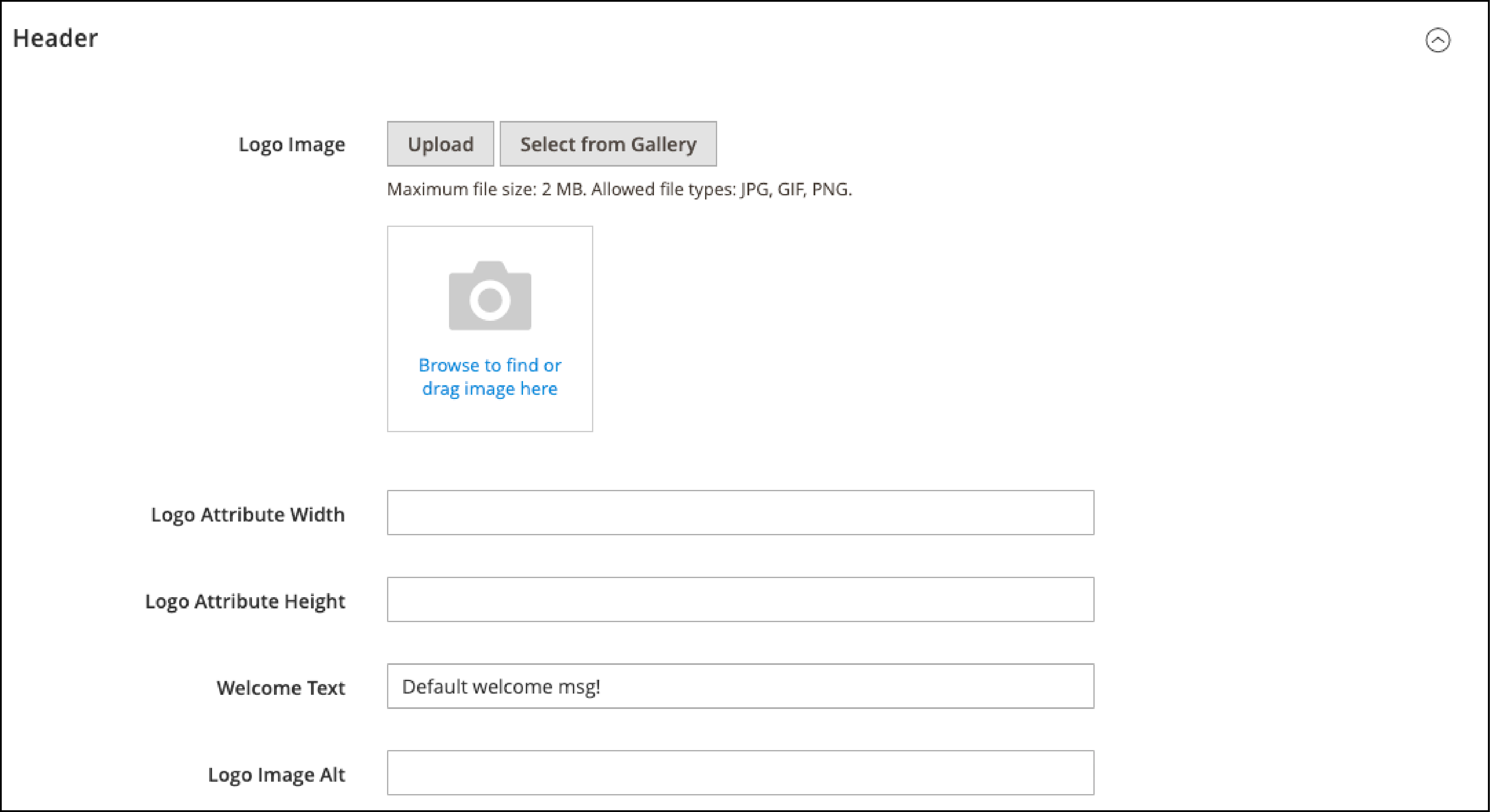 3. Save and Check the Result
When complete, click on Save Configuration. You can see the logo change on Magento 2 website.
Where to Add your Brand Logo
In addition to the website header, you can display the brand logo on many channels. It offers a professional look and feels and builds customer loyalty. You also use it as a marketing tool for promoting your store.
Emails
Newsletters
Invoices
Banner ads
Forms/ Surveys
Social media channels
Product packaging
Business cards
Summary
A brand logo helps identify your store and create a lasting impression on customers. It separates your store from the competition and encourages visitors to relate to your brand.
We have covered the steps to change the logo in Magento 2. You can get more useful Magento 2 tips on MGT Commerce Tutorials.