Magento Login to Access the Admin Panel
Magento Login gives easy access to the admin panel which ensures seamless ecommerce platform management. The tutorial will guide you on how to log into the Magento backend. It will help manage your online store and oversee important aspects like products, orders, and customer data.
Key Takeaways
Learn how to efficiently access the Magento Admin Panel to manage products, orders, and customer data.

Discover the essential prerequisites for Magento Admin Login to ensure a secure and performance-driven user experience.

Find out how to optimize your Magento login process for ultimate scalability.

Get insights into key functions of the Magento Admin Backend to enhance your ecommerce solutions.

Learn the importance of regularly updating your admin password to safeguard your Magento software.
Prerequisites for Magento Admin Login
Access to your Magento store: You'll need the URL of your Magento store, typically provided by your Magento hosting provider. This URL helps you access the Admin Panel.

Admin Username and Password: Ensure you have your Magento Admin username and password ready. You will need these credentials before attempting to log in.
Steps to Log into the Magento Admin Panel
Open your preferred web browser. Magento is compatible with popular web browsers such as Google Chrome, Mozilla Firefox, Safari, and Microsoft Edge.
Note: Ensure you use an updated browser for the best experience.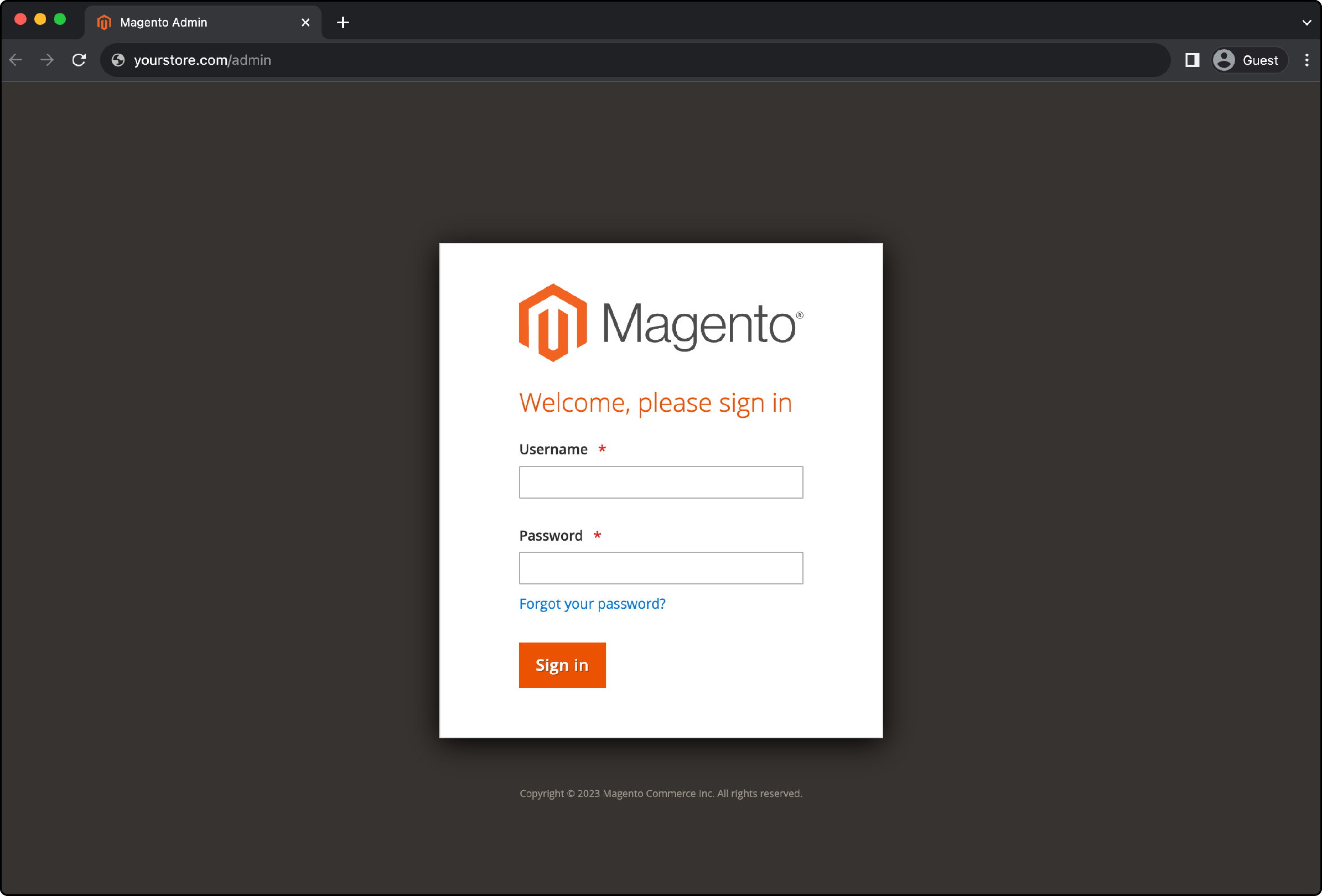 To access your Magento store's Admin Panel, open your web browser and enter the URL in the address bar: https://yourstore.com/admin. Be sure to replace 'yourstore.com' with your actual domain name.

Press Enter or click Go in your browser. This action will lead you to the Magento Admin login page.

Locate the fields designated for your username and password on the login page.
Note: Configure your admin account before proceeding with this step.
After entering your credentials and completing any necessary CAPTCHA, click the Login or Sign In button.
Key Functions of the Magento Admin Backend
1. Customizing the Appearance
The Magento Admin backend offers you the ability to transform the visual identity of your online store. It includes adjusting themes, templates, and other design elements, ensuring your store perfectly aligns with your brand's identity.
2. Managing Customers and Customer Groups
An essential aspect of your ecommerce operation is efficiently managing your customer base. You can create, edit, or delete customer accounts within the Admin backend. You can also categorize customers into different groups.
3. Product Management and Sales Control
Magento Backend enables you to add new products, update existing listings, and oversee all sales processes. You can also easily track orders, process payments, and ensure seamless transactions.
4. Initial Configuration
Magento lets you edit initial settings to align with your specific business requirements during installation. The step is pivotal in customizing the Magento platform.
5. Promotion Creation
You can create discounts, special offers, and promotional campaigns to attract and retain your customer base. It helps drive sales and customer engagement.
6. Newsletter Management
The backend offers tools for creating, sending, and monitoring newsletters. These newsletters are valuable tools for engaging your customers and informing them about new products, promotions, and updates.
7. Reporting
The Admin backend offers access to detailed reports that provide insights into your sales trends, customer behavior, and other vital metrics. This data empowers you to make data-driven decisions to enhance your online business's success.
How to Optimize Magento Login Process
Optimize the Magento login process with these tips:
Bookmark the Admin Panel URL: To save time and streamline your future logins, consider adding the Admin Panel login URL to your web browser's bookmarks. This simple step can significantly speed up the login process.

Utilize Strong Passwords: Ensure your administrative account password is strong and unique. It is crucial for enhancing the security of your Magento store. Mix letters, numbers, and special characters for added security.

Enable Two-Factor Authentication (2FA): Magento supports Two-Factor Authentication (2FA), providing an additional security layer. Consider enabling this feature within your Admin Panel settings for enhanced protection.

Regularly Update Your Password: For security reasons, it's recommended to change your admin password periodically. It minimizes the risk of unauthorized access and maintains the integrity of your login credentials.
FAQs
1. What kind of user experience can I expect when logging in to the Magento 2 Admin Panel?
Magento login ensures a user-friendly experience. It provides a streamlined interface for managing your online store efficiently. You can access various features, including product management, customer data, and customization.
2. How can I secure my Magento Admin Panel for better performance?
To secure your Magento Admin Panel, you can use strong and unique passwords. It enhances the security of your account. You can also enable Two-Factor Authentication (2FA) within your Admin Panel settings to provide an extra layer of protection.
3. Which features can I access through the Magento Admin Panel?
Yes, you can access various aspects related to your online store through the Magento Admin Panel. It includes product management, customer data, design customization, and performance optimization. It serves as an overall solution for overseeing and scaling your ecommerce operations.
Summary
Magento login ensures secure and efficient access to the backend of your Magento software. It also enables you to manage your store's products, orders, and customer data. We have covered the prerequisites, browser compatibility, and key functions within the platform. For an enhanced Magento experience, consider exploring Magento server solutions for optimal performance and scalability.