Magento Software: Understanding Magento Ecommerce Platform
Magento software facilitates business growth and caters to small, medium, and large enterprises. It provides powerful native features for ecommerce marketing, SEO, and catalog management tools. This blog post will cover the distinct features of the Magento ecommerce platform. It also explores its potential to enhance your ecommerce development.
Key Takeaways
Explore how Magento software can fuel the growth of your ecommerce business.

Discover how Magento supports mobile devices, ensuring a seamless shopping experience for your customers on smartphones and tablets.

Learn how Magento's marketing tools and SEO features enhance your visibility and reach.

Explore the freedom to customize and scale your Magento store for your unique business needs and growth plans.

Discover how Magento simplifies the checkout process and supports various payment methods to enhance the efficiency of your shopping cart.

Learn about the differences between Magento Open Source vs. Adobe Commerce.

Discover the various features of Magento ecommerce.

Explore how popular ecommerce sites use Magento to increase conversion.
Introduction to Magento Software
Magento is a platform that utilizes built-in PHP to assist programmers in creating ecommerce websites. It was introduced on March 31, 2008, by Varien and was developed using the Zend Framework.
In 2018, Adobe acquired Magento for a substantial $1.68 billion. This acquisition has also positioned Magento for further growth in the enterprise market.
By April 2021, the merging of Magento Commerce and Adobe Commerce Cloud resulted in the platform's enterprise edition being referred to as Adobe Commerce. Adobe Commerce is a highly advanced ecommerce development platform.
It offers a variety of customizable features and integrations. It is designed to assist businesses of all sizes, catering to B2C and B2B sectors. It also facilitates growth and empowers businesses to provide seamless customer purchasing experiences.
What is Magento 2?
Magento offers two distinct versions: Magento 1 and Magento 2. Magento 2 is an updated version of Magento 1. It offers compatibility with PHP7 to enhance website loading speed compared to Magento 1. It also provides an automatic update mechanism for ecommerce websites. Magento 2 optimizes websites, making them more SEO and mobile device-friendly.
Note- Magento discontinued support for Magento 1 in June 2020. Magento 2 is the only exclusive version officially endorsed by the platform.
Here are the key differences that set Magento 2 apart:
PHP Version Support: Magento 2 supports the latest PHP versions, which can significantly impact site speed.

Web Technology Support: It embraces modern web technologies like CSS3, HTML5, and MySQL. It also ensures compatibility with contemporary web standards.

Improved Page Load Speed: On average, Magento 2 boasts a 20% faster page load speed than Magento 1.

Mobile-Friendly: It is designed to be mobile-friendly, catering to the growing number of mobile shoppers.

Enhanced Admin Interface: Magento 2 features a user-friendly admin interface, offering a better user experience, even for non-technical staff.

Streamlined Checkout Process: The process is simplified from six stages in Magento 1 to just two in Magento 2.
Magento 2 comes in three separate editions:
Magento 2 Open Source (formerly known as Community Edition): It is a free product available for download on the Magento website. It is ideal for startups and small businesses looking for customization and flexibility.

Magento 2 Commerce (on-prem): A premium, on-premise option. It caters to larger businesses, providing advanced features and scalability. It also has dedicated support for those who prefer to host their infrastructure.

Magento 2 Commerce Cloud: This cloud-hosted version provides the same features as the on-premise Enterprise Edition. It's an excellent choice for businesses looking to streamline operations without the hassle of self-hosting.
Differences Between Magento Open Source and Adobe Commerce
The key difference lies in their features and support. Magento Open Source is a free, open-source platform that provides basic functionality for building online stores. It allows users to customize their websites using various extensions from the Magento Marketplace.
Adobe Commerce (formerly known as Magento Commerce) is a premium version with additional features and support. It includes advanced tools like customer segmentation, content staging, and personalization. With Adobe Commerce, users can also access dedicated technical support from Magento experts.
While both versions share a similar core structure, Adobe Commerce provides more advanced functionalities for larger businesses. It offers enhanced security measures and performance optimization options that improve the overall user experience on your website.
Why use Magento Software?
1. Unmatched Customization
Magento is an open-source ecommerce platform that allows you to customize your online store according to your unique needs. As open-source software, the source code is freely available for anyone to modify and enhance.
It empowers users to craft online stores to align perfectly with their unique branding. It is also not confined to a particular type of product or business. Magento is highly adaptable to change, making it an ideal choice for businesses anticipating growth and expansion.
2. Multilingual and Multi-platform Integration
Magento software offers multilingual and multi-platform integration. You can easily create online stores in different languages to cater to customers from various countries. This feature allows you to expand your reach and target a wider audience base.
Magento also offers a range of features for setting up your online store. It simplifies the management of multiple accounts through channel partners. It allows users to handle multiple stores simultaneously.
Integrating Magento ecommerce store with your ERP and CRM systems is seamless. This integration streamlines operations and enhances overall efficiency. It eliminates the need to rely on multiple systems or platforms.
3. Easy Integrations with Third-party Plugins
Magento enables third-party add-ons and modules to integrate seamlessly into your online store. This flexibility facilitates unlimited customization. Store owners can incorporate essential tools like Google Analytics and third-party connections like PayPal for secure payment processing.
You can even integrate payment gateways, shipping providers, or marketing automation tools. Magento's seamless integration framework ensures smooth data exchange, optimizing your Magento 2 performance.
4. Freedom in Hosting Selection
Magento empowers ecommerce businesses to select their preferred hosting provider. This freedom enables online retailers to choose a hosting company that aligns with their budget.
Select Magento hosting that meets your scalability needs and performance expectations. It ensures enhanced efficiency of your operations.
5. SEO-Friendly Features
Magento offers an SEO-friendly content management system. It incorporates many SEO tools, including optimized URLs, XML sitemaps, layered navigation, and more. It is up-to-date with the latest SEO ranking factors. It also provides an excellent URL structure and meta-implementation choices for SEO. It includes built-in analytics for tracking website visits, making it a standout feature of Magento.
6. Enhanced Customer Experiences
Magento attracts and retains customers through various features such as its page builder CMS and headless commerce. It also has additional features like segmentation and targeting. It also has multi-site capabilities and responsive themes. These tools facilitate the development of visually appealing and highly functional website designs.
It also offers intelligent search capabilities, layered navigation, and AI-driven product suggestions based on purchasing history. These personalized product recommendations lead to increased conversion rates.
7. Client-Based Catalog Management
Magento simplifies the management of extensive product catalogs and categories from a single dashboard. Custom catalogs can also be created for different client groups or B2B customers. It allows you to define unique product offerings, pricing, and discounts. The platform supports third-party PIM integrations, enabling tailored experiences and streamlined sales processes.
8. Mobile Responsiveness
Magento excels in meeting mobile web design requirements. It employs the HTML5 framework in both the free community and business editions. It ensures that your ecommerce store is optimized for mobile shopping. The platform also allows for establishing a PWA strategy. The strategy provides a native app-like interface that enhances the shopping experience across various screen sizes.
9. Security and Support
Magento supports the installation of SSL and TLS certificates. It helps encrypt the data transmitted between the customer's browser and the merchant's server.
The platform provides security features like secure payment gateways, encryption technology, and regular security updates.
It offers various certifications for developers, solution specialists, and business practitioners. You can access Magento Community forums, DevDocs, and other channels for support.
Additional resources are available to help merchants implement best practices for securing their online stores.
Why Choose Magento Commerce?
1. Pricing Structure
Magento Commerce offers a pricing structure that can vary based on several factors. These factors include licensing, infrastructure, and the level of functionality required. Here's a breakdown:
Free Open Source: The Open Source edition of Magento is free. It is ideal for startups and small businesses looking for customization without incurring additional costs.

Licensing: The basic licensing for Magento Commerce starts at $22,000 per year. However, variations are based on your company's Gross Merchandise Value (GMV) and Average Order Value (AOV).

Infrastructure: Consideration should be given to the cost of infrastructure. Depending on your preferences and requirements, it can be an additional expense or included in your package.

Basic Functionalities: Magento Commerce provides a range of basic functionalities, which are generally included in the pricing.

Advanced Functionalities: Businesses that require advanced functionalities are also included, but the specific pricing details can vary.
2. Hosting
Magento Commerce offers a cloud-hosted model called Adobe Commerce Cloud. This model includes hosting as part of the software license cost. Magento empowers you to choose the hosting approach that suits your unique requirements and preferences. This flexibility applies to both the Open Source version and the Commerce edition.
3. Extensions and Themes
The Magento marketplace has over 3,000+ extensions designed to cater to a wide range of needs for ecommerce businesses. These extensions cover diverse purposes, including customer communication and sales support. It's essential to carefully assess your requirements and the specific tasks you intend to accomplish with an extension.
You can also find three free theme templates and two paid themes priced at $499 each. However, you get thousands of free and paid Magento themes from third-party providers.
These theme options make your online storefront more visually appealing to potential customers.
4. Inventory Management
Magento Commerce allows you to create, organize, and edit products efficiently. You can control your stock to meet customer demand. It also offers a flexible product management system for creating and managing various product types.
It includes simple, configurable, and grouped products with different variations, such as size and color.
Magento provides flexible algorithms and fulfillment methods. These methods guide merchants in completing orders most efficiently to meet customer expectations.
5. Customer Support
Magento Commerce provides various avenues for customer support. Users can access the Adobe Commerce Help Center as the support portal. Here, merchants can submit support tickets, view the status of existing requests, and contact the support team. It also allows access to the Adobe Solutions library to explore potential solutions to various issues.
Support teams include a Customer Success Engineer (CSE) and an Advanced Support Engineer (ASE). The CSE assists throughout onboarding, platform setup, upgrades, and event management.
They also provide advisory services on integrations and customizations. The ASE is integral to the 24/7 global incident management response team for Adobe Commerce on Managed Services.
Pros and Cons of Magento Software
Pros:
Diverse Extensions: Over 3000+ extensions provide extensive customization options.

Complete Customization: Tailor your online store to your preferences.

Global User Community: A vast user community offers support and knowledge sharing.

Payment Options: Choose from numerous payment gateways, including PayPal and Venmo.

Advanced Security: Magento prioritizes reliable security. It frequently releases security patches to fix known vulnerabilities and improve the platform's overall security.

Fast Loading: Optimized for quick page loading.

Analytics Integration: Easily integrate with tools like Google Analytics and Search Console.

SEO Optimization: Designed for search engine optimization.

Multi-Currency Support: Accommodates international businesses.

Feature-Rich: An abundance of features enhances your online store.
Cons:
Complex for Non-Coders: Non-technical users may find Magento challenging.

Costly Investment: Magento can be expensive for startups.

No POS Support: Lacks native Point of Sale (POS) support.

Limited Themes: Only five themes are available on Magento Marketplace (three free and two paid).
Examples of Magento Ecommerce Websites
1. Land Rover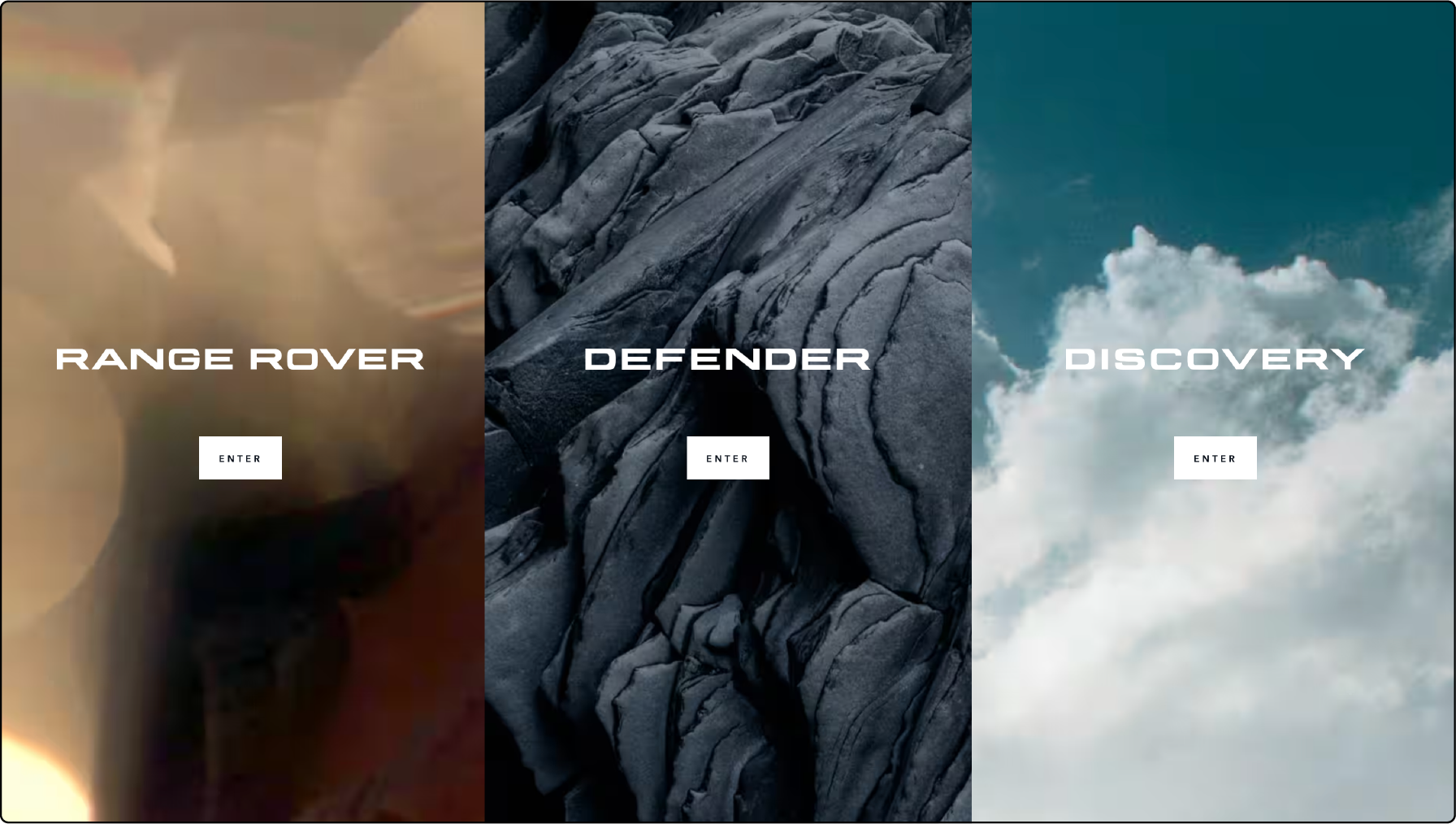 Land Rover transitioned to Magento 2 and integrated it into its primary website. This strategic move empowered them to showcase exclusive deals and products through carousel images against a clean white background. The website boasts a contemporary design, an elegant layout, and intuitive navigation that harmonizes with the Land Rover brand.
2. Sigma Beauty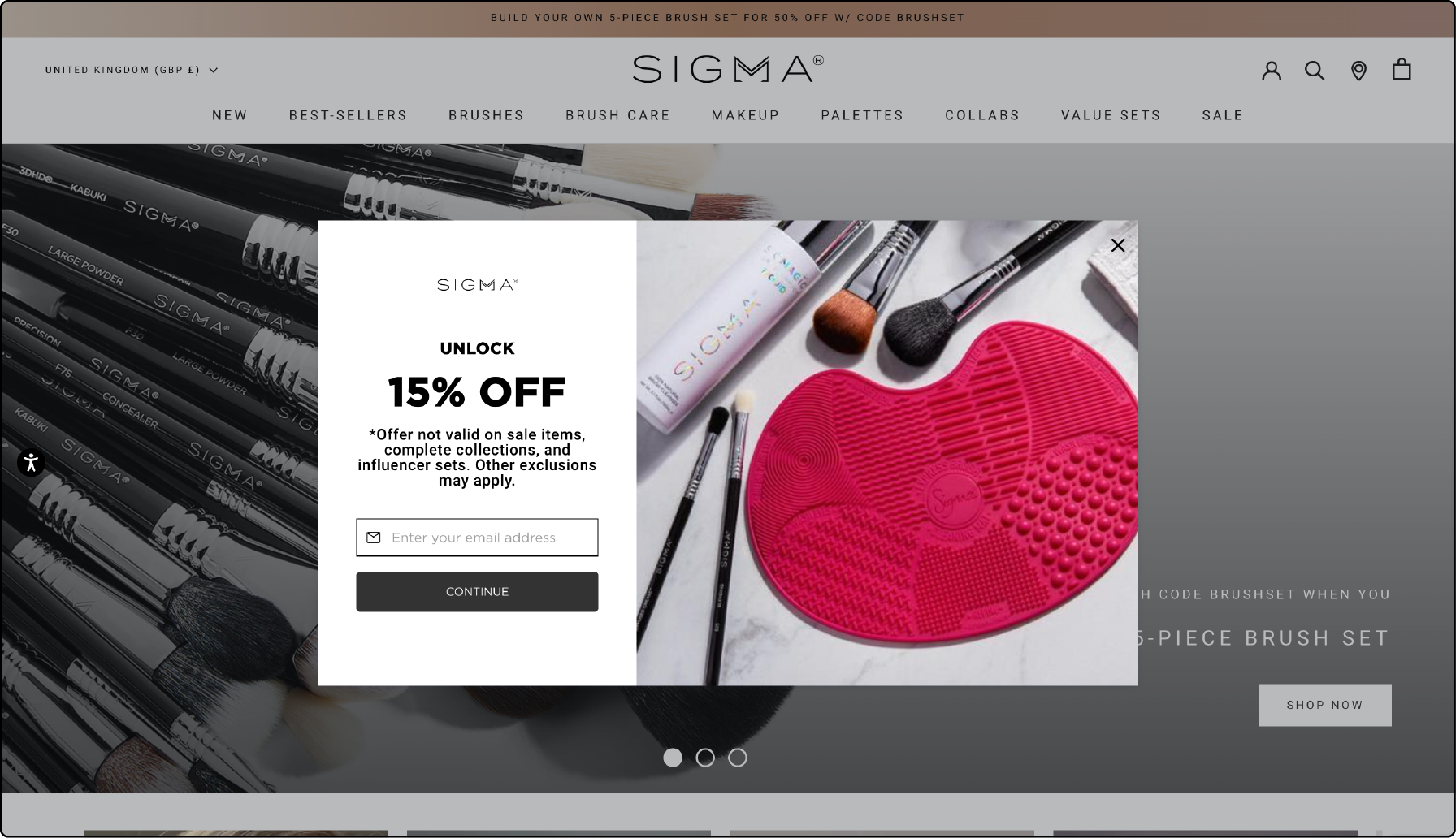 Sigma Beauty, a prominent vegan beauty company, features two prominent images that cycle every 10 seconds. The website predominantly sticks to a black-and-white aesthetic, allowing visitors to shop or learn more about their products. Sigma's transition to Magento 2 substantially reduced page load times, achieving a 3+ second improvement.
FAQs
1. What is Magento software, and how can it benefit my Magento store?
Magento software is a powerful platform tailored for ecommerce development. It offers advanced marketing tools, scalability, and support for various payment methods. It can enhance the functionality and growth of your Magento store.
2. Can I implement an omnichannel approach with Magento?
Yes, Magento supports omnichannel strategies by providing seamless integration across different sales channels. It enables you to provide customers with a consistent shopping experience, whether online or in-store.
3. Is Magento a scalable solution for my business?
Magento is highly scalable, making it suitable for businesses of all sizes. It offers customizable features and integrations. It allows you to expand and grow your ecommerce business efficiently.
4. How does Magento software support mobile devices for my online store?
Magento software is optimized for mobile compatibility, ensuring seamless functionality on various mobile devices. It empowers your online store to effectively engage with the ever-expanding mobile shopper audience.
5. What marketing tools are available in Magento to boost my ecommerce business?
Magento provides powerful marketing tools that can help you promote your products and reach your target audience effectively. These tools include SEO optimization, content management, and more.
6. What payment methods are supported by Magento for my shopping cart?
Magento supports payment methods, including PayPal, credit cards, and online payment gateways. This flexibility allows you to cater to diverse customer preferences.
7. Is Magento software suitable for enhancing the performance of my shopping cart?
Yes, Magento software is a suitable choice for optimizing the performance of your shopping cart. It offers features like fast page loading, security, and streamlined checkout processes to enhance customer experience.
Summary
With Magento software, you can tailor your online store to meet your unique needs. It offers exceptional marketing tools, mobile optimization, and scalability for businesses of all sizes. We covered the distinct features of Magento software.
It included support for mobile devices, marketing tools, scalability, and payment methods. It also explained the key differences between Magento versions, helping you make an informed choice for your ecommerce needs Consider exploring Magento server hosting options for your online store. It ensures optimal performance and seamless customer experiences.