Adobe Commerce Cloud vs. Magento: What's the Difference?
For e-commerce businesses, choosing Adobe Commerce Cloud vs. Magento can be difficult. Adobe Commerce Cloud and Magento both provide e-commerce solutions for businesses. Both are renowned for their e-commerce capabilities, but what sets them apart?
This blog will explore the differences between these two e-commerce platforms, helping you understand which suits your business better.
Key Takeaways
Adobe Commerce Cloud and Magento Open Source are distinct e-commerce platforms catering to different business needs.

Magento Open Source offers features like a drag-and-drop page builder and extensive customization options.

Adobe Commerce, a cloud-based solution, provides advanced marketing tools, AI-powered capabilities, and seamless integration with Adobe products.

Key differences between the two include functionality, scalability, integration, and support options.

Pricing and deployment vary significantly, with Adobe Commerce Cloud being a premium and Magento Open Source product. It offers a free platform with potential additional costs.

Consider factors like business needs, customization, integration, support, and scalability when choosing the right platform for your e-commerce success.
Understanding Magento and Adobe Commerce
Magento Open Source Overview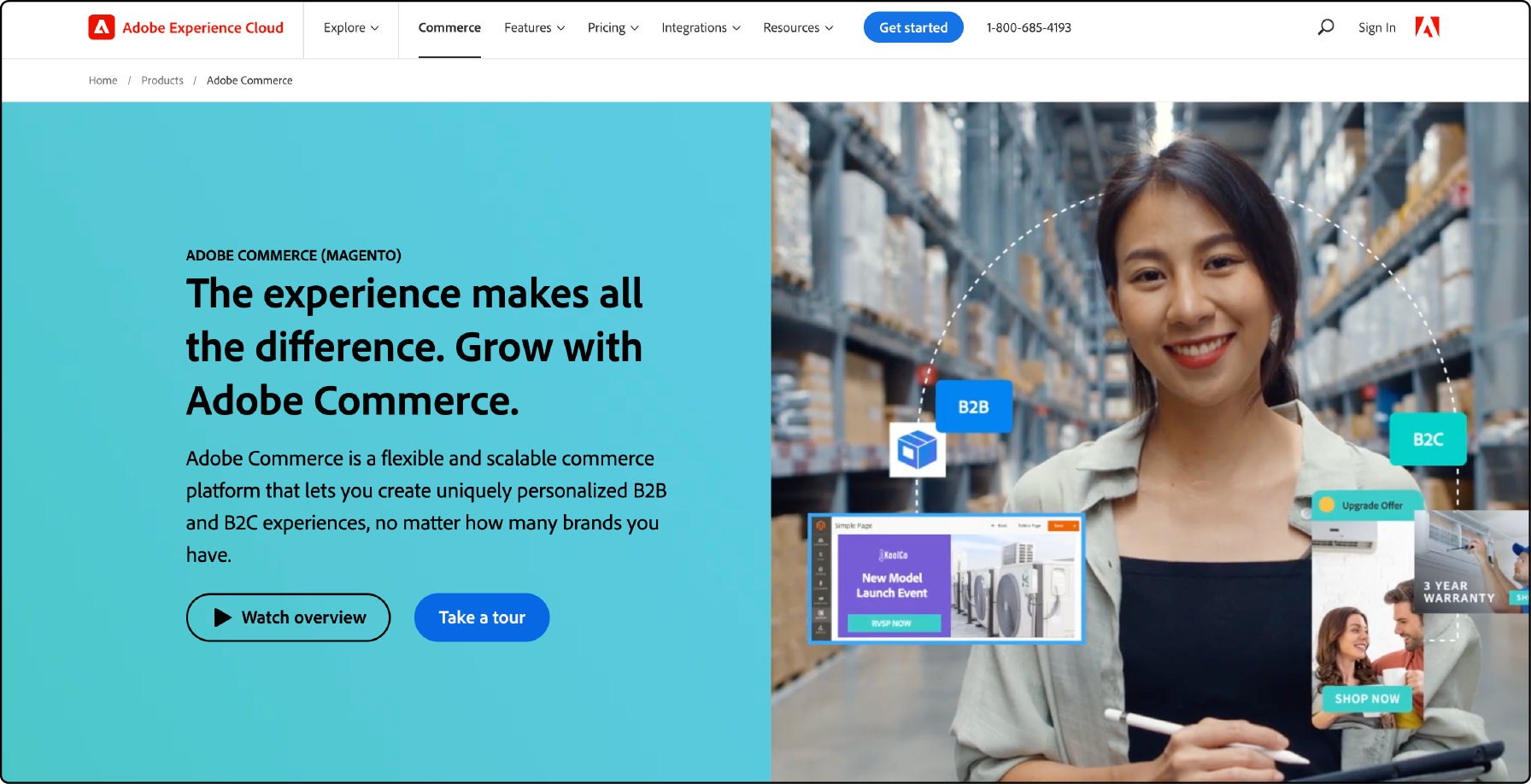 Magento Open Source is a powerful and popular open-source e-commerce platform designed for businesses of all sizes. It provides the tools and features necessary to create and manage online stores.
Features and Benefits of Magento Open Source
1. Cost-Effective Solution: Magento Open Source is free, making it a cost-effective choice for businesses starting an online store.
2. Robust Inventory Management: Magento provides robust inventory management features, allowing you to easily track and manage your product catalog, stock levels, and orders.
3. SEO Optimization: It supports SEO optimization. Your store will show up on internet searches easily.
4. Drag and Drop Page Builder: Use a drag-and-drop page builder for web creation. You don't need high-tech skills to make your site look good.
5. Multi-Channel Marketing: Sell any way you want with multi-channel marketing. Reach out to more people no matter where they are.
6. User-Friendly Interface: It has a user-friendly interface. Both shop owners and buyers will find it easy to use.
7. Extensive Extensions and Plugins: Enjoy lots of extensions and plugins. These tools make Magento Open Source even better.
8. Strong Community Support: Access a vast global community of users for assistance with troubleshooting and innovative solutions.
Adobe Commerce Overview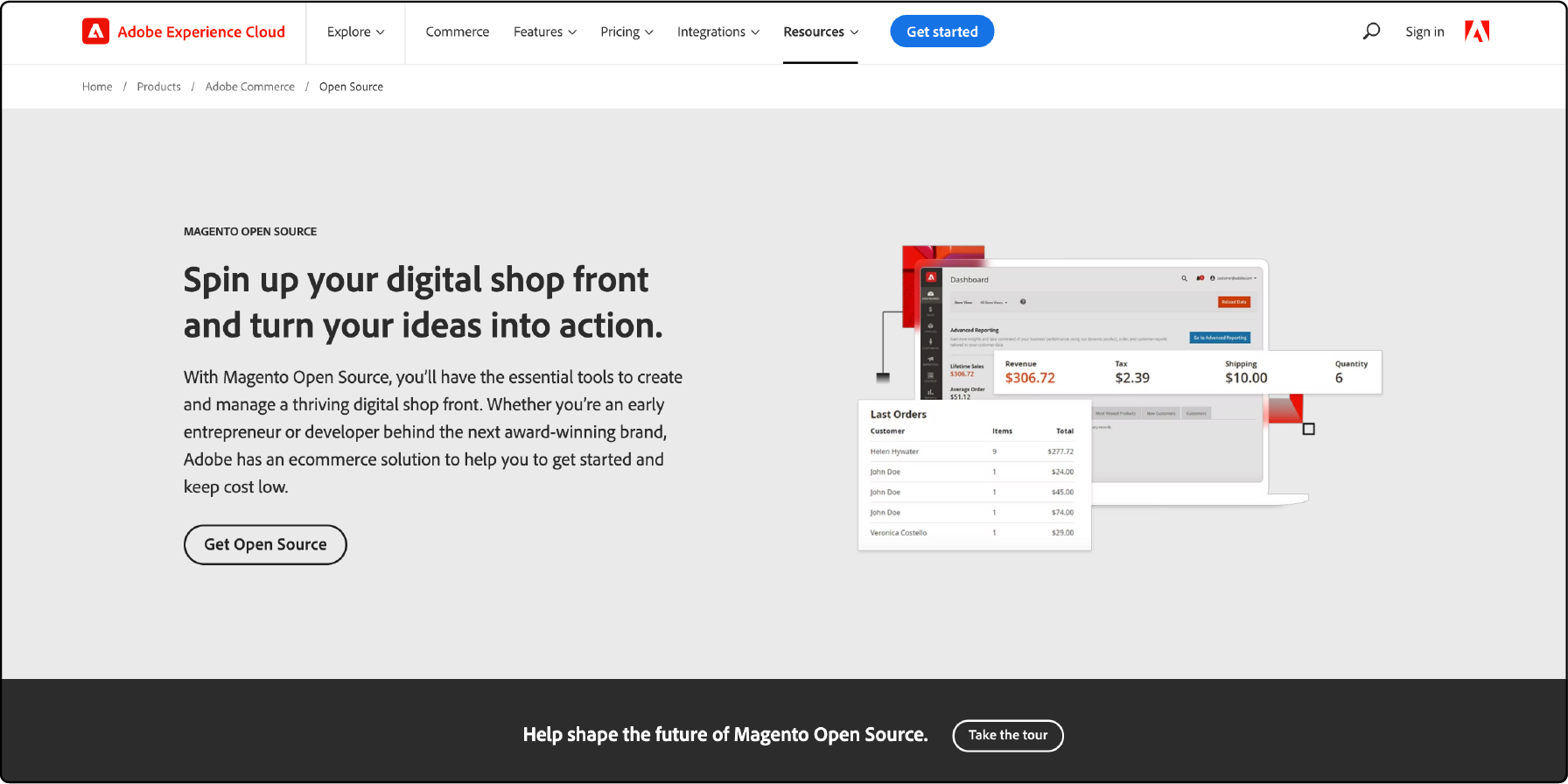 Adobe Commerce is a robust, cloud-based e-commerce platform providing comprehensive tools and features for businesses looking to create and manage online stores. It is a premium solution offered by Adobe. It is designed to deliver a seamless and customizable e-commerce experience.
Features and Benefits of Adobe Commerce
1. AI-powered: Adobe Commerce uses AI and machine learning to give users new work methods. Adobe Commerce's AI-powered capabilities can improve the shopping cart's functionality.
2. Customer Segments: This helps businesses handle different groups of customers in different ways.
3. Platform as a service: Adobe Commerce is a cloud-based solution with top-notch cloud hosting infrastructure.
4. Quick Order: It lets customers make orders fast using requisition lists.
5. Customer Support: Adobe has top-notch customer service to help users.
6. Page Builder: Users can build pages using drag-and-drop tools.
7. Personalization: With AI, Adobe Commerce can offer product recommendations for each user.
8. Analytics and reporting: Magento Reporting helps business owners know how their stores are doing.
9. Secure Payment Gateways: The platform offers provides additional security features for payment gateways like DDoS protection, and Web Application Firewall (WAF) to protect customer information and ensure safe transactions.
Comparing Adobe Commerce Cloud and Magento
Adobe Commerce Cloud and Magento have key differences in functionality, capabilities, pricing, and deployment options.
Key Differences in Functionality and Capabilities
| Adobe Commerce Cloud | Magento Open Source |
| --- | --- |
| Functionality | It offers high-level functionality, including advanced analytics, B2B functionality, personalization, and AI-driven capabilities. |
| Scalability | Highly scalable, ideal for large corporations with complex operations. |
| Integration | It provides seamless integration with Adobe Experience Cloud. |
| Support | 24/7 support, including access to a dedicated team of Adobe experts. |
Pricing and Deployment Options
Pricing and deployment options for both Adobe Commerce Cloud and Magento vastly differ and should be considered when deciding on a platform. Here's how they stack up:
| Adobe Commerce Cloud | Magento Open Source |
| --- | --- |
| Pricing | Adobe Commerce Cloud is a premium product. The pricing model depends on the business's requirements, including gross sales volume. The cost typically starts at around $40,000 per year. |
| Deployment | Adobe Commerce Cloud is a fully hosted solution. It means it provides web hosting as part of the package. It also includes 24/7 support, automatic updates, and enhanced security measures. |
Factors to Consider When Choosing a Platform
1. Business Needs and Goals
Consider the size of your business. Large enterprises often prefer Adobe Commerce Cloud, while Magento Open Source suits small to medium-sized companies. Assess your products and services' complexity and whether you need advanced features or customization.
2. Budget
Adobe Commerce Cloud is a premium product, so you'll have to allocate a larger budget for licensing and usage fees. Magento Open Source is open-source and free, but you'll still need to budget for hosting, development, security, and potential extensions.
3. Total Cost of Ownership (TCO)
To understand the full financial impact, calculate the TCO over time. It includes initial setup, licensing or hosting fees, development costs, and ongoing maintenance.
4. Integration Capabilities
Assess the systems and tools you need to integrate with your e-commerce platform. Adobe Commerce Cloud may provide more streamlined integration with Adobe products. Both platforms offer extensive integration possibilities with third-party applications and services.
5. Scalability
Think about your business growth. Adobe Commerce Cloud can handle the demands of large enterprises, while Magento Open Source is more suited for smaller to medium-sized businesses that expect growth.
6. Support and Maintenance
Determine your technical expertise. Adobe Commerce Cloud provides dedicated support and takes care of updates and maintenance. Magento Open Source relies on community support, which may require more technical skills or third-party support services.
7. Marketing and Analytics
Consider the level of marketing sophistication you need. Adobe Commerce Cloud provides advanced marketing tools and AI-powered features for personalization. Magento Open Source offers marketing features but may require additional extensions for advanced capabilities.
8. Magento Hosting
Decide if you want a fully hosted solution or prefer to manage your hosting. Adobe Commerce Cloud includes hosting, automatic updates, and enhanced security. Magento Open Source lets you choose your hosting provider, giving you more control over server specifications and costs.
9. User Experience
Evaluate the platform's user interface. A user-friendly dashboard and intuitive design can simplify store management and improve the customer experience.
10. Magento Security
Both platforms prioritize security, but Adobe Commerce Cloud may offer additional security features and regular updates due to its premium status.
FAQs
1. What are differences between Adobe Sensei, Magento 2 Commerce, Magento open source, and Adobe Commerce?
1. Magento Open Source: A free, open-source e-commerce platform with basic functionality but lacks advanced image optimization features.
2. Magento 2 Commerce: The paid version of Magento with advanced features like B2B functionality and improved image optimization tools.
3. Adobe Sensei: Adobe Sensei is Adobe's AI technology, integrated into Adobe Commerce. Features like Adobe Sensei signify that advanced AI-driven capabilities are at work, offering improved image optimization, tailored shopping experiences, and data-driven decision-making.
2. How can Magento 2 Commerce enhance sales?
Magento 2 Commerce can elevate sales by utilizing AI-driven insights. It can optimize product images for better visual appeal, driving more conversions. It creates a win-win situation for both businesses and customers.
Summary
In the Adobe Commerce Cloud vs. Magento battle, the choice ultimately depends on your business needs and priorities. From pricing to scalability, use the points discussed to analyze which one suits your business needs best. Whether you seek advanced AI or a budget-friendly approach, this guide will assist you in making an informed decision.
Ready to take your e-commerce venture to the next level with Magento? Ensure a seamless online shopping experience for your customers with Magento hosting solutions.