What are Product Tags in Magento?
The E-commerce industry is growing every year. According to Statista, eCommerce sales will reach $6.5 trillion by 2023. With this growth, the products available on the internet are increasing rapidly.
Navigating through a wide range of products by features can be tedious for customers. It can result in high bounce rates & cart abandonment.
For e-commerce store owners, it becomes difficult to raise product awareness and increase sales. Product tags solve both these problems.
Product tagging adds more information to an item description. It narrows down the product search.
A product tag is the quickest way for customers to find a product online. For business owners, it ensures higher earnings.
This article explores product tags in Magento and how to add them.
Overview of Product Tags in Magento
You can add product tags on Magento for your online store. A tag is a keyword or phrase describing a product.
The menu tab or category section covers many product types in Magento. However, product tags are more specific in scope.
Product tagging focuses on the product's distinct features. It then directs online buyers to the desired items instantly.
The product tags added appear below the product description in the Magento storefront.
Each product tag is a link. Clicking on the link lists all the products associated with that tag.
You can add and delete these product tags in the Magento admin panel.
You can manage these tags as well in a spreadsheet to track the popular and outdated ones.
Predicting market trends becomes easier in this manner.
Magento product tags offer multi-language support. Product pages can show the translated tags in the customer's chosen language.
Benefits of Product Tags in Magento
1. Improve Product Search
Tags can help improve your search results in the following ways:
A product filter defines the unique features of a product in your store. You can narrow down search results by using tags in product filters.
For example, adding the "hiking boots" tag to a shoe model limits the search results to the most relevant.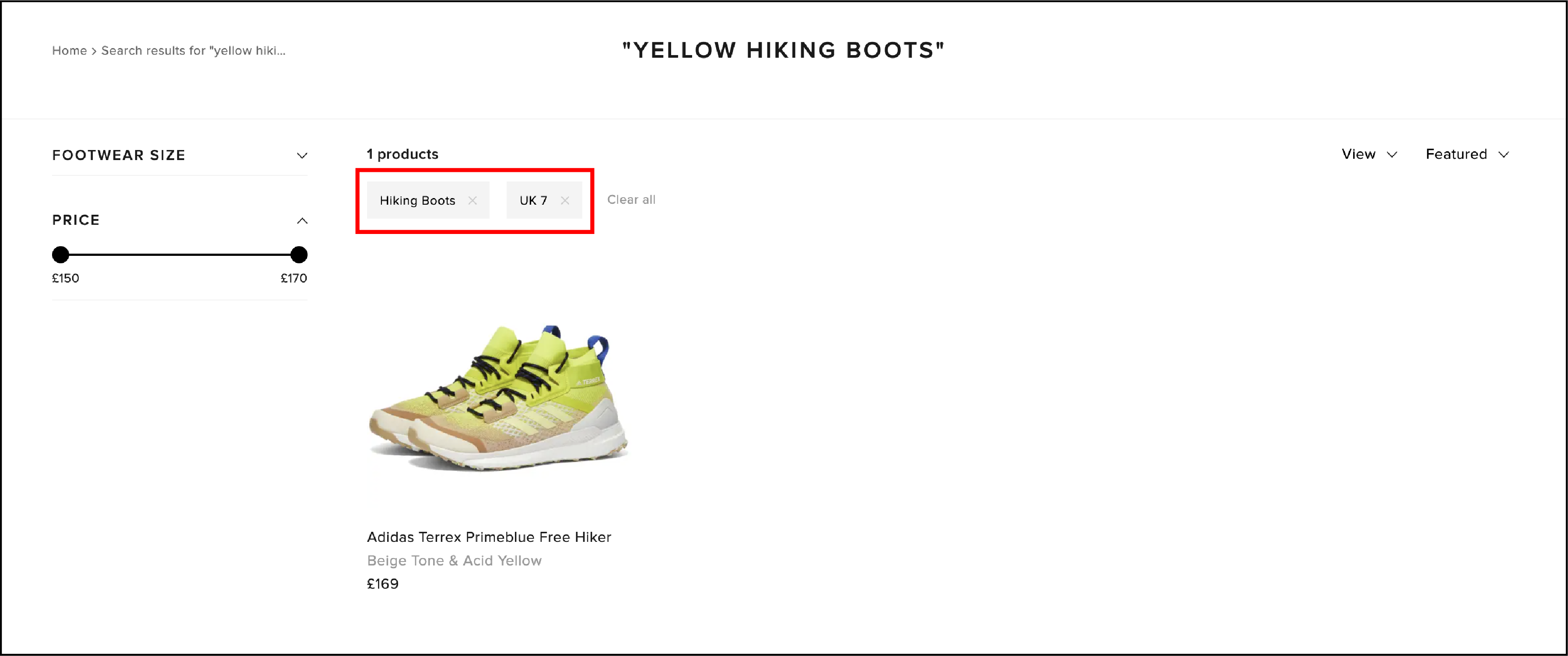 Tagging can also display all products with the same tag.
For example, the "blue", "dining chairs" tags will display all blue dining chairs in the store regardless of the brand.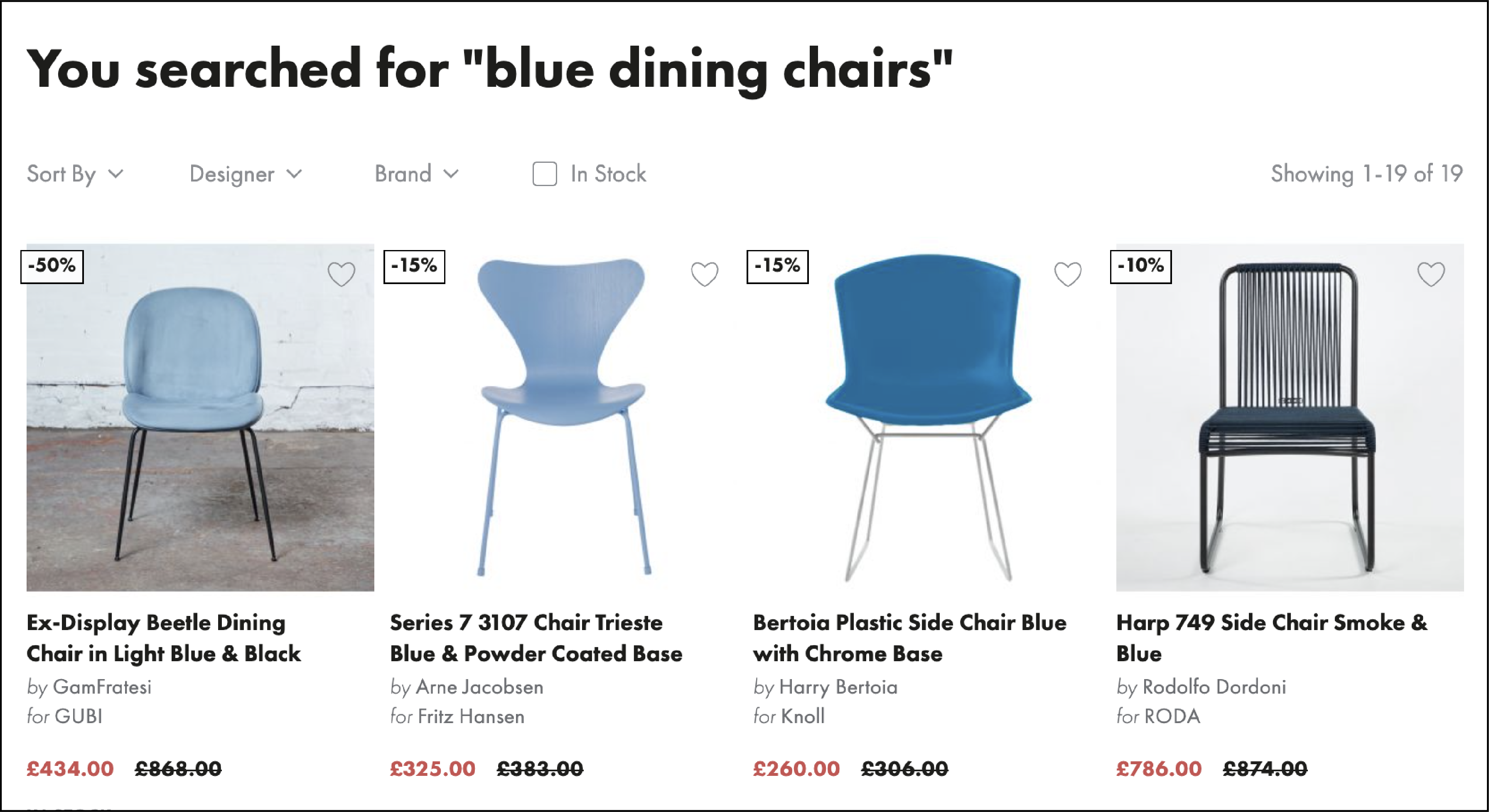 Adding tags to products narrows the search based on the shopper's personal choices.

The product details page contains all the popular tags trending for related products.
Shoppers can filter and search for products without the need for customer support.
You should ensure that the content of the product tag is helpful to the shoppers. It should lead to a quick purchase.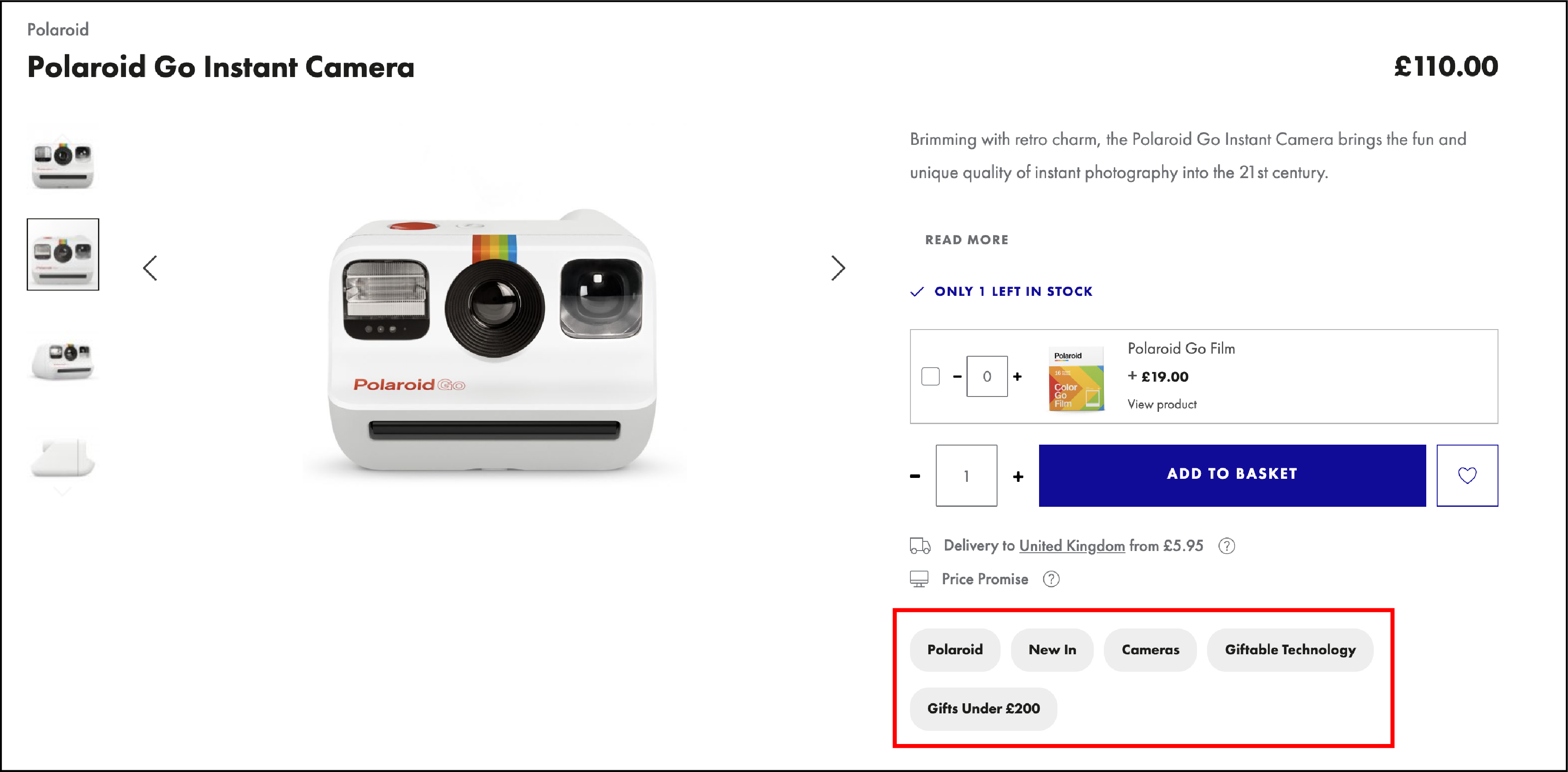 2. Boost Sales
Magento allows you to group items of the same type under one tag. These items may vary in color, appearance, and brand name.
You can use the following product tagging methods to boost sales:
Customers can view other similar products by clicking on a tag. More relevant options encourage them to buy more from the store.

You can define the product tags in the sidebar of the results page. It recommends the related products usually bought with the item searched by the shopper.

Add catchy tags featuring special items, based on discounts, new arrivals, best-selling products, and buyer reviews.
3. Predict Shopping Trends
Product tags help understand the product performance and shopping trends.
Tagging metrics analyze how visitors engage with the tags.
This data helps in calculating each product's detailed performance.
You can use tag-level reports to improve your marketing strategies.
For example,a specific cotton shirt style may sell well during a month. You can launch different colors for the same shirt design and promote sales.
Tags are also the best way to study the performance of new items in your store. New products do not have performance data to help predict earnings.
Tagging enables you to track each color, size efficiently. This information helps in forecasting which types of products will sell well.
4. Improve Site Navigation
There are two ways in which you can improve site navigation using product tags:
You can use multiple keywords as product tags to describe a product.
Keyword-rich tags help improve navigation. Search results only include the most relevant items.
Shoppers can also switch between products of the same type or similar features.
Crosslinking or Internal Link Building.
A tag cloud is a group of tagged keywords placed in a specific website area. It is a form of crosslinking used in e-commerce stores.
Each tag in a cloud acts as a link. It directs the customer to an internal search results list.
This list includes all products on your site that contain the tagged keywords or phrases.
Using tag clouds is also a great SEO strategy. It enables search engines to reach the relevant site pages easily.
How to Add Product Tags in Magento 2
Magento 2 e-commerce platform does not have native product tags feature.
You need to install a third party extension for product tags.
Products tagged by customers was a feature of the Magento 1 version.
Unfortunately, mostly all product tag third party extensions do not allow registered customers to add tags from the frontend.
Some of the top Magento 2 product tag extensions available for Magento 2 are:
1. BSS Commerce - Product Tag Extension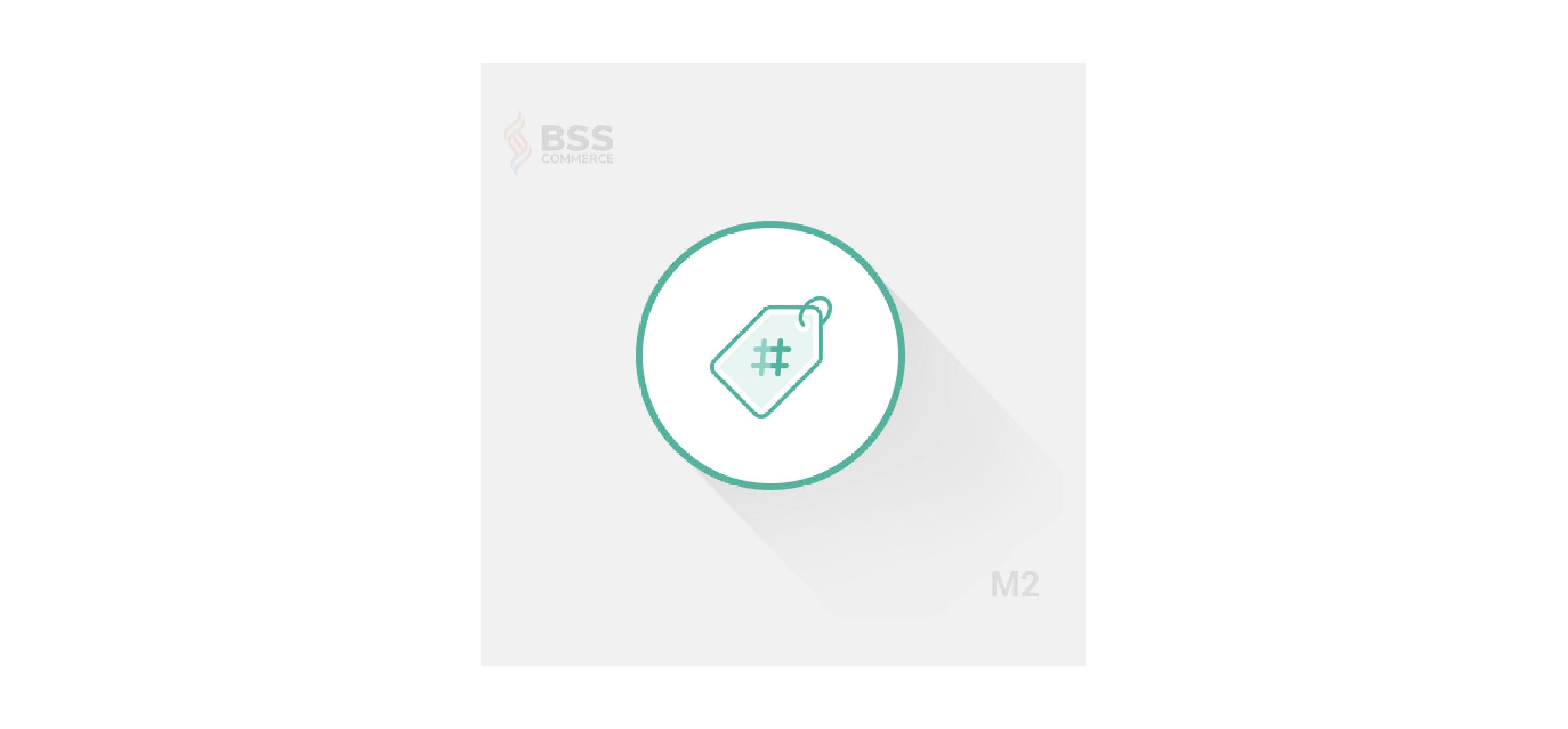 The product tag extension from BSS Commerce offers many features for customers to buy from your store.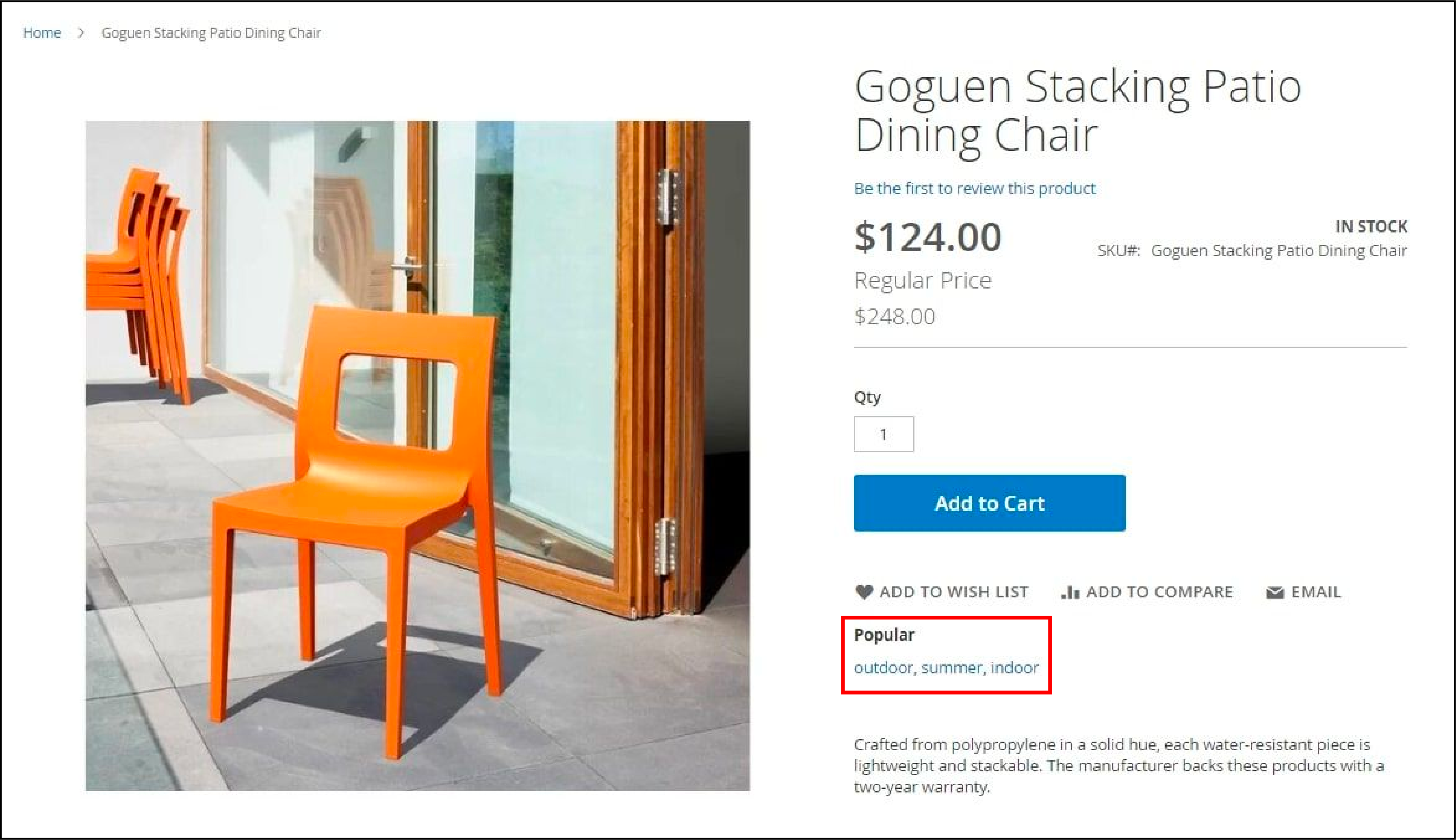 Key Features-
Customization of the product page to display the Popular Tags.
Clicking on tags show related or similar items
Add new tags to products in the Tags Management backend. Go to Catalog > Product Tags > Add New Tag
Add new tags to a single product in the Product Details backend. Go to Catalog > Product > Product Detail Page > Product Tags
Use Meta keywords in the tags
Customize the tags for different store views
View product tags on the product details page in the frontend
2. Landofcoder M2 Product Tag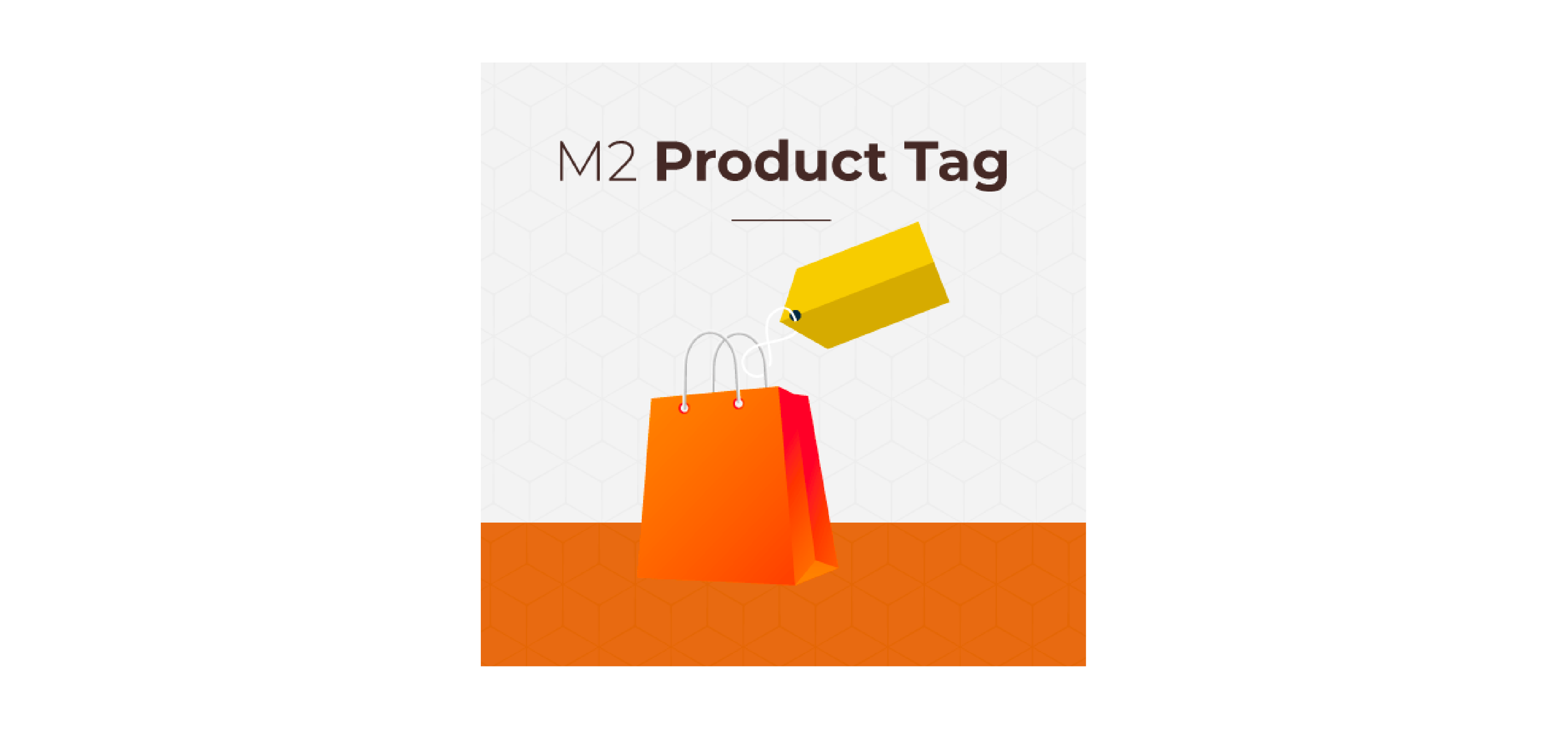 The Landofcoder is a free product tag extension for Magento 2.
It offers all the necessary features to speed up the product search.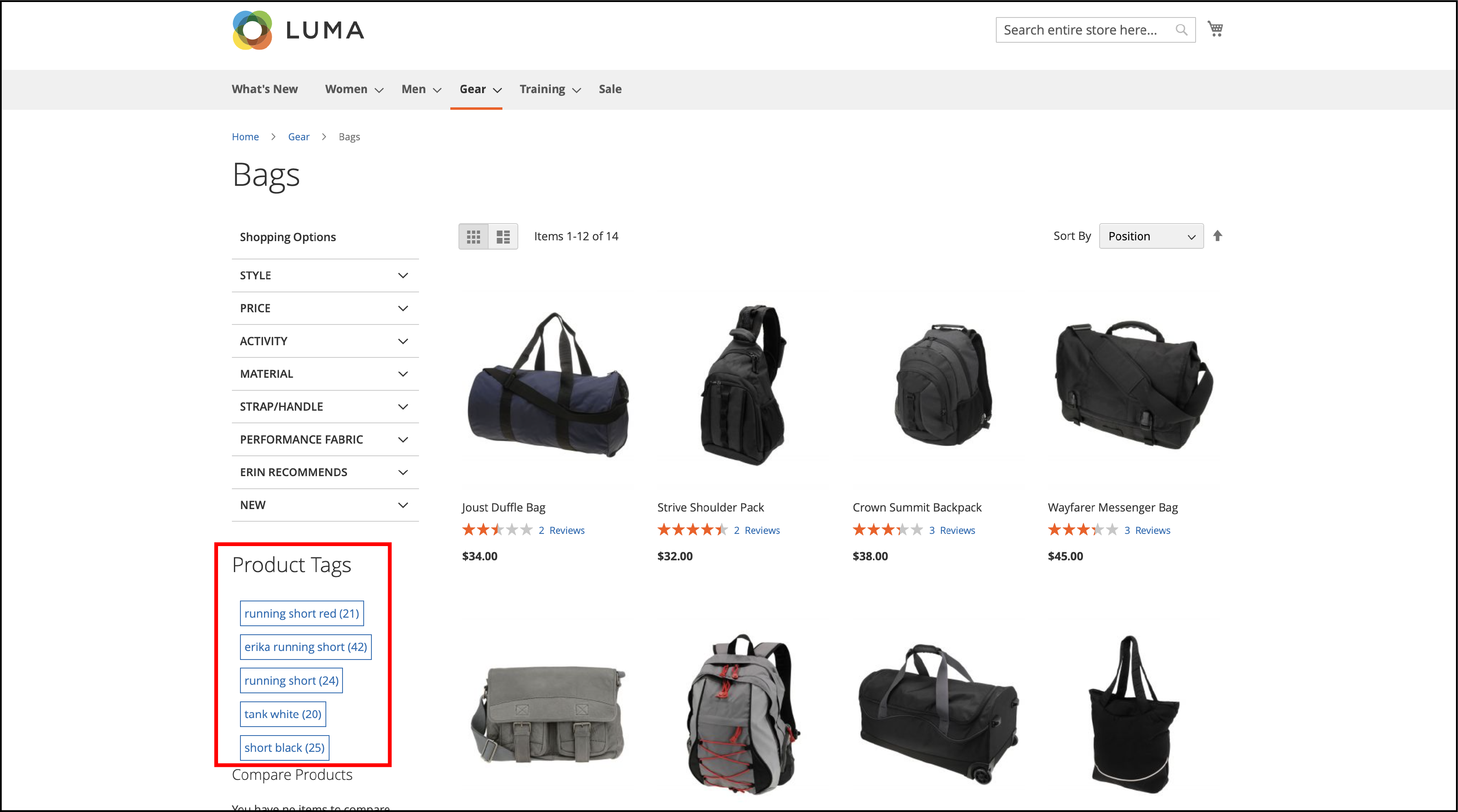 Key Features-
Limit search results with product filter tags
Display list of the products with the same tag
The tag Sidebar feature allows customers to find products easily
Add unique tags such as "Free Shipping," "Free Gift Item," and "Bestselling".
Displays product tagged by administrators on the Product Detail page
Add and update tags in the Tags Management backend
Frontend REST API support
Bulk delete product tags from the backend.
3. Magepow - Product Tags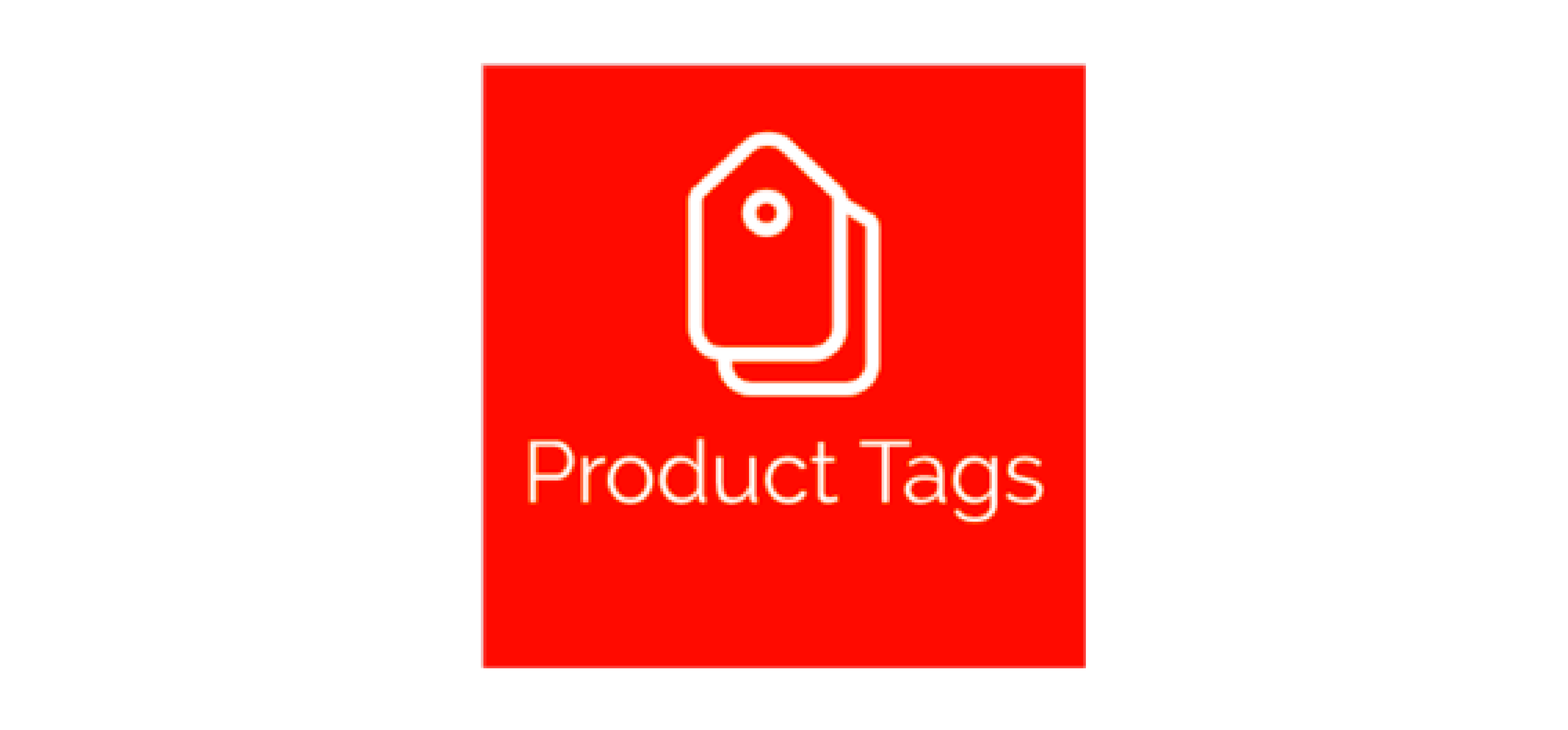 Magepow extension allows you to define a product with a number of tags.
It also directs customers to other products with similar features and offers more options.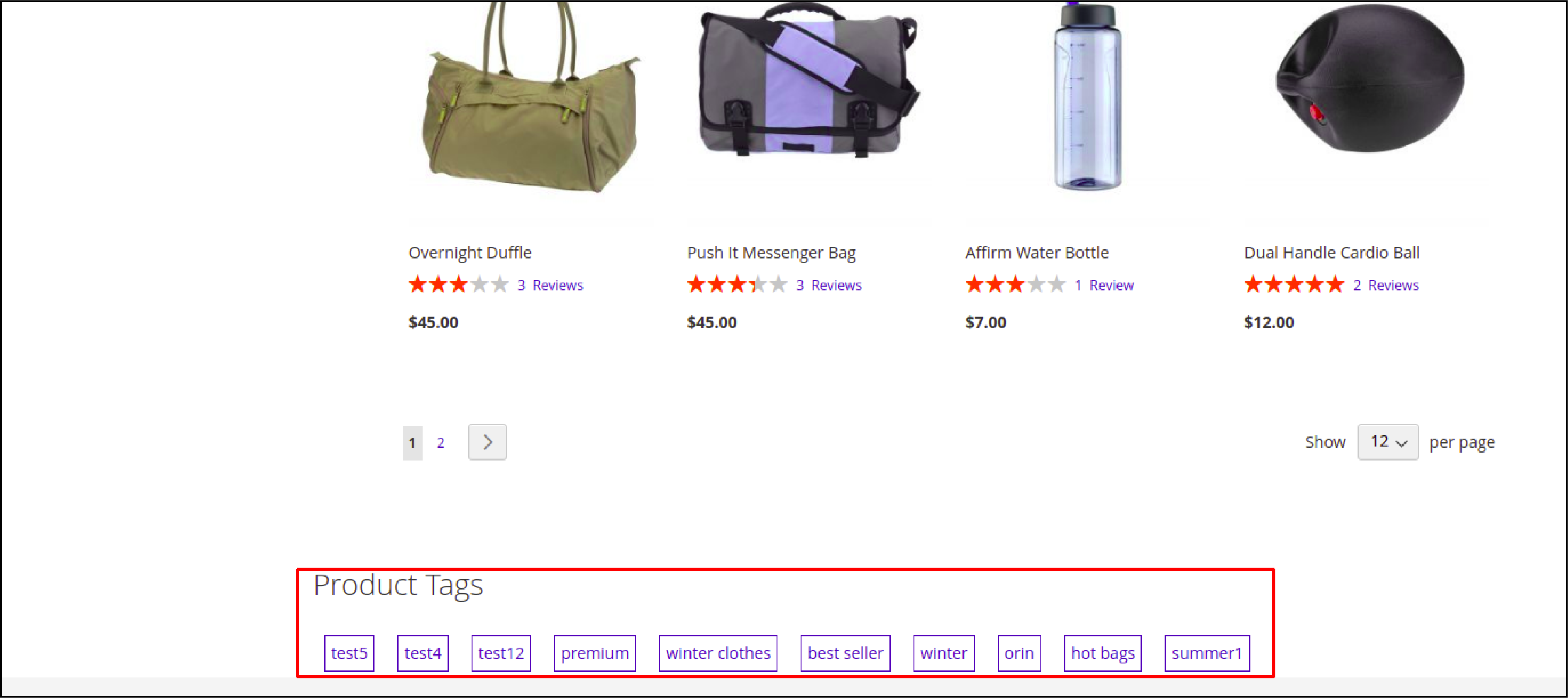 Key Features
Navigate to: Magento Admin > Magepow > Product Tags. Click on Add New Tag button to create a new tag
Combine products with the same features into a single tag
Limit the number of tags displayed
Customized URLs for the product tags
Display product tags on both Product Detail pages and the Sidebar
Configure product tags on a widget
Customize tags for different store views
Clicking on the tag lists all the products with the same properties
Offers efficient SEO support
Manage product tags in the Tags Management backend
Approve or disable tags in bulk from the tags list in the backend
Conclusion
A product tag uses keywords to highlight the product features. Customers can easily find products using keywords.
Product tagging is a powerful tool that makes your Magento store more searchable. With Product tags you can increase product awareness, improve site navigation, and sales.
Without product tags, the online shopping process for customers will become slow and complicated.
Overall, product tags are an excellent choice for ecommerce websites that sell multiple products and brands.
To know more about Magento, check the MGT-Commerce blog.