Showcase Magento 2 Featured Products on the Homepage
Magento 2 featured products are useful in upselling and cross-selling products in a Magento store. Placing featured products on the homepage of your website impacts your product promotion campaigns. It helps drive attention towards products you want to sell fast. This tutorial will guide you through creating featured products for your promotional campaigns.
Key Takeaways
Magento 2 featured products are highlighted items on your homepage that attract customer attention and drive sales.

To create featured products in Magento 2, you can easily select desired products from your inventory and enable them as featured in the admin panel.

Customization options allow you to choose different layouts, styles, and sizes for showcasing your featured products on the homepage.

You can boost sales by implementing cross-selling and upselling techniques and offering promotions or discounts for your featured products.
What are Featured Products in Magento 2?
Featured products in Magento 2 are highlighted products usually placed on the most-visited pages of your website ( like the homepage). You can showcase top-selling items as featured products on your Magento homepage. It will help customers quickly find excellent products and make their buying journey easier by eliminating the search time.
Why do you need Magento 2 Featured Products?
Featured products get the attention of your customers. They allow promoting specific items or deals. You can use them to offer special discounts or promote high-profit items.
Adding specific products on your homepage can also enhance the overall visual appeal of your website and create a more engaging user experience.
How to Create Featured Products in Magento 2?
To highlight a product in your Magento 2 store, add a widget for the desired featured products. The following steps will help add featured products to your Magento store:
Step 1: Create Featured Products
Log in to your account, then go to Stores.

Expand the Attributes section, and click Products.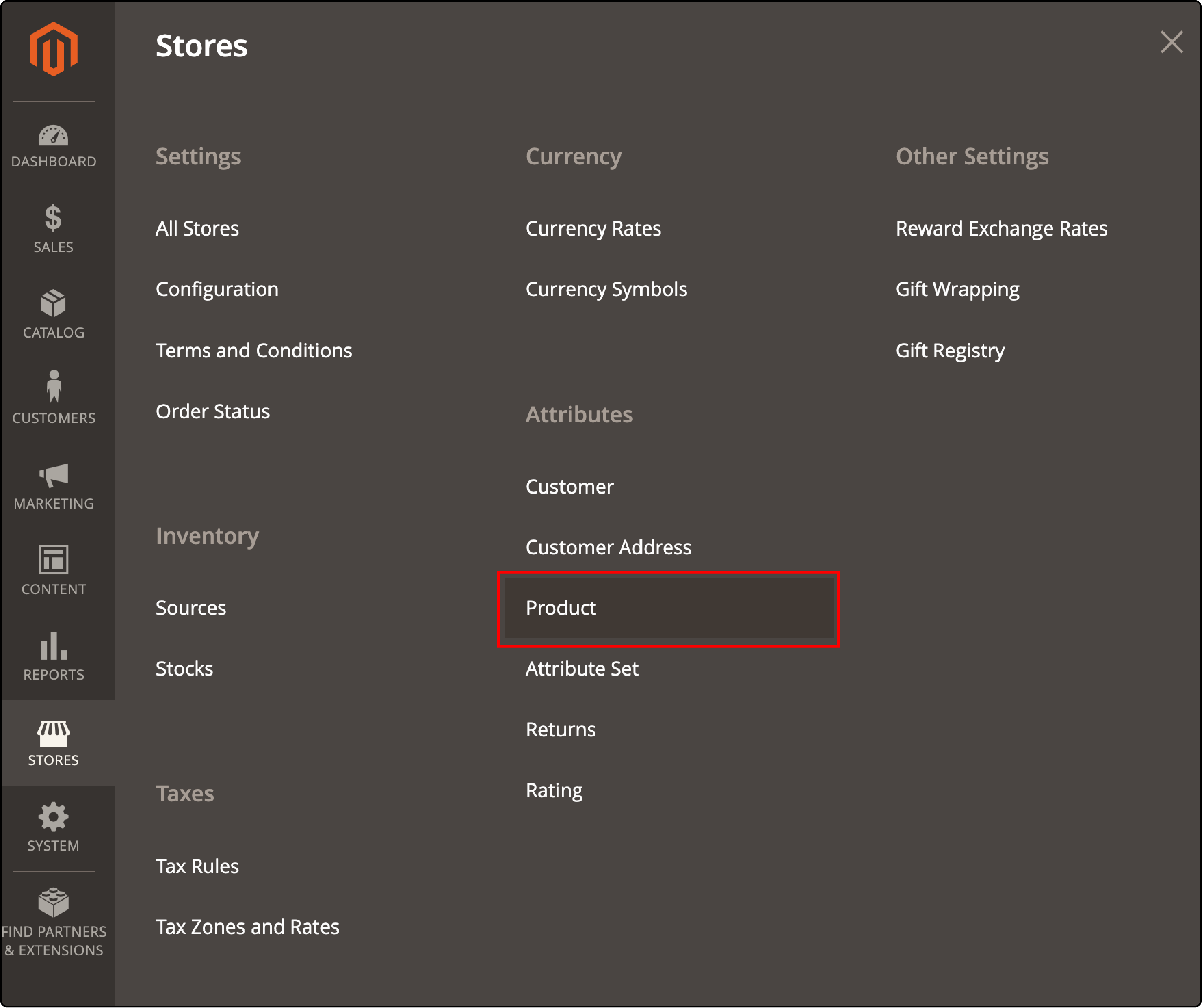 Click Add New Attribute.

Set the Default Label to Featured.

To save the changes, click the Save Attribute button.

Next, go back to the Admin panel and navigate Stores.

Select Attributes and click the Attribute Set button.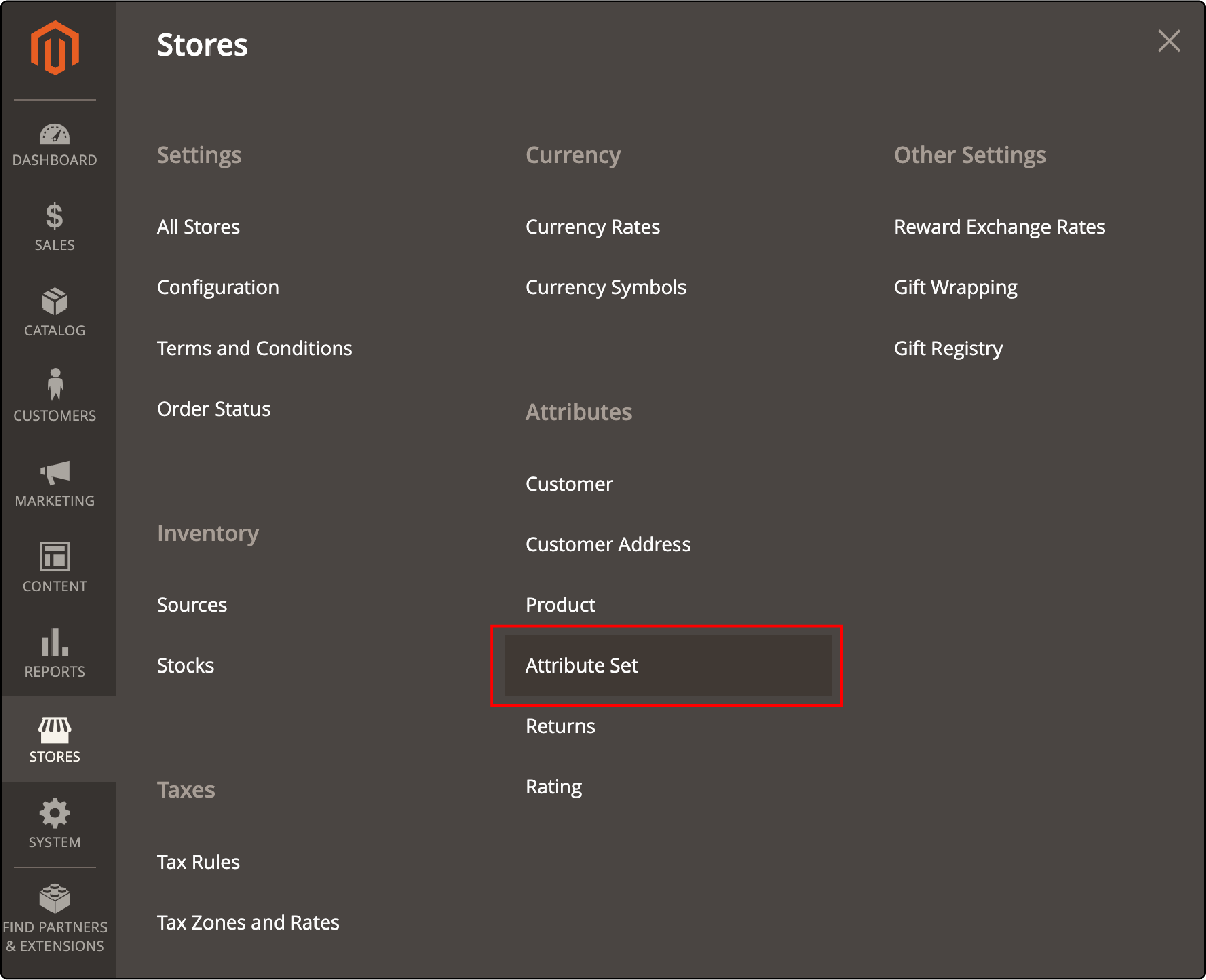 Click Default from the list of attribute sets.

Under Unassigned attributes, find the Featured attribute. Move it to the Product details section in Assigned attributes.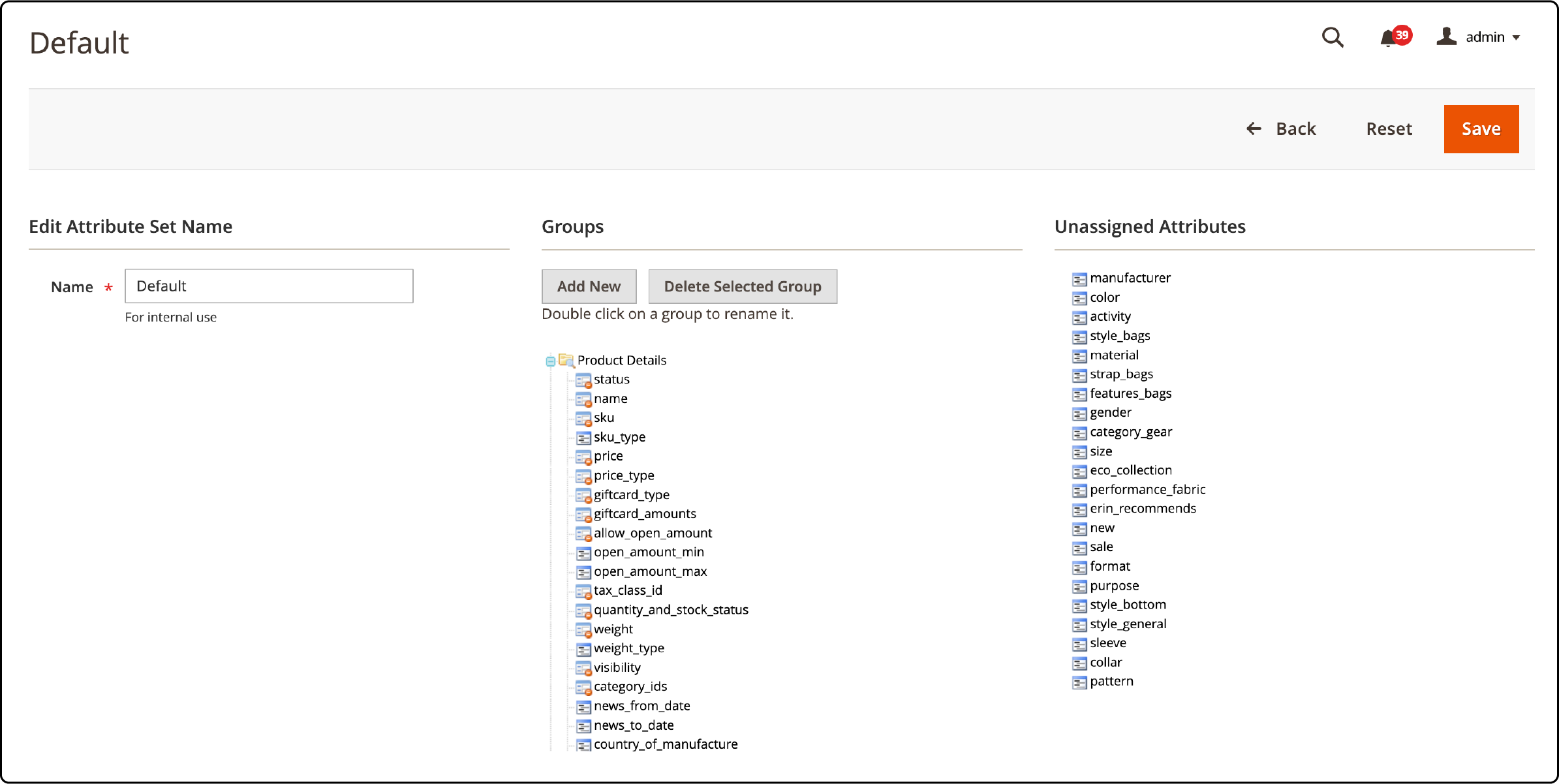 To save the changes, click the save button.

Next, go back to the Admin Panel. Under the Catalog tab, expand Products.

Choose a product you want to feature, and click the Edit button.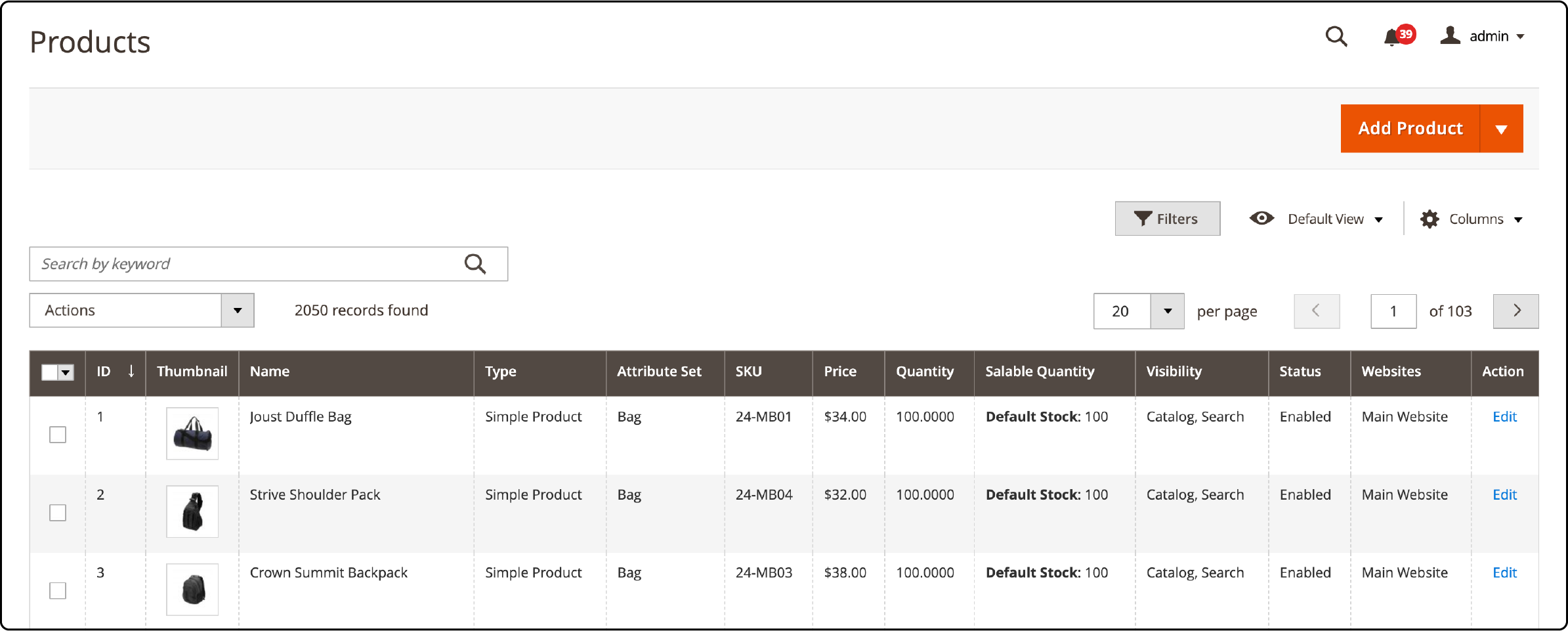 Select Default from the dropdown menu of Attribute Set.

Scroll down, find the Featured field, and set it to Yes.

To save the changes, click the save button.
Step 2: Display Featured Products on the Frontend
On the Admin Panel, Navigate Content. Expand the Elements section. Select the Pages tab.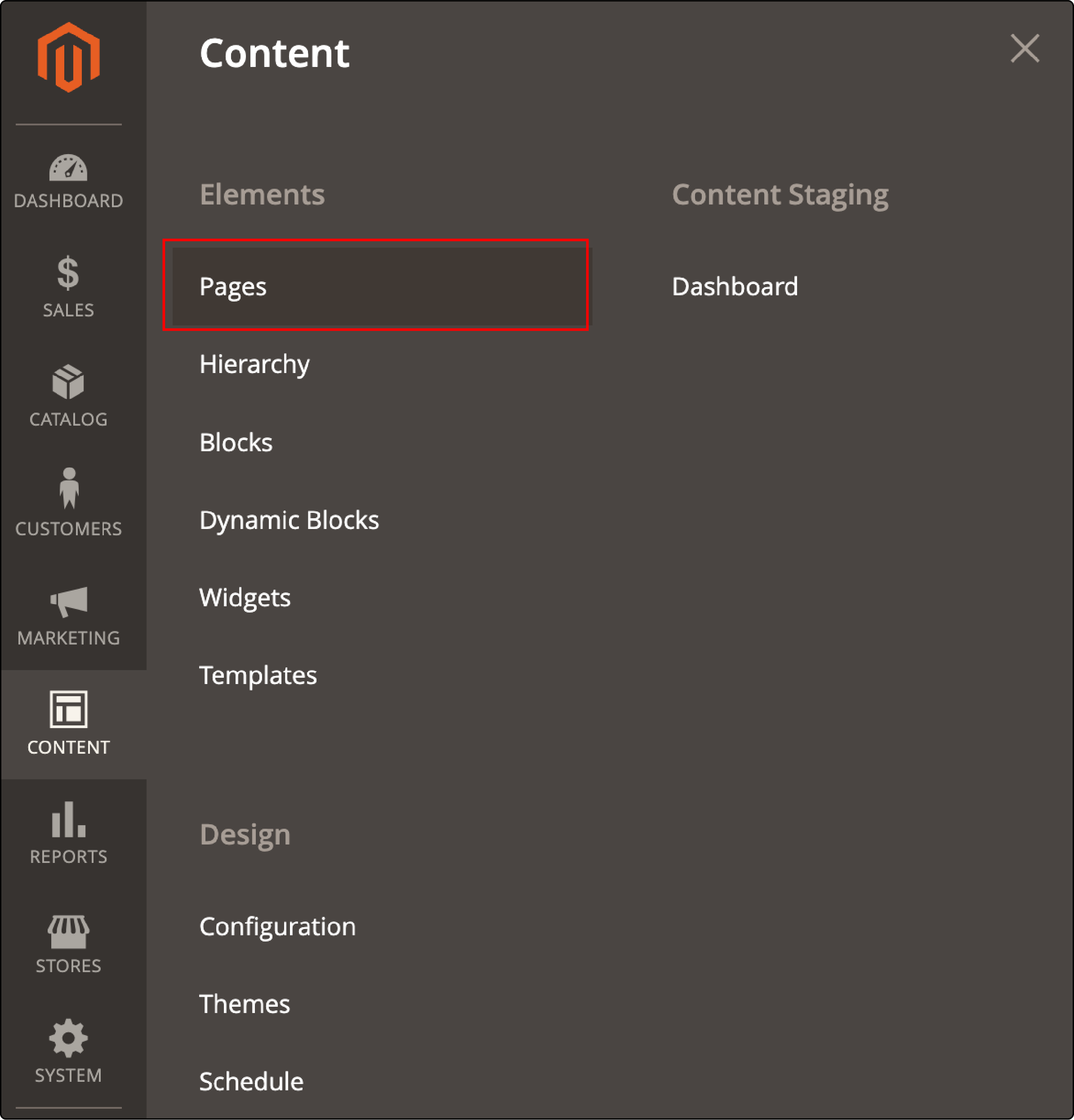 From a list of the store's pages, find the page you want to add the feature products (for example, the homepage). Then, click the Select option to Edit your page.

Enable the page.

Find the SEO tab. Fill in the Page Title, URL Key.

Set the Store View in the Pages in Websites tab.

Next, go to the Content tab. Click the Insert Widget button to add a widget for the selected page.

Choose a widget from the available widget types.

In Widget Type, choose a Catalog Product List. Configure the Conditions. (It will allow displaying products with the Featured attributes).

Click the Insert Widget button and go back to the Content tab.

To apply the changes, click the Save Page button.
Following the steps mentioned above, you should be able to add featured products to a desired webpage. (In this example, the homepage.)
Which Magento products should you feature?
First, think about your target audience and what types of Magento products would appeal to them the most. Consider their needs, preferences, and interests when selecting featured items. Focus on showcasing your best-selling or most popular products, which can help increase sales and conversions.
Second, highlight new or exclusive products that are unique to your store. It helps gain attention from potential customers who seek unique products. Don't forget about seasonal promotions or upcoming holidays. For example, featuring relevant products during festive seasons can boost your Magento store's sales.
Customization options
Exploring the customization options allows for creating an engaging featured products page. You can choose different layouts, styles, and sizes for showcasing your products on your Magento site. Store owners can also adjust the number of products shown at a time. It allows you to create a unique, visually appealing layout that suits your brand.
Using Featured Products for Sales and Promotion
1. Cross-selling and upselling techniques
You can use cross-selling and upselling techniques to maximize sales and promote your featured products. Cross-selling involves suggesting related products that complement the ones customers are already interested in. For example, you can recommend a laptop bag or accessories if a customer is viewing a laptop.
Upselling involves offering higher-priced alternatives to the product customers are considering. It allows providing customers with an upgraded version of the same product or a similar one with more features.
2. Improve conversion rates for specific products
Magento store owners can use promotions for your featured products to improve the sales of certain featured products. Offer special discounts or deals specifically for the products you highlight on your homepage (or other pages). Implementing these techniques encourages customers to add more items to their cart and increase the average order value (AOV).
FAQs
1. How can I showcase Magento-featured products on my homepage?
You can use the backend features to display featured products on your Magento homepage. You can easily insert many products from Magento catalog into a featured products widget.
2. How do Magento 2 featured products help my e-commerce business?
Showing featured products to your Magento storefront is an effective way to cross-sell and up-sell your products. It helps draw customers' attention to specific items you want to sell quickly.
3. How can I add a featured products slider to my homepage using the Magento featured products extension?
A featured products extension provides an easy edit option to fine-tune the displayed items. Start by navigating to the content section in the admin panel and adding a new content block. Within the block, you must insert a slider featuring your optimized selection of featured products. You must also manage the unassigned products and move them to the list of assigned products.
Summary
Showcasing Magento 2 featured products on your homepage is an effective way to grab customer attention for specific products. You can use customization options and sale-boosting techniques to maximize the impact of your featured products. Adding themes and layouts that match your featured products is also helpful for a successful promotional campaign.
Ensure fast response time on your product pages by implementing best practices like image and content optimization. You can choose a Magento hosting solution to for excellent website speed.