6+ Adobe Commerce B2B Features: Transforming Businesses
Leveraging Adobe Commerce B2B Features has become essential for staying ahead in eCommerce. With its extensive features, Adobe Commerce is the go-to platform for organizations aiming to optimize operations and boost sales. Immerse yourself in the world of Adobe Commerce B2B eCommerce features, and unlock unprecedented growth and success for your business.
Key Takeaways
Adobe Commerce is a powerful and flexible eCommerce platform designed to help businesses excel online.

Its B2B features, like company account management, user roles and permissions, and catalog customization, meet the unique demands of B2B transactions.

Adobe Commerce aids in managing complex organizational structures, streamlining product catalog management, and enhancing the purchasing workflow.

Offering a variety of payment and shipping methods ensures a smooth and hassle-free buying experience for B2B customers.

With these features, businesses can streamline processes, boost sales, and drive growth in the competitive B2B eCommerce landscape.
What is Adobe Commerce?
Adobe Commerce is a robust and scalable eCommerce platform designed to help B2B businesses grow and succeed online. It provides product, customer, and order management capabilities. Adobe Commerce offers B2B and B2C solutions, enabling companies to tailor their online stores to their needs. It offers:
Customer segmentation

Buy now button

Visual Merchandising

Advanced analytics and much more
Adobe Commerce B2B Features
1. Company Account Management

A company account is a central hub for businesses using Adobe Commerce. It allows a company administrator to manage all aspects of the organization, including user roles, permissions, and other account settings.
This centralized management system simplifies handling multiple accounts and ensures all users have the appropriate access levels. Create a company account. For that, a company administrator can:
Go to the admin panel and follow the steps to set up an account.

Administrators can invite users, assign roles, and manage the company structure.
2. User Roles and Permissions

Adobe Commerce offers a comprehensive system for managing user roles within a company account. This system allows the company administrator to define specific roles and permissions for each user. It ensures they have the appropriate access to resources and functions within the platform. Roles and permissions can be customized to fit the needs of the organization.
For example, an administrator might create a set of permissions for a sales manager, allowing them to view and edit buyer information but restricting access to financial reports.
3. Managing Complex Organizational Structures
Adobe Commerce's company accounts and user roles features are designed to handle complex organizational structures easily. The platform allows company administrators to create multiple organizational hierarchy levels, such as
Divisions

Departments

Teams
This hierarchical structure can define the reporting relationships between different users and groups. It makes it easy to manage the flow of information and tasks within the company.
4. Product Catalog Management and Customization
This platform allows businesses to handle and modify their product catalogs efficiently, offering features such as
Adobe Commerce provides advanced personalized strategies, allowing businesses to create customized shopping experiences for different buyer groups. Companies can use these features to effectively manage product information, enhance product visibility, and drive more sales. Shopping assistance increases your chance of securing deals alongside boosting customer loyalty.
1. Shared Catalog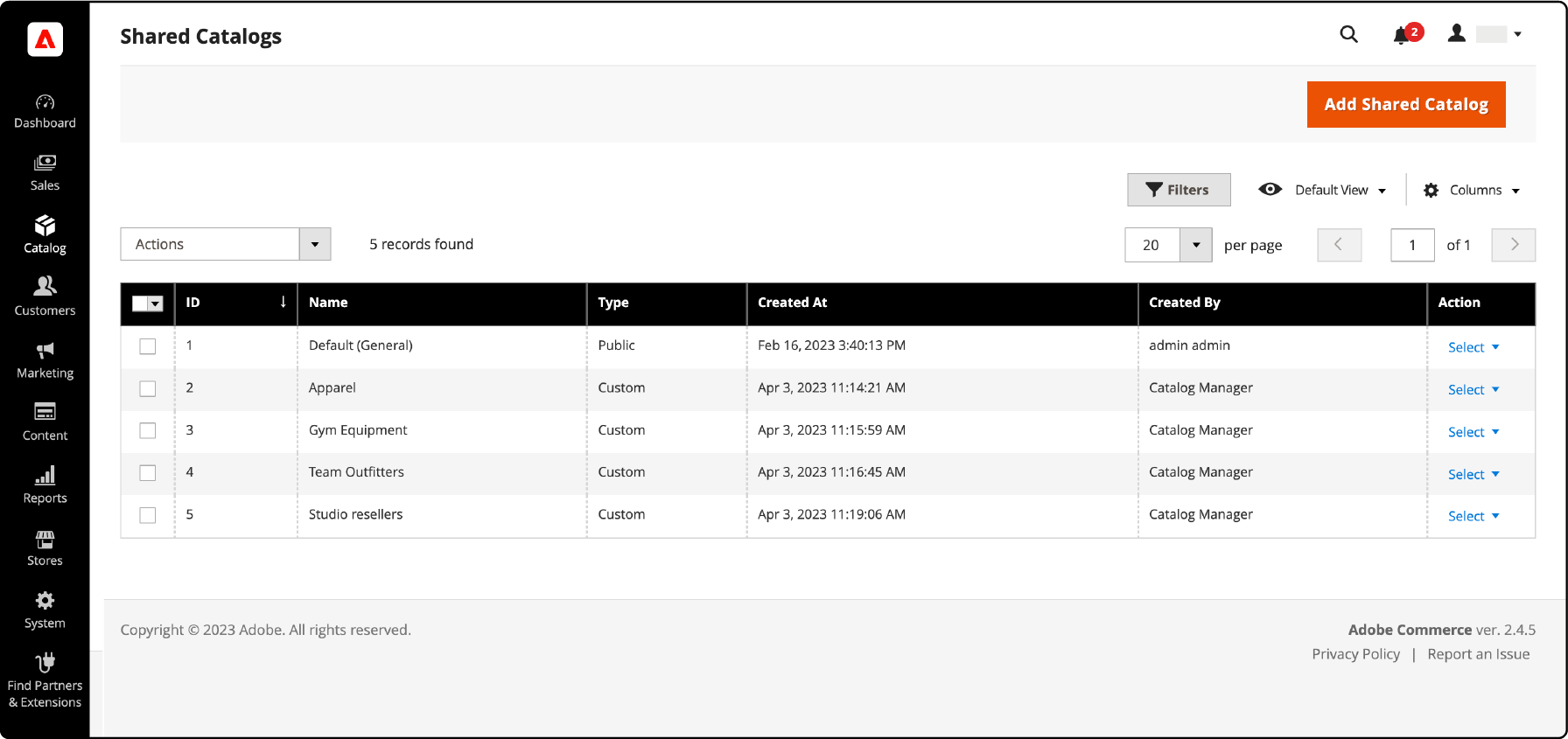 A shared catalog is a set of products that multiple customers can access. Features of the Shared catalog are:
Allows custom visibility, pricing, and product availability for different customer groups.
Custom and tier pricing can be set at the product or SKU level.
Create unlimited shared catalogs for specific customer groups.
A "Public Catalog" is visible to all customers.
Customers can be individually assigned to one shared catalog.
2. Customer-Specific Catalogs and Pricing
Magento B2B also supports the creation of custom catalogs tailored to specific customers or buyer groups. It allows businesses to offer their clients personalized product selections and pricing, meeting their unique needs and preferences. Companies can strengthen client relationships by creating customer-specific catalogs and encouraging repeat purchases.
3. Category Permissions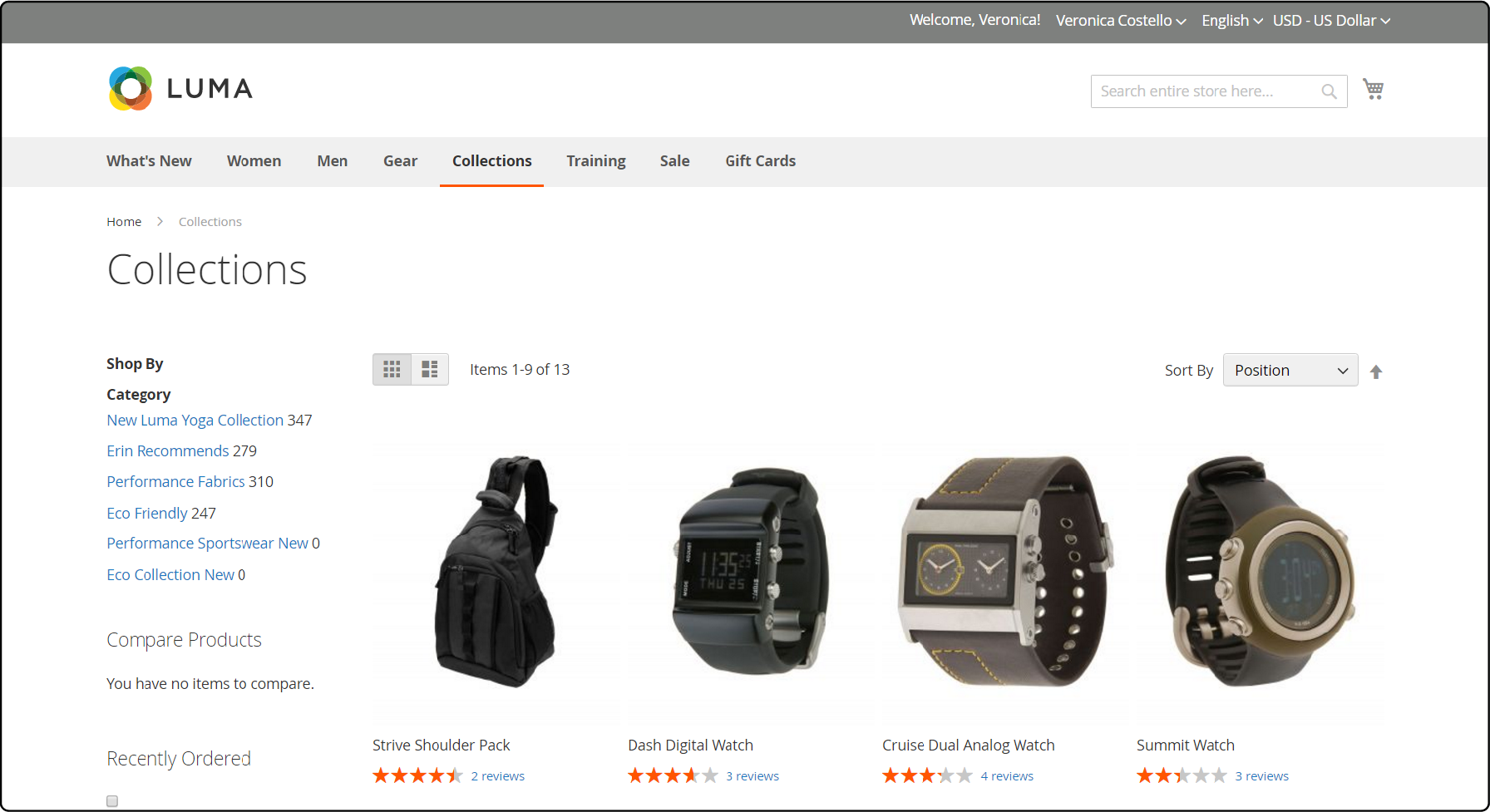 It offers robust category permissions functionality to control the visibility and access to specific product categories. This feature allows businesses to define which customer groups can view, purchase, or access certain product categories. This level of control is essential for managing sensitive or restricted products and ensuring that only authorized customers can access them.
5. Order Management and Purchasing Workflow
Adobe Commerce provides an efficient purchasing workflow that streamlines the order management process for B2B companies. Key features of this workflow include:
Approval rules
Requisition lists
Purchase orders
Ability to negotiate prices
1. Approval Rules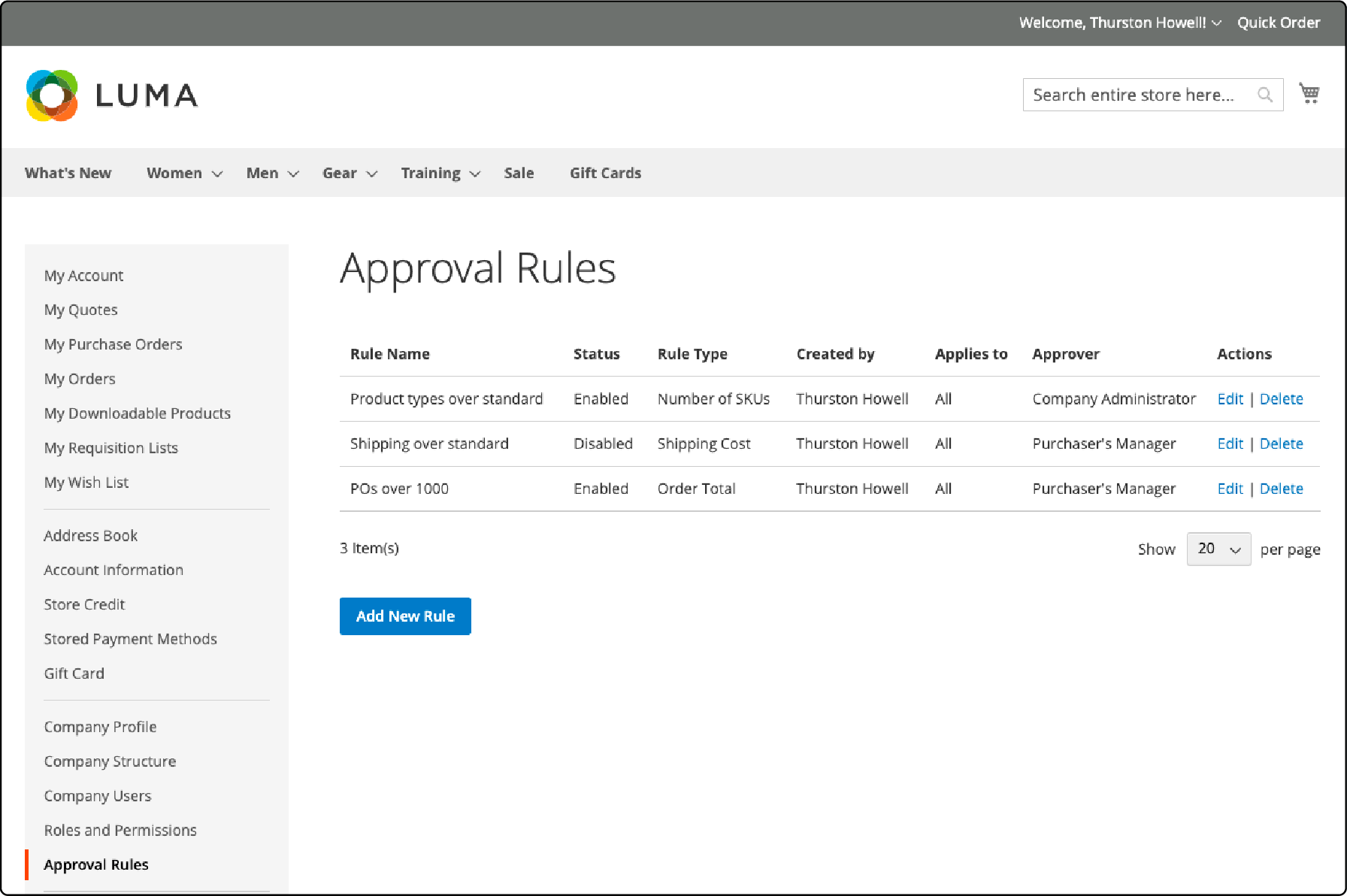 Approval rules ensure all orders align with the company's policies and budget constraints. Managers can set up order approval guidelines based on criteria such as order value, products, and user roles. This flexibility allows businesses to control their purchasing process and prevent unauthorized spending.
2. Requisition List

These are convenient ways to create and manage frequently ordered products. Users can create multiple lists, streamlining the purchasing process and saving time. These lists save time for B2B customers who frequently re-order the same products.
3. Purchase Orders

Adobe Commerce has a useful purchase order tool, important for B2B business. It's located near the customer's name on the website.
Purchase orders are useful for businesses to track and manage costs. When you turn this feature on, all the orders automatically become purchase orders. Then, allowed users can make, adjust, or delete these purchase orders as they see fit.
4. Ability to Negotiate Prices

Negotiating prices is a valuable feature in Adobe Commerce's purchasing workflow. Buyers can request quotes from multiple suppliers, allowing them to compare prices and negotiate the best possible deal. This feature promotes healthy competition among suppliers and ensures businesses can secure the most cost-effective product prices.
5. Payment and Shipping Method
Adobe Commerce understands this requirement and offers a range of options to enhance the overall experience for B2B customers.
1. Payment Methods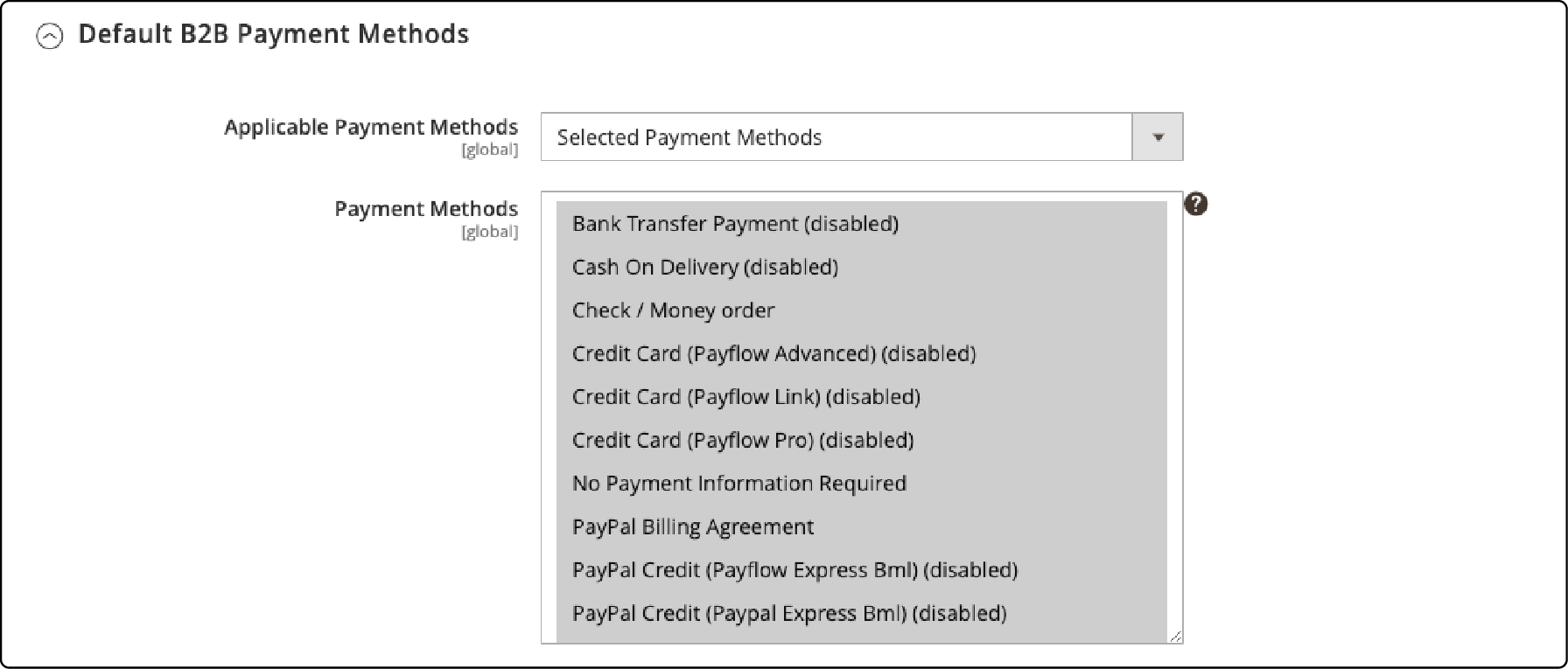 Adobe Commerce offers a wide selection of payment methods that can be easily configured to suit the needs of B2B buyers. Some popular options include:
Credit Card Payments: Adobe Commerce supports major credit card providers, allowing buyers to make secure and convenient payments.

Bank Transfers: This method lets buyers transfer directly to the seller's bank account. It provides a secure and traceable payment method.

Purchase Orders: Purchase orders are a common payment method in B2B transactions. It allows buyers to place orders on credit terms agreed upon with the seller.

PayPal: Adobe Commerce integrates with PayPal, offering a seamless and secure payment option for buyers who prefer this method.
2. Shipping Methods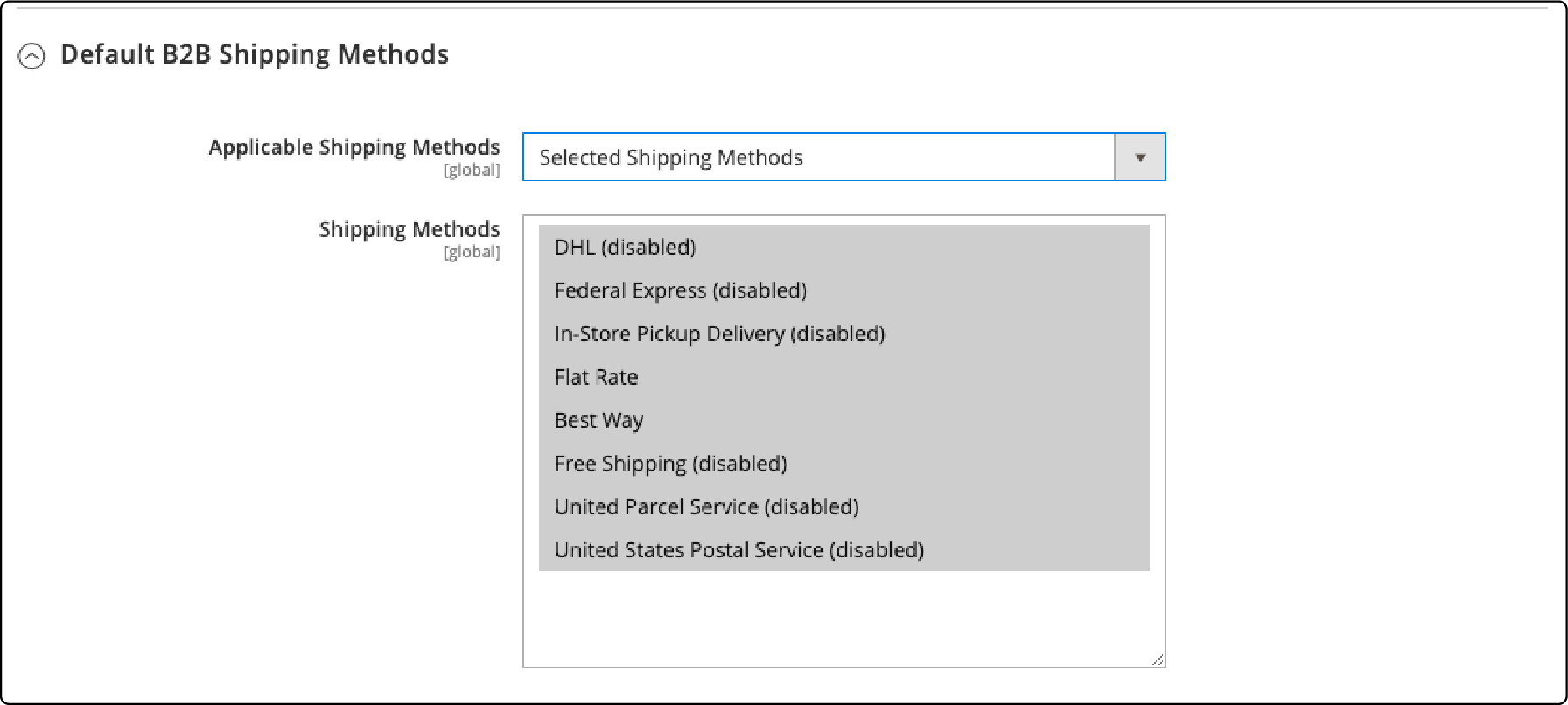 There are various methods of Magento shipping. These include:
Flat Rate Shipping: This method allows sellers to set a fixed rate.

Table Rate Shipping: With this method, shipping rates are calculated based on factors such as order weight, price, or destination.

Carrier-based Shipping: Adobe Commerce integrates with multiple shipping carriers, including
It provides real-time shipping rates and delivery estimates. Note- Your store can give companies the option to Pay on Account, which means to make purchases on a company credit line.
Store Pickup: This option allows buyers to collect orders directly from the seller's physical store or warehouse. It saves on shipping costs and provides greater convenience.
6. Automated system
Automated systems reduce manual steps on repeat orders and deflect inbound customer service calls. It also opens revenue expansion opportunities through requisition lists encouraging repurchasing and suggested products increasing average order value.
FAQs
1. What are the quote features in Adobe Commerce for B2B?
The quote features in Adobe Commerce for B2B allow businesses to negotiate pricing with customers streamlined and efficiently. Buyers can request quotes directly from their shopping carts. Sellers can respond with counter-offers or accept the section.
The entire process can be managed and tracked from within the platform. Whether you know the product name or SKU, the Quick Order form simplifies the ordering process.
2. How does Adobe Commerce for B2B compare to Magento Open Source?
Adobe Commerce for B2B builds upon the strengths of Magento Open Source. It offers more advanced, scalable, and robust features suitable for business-to-business operations. It includes
Exclusive functionalities like B2B quote feature

Shared catalog features

Company accounts and more
3. Why should I choose Adobe Commerce for my B2B ecommerce platform?
Adobe Commerce is a comprehensive B2B ecommerce platform that offers a range of features specifically tailored to B2B operations. These include custom quote negotiation, company account management, detailed permission controls, shared catalogs, and robust product recommendations. These features help streamline your business operations and enhance the buyer experience.
4. Can you explain what is meant by 'B2B for Adobe Commerce'?
B2B for Adobe Commerce refers to the features and capabilities that Adobe Commerce provides specifically for businesses. These include custom pricing for business customers, quote negotiation features, company account management, order and budget approvals, and shared catalogs.
5. How does Adobe Commerce provide a comprehensive ecommerce solution for B2B enterprises?
Adobe Commerce offers a powerful ecommerce solution for B2B enterprises, featuring many customizable features to meet your business needs. These include:
Ability to manage and track complex quotes

Offer custom product and price catalogs to different customers

Product recommendations powered by artificial intelligence

Extensive API support for third-party

integrations and many other tools

Designed to streamline your B2B operations
6. How does Adobe Commerce handle product recommendations in the B2B context?
Adobe Commerce offers an advanced product recommendation feature driven by AI and machine learning. This feature analyzes the following:
Customer behavior

Order history
Other relevant data to suggest products that the customer is likely to be interested in These recommendations can help increase upselling and cross-selling opportunities, ultimately driving higher sales and customer satisfaction.
7. Can you tell me more about the shared catalog feature in Adobe Commerce for B2B?
The catalog feature allows businesses to create and manage custom catalogs with personalized pricing for different business partners and customer groups. This feature enables businesses to tailor their offerings to other customers, delivering a personalized shopping experience while managing complex pricing structures.
8. What is the quick order feature in Adobe Commerce for B2B, and how does it work?
Adobe Commerce features are designed to make it easy for customers. This feature knows what they want to purchase, enabling them to bypass browsing and add products directly to their cart using SKU numbers or CSV uploads. The quick order feature streamlines the purchasing process, enhancing customer satisfaction and increasing efficiency.
9. How does the ability to create custom catalogs in Adobe Commerce enhance B2B operations?
Adobe Commerce allows you to create custom catalogs for different customer groups. It helps you tailor your offerings based on customer groups' needs and preferences. It also can improve customer satisfaction, increase loyalty, and higher sales.
10. How does catalog search work in Adobe Commerce for B2B?
Adobe Commerce offers a robust catalog search feature that helps customers find products quickly and easily. It supports multiple search methods, including keyword search, SKU search, and advanced filters. The platform also leverages machine learning to deliver more accurate and relevant search results, improving the shopping experience for B2B customers.
Summary
Adobe Commerce B2B Features provide a dynamic platform for businesses to optimize their B2B eCommerce operations. Its comprehensive features are specifically designed to cater to the unique needs of B2B companies, streamlining processes and boosting sales.
Features span from account management and catalog permissions to advanced analytics, all working together to create a user-friendly eCommerce experience. Want more out of your Adobe Commerce B2B experience? Check out Magento hosting to build fast-loading websites for a seamless shopping experience.