Best Magento Marketplace Multi-vendor Extensions
Magento marketplace extensions allow merchants and vendors to use your website as their e-store.
You can transform your website to sell products from multiple vendors.
The extensions help manage the different sellers on an intuitive dashboard. It also includes managing orders and sales in the store.
We look at the best Magento marketplace multi-vendor extensions.
What is Magento 2 Marketplace Software?
Magento Marketplace is a next generation application store. It offers solutions to convert your store into a multiple vendor shop.
You can share product options from many vendors on the same platform. The multi-vendor marketplace lets you improve store conversions.
It lets you interact with the vendors and customers. You get many admin functions to manage the Magento backend.
Features of a multi-vendor Magento Marketplace include:
Separate seller, vendor profiles, and microsite.
Product management
Multi currencies and multilingual sites
Vendor management
Multiple themes and templates
Payment & shipping support
Report system
9 Best Magento Marketplace Multi-vendor Extensions
1. Magenest

The multi-vendor Magento extension will convert your store into a marketplace. You can manage many vendors with different products and sales reports.
It allows you to set commissions for each vendor and manage the data on a unified platform.
Features of Magenest Magento Marketplace:
Manage orders and their products efficiently.
Set commissions for each vendor
Enable vendors to forward queries to the owner of the marketplace
Let customers purchase products from a number of vendors
Allow customers to provide vendor feedback
The extension also offers toolkits to boost product sales. It helps increase the traffic and purchases for your Magento 2 stores.
2. Webkul

The Webkul module can turn your store into an online marketplace with multiple sellers.
The sellers can manage components of the marketplace such as:
Product listings
Inventory
Orders and shipment
Seller profile page
Seller collection page
You can add many types of products. It includes simple, configurable, virtual, and downloadable.
Webkul Multi-Vendor Marketplace extension has many marketplace plugins. It includes DHL, PayPal, Stripe, Mangopay, and Aramex.
The top features include:
Get a clean interface for customers and sellers. Admin can allow the sellers to have their separate dashboard for showing the information.
Auto/Manual Vendor and Product Approval
The store owner can manage the seller's approval manually or automatically. You can also auto approve the products that the seller has added.
Vendor and Order Management
The seller can manage all the functions related to the order from one page.
The admin should enable the function to allow the seller to manage orders from the backend.
Some of the seller functions include:
Creating Shipment of the order.
Cancel the order.
Print the order.
Create an invoice.
Send an email to a customer.
Create a Credit Memo.
Customers can checkout with different seller products in a single process.
Flexible Commission Management
The admin can set a commission on a global level or at the seller level.
Global Commission management for all vendors/sellers.
Vendor Based Commission management.
A separate dashboard view is shown in the admin panel for managing all the sellers' commissions in one place.
The Webkul marketplace module provides alerts for various store events to keep you updated.
Some of the notification features include:
Seller Approval Notification.
Product Approval Notification.
The customer support team, contact us, support alerts
Order Notification and shipping for sellers or admins.
Marketplace Email Templates
You can select the email templates for various marketplace events. The templates are set for both sellers and the store admin.
Some of the templates include:
Seller approved and requested template
Unsubscribe template
Product deny by admin template
Product edit approval request to admin
Ask a question to the seller regarding the product
Ask a question to the seller
3. CedCommerce

CedCommerce offers to scale the commerce marketplace. You get business analytics and reports for the store's performance.
The marketplace solution offers functions for store owners, admin, sellers, and customers.
The primary features include:
Online B2B and B2C marketplace
Local Courier Support: Magento 2 marketplace built to support courier services like FedEx, Aramex, and UPS.
Offer headless PWA marketplace
Multi-currency support
Alerts and notifications
Admin features include:
Manage Service level agreements
Assign and remove products
SEO friendly store
Create specific vendor profiles
Manage commissions for different vendors
Customer features for CedCommerce include:
Review and rate sellers on the marketplace
Directly contact vendors for any queries
Social login with Google, Facebook, Twitter, and LinkedIn
Order history feature
Price comparison for multiple vendors
Mark your favorite seller and see their products first.
4. LandOfCoder

The LandOfCoder marketplace extensions fulfill the seller's and buyers' demands. You can active multi-vendor marketplace like Amazon, Etsy, or eBay.
The extension supports all Magento 2 themes and is compatible with custom web designs.
Some of the feature highlights include:
Support for multiple currencies
Mobile optimized marketplace
Compatible with Magento 2 multi-vendor marketplace themes
Upload various products in bulk
Build unlimited sellers with store font
Create seller profiles
Instant vendor messaging system
Support all types of products such as Simple, Configurable, Bundle.
5. Magetop

agento marketplace extension by Magetop offers many features. You can use it to convert your Magento website into an ecommerce marketplace.
Allow Vendors/Sellers to record and sell their products
Charge commissions for each vendor
Control the Products with a responsive seller cpanel.
View Orders from the seller panel
Manage commissions
Simple order management
You will not see any significant performance decline as you add more products. The marketplace extension scales well and offers many native functions.
6. Apptha

Apptha Marketplace is a flexible platform with many customizing features,
It can be hosted on the cloud and offers different currencies, languages, and payment gateways,
Some of the feature highlights include:
Seller Dashboard: Admin and sellers get high quality dashboards to control real-time sales in the multi-vendor store.

Vendor specific URL: The vendor's URL of the store's profile can be their brand name or a keyword with a high search volume.

Portfolio: You get a whole profile page to promote the seller's brand and products and add more details to the customers.

Custom Attributes: The admin can create custom attributes, which sellers can use while adding their products.

Admin Dashboard: The dashboard offers real-time notifications, product approvals, and insights on sales. You can check the best sellers, subscriptions, average order values, and more.

Flexible Commission: You can set various commissions for specific vendors based on the items they sell.
7. Magebay

The marketplace offered by Magebay is scalable and helps grow your online business.
The platform allows multiple vendors to sell products and orders on your website.
It includes a membership option, custom commissions, and scheduled payment for a vendor.
The primary features of the platform include:
Secure contact between customers and sellers
Unified dashboard to manage sellers and customers.
Supports multiple languages and currencies.
Compatible with any smart device.
Import/export of multiple products
Social sharing and online promotion.
8. Vnecoms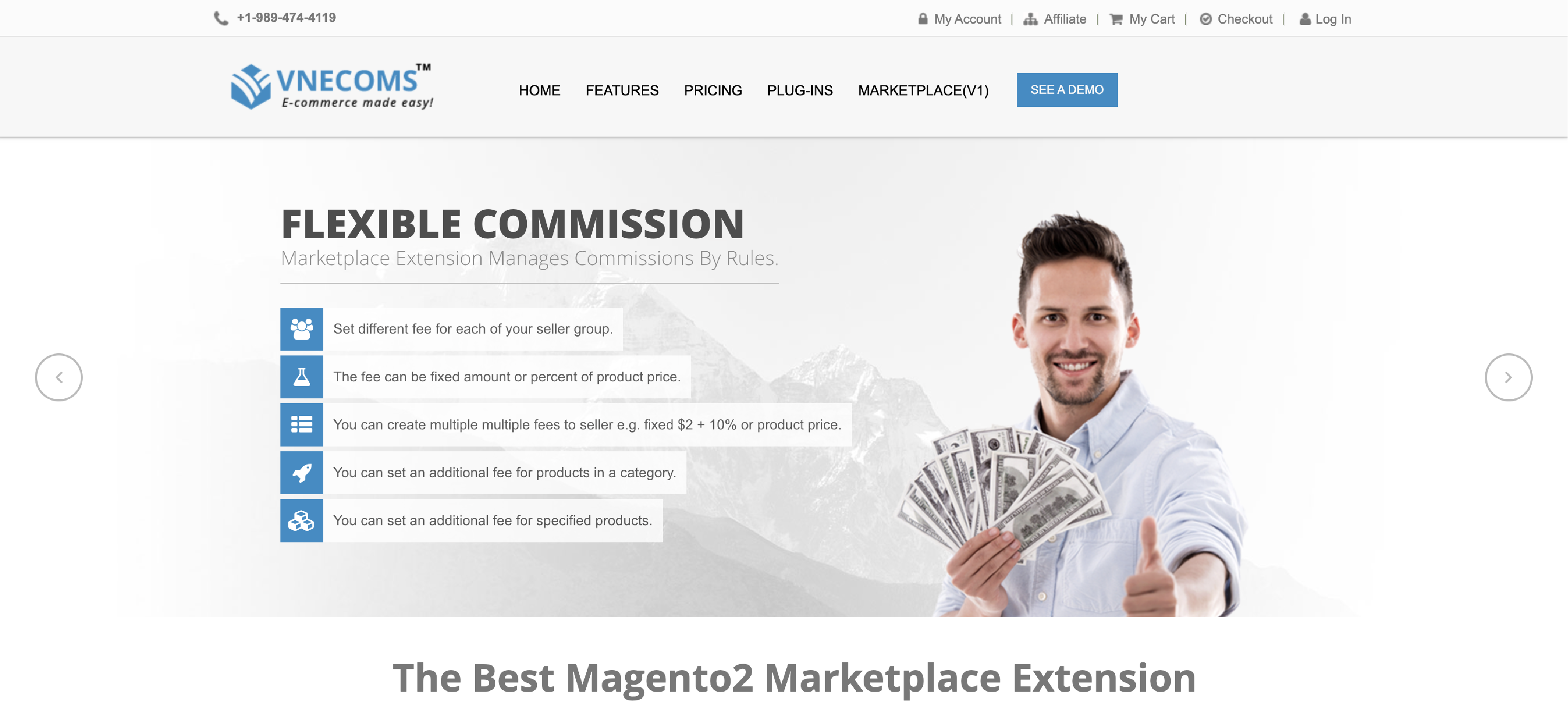 Vnecoms's Magento 2 marketplace extension allows a custom storefront.
The owner and the seller can manage the store using any device. It also offers SEO features to increase traffic and conversions.
Get complete control of the seller panel to manage products, sales, and invoices.
The features of the Vnecoms extension include:
All default Magento product types are supported.
Flexible commission management.
A personalized dashboard for each seller
Simple order management
Custom seller attributes
Manage the profile form via the My Account section
9. Bigziel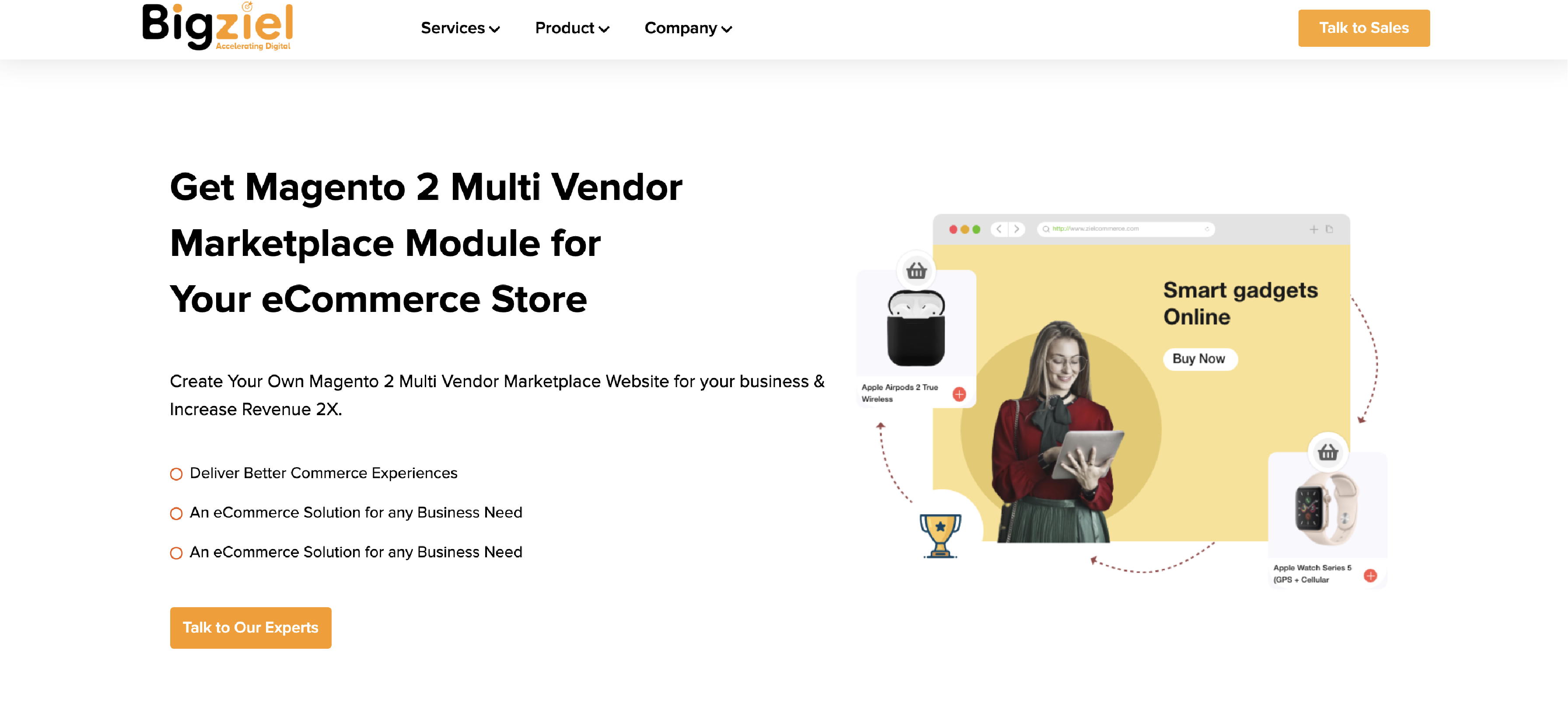 Bigziel offers all access to the platform's unique features. You get a one-time payment process and lifetime license platform.
It supports custom user experience, highly scalable software for many customers, and data information.
Customers get an enriched feature mobile app for both Android and iOS systems.
It allows you to turn your marketplace into a fully-fledged platform with a dedicated mobile app.
The primary features of the platform include:
The one-step checkout to increase the conversion rate.
Supports various payment methods.
One-time payment and lifetime license.
Filter options that enhance user experience.
Layered navigation extension that speeds up the buying process.
Exclusive mobile apps that support both android and IOS.
You can export orders with any shipping and payment method.
The engaging UI will bring more traffic to your site.
The interface is user-friendly, and you get fast loading performance and less bounce rate.
EndNote
The multi-vendor Magento extension helps turn your website into an online marketplace.
It allows multiple buyers and sellers to use a single platform to boost sales.
We have covered the nine best multi-vendor extensions for Magento 2. The platforms offer all the tools to manage sellers and products in your store.
To learn more about the Magento platform, check out the MGT-Commerce blog.