BigCommerce vs Magento: Which Ecommerce Platform is Right for You?
Deciding between BigCommerce vs Magento for your online store? Fear not, we're here to help you pick the perfect platform for your eCommerce empire. In this article, we'll compare their pros, cons, and everything in between to help you make a well-informed decision. Spoiler alert: there's no one-size-fits-all answer, but we'll help you find the perfect fit for your unique needs!
Key Takeaways
Discover the differences between BigCommerce and Magento.
Learn about their unique features, pricing, and ease of use.
Find out which platform offers better themes, apps, and extensions.
Understand their payment options, fees, and SEO capabilities.
Get insights on scalability, security, and support of both platforms.
Determine which eCommerce solution best suits your needs and expertise.
BigCommerce vs Magento Ecommerce Platform
1. Features
BigCommerce
This easy-to-use eCommerce platform has many built-in features that help you set up and manage your online store. It includes single-page checkout, unlimited products, responsive websites, and no transaction fees. BigCommerce also has lots of apps and integrations to make your store even better.
Magento
As an open-source platform, Magento lets you customize and be more flexible. It has many built-in features, like integrated checkout, payment, shipping, catalog management, and instant purchase. Magento is powerful but needs more technical skills to manage and customize.
2. Pricing
BigCommerce Pricing
BigCommerce has four pricing plans for different store sizes and needs:
1. Standard Plan ($29.95/month)
Great for beginners or small businesses and has basic features. It supports up to $50,000 in online sales per year.
2. Plus Plan ($79.95/month)
Perfect for medium-sized businesses. It offers extra features like customer groups, segmentation, and abandoned cart saver. This plan supports up to $180,000 in online sales per year.
3. Pro Plan ($299.95/month)
Made for big businesses, has advanced features like Google customer reviews and faceted search. It can support over $400,000 in online sales per year (extra fees for higher sales).
4. Enterprise Plan
Custom pricing for fast-growing companies. It includes all features of other plans plus more power and top-notch support.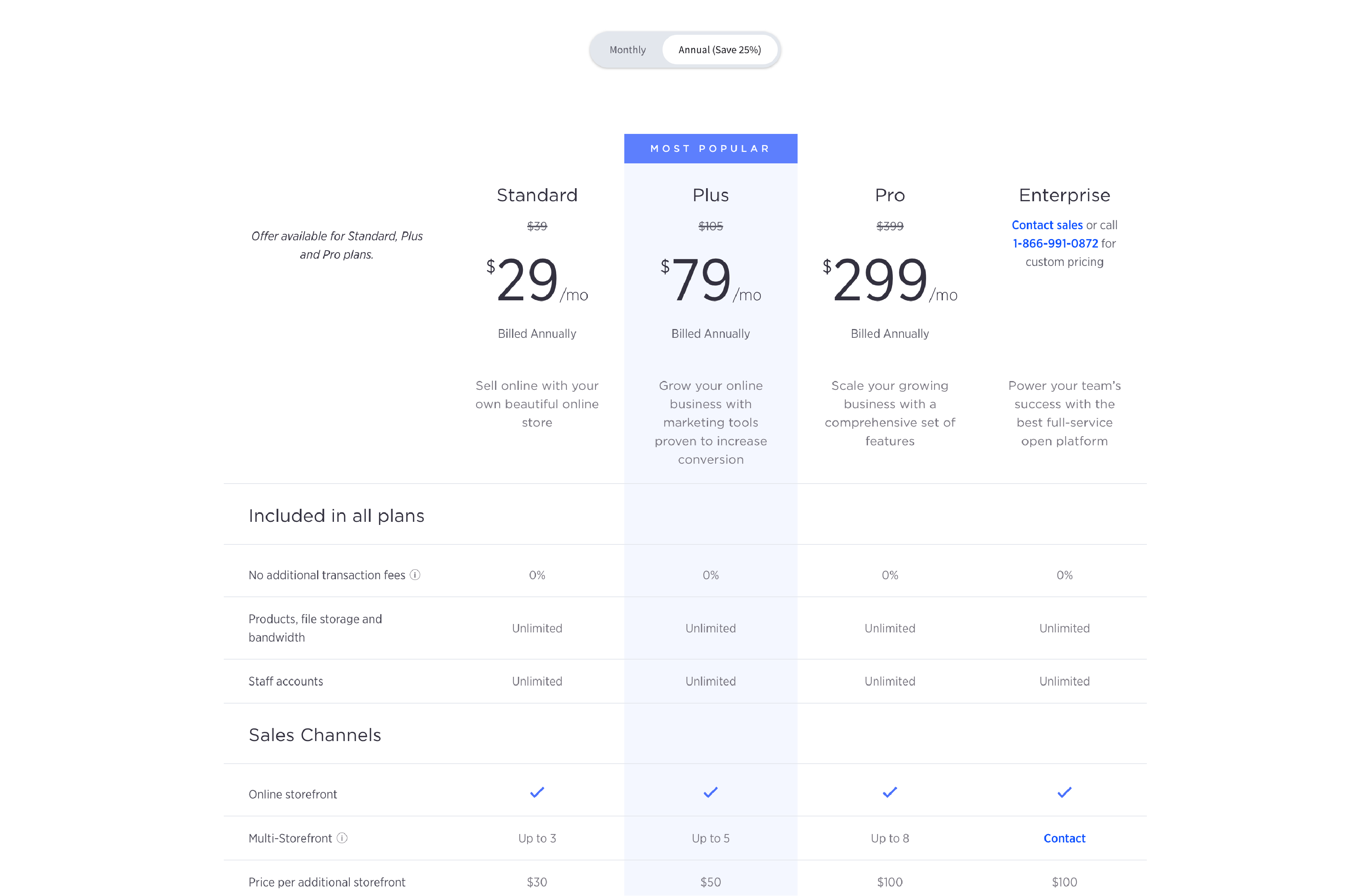 Magento
Magento offers three editions -
The Open Source edition is free, but you'll need to pay for hosting and other services.
Magento Commerce Edition and Adobe Commerce Cloud have yearly license fees. The fees change and are based on your yearly revenue. You might also need a developer to help with customization and upkeep.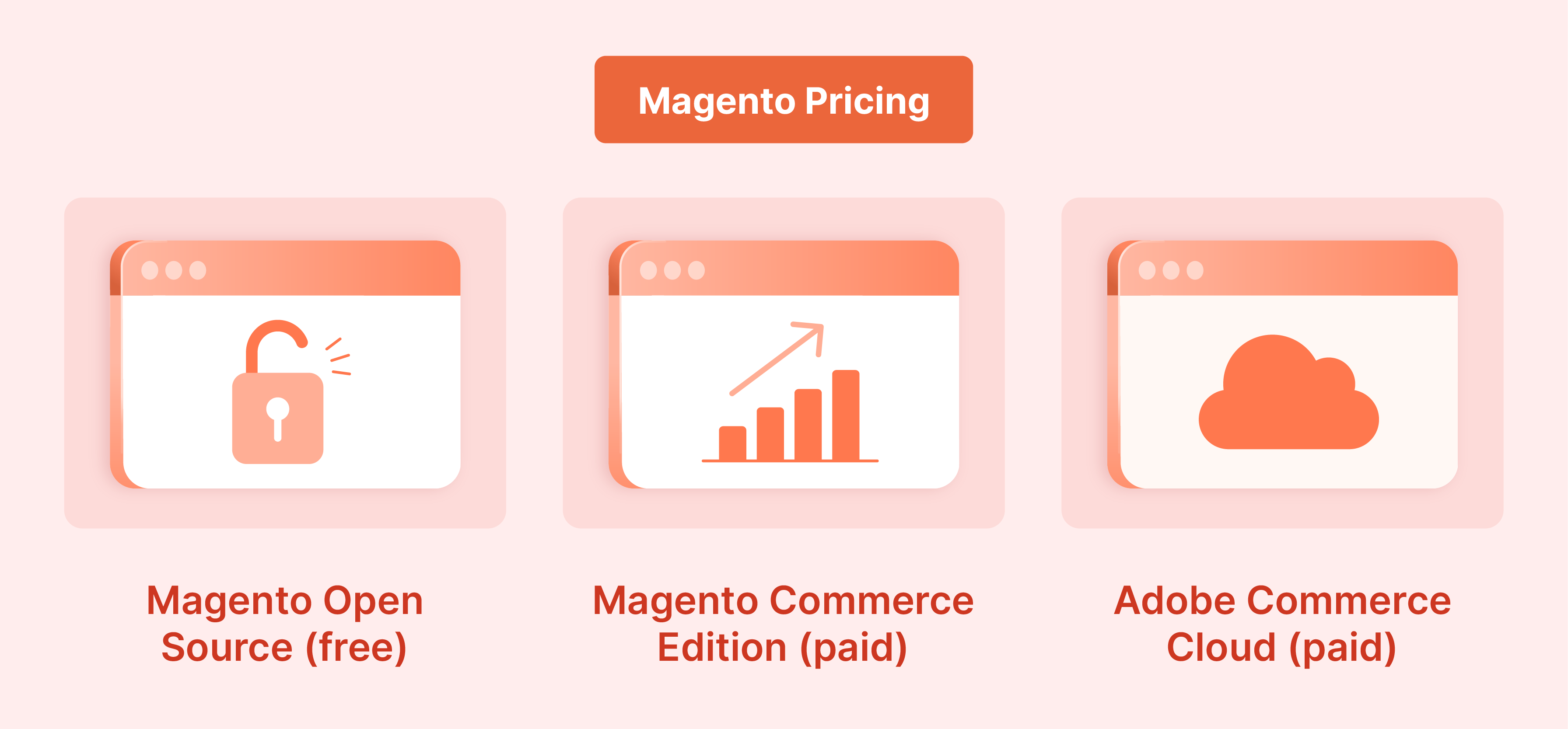 3. Ease of Use
BigCommerce
Setting up your store on BigCommerce is simple with easy-to-follow instructions and a user-friendly dashboard. However, it uses technical terms that might be tough for non-experts. Plus, the design interface is split between two areas. It has a backend and storefront, which can be confusing.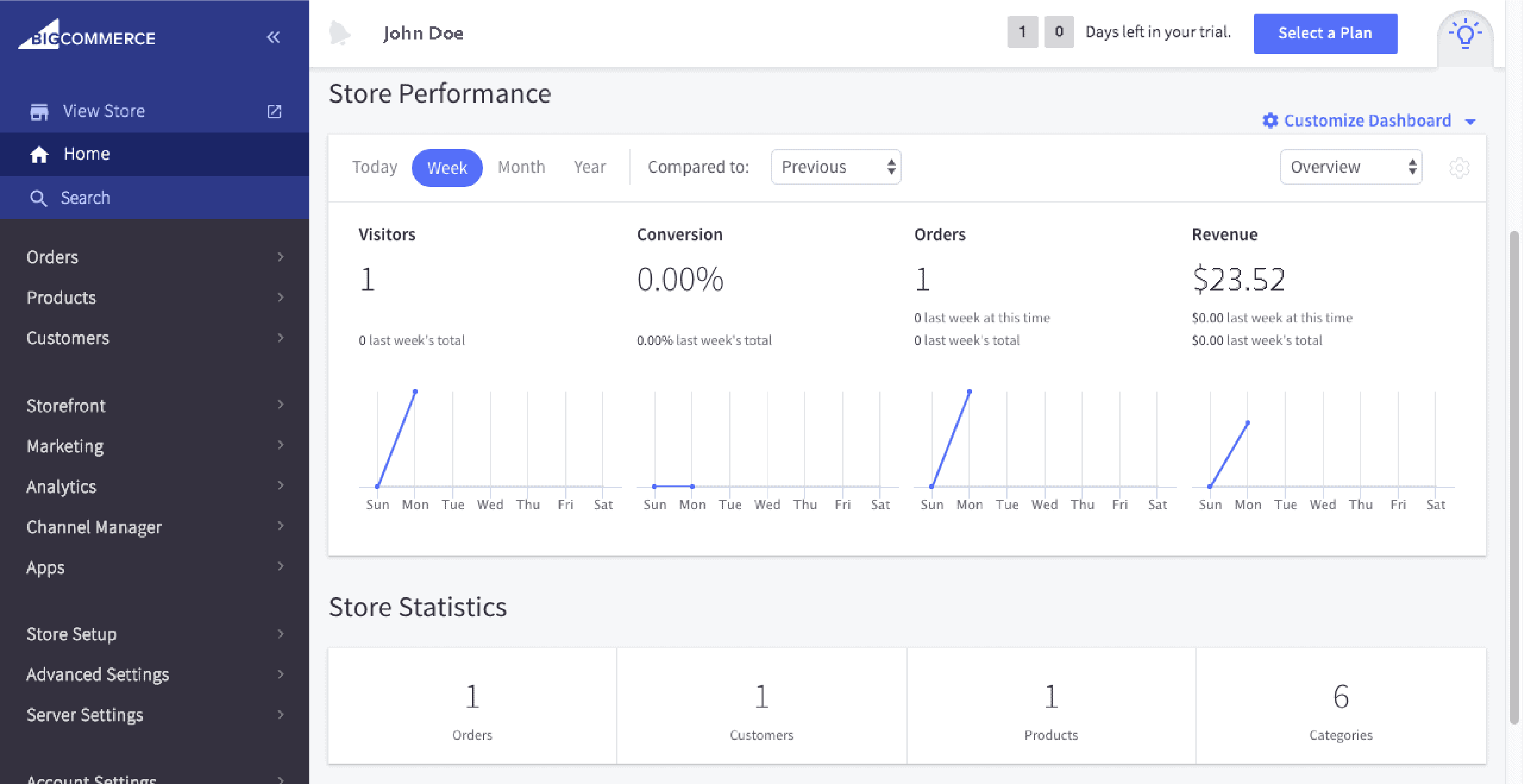 Magento
Setting up a Magento store also requires technical knowledge. It has many steps to download and install the platform.
The Magento admin interface looks nice offering all functions and an easy-to-use dashboard. Non-technical users might need help to manage and customize their store.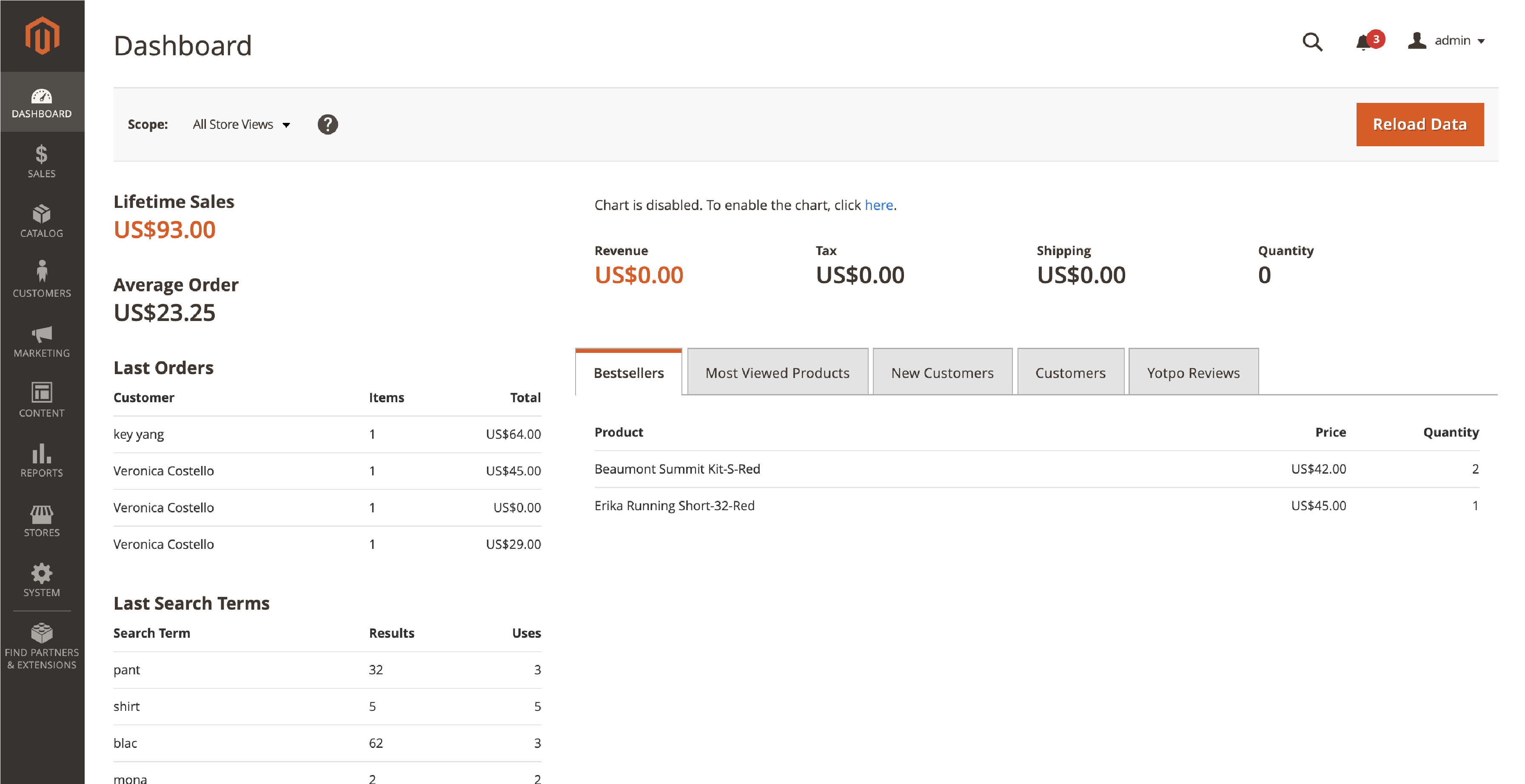 4. Apps & Extensions
BigCommerce
With over 600 apps, BigCommerce lets you add more functions to your store. It incluses the areas like marketing, analytics, payment, and security.
Magento
Magento has powerful built-in features and supports over 3,500 extensions on the Magento Marketplace. It allows seamless integration of third-party plugins that will help enhance store functionality.
5. Payment Options & Fees
BigCommerce
Adding payment gateways is quick and simple with BigCommerce, which supports over 65 options. There are no transaction fees, and credit card rates change based on your pricing plan.
Magento
Magento supports over 450 payment gateway apps, some of which may have transaction fees. You can integrate the preferred payment gateway to your Magento store and customize it based on the customer demands.
6. SEO Features
BigCommerce
BigCommerce has native SEO features like unique URLs, micro-data, 301 redirects, and CDN. Users can also add SEO apps for better optimization.
Magento
Magento offers built-in SEO features such as XML sitemaps, 301 redirects, and adding meta data directly from the admin panel to optimize your website. You can also add popular SEO extensions such as SEO Toolkit and Advanced SEO Suite.
7. Themes
BigCommerce
BigCommerce has 15 free themes and over 100 paid options, from $150 to $399. All themes work on mobile devices and can be easily customized using the Stencil framework.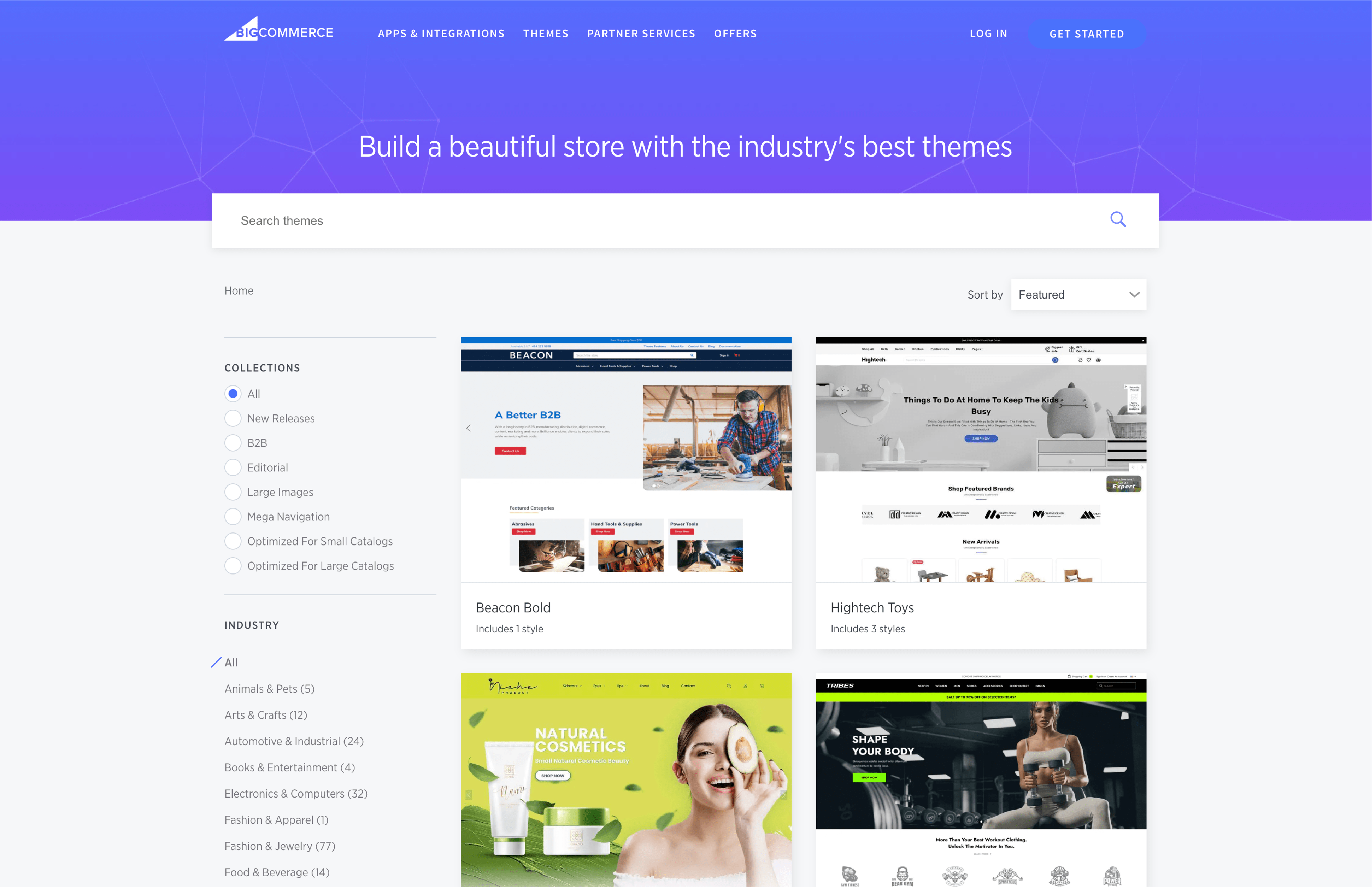 Magento
Magento gives you seven native theme options, both free and paid. It has thousands of third-party themes that you can use to customize your store. Users who know how to code can make custom themes or hire developers to do it for them.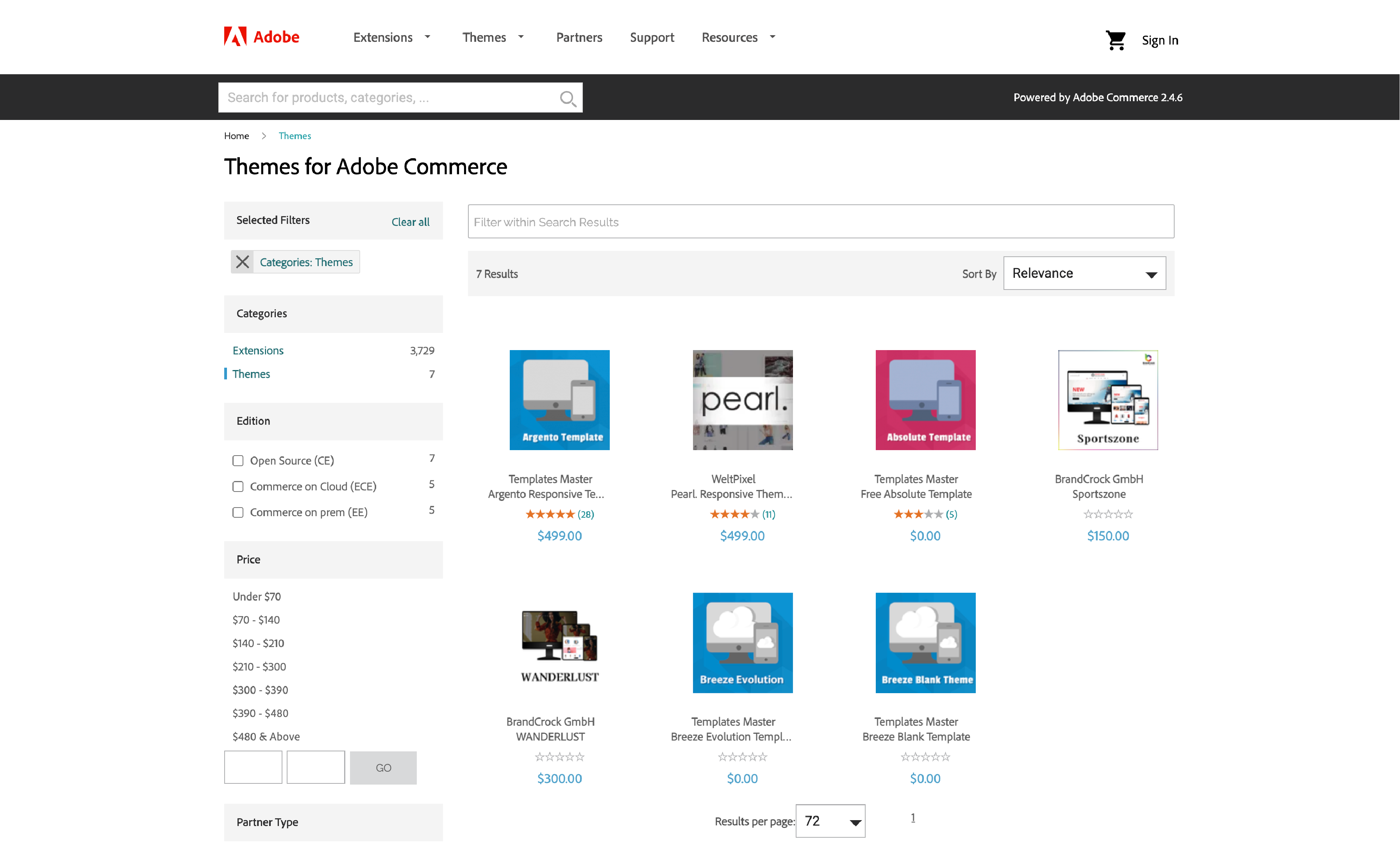 8. Scalability
BigCommerce
With features like Open API, 100% uptime, and support for multichannel integration, BigCommerce is designed to grow with your business.
Magento
Magento is very scalable, offering high performance and support. It can handle big catalogs, lots of traffic, and complex business needs.
9. Security
BigCommerce
As a hosted platform, BigCommerce handles security as part of your monthly plan. Extra measures include firewalls, file integrity scanners, intrusion detection software, and 24/7 monitoring.
Magento
Magento users need to take care of their own security, like SSL certificates, site security plugins, and PCI compliance. Magento updates security patches often, but manual updates can be hard for non-technical users.
10. Support
BigCommerce
BigCommerce gives 24/7 support through phone, live chat, email, and help center for all plans. Enterprise plan users get priority support.
Magento
Magento Open Source users can find help on Magento Forums, Magento Docs, and its community. Magento Commerce and Magento Cloud Edition users can use live chat and email support.
Additional Features of BigCommerce vs. Magento
Software as a Service (SaaS) vs Open Source Platform
BigCommerce is a SaaS ecommerce platform, which means that it provides a complete package. It includes hosting, security, and updates for a monthly fee. This makes it an ideal choice for businesses that want a hassle-free, all-in-one solution for their online store.
Magento is an open source platform, which means that its source code is available for anyone to access and modify.
This provides a greater level of customization and flexibility. However, it also means that you'll need to handle Magento hosting, security patches, and updates on your own or with the help of a developer.
Drag and Drop Page Builder vs Custom Coding
BigCommerce offers a user-friendly drag and drop page builder. The feature makes it easy for store owners to design and customize their ecommerce site.
This is a significant advantage for those who want to create a professional-looking website. You don't have to invest time and resources into learning how to code.
Magento, however, requires understanding of coding to fully customize and design your ecommerce site. It offers greater flexibility and control, so Magento developers can completely customize the site based on your preference.
BigCommerce vs Magento Ecommerce Website Similarities
Both BigCommerce and Magento offer a wide range of features to create a robust ecommerce website. Some of the features they have in common include:
1. Payment Gateway Integration
Both platforms support a variety of payment gateways, ensuring a smooth and secure shopping experience for customers.
2. PCI Compliant
Both BigCommerce and Magento are PCI compliant. It adhere to industry-standard security measures to protect customer data.
3. SEO and Marketing Tools
Both platforms offer built-in SEO and marketing tools to help drive traffic to your store and increase sales.
4. Mobile Optimization
BigCommerce and Magento offer mobile-optimized themes and responsive design options. It ensures a seamless shopping experience on any device.
Hosted Solution vs Self-Hosted Ecommerce Site
As a hosted solution, BigCommerce takes care of hosting, security, and updates for its users. It is an attractive option for businesses that want a hands-off approach to managing their online store.
Magento, as an open-source platform, requires store owners to manage hosting and security themselves. It gives you the freedom to choose the type of hosting for your business size and requirements. It does offer a higher level of control and customization.
FAQs
1. Is BigCommerce good for ecommerce stores?
Yes, BigCommerce has lots of built-in sales features, advanced SEO, and multi-channel integration, making it a great choice for eCommerce.
2. Is Magento free?
Magento Open Source is free to download and install, but you might need to pay for hosting and developer help.
3. Which is better, Magento or BigCommerce?
Both platforms are good, and the choice depends on your needs, resources, and technical skills.
Summary
BigCommerce vs Magento: Which Ecommerce Platform is Right for You? We compared the features, pricing, and usability of BigCommerce and Magento to guide your decision.
BigCommerce suits small to medium businesses with its simplicity and built-in features. Magento shines for larger enterprises with its creative control and customization potential.
Your choice between BigCommerce and Magento hinges on your business needs, technical expertise, and budget. Consider the pros and cons, and pick the platform that aligns with your goals and priorities.
Looking for more Magento insights? Don't forget to check out our Magento news blog for more insights and updates.