Magento 2 Rich Snippets Extensions Comparison
Did you know that Magento 2 Rich Snippets can help boost your Magento Store's visibility on search engines? According to Search Engine Land, implementing rich snippets increases a website's click-through rate by up to 30%. This article explains how to boost your online presence and captivate potential customers. It explains the importance of rich snippets and provides information on five useful Magento 2 rich snippets extensions.
Key Takeaways
Magento 2 rich snippets enhance search engine visibility, attracting more organic visitors and improving click-through rates.
Extensions like MageWorx and Amasty offer customizable rich snippet solutions for Magento stores.
Adding Google rich snippets provides valuable product information, making your listings stand out in search results.
Rich snippets improve user experience by offering clear product details directly in search listings.
Structured data and schema markup are crucial for better rankings and attracting targeted traffic to your Magento store.
Top Magento 2 Snippets Extension for Magento Store
A Magento website's snippet is one of the initial touchpoints for potential customers encountering your brand. It's crucial to make the snippet compelling without undertaking misleading tactics.
A well-crafted snippet can attract organic visitors, filling the top of your sales funnel. Once a visitor lands on your website, the other promotional elements, such as websites, images, and videos, effectively do their job.

What makes a snippet "rich"?
The above example shows that a standard snippet typically consists of three key pieces of information about a website:
Title: Bold, blue, and prominently featuring a link to the website.
Breadcrumb: Displaying the website address and a trail for navigation.
Short description: Offering a concise introduction to the site's content.

If you pay close attention, you'll notice that some websites go beyond these basics, presenting eye-catching information. Some results are structured differently and placed in specific locations, such as the right-hand side. Such well-crafted snippets are what we refer to as rich snippets.
Adding Google rich snippets in Magento is easier with tools as it will need little coding expertise. Using a handy extension saves time while ensuring store owners can focus on profiting from increased sales.
The rich snippets type that you can use with your Magento site are as follows:
1. Product Rich Snippets

A Product rich snippet is one of the most attractive rich snippet types that provides detailed information about your online store's products. It describes key product properties and enhances search results by directly displaying product-specific information like price, availability, ratings, and images in search listings.
2. Breadcrumbs Snippet

Making your store's path clear with breadcrumb snippets in Magento 2 is easy. You can use Magento rich snippets breadcrumbs to land on the search engine results page (SERP).
It also allows Google to display the product's readable category page name and replaces the product URLs with a clear navigation path. They help understand a web page's hierarchy, thus improving users' search experience.
3. Organization Rich Snippet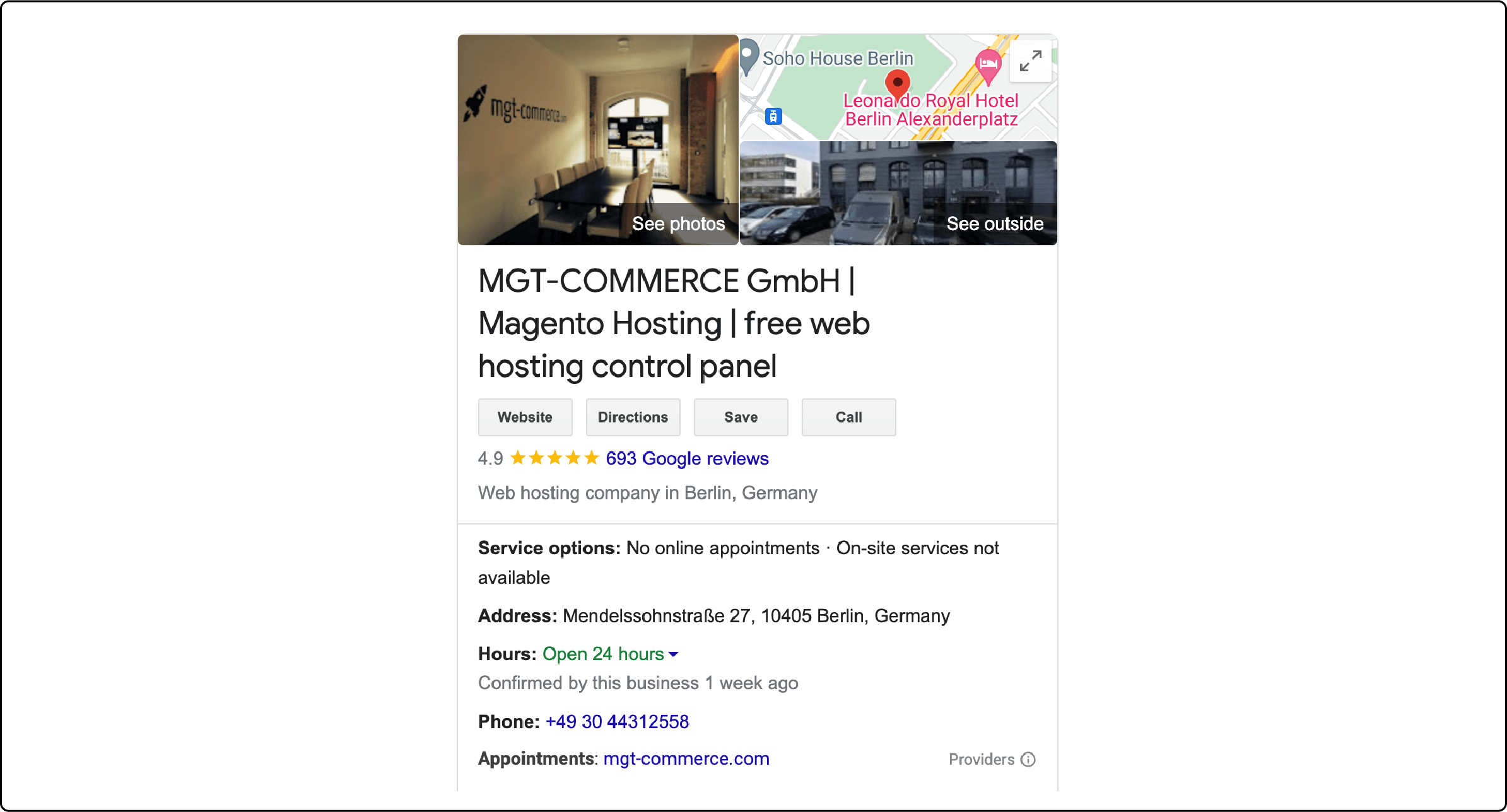 This snippet type is one of the essential attributes of your Magento store. It is a type of rich snippet that gives basic details about your business and helps increase the visibility of your Magento store.
4. Sitelinks Search Box Snippet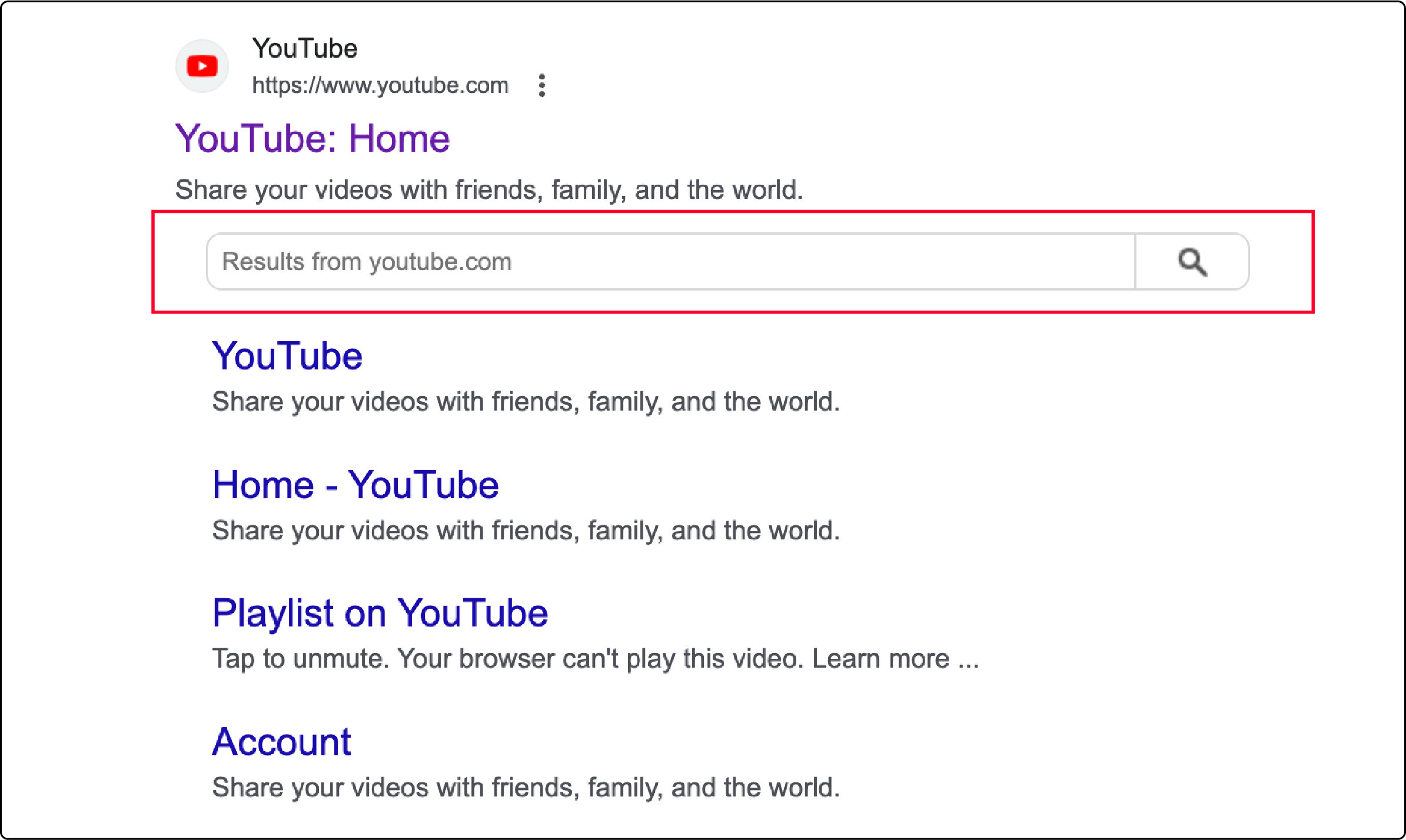 The Sitelinks search box in Magento 2 is a feature that enables a search input box to appear in Google search results when users search for your website. It offers a convenient way for users to search within your site directly from the search results page, improving user experience and potentially increasing traffic to specific pages.
5. Social Profiles Snippets

These Magento 2 rich snippets allow adding your store's social profile information to a Google Knowledge panel. Once you add the info, it prominently displays your social profile information in SERPs.
Consider using Magento rich snippet extensions to simplify the process and seamlessly integrate rich snippets into your online store.
Top Extensions for Magento 2 Rich Snippets
1. Extended Rich Snippets by Mageworx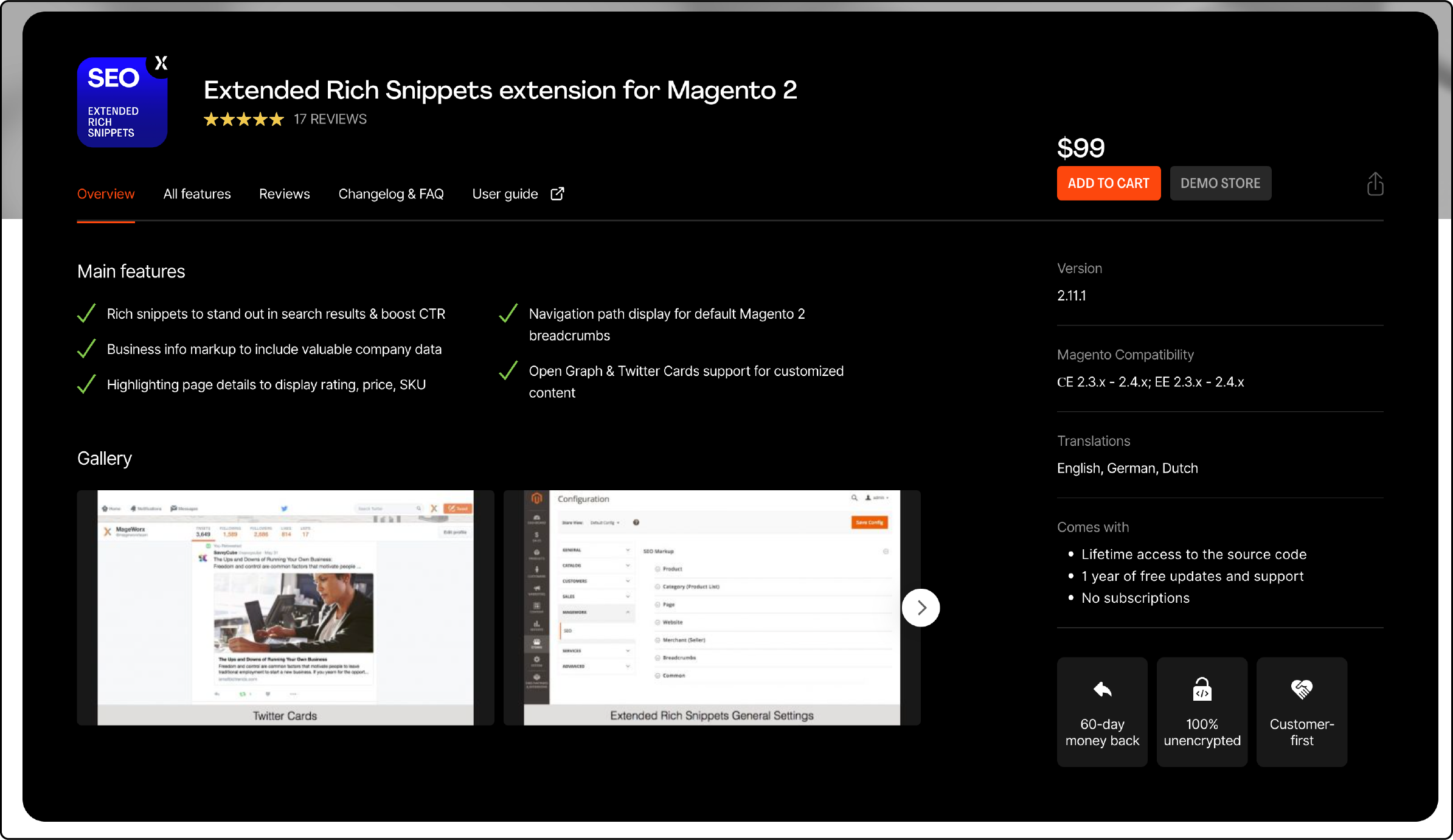 Extended Rich Snippets extension for Magento 2 is a customizable and developer-friendly tool. The following features make it a reliable rich snippet extension:
Allows using markup tags on webpages.
It enhances the performance of your social links with a big image of products, a title, and a brief description.
Helps add markup tags to enable Breadcrumbs for improved clarity of search results.
Provides customers with business insights such as store name and description, location, social links, and phone, allowing broader recognition and enhanced organic search results.
Pricing: $99 (Free Demo Available)
2. Google Rich Snippets For Magento 2 by Amasty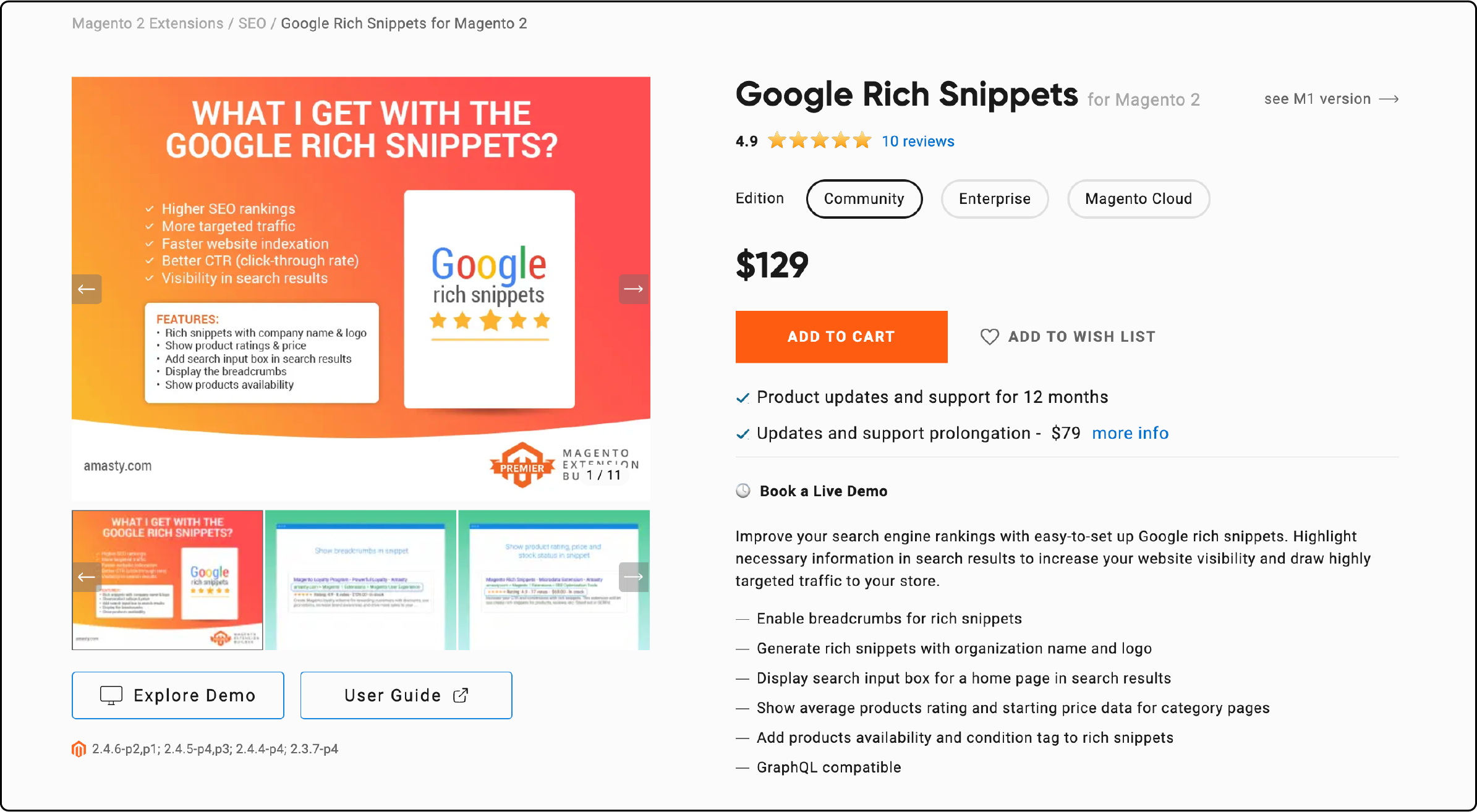 Amasty's Google Rich snippets extension allows taking advantage of the most useful SEO elements. The tool offers the following features:
Magento 2 merchants can boost product visibility in Google search with the pre-configured extension for image-based inquiries.
Provides a data preview feature for Google Search, allowing users to fine-tune rich data settings and save time on corrections before publication.
Adds availability tags to product-rich snippets to showcase stock availability.
It enables customizing site name and store name display in SERPs instead of a full site link.
Pricing: $129 (Live Demo Available)
3. Rich Snippets by Atwix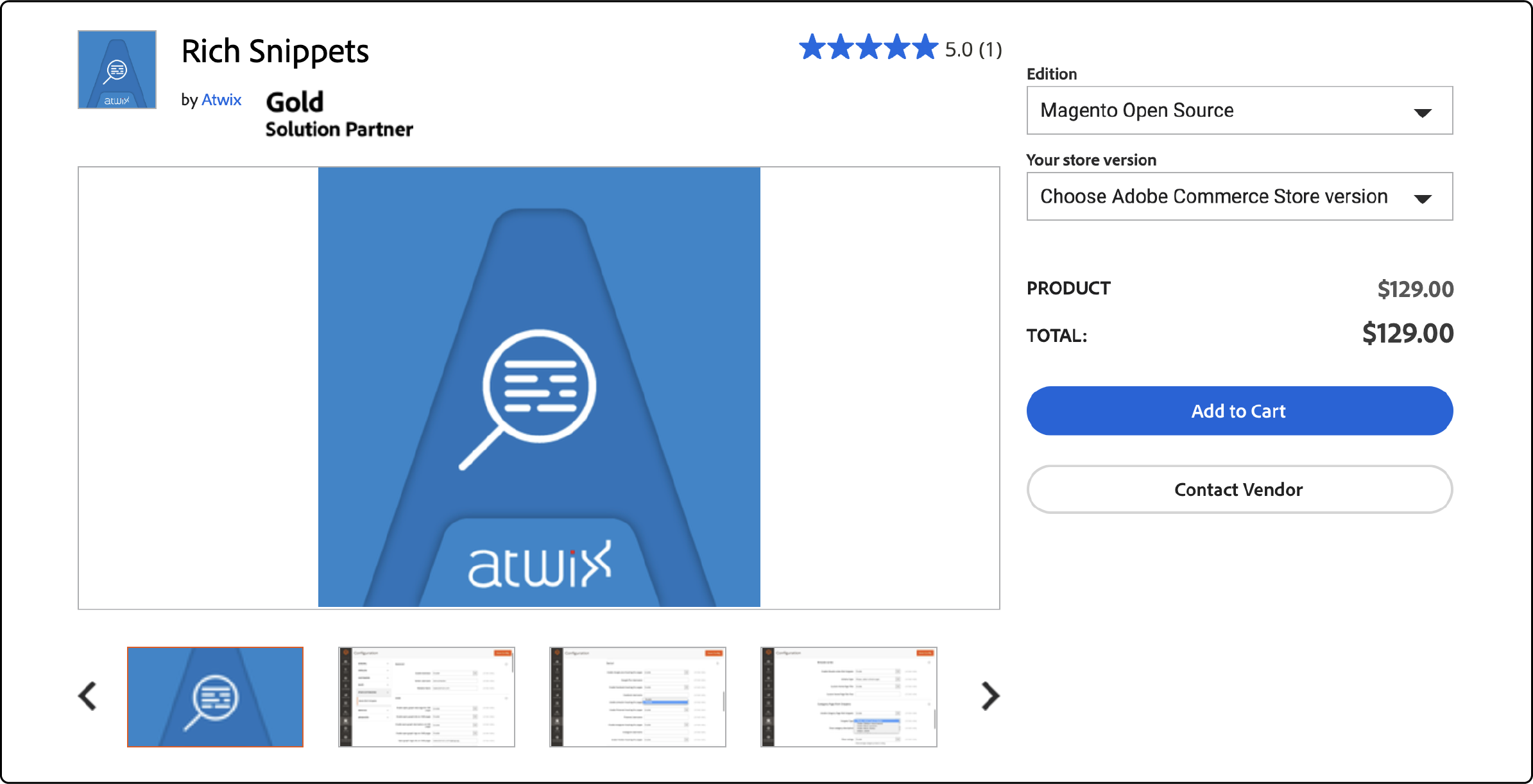 Atwix's Rich snippet extension enables users to engage with your content from SERPs. The following are its primary features:
Provides structured data for breadcrumbs by schema. org, RDF, or JSON
Enables additional website name meta tags and configurable Open Graph meta tags
Provides Open Graph snippets and product Rating
Enables configurable Twitter Cards meta tags, Social meta tags for Facebook, LinkedIn, Pinterest, Instagram, Twitter, Google Plus
Provides search Box rich snippets
Pricing: $129
4. Magento 2 Rich Snippets by Welt Pixel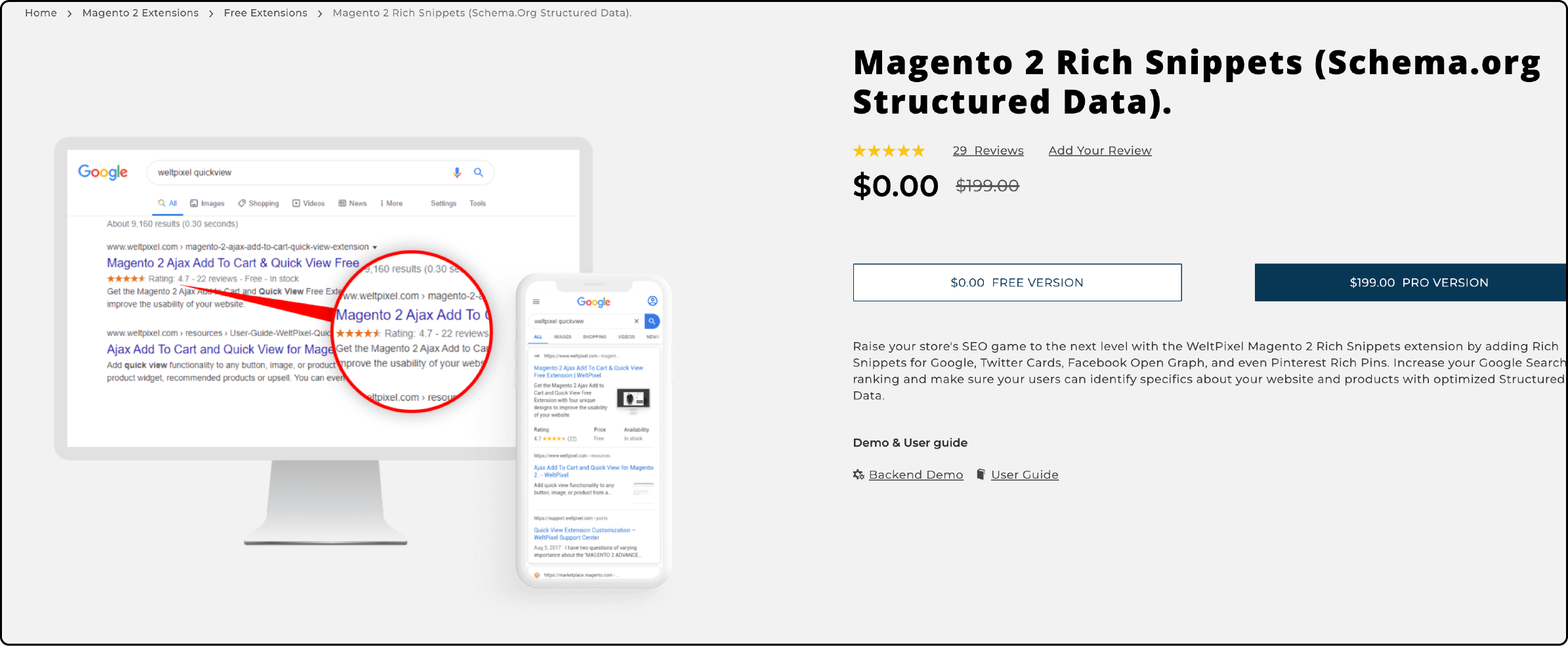 Welt Pixel offers a free Magento 2 rich snippets extension with a developer-friendly API for advanced customization. Although the free version covers basic rich snippet requirements, it has a version for advanced schema optimization. Here are a few features:
Boosts search visibility and implements Schema. org markup for precise data structuring.
JSON-LD support for seamless integration into web pages.
Allows choosing the Image Type to showcase via Rich Snippets and custom image size.
It provides result previews for better user engagement.
Allows managing product GTIN and MPN code structured data markup
Pricing: $199 (Pro Version)
5. Rich Snippets Suite by Magmodule

The Rich Snippet Suite extension for Magento 2 differs from others, offering individual categories for rich snippet features. It allows user-friendly configuration, seamless integration, and automatic updates. Here are some key features:
Magento 2 store owners can use it for unlimited products.
It provides structured data markup for enhanced search engine visibility, including JSON-LD and Microdata.
Users can customize rich snippet templates and configure many essential attributes for tailored schema markup.
Enables integrating structured data into web pages while following the latest Google standards.
Pricing: €65 (∼$69.74)
Plans Comparison for Magento 2 Snippet Extensions
| Feature | Mageworx | Amasty | Atwix | WeltPixel | Magmodules |
| --- | --- | --- | --- | --- | --- |
| Price | $99.00 | $129.00 | $129.00 | Free / $199.00 for Pro | €65.00 |
| Rating Snippets | Yes | Yes | Yes | Yes | Yes |
| Product Snippets | Yes | Yes | Yes | Yes | Yes |
| Breadcrumbs | Yes | Yes | Yes | Pro Version | Yes |
| Social Media | Yes | Yes | No | Pro Version | Yes |
| Local Business | No | Yes | No | No | Yes |
| Organization | Yes | Yes | Yes | Pro Version | Yes |
| Website Snippets | Yes | Yes | Yes | Pro Version | Yes |
| SEO Optimization | Yes | Yes | Yes | Yes | Yes |
| Demo Available | Yes | Yes | No | Yes | Yes |
Steps to Add Magento 2 Rich Snippets to Web Stores
Configure Rich Snippets for Magento 2 store
Setting up rich snippets in Magento 2 is easy once you install an extension. The steps can differ for various tools, and the following is a general path for the setup:
First, log into your Magento 2 Admin Panel.

Select the extension from a list in the left-hand corner of the admin panel.

Click on rich snippets (or rich snippets and cards** in some extensions)

Go to General settings

Click on specific items to:

Configure product rich snippets
Set up organization rich snippet
Enable Breadcrumbs Snippets
Enable sitelinks search input box
Enable social cards for search engine crawlers.

Finally, click the Save Configuration button after enabling each rich snippet type at the top right of the screen.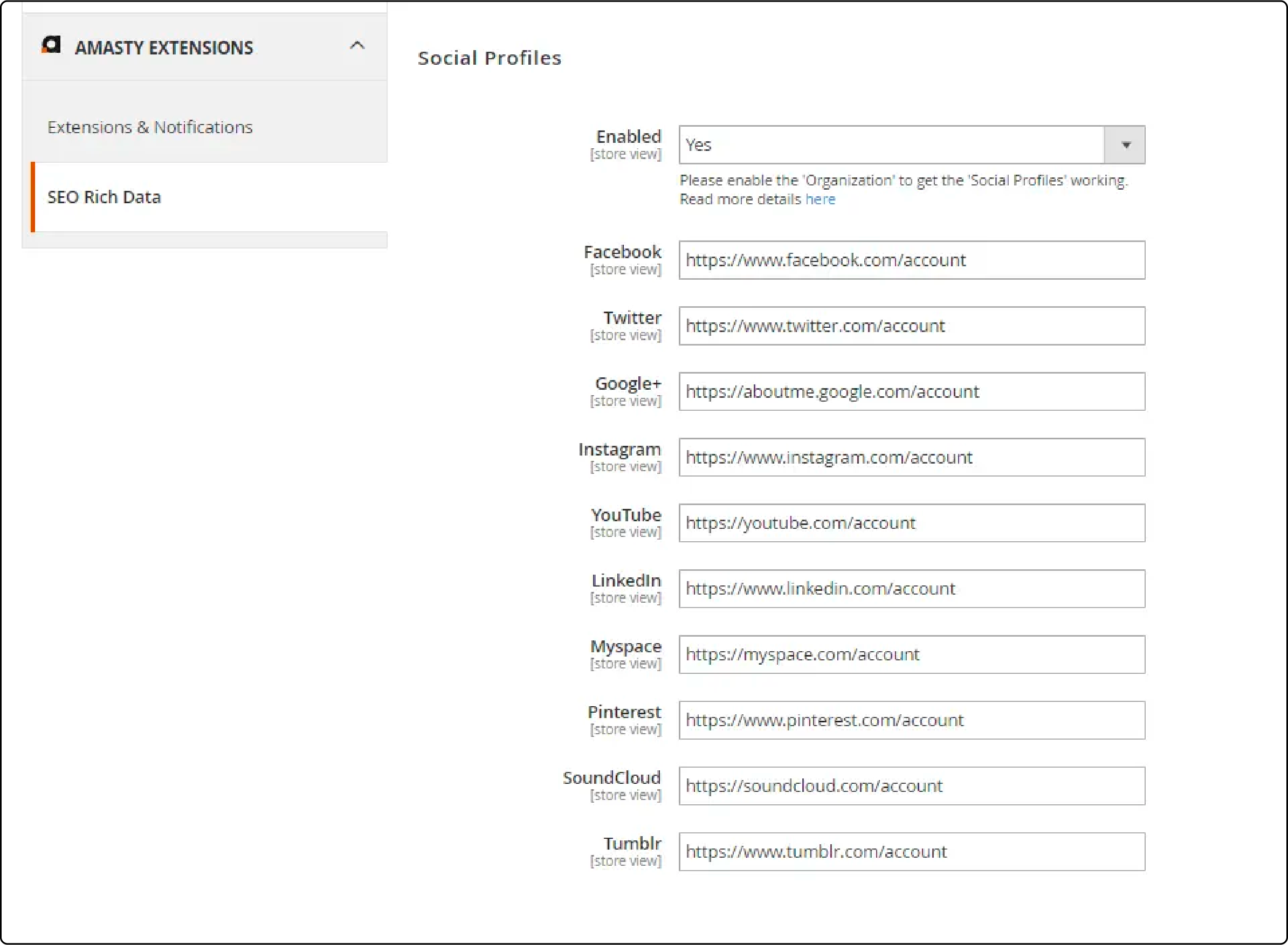 Benefits of Adding Google Rich Snippets to Magento 2
Adding Google snippets to your Magento 2 site provides several advantages. The meta description and rich snippet help increase click-through rates and user engagement. They collaborate to create a compelling and informative search result listing.
The following image compares how adding Magento 2 rich snippets extensions can improve the visibility, click-through rate and user experience of a Magento site: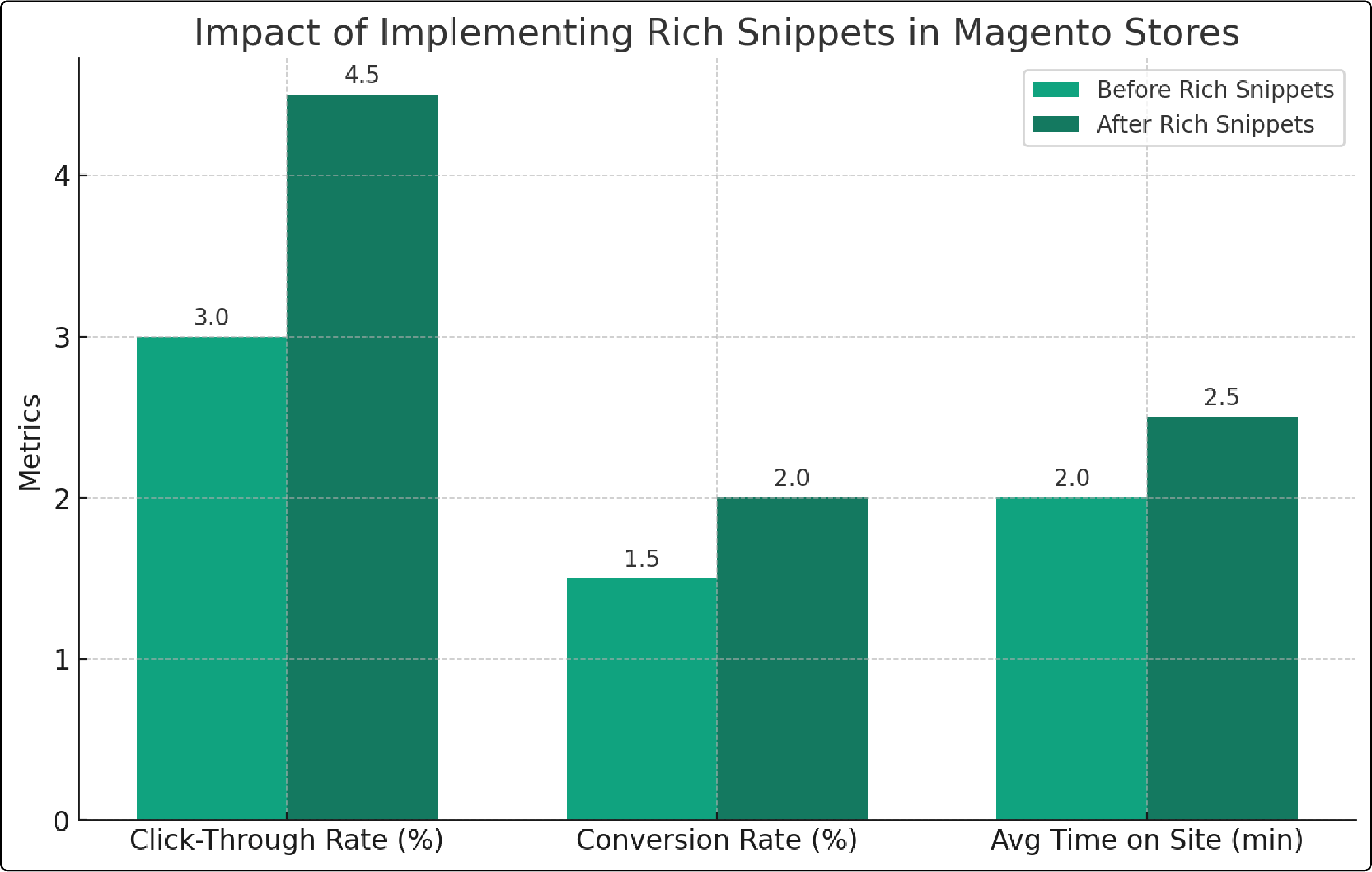 1. Better structured data for Improved visibility in search results
Magento 2 rich snippets provide additional business information through your web pages, such as product prices, ratings, social links, and reviews.
The business information makes your search result listing more attractive and eye-catching, grabbing customers' attention. When your listings stand out from the competition, your Magento store is more likely to get clicks and increase click-through rates.
Correctly implementing rich snippets using schema markup allows search engines like Google to understand and index your content accurately.
Data markup enables you to describe product properties, such as price, availability, and reviews, in a simplified and visually attractive manner. By adding structured data, you can increase the chances of getting higher rankings than unoptimized websites. It ultimately attracts targeted traffic and more customers to your online store. It also helps achieve rich results on SERPs and enhances the chances of your web page's visibility to the users.
2. Increased Click-Through Rates
Adding rich snippets can significantly increase your Magento 2 website's click-through rate. Users who see rich snippets will likely click on them because they provide additional information about products or category pages.
By including important details like product price, ratings, reviews, and stock availability, you can entice users to visit your website instead of others. Using rich snippets correctly on your Magento site ensures a higher chance of attracting more customers and getting more clicks from a targeted audience.
3. Enhanced User Experience
Adding rich snippets to Magento 2 can greatly enhance the user experience on your website. By including structured markup, you provide Google with more detailed business information and other important site elements. It allows search engines to display informative rich snippets in the Google search results, giving users a better idea of what to expect when they click on your website.
With clear product descriptions, ratings, prices, and other relevant details right at their fingertips, customers can quickly get relevant information and click through to the website. It is a streamlined process that saves time for users and improves their overall experience with your online store.
FAQs
1. What are rich snippets for Magento?
Rich snippets for Magento are codes added to website pages. They describe key product properties on the current page, making your store pages stand out on the search result page. Customers get more info about your product pages, like product price, number of reviews, average rating, and special price in search results.
2. What is the role of the product schema and source code in implementing Rich Snippets in Magento 2?
To add rich Snippets to your Magento website, you must include a product schema markup in your website's source code. The schema markup is an entry point for product snippets and provides essential information, such as rating reviews and breadcrumbs. Schema is also useful to tell web crawlers that the current page is related to a product or category page.
3. Why are Rich Snippets in Magento important for search engine rankings?
Rich Snippets in Magento 2 is a way to enhance the appearance of your website's listings on the search engine result page. They provide additional information to users even before they visit your site, increasing the visibility of your products. Magento rich snippets enable custom properties through very simplified markup into a website's source code, offering the potential for better click-through rates.
4. Can I use video markup with Magento's rich snippet feature?
Video markups count among product-related snippets that could enhance an attractive snippet view on Google or other search engines.
Summary
Adding Magento 2 rich snippets to web stores provides schema. org structured data and increases your online store's visibility. It will also help improve your Magento site's click-through rates and enhance user experience.
Take advantage of the seamless Magento 2 rich snippet extensions and make your website more visually attractive than unoptimized ones. You can explore Managed Magento hosting that can help boost your web store's performance!