Magento vs Shopify vs. BigCommerce
In 2020, global retail ecommerce sales amounted to 4.28 trillion US dollars. It is projected to grow to 5 trillion dollars by 2022.
To leverage the massive market, sellers require the best ecommerce platform.
The ecommerce software should help run a successful business. It should also match your demands for scaling & flexibility.
There are many ecommerce platforms to help launch your store. Depending on your business size & goals, the platforms may vary. However, which one is suitable for your specific requirements?
Some ecommerce platforms are helpful for small businesses. Large-scale enterprises require a robust store. The platform that can easily handle large inventory.
In this article, we tackle the big names in ecommerce solutions. Some of the leading platforms include Magento, Shopify, and BigCommerce.
This article compares Magento vs. Shopify vs. BigCommerce to help find the best option for your business.
Overview of Magento
Magento is the leader in digital commerce and a popular choice for sellers worldwide. It was founded in 2007 by Varien Inc.
Magento has a massive user base of more than a quarter of a million sellers. The portfolio includes individual stores to the biggest brands like Nike and Ford.
In 2018, Magento was acquired by Adobe Inc. The platform has since gained more traction for innovation & personalization.
Magento is an open-source solution that comes with two main editions.
Magento Open Source is free to download. The paid edition is Adobe Commerce for large-scale businesses. The platform also offers a cloud-hosted solution called Adobe Commerce Cloud.
Magento is designed to grow your store and is built for high flexibility. You have limitless ways to customize your shop.
Overview of Shopify
Shopify is a self-hosted ecommerce solution founded in 2006. It has a growing user base with more than 1,700,000 online stores.
Shopify is a subscription-based platform with easy drag & drop functions. You don't require high technical skills to build your store.
It lets you create online shops within minutes & offers pre-built themes. The platform is suitable for small businesses that do not want to scale.
It offers limited customizing functions. You can extend some of the functions with third-party plugins.
Overview of BigCommerce
BigCommerce is a SaaS-based ecommerce platform founded in 2009. Small enterprises can quickly build a professional online shop.
The platform has more than 60,000 sellers across 160+ countries. It is a self-hosted platform, so you don't have to worry about server-related tasks.
You can create an online shop quickly as it does not involve high technical skills. However, there are limitations to customizing & scaling. We will further address these in the comparison section.
The platform is subscription-based and comes with different pricing plans.
BigCommerce is based on the open SaaS model. It allows you to have some coding flexibility so you can modify the store. The platform reduces the risk of vendor lock-ins.
Magento vs. Shopify vs. BigCommerce
1. Performance
Magento is a robust platform that offers high performance. You can have a large inventory of plugins and still get consistent site speed.
Magento allows self-hosting so that you can choose the server. We recommend opting for managed Magento hosting.
You can have a cloud hosting platform such as AWS for fast performance. As a result, you get high Magento performance & uptime.
You don't get to choose a hosting provider as Shopify offers hosting services. The Shopify team takes care of performance for the websites.
For a small store, the page load time is 1 to 2 seconds. However, the site speed can become slower if you add plugins.
Your store may also face slow speed as you add more products & images. To resolve any speed issues, you have to contact the Shopify team.
You have little control over the hosting server & speed optimizing.
BigCommerce offers cloud hosting such as Google Cloud Platform. The overall performance of a small store is fast & responsive.
You also get Google AMP and Akamai Image Manager to boost page load speeds.
However, users get limited options to customize & grow their store. BigCommecre is suited for beginners with small stores.
You have to upgrade the plan for consistent performance. Otherwise, move to another ecommerce platform as your business grows.
2. Security
Magento releases security patches to protect your store. You can use 2FA and strong passwords. It also offers user admin access protection.
Magento Commerce is PCI DSS Level 1-compliant. You can add SSL certificates & use the Magento security scan.
Magento offers session validation security features. The session variables are validated at each store visit.
The store is also protected against cross-site scripting (XSS) attacks. You get file system ownership and user permissions. That way, you can manage user permissions easily.
Outsource server-side security to your Magento hosting provider.
Shopify offers regular patches & security updates. These updates are added automatically for the stores.
The platform is also PCI DSS Level 1-compliant. You also get SSL encryption to protect sensitive store information.
However, Shopify offers limited control over security. You don't get advanced security options.
BigCommerce offers many security features such as firewalls & data integrity scanners. You get intrusion detection for your store.
The platform is ISO/IEC 27001 and PCI Compliant. You get SSL certificates based on your pricing plan.
You have limited control over security. The team maintains the security of the store. If there are any security issues, you have to contact the BigCommerce team.
3. Ease of Use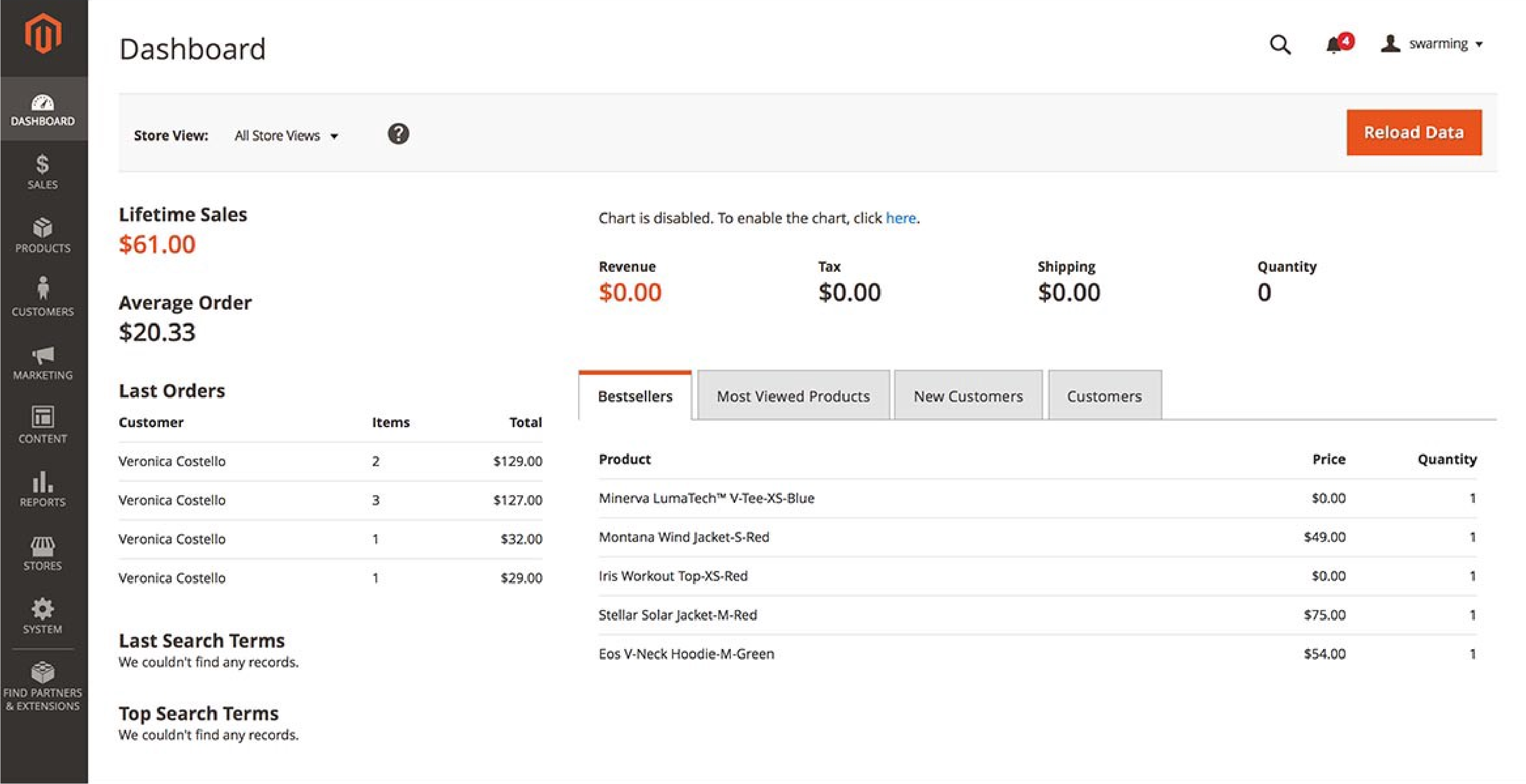 The Magento platform comes with a user-friendly interface. Beginners may have to learn the software as it has many layers.
You also have to meet Magento installation requirements. Without technical skills, Magento software may be a bit complex at first. However, once you get a grasp of it, the platform is easy to use.
The Magento dashboard is clean and intuitive. You get a detailed navigation menu on the left. It offers tools to manage products, sales reports, and so on.
Admins have the ecommerce related information on a single dashboard.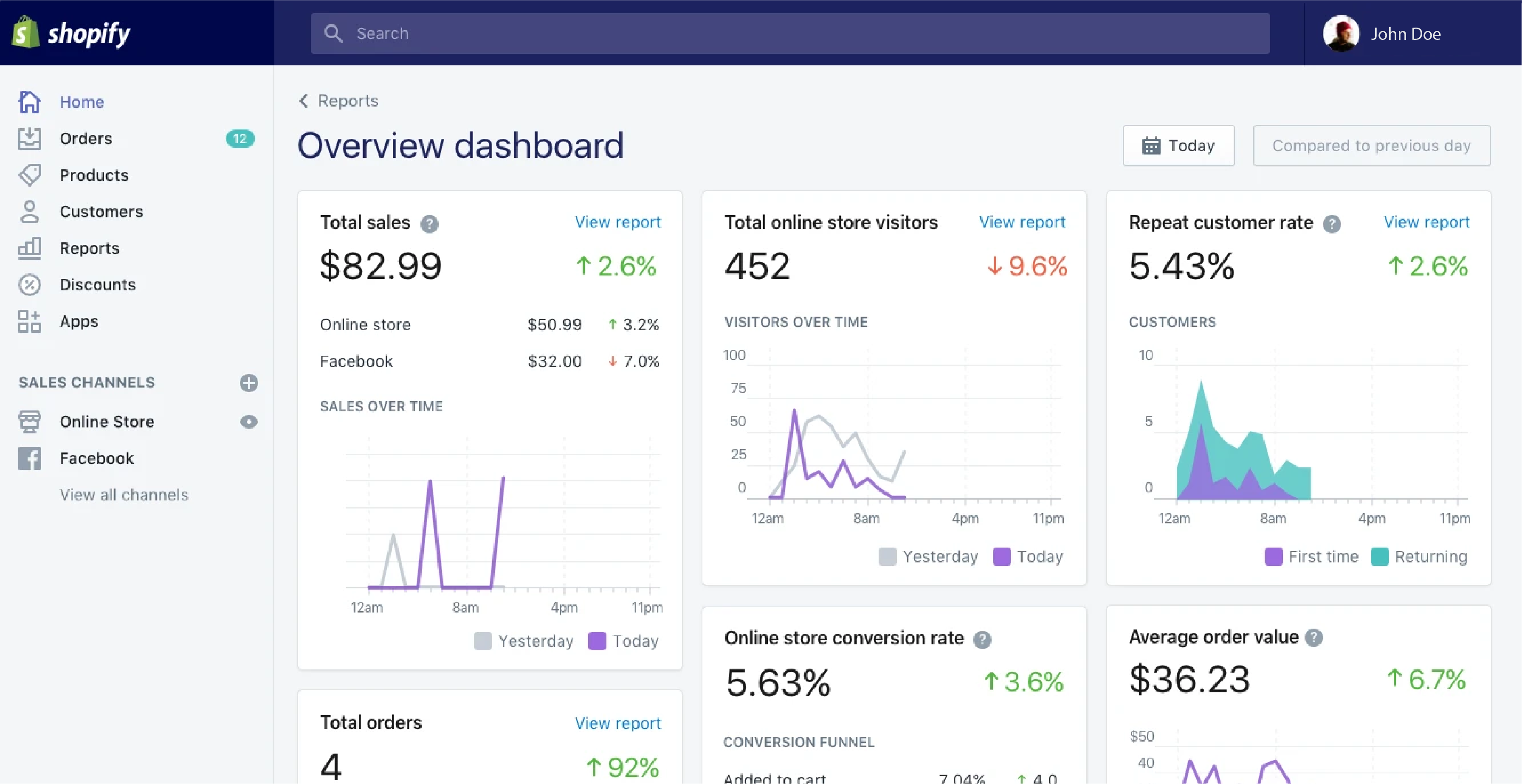 Shopify interface offers drag & drop functions. That way, you can move elements around to create your products page.
You don't require programming skills to use the platform. Shopify allows you to manage your store on an easy to use interface.
The dashboard offers key store metrics with brief explanations. You get analytics & reports on the dashboard.
However, the page builder offers a finite set of functions. Its source code is not accessible to users. As a result, you cannot make code changes.
The ease of use lacks deeper functionality. You may only be able to build a basic customized website.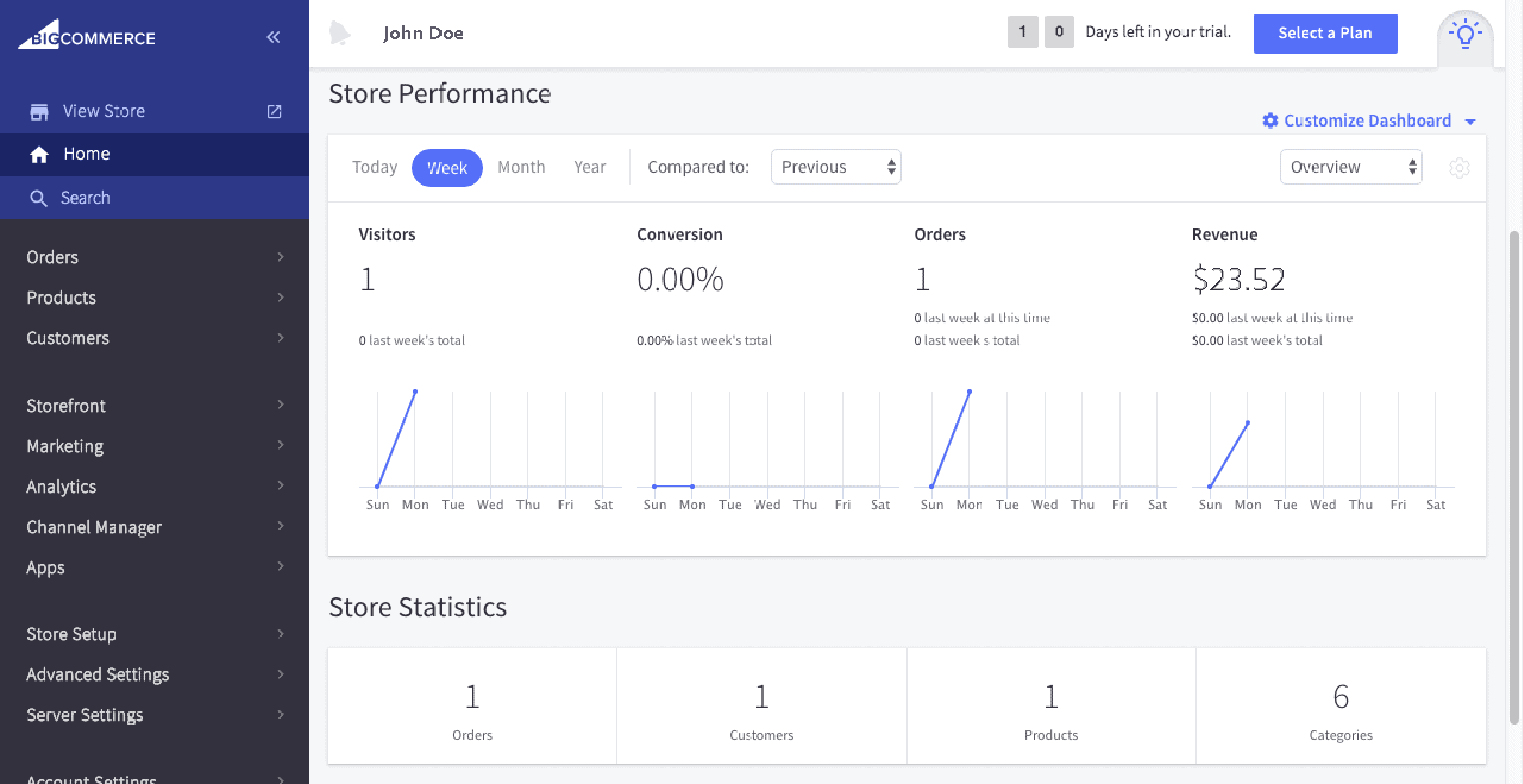 BigCommerce offers a beginner friendly interface to launch your store. It is straightforward & simple to use with a clean UI.
You get the ecommerce metrics on the dashboard. It has a flyout menu on the left with all the tools to manage your store.
You can see the store statistics & performance on the dashboard.
However, the platform limits customizing options. You get limited functions to build a store. You cannot add any custom features or services to the site.
4. Features
Magento has an extensive list of features.
Some of the primary Magento features include:
Catalog Management
Marketing & Promotions
Inventory & Order Management
B2B Functions
Progressive Web Applications
Payments & Financing
Headless Commerce
Reporting & Business Intelligence
The features allow more customization options for your store.
The primary Shopify features include:
Shipping & delivery
Store design
Marketing & conversions
Dropshipping
Store management
Merchandising
The features vary with the Shopify plan to fit your business needs. You get unlimited products, bandwidth and storage on the plans.
BigCommerce has built-in features to run your store effectively. Some of the BigCommerce features include:
Page Builder
Managing Inventory
Many payment gateways
Marketing
SEO to rank higher on search engines
Coupons & Discounts
Headless Commerce
B2B Commerce
Global Support
5. Scalability
With Magento, you can scale your business with large inventory sizes. It does not have limits to adding products. You can add hundreds of thousands of products.
The robust platform can handle large catalogs. You can process large order volumes quickly.
Along with scaling, you also get tools to reach potential customers globally. Use the built-in Magento features to localize your store.
Magento is an excellent option if you plan on growing your business. The platform is highly flexible and can handle traffic spikes effectively.
Scaling is limited with the Shopify platform. You have to upgrade to an expensive plan to scale to new regions.
You cannot create multiple stores from a single account. The maximum number is 8+ storefronts for one account.
To have multiple stores from one account, you can go for Shopify Plus. However, the scaling price starts at $2000 per month.
Shopify is not the best option for global scaling and if you have a large store. You also don't get advanced features for different regions. There are limits to flexibility & customization.
BigCommerce scaling is limited to your subscription plan. If you want to scale your store, you may have to upgrade the plan.
There are product and SKU limits for the store. It allows a maximum of 600 SKUs per product.
BigCommerce is suited for small businesses. You get API tools to sync catalogs and scale your business. It also offers features to localize your stores for target countries. You get unlimited storage and bandwidth for your store.
6. Themes & Extensions
Magento Themes & Extensions
Magento offers thousands of custom themes. It is built by a global community of developers.
You get free & paid themes that can cost between $30 - $ 400. Sites like Theme Foster and Template Monster offer Magento templates.
Magento offers more than 5000+ extensions. You can find them on the Magento Marketplace or providers such as Amasty.
Shopify Themes & Extensions
Shopify offers 70+ themes to build your site. Around ten themes are free to use. The paid themes cost $ 150 - $240. You can opt for the one that matches your brand.
Shopify App Store offers around 4000 free & premium extensions. You use them to enhance store functions.
It helps to extend functions in-store design and marketing. You can optimize shipping and delivery.
BigCommerce Themes & Extensions
BigCommerce offers 12+ free themes. There are hundreds of paid themes.
You can modify the themes using HTML, CSS, and Javascript. The BigCommerce Stencil theme framework. You can use it to customize the themes.
BigCommerce App Marketplace has over 1000+ plugins. You can go for BigCommerce certified plugins. Install the plugins with a single click for easy integration.
7. Hosting
Magento allows you to choose a preferred Magento hosting provider.
To delegate hosting tasks, choose Managed Magento hosting. That way, you don't have to take care of the server-side workloads.
With suitable hosting, you get high Magento site speed & server security. Fully managed Magento hosting comes with migration & backup support.
You get 24/7 technical support from Magento experts. The hosting server is optimized for high performance
Shopify hosts your site based on your monthly hosting plan. It is an entire hosted platform, so you don't have to worry about technical aspects.
You get uncapped bandwidth and are not charged for traffic spikes. The team also provides Fastly's content delivery network.
The primary data centers for Shopify are located in North America. Shopify claims to manage 4000 checkouts per minute.
You can use an existing domain name or purchase a custom domain. As it is not self-hosted, you don't get access to the source code.
BigCommerce is a fully hosted ecommerce platform. It uses the Google Cloud Platform to host the store.
The team guarantees continuous uptime & high speed for stores.
However, you cannot surpass the store limits without affecting site speed. To scale globally, you have to upgrade the plans.
8. Support
Magento support is available via forums and official docs. It has a global community of merchants & developers.
You can resolve issues on the Magento community page. Magento offers dedicated 24/7 technical support for the Adobe Commerce edition.
Shopify offers a 24/7 dedicated support team for users. You can contact them via chat, email, or phone to resolve any issues.
You have to rely on the Shopify team for technical support. You cannot make drastic changes to the store without technical support.
BigCommerce provides 24/7 technical support. Support is available via emails, chats, and calls.
The team also offers ways to improve marketing & conversions. Community support is available from 20,000 BigCommerce sellers.
9. Pricing
Magento offers free and paid editions to build your store.
Magento Open Source is free to download. It is suitable for all businesses & used by most business owners. You have to pay for hosting & site maintenance.
The Magento paid plans to include:
Adobe Commerce starts at $22,000+/year. Suitable for large-scale businesses.

Adobe Commerce Cloud starts at $40,000+/year. Suitable for large-scale businesses that want built-in cloud hosting.

Shopify Pricing
Shopify offers three pricing plans which are billed monthly. The plans offer different transaction fees.
The Basic Shopify plan starts at $29/month. It is suited for beginners & small businesses.
The Shopify plan start at $79/month for small growing businesses.
Advanced Shopify starts at $299/month. Suitable if you want advanced reporting features. It supports eight inventory locations.
BigCommerce has four pricing plans. It is billed monthly or annually.
Standard: $29.95/mo to start with the online store.
Plus: $79.95/mo and get extra marketing tools.
Pro: $299.95/mo to scale your business & get additional features.
The Enterprise plan is quote-based. It gives you a full-service open platform.
Comparison Table: Magento vs. Shopify vs. BigCommerce
Magento
Shopify
BigCommerce
Launch Year
2008
2006
2009
Performance
High Performance with large inventory.

Requires performance optimization.
The Shopify team handles site performance.

Upgrade plan to get high performance on extensive inventories.
The BigCommerce team takes care of site performance.
Security
Security patches and updates.

XSS protection and 2FA. Admin access level protection.

PCI DSS Level 1-compliant for Adobe Commerce.
Security updates are added automatically.

PCI DSS Level 1-compliant. You also get SSL encryption.
PCI Level 1 Compliance.

Security features such as firewalls & data integrity scanners.

You also get intrusion detection.
Ease Of Use
Ease to Use Interface.
Ease to Use Interface for beginners.

Drag & drop page builder.
Beginner-friendly Interface.
Features
Highly Scalable.

Offers global scaling with native international support.
Limited in scaling.

Maximum 8+ storefronts, or you have to upgrade the plan.
Limited scaling options.

There are product & SKU limits to stores.
Themes & Extensions
Thousands of free & paid themes.

5000+ plugins are available.
70+ professional themes.

4000+ plugins are available.
7 free & 100+ paid themes.

1000+ extensions are available.
Hosting
Self-hosted platform.

You can choose preferred managed Magento hosting.
Fully hosted ecommerce platform.
Fully hosted ecommerce platform.
Support
Forums. Official docs and Magento community Support.

Paid support for Adobe Commerce.
24/7 technical support via email, chats & calls.
24/7 technical support via email, chats & calls.
Pricing
Magento Open Source is free to download.

Magento Commerce- $22,000/year

Magento Commerce Cloud -$44,000/year
Shopify Basic -$29/month

Shopify - $79/month

Shopify Advanced -$299/month
Standard – $29.95/month
Plus – $79.95/month.
Pro – $199.95/month.

Enterprise edition – Custom pricing, request a quote.
Which E-commerce Platform is Right For Your Business?
Magento
Magento is an excellent ecommerce platform for all business sizes. You get all the features required to build a successful ecommerce store.
If you want to grow your business, Magento scaling is an essential element.
You can add an extensive product catalog & get responsive websites.
The open-source platform offers a lot of customization. You can create personalized stores based on consumer demand.
You have to invest in hosting and development. Overall the platform is robust and offers flexibility for an ecommerce store.
Magento provides international support. You get omnichannel selling for multiple touchpoints.
Shopify
Shopify is a beginner friendly platform that lets you create a store quickly. You won't require extensive technical skills for this platform.
However, Shopify allows limited products & storefronts. It may not be a good option if you plan on scaling your business.
It has limited features for scaling and customizing. You cannot create unique storefronts for target countries.
Shopify is a suitable platform for small to medium-sized inventory. You may have to move to a different platform if you want to grow your shop.
BigCommerce
BigCommerce is recommended for small businesses and beginners. You may want to launch a store quickly and want pre-built themes.
BigCommerce stores require less technical skills. But you cannot create complex stores for customers.
You are limited in terms of scaling your store. However, BigCommerce does offer some customizing capabilities.
You also get international support to make localized stores. It provides an easy setup so you can go live quickly.
Conclusion
Magento, Shopify & BigCommerce are big names in the ecommerce market. The three platforms offer extensive features to run your business.
Analyze your business requirements before choosing the platform.
Shopify & BigCommerce are more suited for SMBs. The platforms require less technical expertise. You can launch your store quickly.
It limits scaling & flexibility for your business. So you can choose these platforms if your store does not have overly complex processes.
Magento is a suitable option for all businesses. It handles extensive inventories & complex processes effectively. You can customize your store & scale it globally.
To learn more about Magento, check out the MGT-Commerce blog.