How to Perform a Magento Security Audit?
Ensuring the safety and performance of your Magento website is crucial for its success. One way to achieve this is by conducting a regular Magento security audit.
This guide will discuss the critical aspects of an effective Magento security audit. It will help you better protect your online store.
11 Steps for Magento Security Audit
1. Browser Compatibility
There are multiple browsers available for users. Ensure your website is compatible with popular browsers.
Test your Magento website on the latest versions of common browsers. It includes Google Chrome, Mozilla Firefox, Safari, and Microsoft Edge. Fix any compatibility issues to guarantee a seamless user experience across all platforms.
2. Review Third-Party Extensions
Magento's customization options include a wide range of third-party extensions.
However, improper implementation and management of these extensions can pose security risks.
Ensure you use the latest versions of extensions and check its security. Audit all third-party extensions. Ensure they don't introduce backdoors or other security threats.
3. Audit Mobile UX
Optimize your Magento website for mobile users. It is crucial due to the increasing use of mobile devices for online shopping.
Evaluate your website's load time, data consumption, and overall user experience on mobile devices. Add any improvements to provide a smooth browsing experience for mobile users.
4. Check for Duplicate Content
Duplicate content can harm your website by consuming bandwidth. It also presents repetitive information in search results.
Conduct an audit to identify and eliminate duplicate content on your site. Ensure to prevent search engines from indexing filters. It includes service pages that can negatively impact your website's traffic.
5. Audit Business Logic Errors
Business logic errors can result from improperly set up website functions. It leads to security vulnerabilities.
These errors might be challenging to detect using traditional security scanners. Perform a thorough audit to identify and fix any business logic errors. It prevents events that could expose your website to potential threats.
6. Review User Access
User access management is critical for maintaining the security of your Magento store.
Regularly review user access levels and permissions. Check that only authorized personnel have access to sensitive areas of your site. Use measures like two-factor authentication for added security.
7. Secure Hosting Environment and SSL Certificates
A reliable hosting environment is vital for Magento's performance and security.
Invest in a premium hosting plan or a VPS (Virtual Private Server) to ensure your site has the necessary resources.
Additionally, obtain an SSL certificate to establish a secure connection between the web browser and the server. It protects sensitive information like credit card details and login credentials.
8. Implement Security Patches
Regularly update your Magento installation with the latest security patches to fix vulnerabilities in the system. It will help protect your website from potential cyberattacks.
👉 Learn more about Magento 2 Security Patches and how to install them.
9. Monitor Website Activity
Keep track of your website's user activities to detect suspicious behavior or unauthorized access.
Enable admin logging into Magento to monitor backend activities. Ensure only authorized personnel can access the site.
Find a backend action log by following these steps:
Go to Admin → Stores → Settings → Configuration.
Look for "Advanced" → Admin and Expand "Admin Actions Logging."
Enable admin logging by marking the checkbox, ensuring only authorized users access the website.

10. Use Two-Factor Authentication
Use two-factor authentication for backend users to enhance the security of your Magento store.
It adds an extra layer of protection during the login process. 2 FA makes it harder for unauthorized users to gain access.
11. Add Captcha to Front-End Forms
Defend your site against spam and brute-force attacks. Enabling captchas for all fillable forms, such as Contact Us and Email Sign up. It includes Order Confirmations and Customer logins.
In Magento 2, captchas are built-in features. Go to Stores → Configuration → Customer → Customer Configuration → Captcha.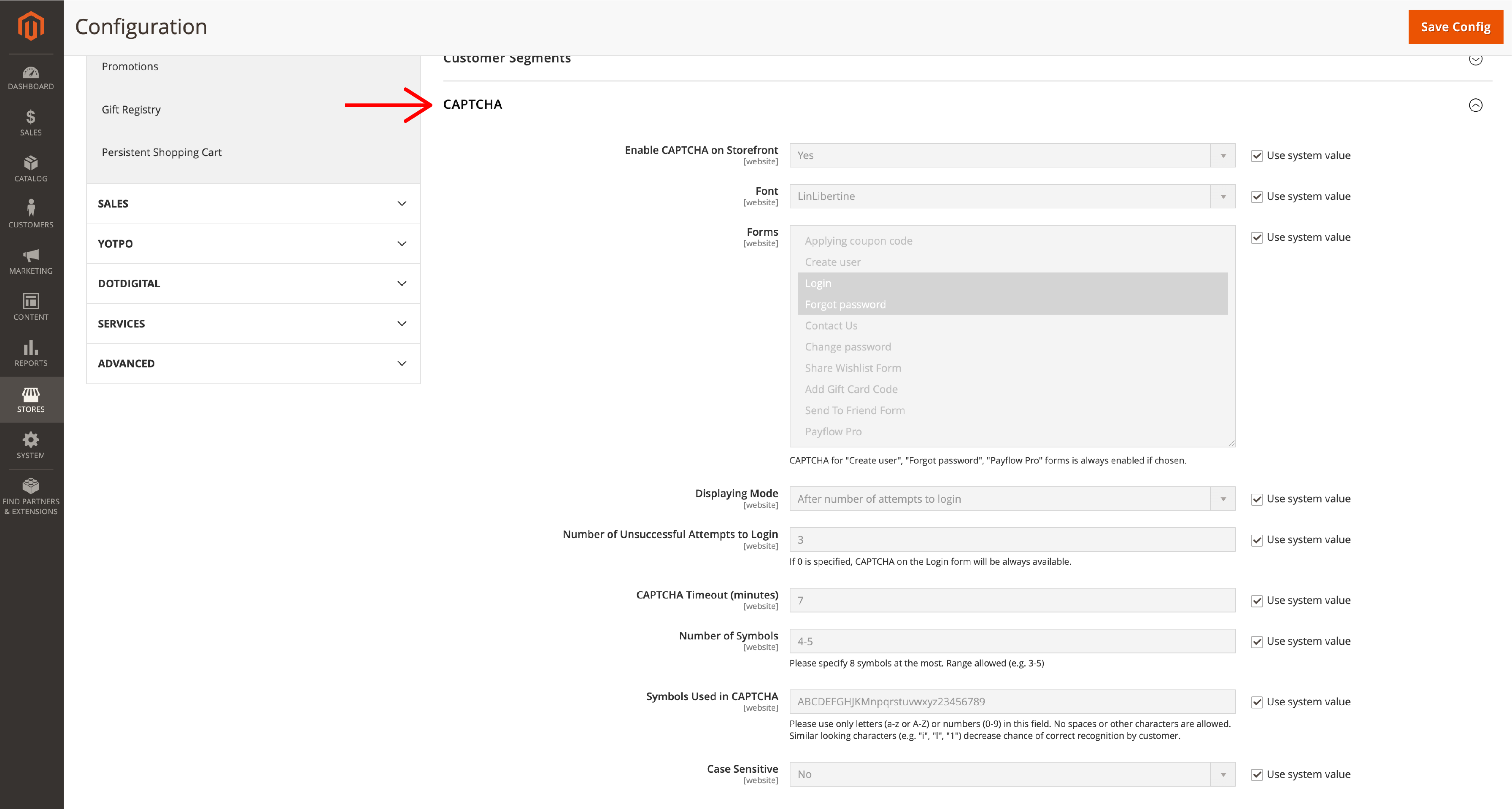 Making Your Magento Store Safe
It's essential to ensure your Magento store follows rules to keep customer information safe. To do this, you should:
Use a safe place to host your website with SSL certificates
Protect important data when sending it with encryption
Keep your Magento software up-to-date and use security patches.
Only let certain people see user data and control who can access the website's backend
FAQs for Magento Security Audit
1. How do you check the security of a Magento store?
To check the security of your Magento store, look at the following aspects:
How it works with different web browsers
Check if extensions are safe.
How the website works on omnichannel devices.
Look for errors in the website's logic
Control who can access the website.
**2. What is a Magento security scan?**
A Magento security scan is a way to look at your Magento store for any security problems. It includes outdated software, missing security patches, weak passwords, and people accessing it without permission. It helps you find and fix problems to protect your website from hackers.
👉 In-depth guide: What is Magento Security Scan and how to use it?
3. What's included in a Magento security audit?
A Magento security audit includes checking how the Magento store operates. It involves following rules to keep customer information safe, using security patches, and monitoring the website.
4. What are the top 4 tips to keep a Magento store safe?
To keep your Magento store safe, follow these tips:
a. Keep your Magento software up-to-date and use security patches. b. Use a safe place to host your website with SSL certificates. c. Use two-factor authentication for people who can access the backend. d. Control who can access the backend.
5. What is PCI compliance, and why is it important for my Magento site?
PCI compliance stands for Payment Card Industry Data Security Standard compliance. It is a set of security standards that help secure online businesses. It ensures they accept, process, store, or transmit credit card information and maintain a secure environment.
Your Magento site needs to protect sensitive customer data. It also prevents data breaches or fraudulent transactions.
6. What are audit services, and how can they help my Magento store?
Audit services are professional assessments of your Magento store's security. It also includes Magento performance and overall functionality.
They help identify potential issues in your website. It includes outdated software, security gaps, and weak passwords. Audit services enhance your store's security and improve user experience by addressing these issues.
Summary
A Magento security audit helps protect your online store from cyber attacks and other risks. Following the steps in the article, you can save your Magento website from security threats.
Check out the Magento news blog for more in-depth information about Magento.