Ecommerce Marketing Automation: Best Tools, Strategies, Actionable Insights
Eager to explore the world of ecommerce marketing automation for your online store's success? In this article, you will discover cutting-edge strategies, effective tools, and useful insights to enhance your marketing efforts. Get ready for a comprehensive guide that will transform your marketing tactics for better results.
Key Takeaways
Ecommerce marketing automation is critical to the success of your online store, as it streamlines, automates and optimizes various aspects of online marketing campaigns.
The benefits of ecommerce marketing automation include improved engagement, stronger customer relationships, enhanced multi-channel tracking, and accurate reporting and insights.
Implementing ecommerce marketing strategies. It includes triggered emails, dynamic, personalized content, deep segmentation for personalization, chatbots for customer service, and cross-selling/upselling tactics.
Exploring the best ecommerce marketing tools that can help automate tasks like abandoned cart emails or product recommendations based on browsing behaviors.
What Is Ecommerce Marketing Automation?
Ecommerce marketing automation makes online marketing easier and more efficient. It helps businesses connect with customers personally. They do this using targeted messages based on customer actions and likes.
Companies can use automation to send the right products and offers to the right people. They create special plans that sort customers into groups. Businesses can also use chatbots. These help customers quickly handle common problems.
Using these tools, businesses save time and build better customer relationships. This leads to more sales and lasting connections. By watching data from the internet, companies keep improving everything they do online. This includes emails and web pages.
Focusing on understanding customer behavior and using the right tools makes online marketing more effective. Happy customers and increased sales are the result.
Advantages of Ecommerce Marketing Automation
1. Enhanced Engagement
Better engagement is a major plus for online stores using ecommerce marketing automation. Targeted and timely messages, sent through emails or dynamic content, make customers more likely to interact with your brand.
For example, think of a customer who adds an item to their cart but doesn't buy it. Good subject lines and call-to-actions in email campaigns can increase open and click-through rates.
2. Building Strong Customer Connections
Ecommerce marketing automation is key to stronger customer relationships. Using targeted and personalized marketing, businesses can address each customer's needs and wants. Triggered email campaigns, like welcome messages or cart abandonment reminders, keep your brand in customers' minds without bothering them too much.
3. Better Tracking Across Channels
Improved tracking across channels is important in ecommerce and marketing automation. Businesses can effectively track customer interactions across email, social media, and websites.
If a customer leaves items in their cart but engages with your brand on social media, automated workflows make personalized campaigns possible. Tailored campaigns lead to more conversions by meeting customers where they want to interact.
4. Clear Reporting and Insights
Ecommerce marketing automation helps businesses keep and engage customers while giving clear reports and insights on their purchases. Platforms like HubSpot and Klaviyo offer reporting tools to measure email campaigns' success, conversions, and revenue.
They also provide detailed customer journey maps to see which channels work best or where drop-offs happen. A/B testing landing pages can even boost conversion rates.
Ecommerce Marketing Automation Strategies
1. Use Triggered Emails: Auto-reply to Customer Actions
Send automated emails based on what customers do. They get opened and clicked more.
Examples: reminders for abandoned carts, "welcome" messages with discounts, order confirmations, and lead nurturing. This helps get back lost sales, turn leads into customers, and keep customers informed.
2. Dynamic Personalization
Change content for each customer. Use their data and actions. They'll engage and buy more. For example, suggest products based on what they looked at or bought before.
3. Deep Segmentation: Aim at Specific Groups
Divide customers into small groups with similar interests and behaviors. This lets marketers make messages just for them. An online store can suggest new products to someone who bought similar items before.
4. Chatbots: Better and Faster Customer Service
Chatbots help with customer service. They can chat with customers based on pre-set rules or actions for fast and efficient support.
5. Lead Scoring: Find Valuable Prospects
Give scores to leads based on how likely they are to buy. Ecommerce platforms can do this automatically. This helps identify who needs more marketing attention.
6. Automated Landing Pages: Easy Conversion Boost
Create landing pages with marketing software. These pages look good, work well, and are easy to make. They help get more leads and happy users.
7. Upsell and cross-sells: Get Bigger Sales
Suggest related or more expensive products. This increases sales and revenue. Tips: use purchase history, recommend bundles, show related items, offer upgrades, and make shopping fun.
Best Ecommerce Marketing Automation Software
Boost Your Ecommerce Business with These Top Marketing Automation Tools
1. Klaviyo: Improve Customer Experience and Sales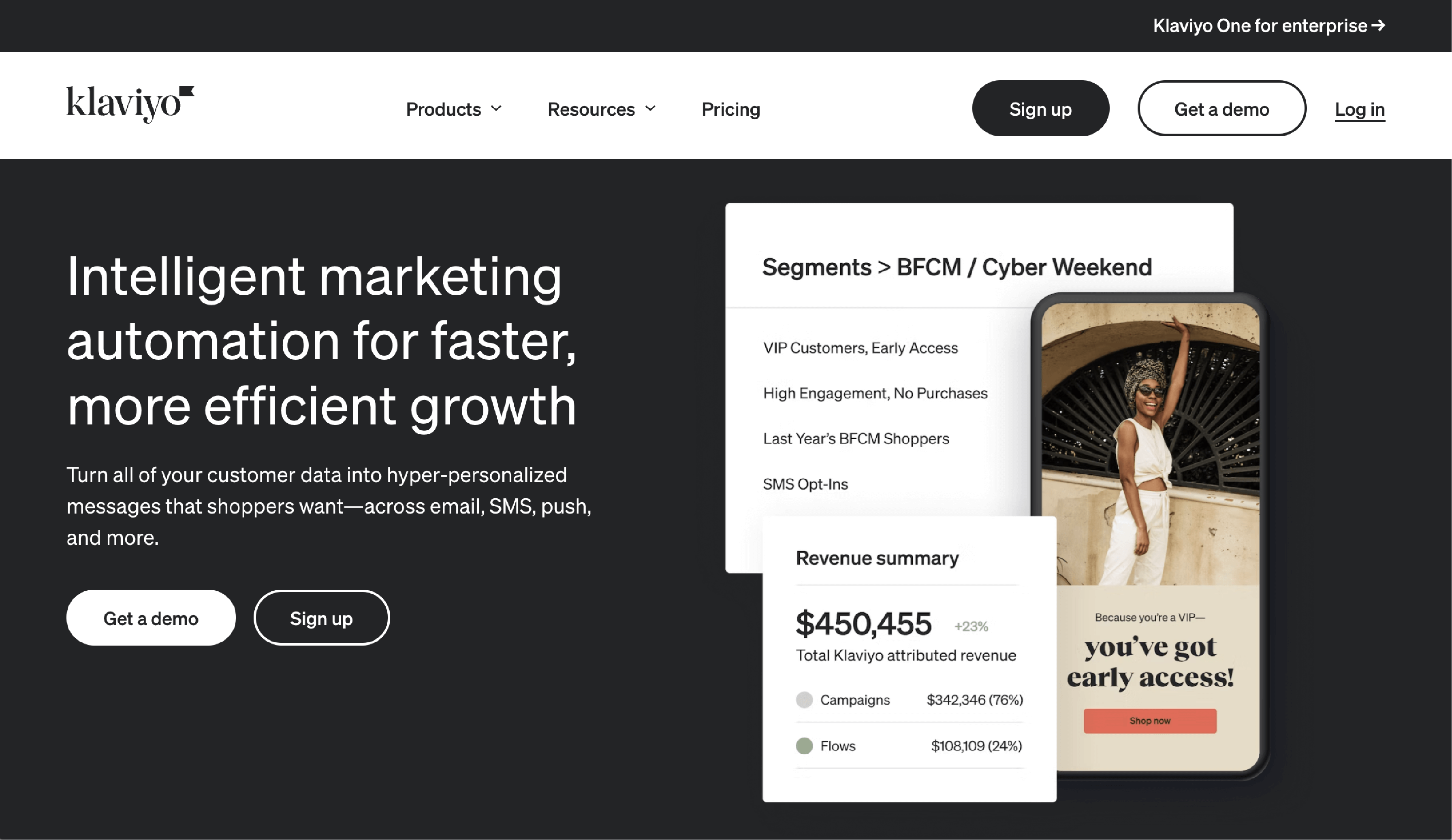 Klaviyo is a popular platform for ecommerce marketing. It helps online stores send personalized content to customers, making them more likely to buy.
With automated emails, smart segmentation, and easy integration with other tools, businesses can keep all their customer data in one place.
You can create triggered emails such as:
Welcome messages
Transactional notifications
Cart abandonment reminders
Lead nurturing campaigns.
2. Drip: Create Better Email Campaigns for Success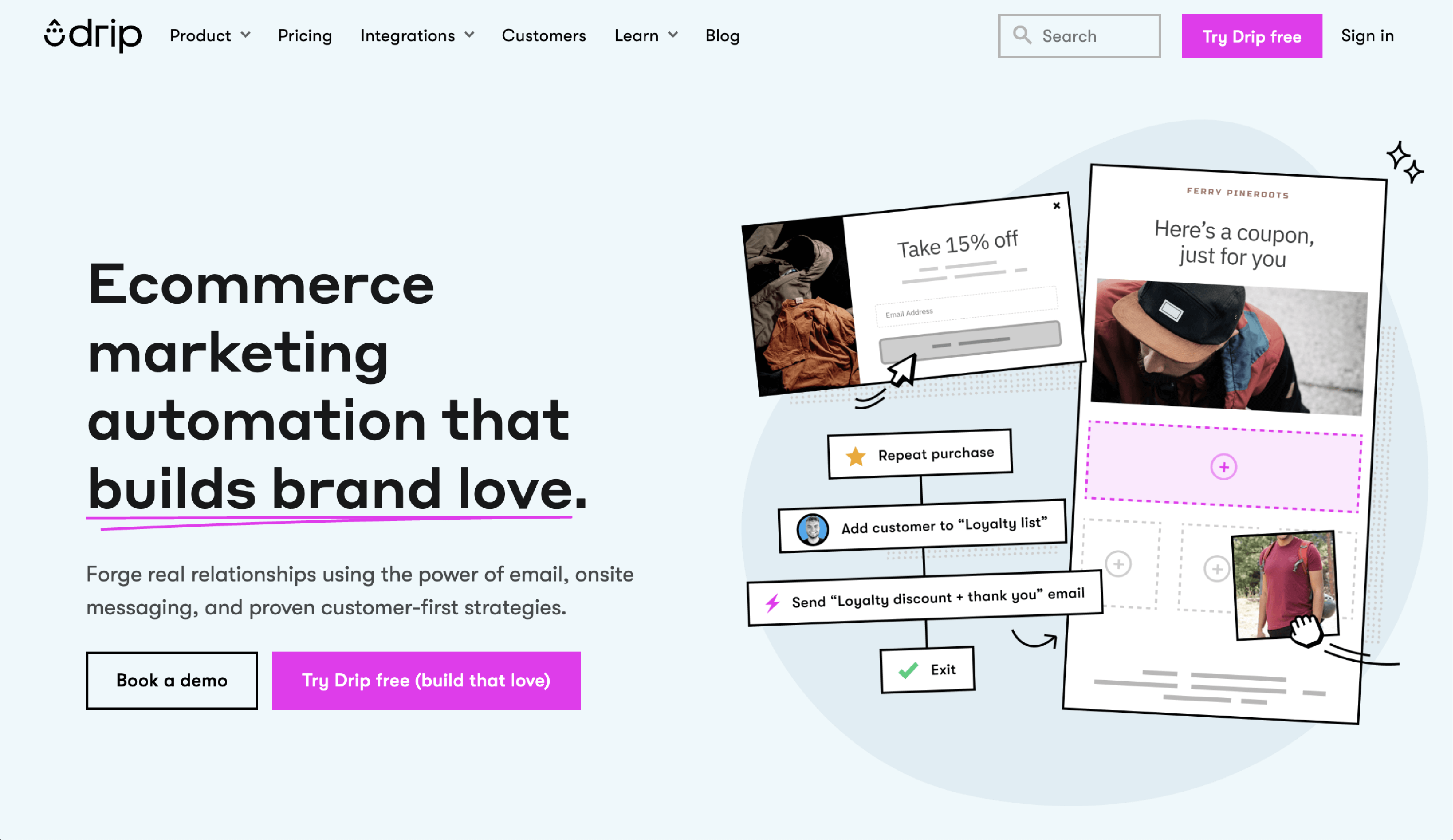 Drip is a well-liked marketing tool that helps online stores understand what customers want. By using it, businesses can make tailored email campaigns, making customers happier and more likely to shop.
Drip offers features like ready-made templates, reports, and A/B tests to get the best campaign results.
3. HubSpot: A Complete Solution for Ecommerce Marketing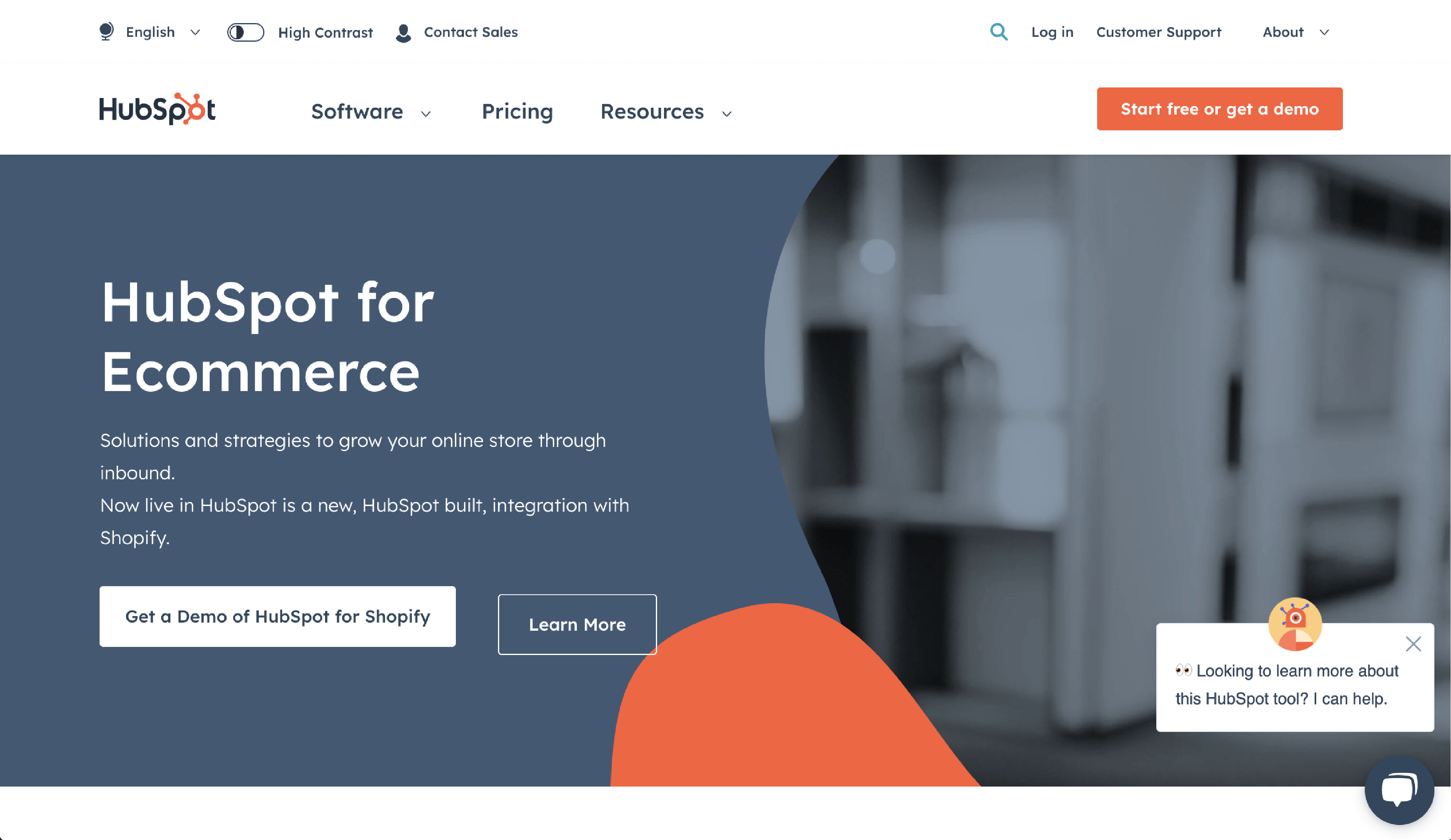 HubSpot is a top marketing tool that offers many options to help ecommerce businesses grow sales and make customers happy. It lets marketers make personalized campaigns based on customer information.
HubSpot also has a lead database, connects with platforms like Shopify, and uses Facebook Messenger for extra marketing.
4. EngageBay: Make Marketing Work Easier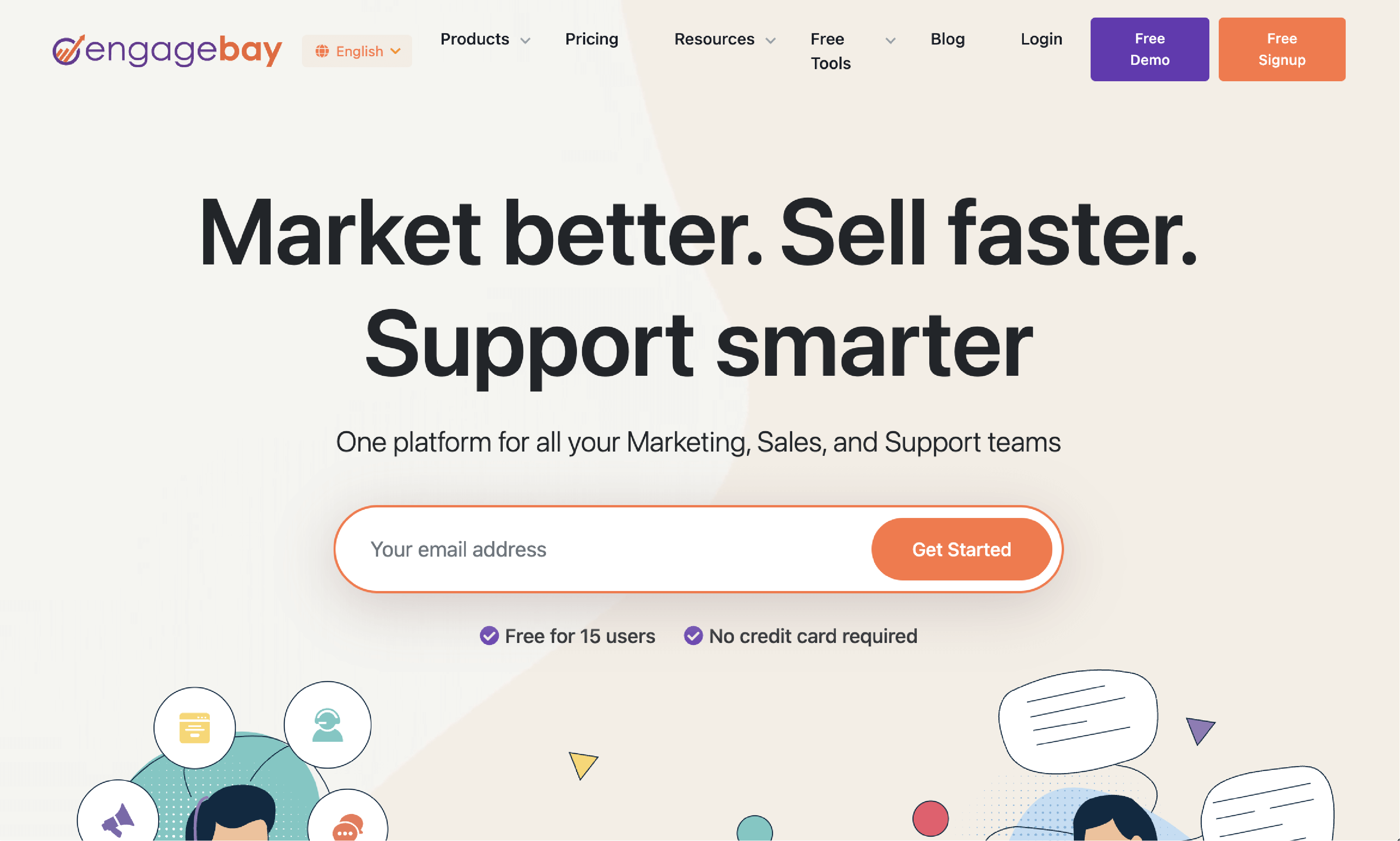 EngageBay is a powerful tool that helps online businesses manage marketing tasks more easily and increase sales. This all-in-one software has tools for capturing leads, sending automated emails, personalized web pages, and keeping track of customers.
EngageBay also gives better targeting with customer segmentation and behavior-triggered automation.
5. Omnisend: Easy Email and SMS Campaigns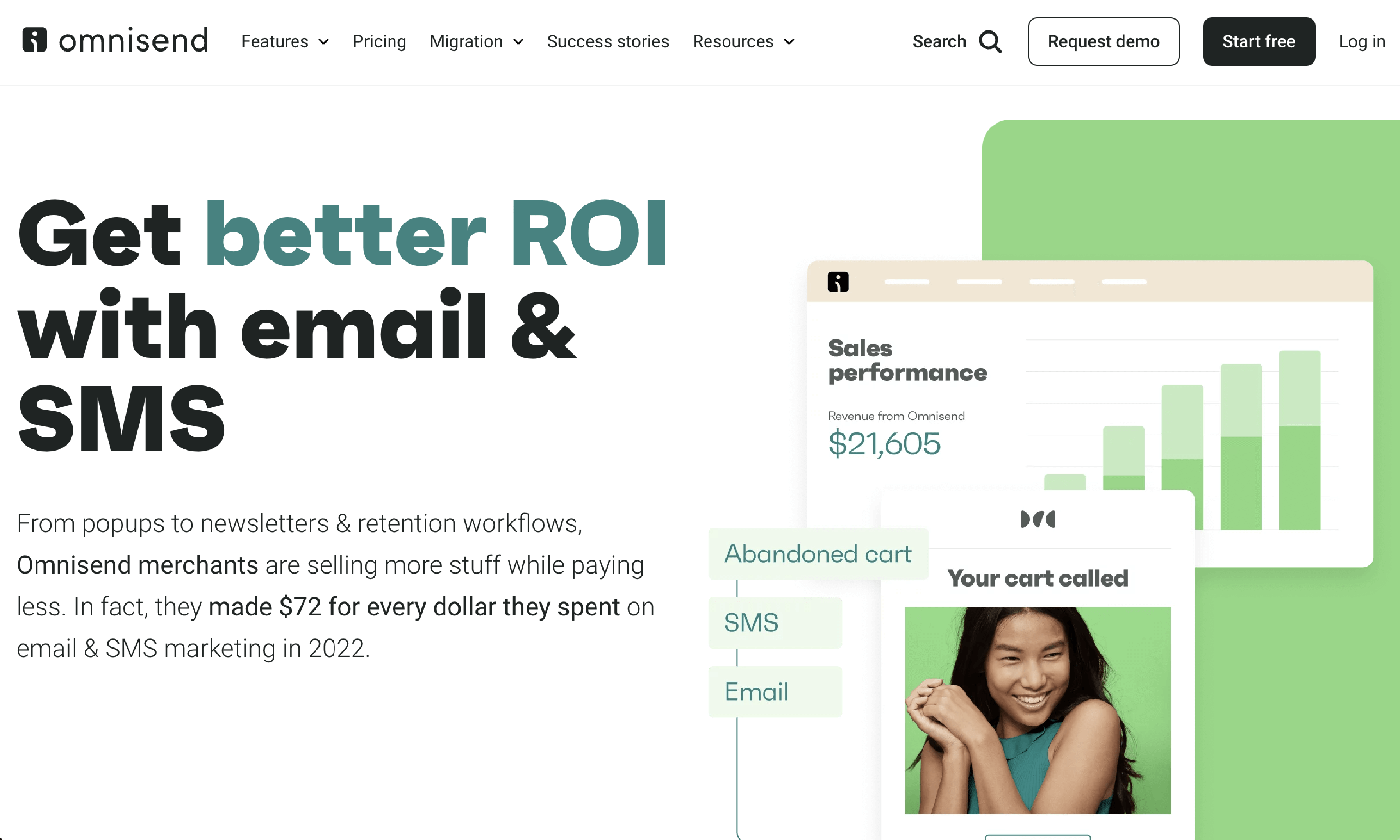 Omnisend is a top ecommerce marketing tool that makes it simple to connect with customers through email and SMS campaigns. It works with common ecommerce platforms like Shopify, WooCommerce, and Magento.
Omnisend also has a user-friendly interface and offers smart features like suggestions for other products and personalized web pages.
6. Sender: Grow Your Ecommerce Business Faster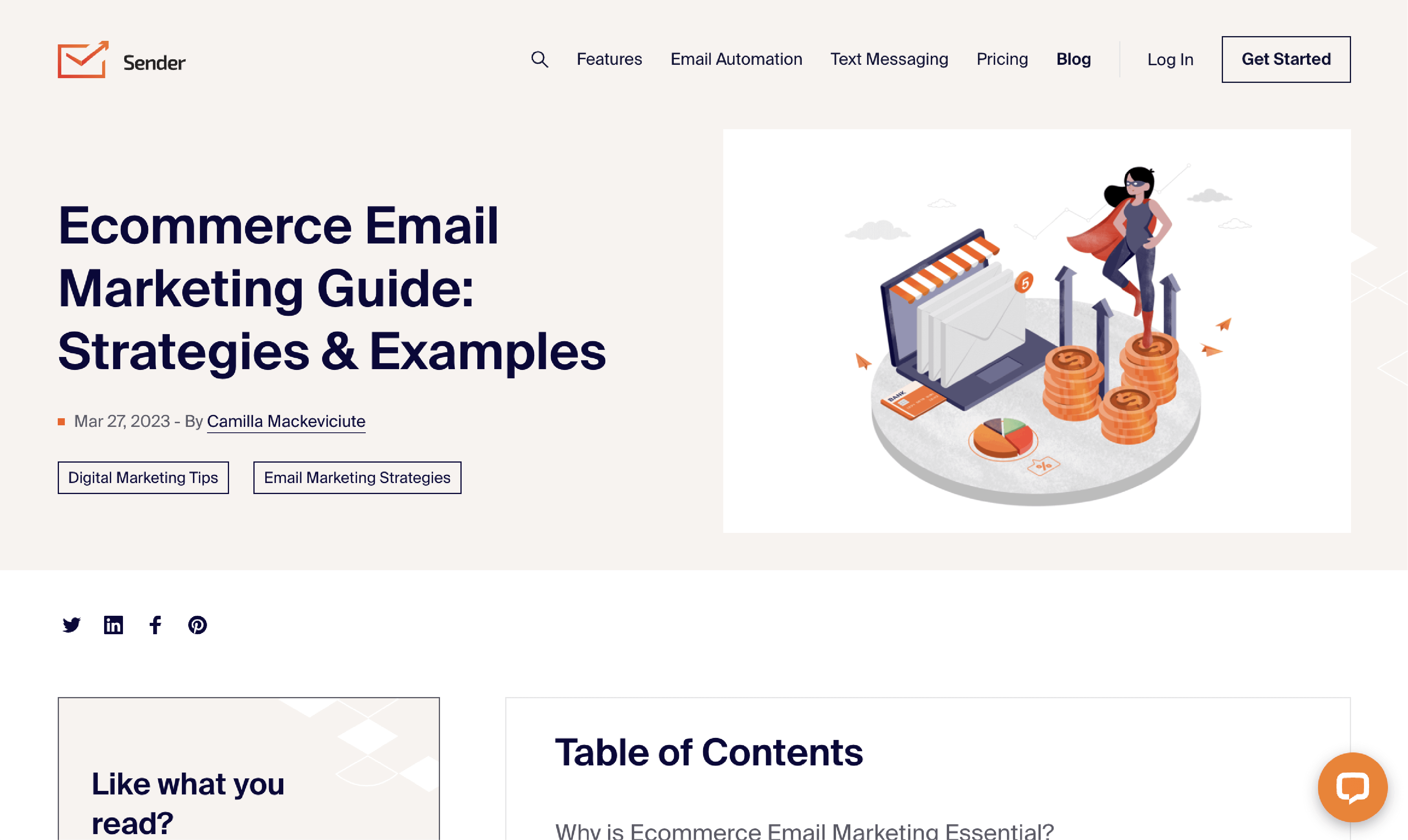 Sender is an easy-to-use ecommerce marketing tool to help businesses achieve their goals. With automated marketing campaigns and links to popular ecommerce platforms, online stores can use Sender to make more money.
Using automation tools like Sender helps businesses stay ahead in the market and grow faster.
7. Brevo: Get More Sales Leads, Spend Less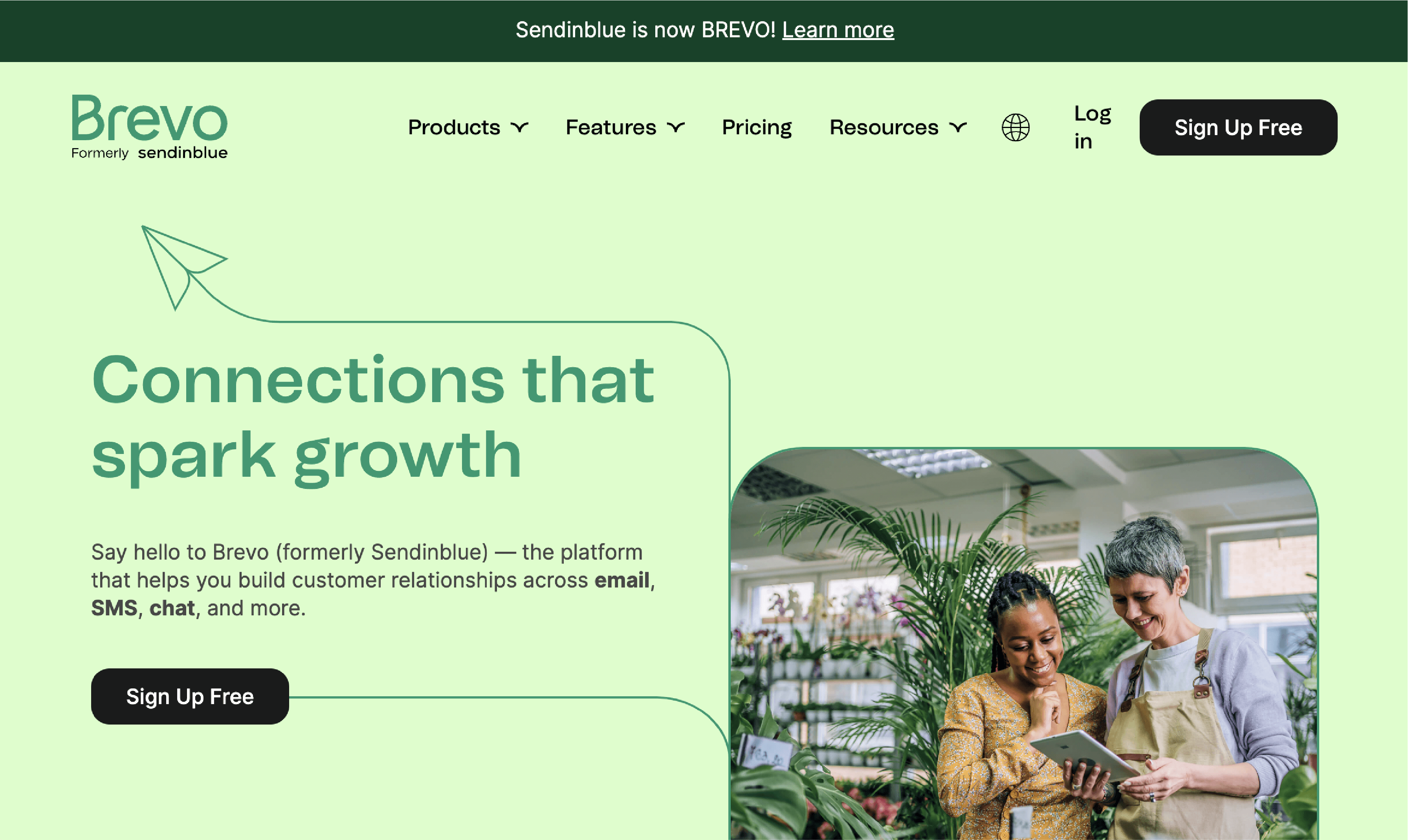 Brevo (formerly Sendinblue) is a famous ecommerce email marketing tool with essential features for making marketing more effective.
It uses smart targeting, automated cart reminders, and personalized content. With such features, Brevo helps businesses make their marketing better.
8. ActiveCampaign: Better Messaging for More Sales
ActiveCampaign is considered one of the best ecommerce marketing tools today. It lets businesses send the right messages to customers, making customers more likely to shop.
ActiveCampaign also connects with over 250 ecommerce tools. It has many helpful features for a successful marketing strategy.
Actionable Ecommerce Marketing Ideas
Ecommerce marketing automation can help boost your online store's growth and revenue. We'll now discuss easy-to-implement marketing ideas that are effective and engaging.
1. Engaging Customers with Dynamic Content
Make your content interactive and tailored to your customers' preferences by:
Customizing content based on customer behavior
Grouping customers into segments
Using different content formats like images, videos, quizzes, etc.
Retargeting visitors with relevant messaging
Testing and optimizing your campaigns
2. Recovering Lost Revenue with Abandoned Cart Emails
Boost your sales by reaching out to customers who left items in their carts:
Send timely emails to encourage customers to complete their purchase
Personalize the email with the customer's name and cart details
Offer incentives like discounts or free shipping
Follow up with customers if the first email doesn't work
3. Customer Retention with Targeted Campaigns
Get inactive users back to your online store with targeted marketing techniques:
Use retargeting ads on social media
Offer referral or incentive programs
Reach out via text messages for registered users.
Target similar users with lookalike audiences
4. Re-engaging Old Leads
Turn inactive users into loyal customers by:
Personalized emails with special offers or promotions
Set up automated follow-up emails
Use triggered email campaigns for inactive users
Launch win-back email campaigns with incentives
Offer promotional coupons with dynamic expiration dates
Segment your email list based on user behavior and purchase history.
5. Segmentation for Increased Sales
Boost your revenue by tailoring your campaigns to specific customer groups:
Use demographics to create targeted campaigns
Segment customers based on user behavior
Group customers by their product interest
Target inactive subscribers with re-engagement campaigns
6. Using Lead Scoring for Higher Conversion Rates
Improve your conversion rates by focusing on the most promising leads:
Focus on high-quality leads
Personalize campaigns based on lead scores
Improve engagement with personalized content
7. Streamlining the Checkout Process with Automation
Simplify and speed up the checkout process to increase sales:
Implement guest checkout options
Use auto-fill forms for faster checkout
Offer multiple payment options
Set up automatic order confirmation emails
Include upselling opportunities during checkout.
8. Testing and Optimizing Landing Pages with A/B Testing
Optimize your landing pages to drive more traffic and conversions:
Create two different landing page versions
Test with a specific goal in mind
Improve conversion rates and driving sales
Test one variable at a time for proper analysis.
Use data from previous campaigns to inform new tests
Continuously testing and optimizing for better results
9. Monitoring Customer Conversations with Automated Social Listening Tools
Keep track of customer conversations and trends using automation tools:
Identifying pain points and preferences in customer conversations.
Creating effective marketing campaigns based on insights.
Staying ahead of competition.
Managing brand reputation.
Identifying influencers for collaborations.
Understanding audience communication style.
Analyzing competitor strategies.
Collecting feedback for product improvements.
10. Automating Customer Reviews on Your Website
Enhance trust and credibility by automating the review collection process:
Use customer review software for easy feedback collection
Automatically send emails asking for reviews
Follow up with customers who haven't left a review
Moderate reviews to filter out spam
Reward customers who leave positive reviews
11. Rewarding Loyal Customers with Special Offers
Boost customer retention and loyalty by offering exclusive rewards and perks:
Use point-based reward systems
Offer exclusive deals or discounts based on purchase history
Send personalized offers based on browsing behavior
Tailor offers to specific demographics
Use dynamic expiration dates for limited-time rewards
Provide promotional coupons
Offer customized experiences for top customers
FAQs: Ecommerce Marketing Automation
1. How do you use marketing automation for ecommerce?
You can use marketing automation for ecommerce in the following ways:
Implementing customer relationship management (CRM) software
Using marketing automation software to streamline various tasks.
The tasks can include lead generation, customer engagement, and management. You can optimize social media promotions, landing pages, and email marketing campaigns to improve customer experiences.
2. What are the 4 pillars of marketing automation?
The four pillars of marketing automation are:
Lead generation: attracting and capturing potential customers through various channels.

Engagement: nurturing leads and building relationships through personalized content and interactions.

Conversion: turning leads into customers by guiding them through the sales funnel.

Retention: keeping customers loyal and engaged, encouraging repeat purchases and referrals.
3. How would you explain marketing automation in a simple way?
Marketing automation is the use of software to automate repetitive marketing tasks, making it easier to target and engage with customers in a personalized manner.
This helps businesses save time, increase efficiency, and improve the effectiveness of their marketing strategies.
4. What is B2C marketing automation?
Business-to-consumer (B2C) marketing automation focuses on automating marketing efforts for companies that sell products or services directly to end customers.
This involves using tools like CRM software, email marketing automation, social media, and landing pages to create tailored marketing campaigns for increased conversions and better customer experiences.
Summary
Ready to implement the ecommerce marketing automation strategies? In this article, we covered marketing automation ideas for your online store, including dynamic personalization, segmentation, and chatbots. Plus, we explored top tools like Klaviyo, Omnisend and HubSpot.
Boost your digital marketplace with these strategies and tools. Catch the latest Magento news for more useful ecommerce insights.