Magento B2B Ecommerce: Top Features to Boost Sales!
Magento B2B companies are adapting for smooth and user-friendly e-commerce experiences. As the industry moves towards online transactions, a robust platform for your B2B store is essential for success.
Magento is a renowned B2B commerce leader. It offers a complete solution that meets the unique needs of B2B businesses. You can deliver an unmatched online shopping experience.
This article will explore Magento's critical benefits as a B2B ecommerce platform. We'll discuss the robust B2B features of Magento 2 and how to thrive in the competitive online market.
We'll cover Magento B2B unique aspects such as:
Quick order features
Customer segments
Managing Inventory
Request Quotes
Managing Credit limit
Manage customers
Magento B2B security features
Business Intelligence
Let's dive in and discover why Magento is the perfect choice for your B2B e-commerce needs.
Features of Magento B2B E-Commerce
1. All-in-One Magento Platform for B2B Business
Magento ecommerce platform offers a comprehensive solution for B2B businesses. It allows them to manage customers, multiple brands, channel partners, and accounts quickly.
Magento can be integrated with your ERP or CRM systems with an easy setup process. It enables efficient tracking of quotes, order histories, and credit management.
The one-stop platform ensures a consistent brand experience for B2B and B2C customers.
2. Quick order and linear purchasing process
Magento's quick order feature enables buyers to place orders quickly and conveniently. It allows clients to enter SKUs or use requisition lists directly.
Customers can bypass extensive browsing and proceed directly to checkout. It speeds up the purchase process. It facilitates rapid reorders for recurring purchases and ultimately drives revenue growth.
The requisition lists allow merchants to create unlimited lists of frequently ordered products. It includes best-sellers or the latest collections.
Merchants assign these lists to selected customers for an easy reordering experience.
To enable Requisition Lists, merchants can click "Create New Requisition List". It is located in the sidebar of their account and adds products to the list.

Magento automatically validates the SKU. It checks the inventory and notifies the customer of product availability.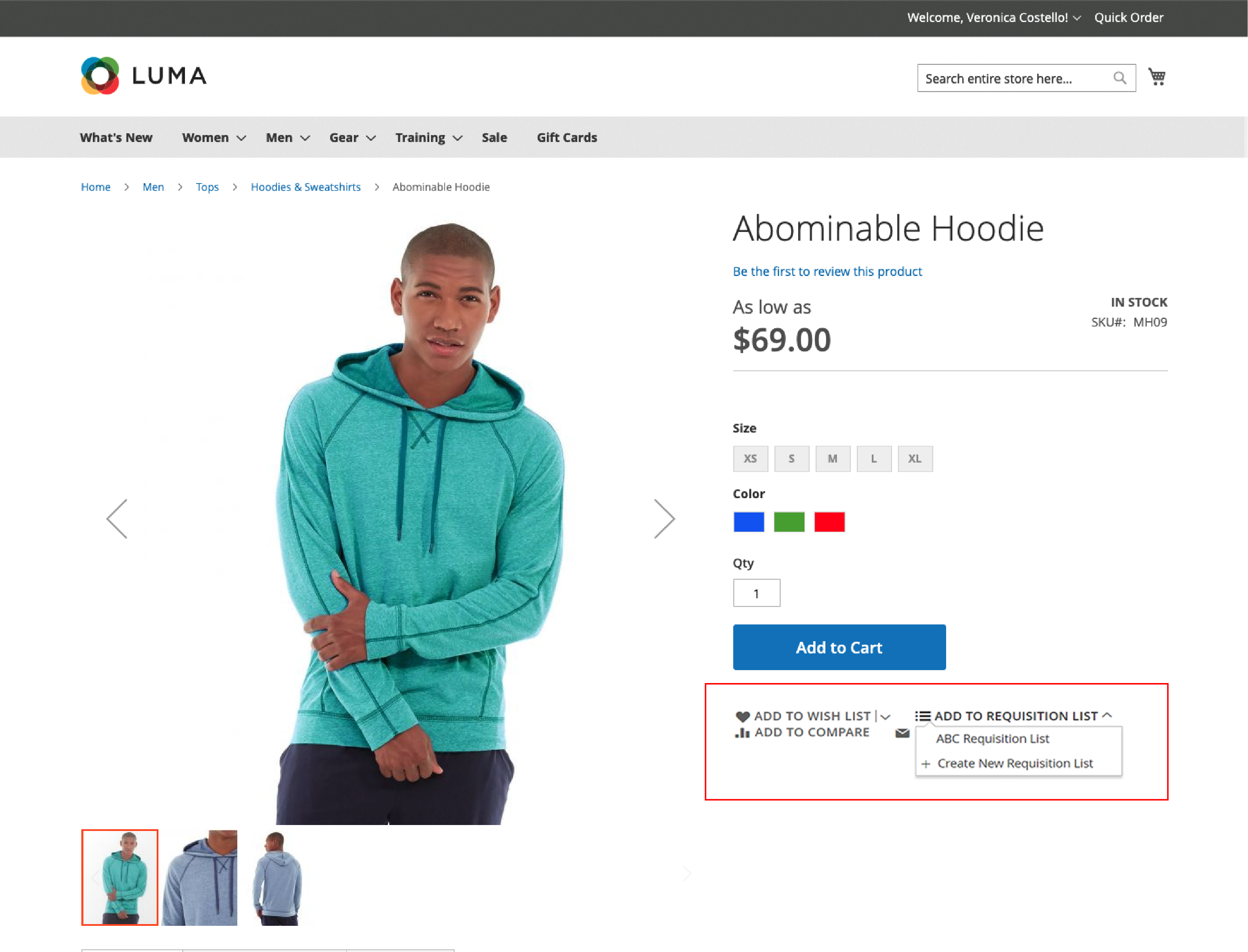 Such powerful Magento B2B features help streamline your operations and drive revenue growth.
3. Advanced analytics
When it comes to Magento B2B websites, targeted analytics solutions help with business growth. Each B2B customer's intent is unique, even when ordering the same products.
Advanced analytics that allows you to tailor KPI tracking to individual customers. It is based on catalogs, contracts, and actions.
Magento's Business Intelligence helps monitor your business analytics. With Magento 2.4, you can access over 25 B2B-focused reports with easy-to-use dashboards.
You can dive deep into customer insights and make informed decisions to drive revenue growth.
You can use the following-
Retention rates
Average order value
Customer lifetime value.
Customer-specific catalogs and pricing.
Product suggestions.
4. Advanced customer groups and segments
Magento Commerce allows for customer groups and segments based on customer behavior. It includes browsing behavior, purchase history, or other criteria.
It allows businesses to tailor their offerings to specific customer groups. It helps increase customer satisfaction and loyalty.

You can display content and promotions to specific customers based on particular properties. Magento allows customer segments and customer groups using-
Order history
Specific products viewed
Products in the cart
The total value of products
The number of items in the cart.
5. Flexible Credit Limits and Payment Options
Magento understands that credit plays a significant role in B2B commerce. The platform enables businesses to store payment methods and purchase transactions.
You can allocate credit limits to credible buyers. It allows buyers to choose a "payment on account" option at checkout and pay at their convenience.
Set the following credit-related parameters for each company profile:
Credit Currency
Credit Limit
Allow to Exceed Credit Limit
Reason for Change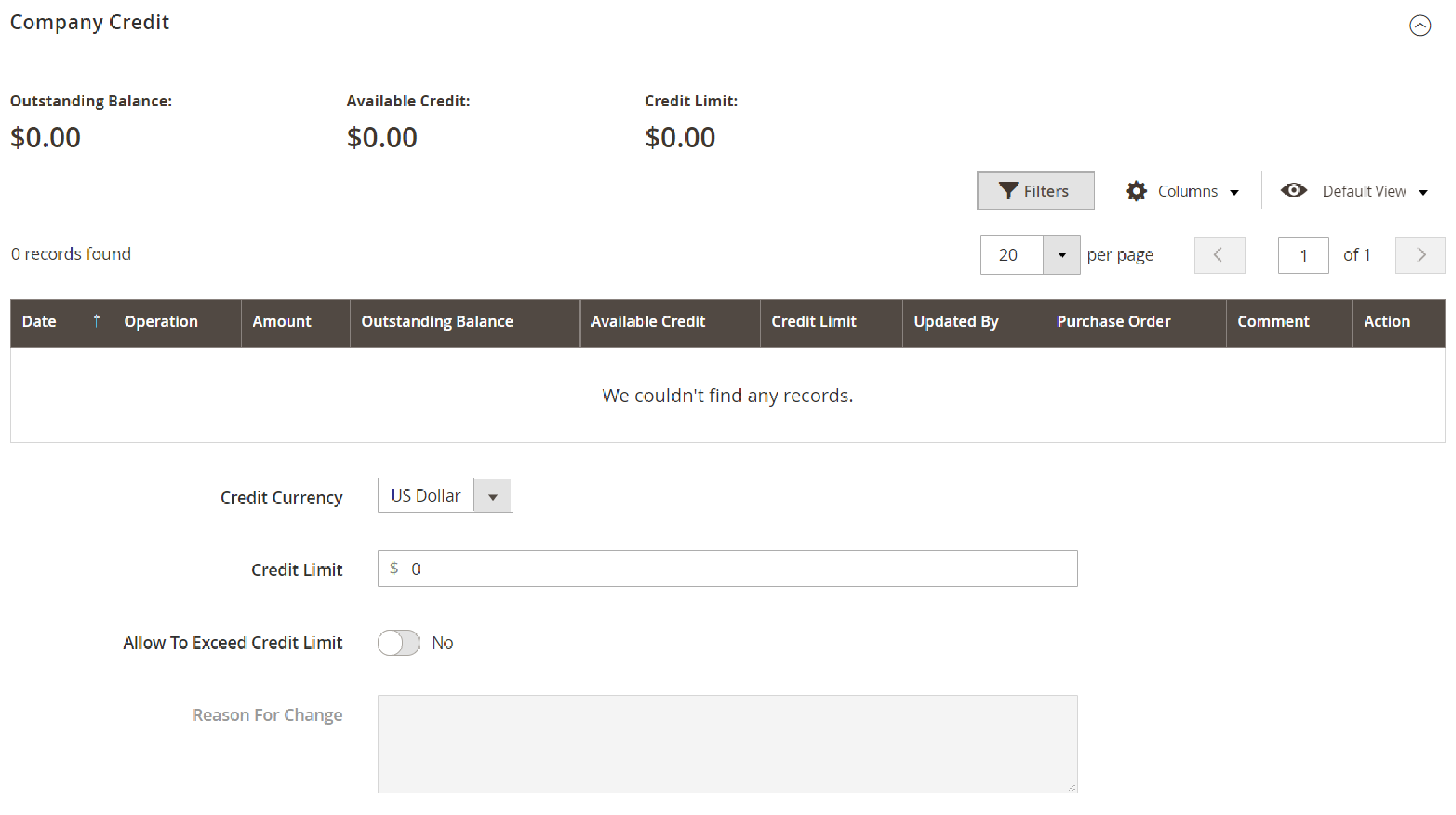 ERP or CRM systems allow you to sync credit limits across platforms.
6. Postponed Payments in Magento 2
In Magento B2B transactions, postponed payments are expected for high orders and long-term relationships.
You can companies finish checkout with postponed payments without installing Magento extension.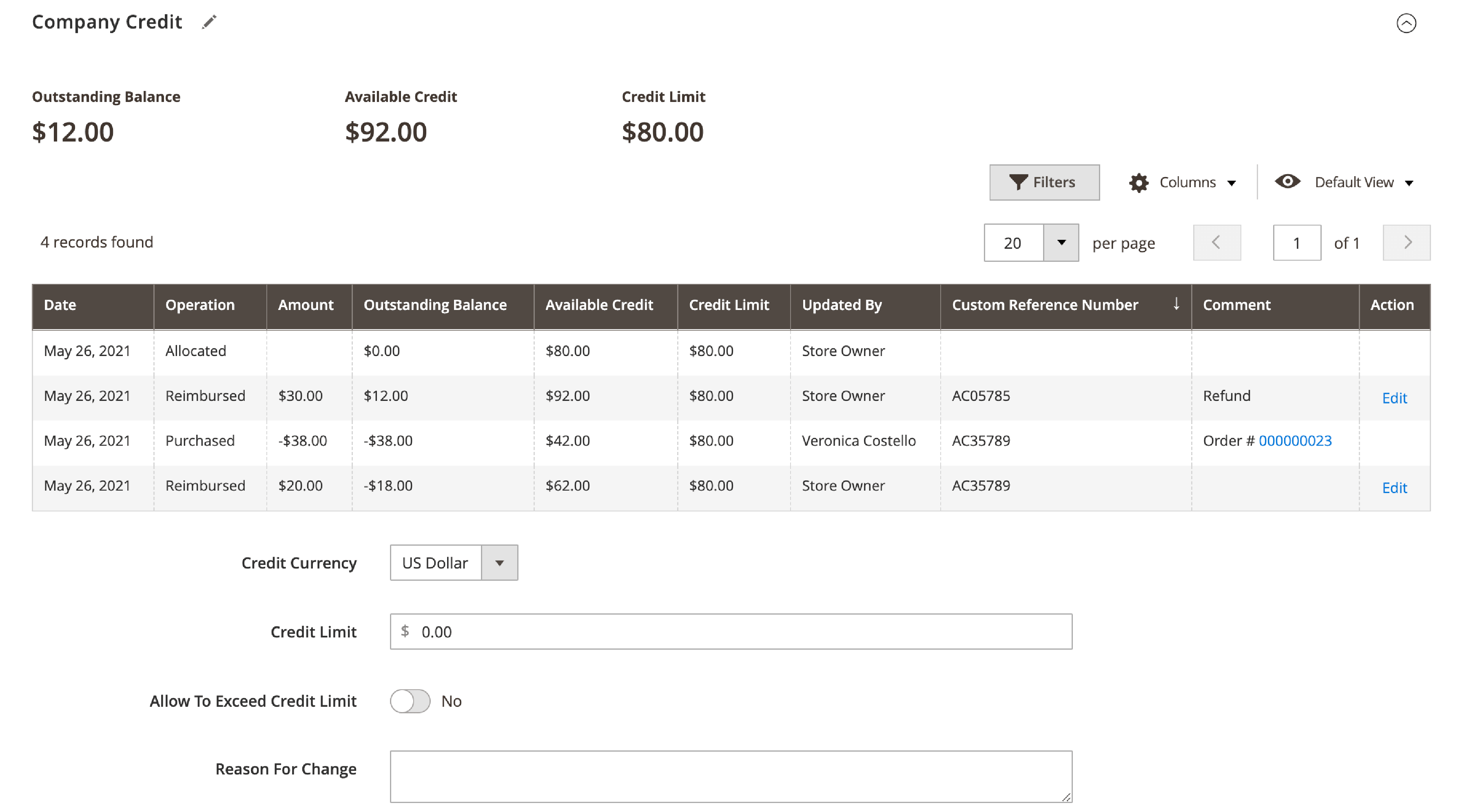 It lets you monitor customer credit data and set limits for each account. Trusted buyers can get access to more generous credit limits.
7. Company Credit Reimbursements
Magento also allows you to set a reimbursed balance for each account. Admins can enter the reimbursed amount in the company's profile. It is done after the company pays back the money.
Magento recalculates the outstanding balance and records the action in the credit history. To apply a payment to a company account, follow these steps:
Click Customers > Companies on the Magento Admin sidebar.

Open the edit mode of the company record

Click Reimburse Balance at the top of the page

Fill in the payment information. Add the amount as a positive or negative value.

Enter the Purchase Order number. Or you can create a separate reimbursement for each multiple purchases.

Click "Reimburse" to apply the payment.

Magento simplifies postponed payments and credit reimburses for B2B businesses.
8. Managing Inventory
Magento's smart inventory managing feature helps optimize B2B operations. It offers customers real-time inventory data across the entire supply chain.
You can automate the process of keeping track of their stock levels. Magento B2B's has replenishment rules. It automatically reorders products when it starts to run low.
Magento allows for better delivery cost and time optimization. Distributors get insight into available inventory across multiple locations. As a result, businesses can deliver better customer experiences and boost sales.
9. Magento B2B Quotes and Price Negotiation System
B2B transactions often involve bulk orders and regular negotiations.
Magento has an advanced quotation system. It allows buyers to request quotes and engage in price negotiations through a linear quote request process.
It attracts more buyers and increases sales conversions by catering to the unique needs of Magento B2B clients.
With Magento's B2B Quote feature, authorized buyers can initiate price negotiation. It is initiated before purchasing items from the catalog.
The request form includes the entire communication history between the buyer and seller. It also has the option to attach additional files.
Benefits of Magento's B2B Quote feature include:
Fast offer-based price negotiations.

Check quote status and upload documents.

Contact sales representatives directly

Authorized users view only feature.

Option to set quote expiration dates.

Accept or reject quotes, and calculate discounts.

Check out total costs, and upsell.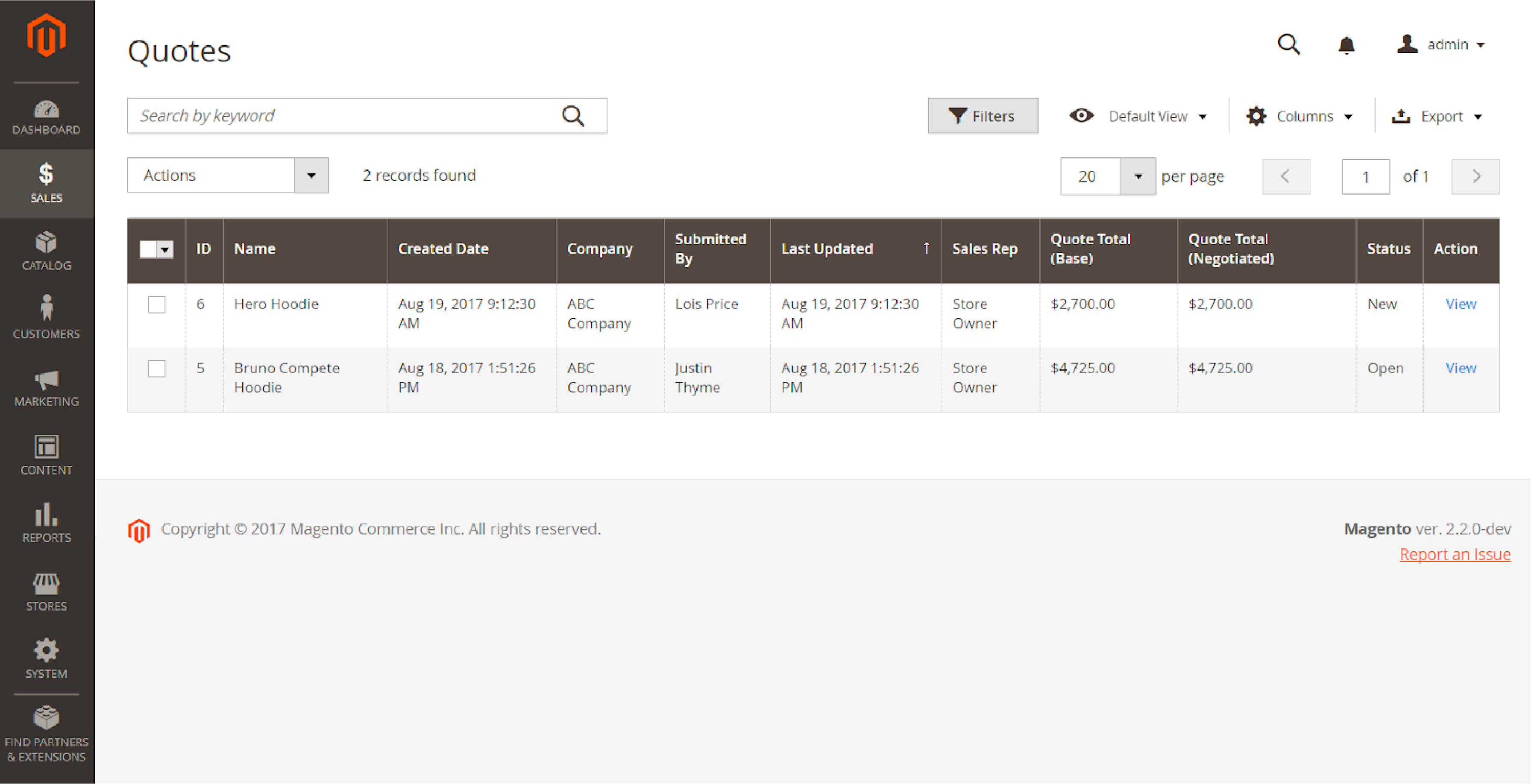 With Magento, businesses can efficiently manage quote requests and negotiate prices. You can build a reputation as a trusted merchant.
Enhancing the B2B Customer Experience with Magento Commerce
1. Responsive and mobile-friendly design
A responsive and mobile-friendly ecommerce site is crucial for a unique shopping experience.
Magento prioritizes mobile-first design. It offers optimized navigation and easy-to-use interfaces. You also get rapid page loading for a smooth user experience across different devices.
By prioritizing mobile users, Magento helps businesses stay competitive.
2. Rule-based product relations for target merchandising
Magento's rule-based product relations feature enables businesses to create personalized product recommendations.

It is based on predefined criteria such as customer behavior, purchase history, or Magento product attributes. It allows companies to promote relevant products to their customers.
As a result, it increases the likelihood of cross-selling and up-selling opportunities.
3. Content staging and dynamic product pages
Content staging is a native Magento feature. It helps manage and preview content updates before publishing. It ensures a consistent and error-free presentation of your products and services.
Dynamic product pages in Magento display tailored product information. It is based on customer groups or browsing behavior.
It also lets you automate chances on a pre-defined schedule. It allows content staging for products, categories, price rules. You can schedule Magento CMS pages and widgets.
Magento B2B Technical Support
1. Expert support for troubleshooting and updates
Magento Commerce (Magento Enterprise) offers expert technical support for B2B merchants. It includes:
Troubleshoot issues
Site updates
Access Magento B2B docs
Magento Commerce support Knowledge Base
Create a support ticket for additional help.
Magento's support team helps B2B companies resolve any issues. It keeps the e-commerce operations running at high performance.
2. Magento Security features
Magento security is a top priority for any B2B ecommerce business. Especially when it comes to protecting sensitive customer and transaction data.
Magento understands this and provides robust security features such as-
2 FA
Strong data encryption
Regular security patches
Magento Commerce Cloud (formerly Magento Enterprise) provides a highly secure environment. You get additional security benefits such as-
Managed Magento Hosting providers also offer enhanced security features to protect your online store from potential attacks. It is important to review the security services and tools they provide to safeguard your store.
Magento B2B Pricing and B2B Modules
1. Free and Premium Magento B2B options
Magento offers a variety of pricing options to suit the needs of different businesses. It ranges from a free, open-source version called Magento Open Source.
The premium plans are under Magento Commerce, which is now part of Adobe Commerce.
The open-source Magento versions provide a solid B2B foundation for small to medium-sized businesses.
For extensive Magento B2B functions, businesses should consider the premium Adobe Commerce plan. It caters to the complex requirements of larger enterprises and Magento B2B companies.
Learn more about Magento pricing and its ecommerce website cost.
2. B2B-specific modules and extensions
Businesses can further enhance their B2B operations with many B2B-specific modules and Magento extension.
The add-ons address specific needs within the Magento B2B realm. It include features such as-
Customer groups
Customized pricing
Bulk ordering
Quotation processes.
With Magento extensions, you can create a feature-rich e-commerce platform. It will caters to your unique B2B requirements.
Magento developers can help add any plugins required for your store. Ensure that the extensions are compatible with the Magento versions.
Successful B2B Sales Strategies for Magento Store Owners
1. Utilizing custom catalogs and tiered pricing for customer loyalty
Magento B2B enables the creation of custom catalogs and tiered pricing strategies.
Custom catalogs allow businesses to present tailored product assortments. You can create pricing structures for different customer groups. Segment customers based on pricing structures and add promotions.
Tiered pricing allows bulk purchases by offering discounts. It may be based on order quantity or total spending. Using these strategies, businesses can encourage customer loyalty and increase order values for their B2B stores.
2. Managing customer accounts and permissions
Magento B2B features allow you to easily create and manage customer accounts.
You can assign different roles and permissions to users within each account. This level of control ensures that customers can access the appropriate information.
It fulfils their needs while maintaining data security and privacy. Streamlined accounts boost customer satisfaction and improves operational efficiency.
3. Business intelligence for data-driven decisions
Magento's built-in analytics jelp make data-driven decisions that optimize their sales strategies.
You can analyze key metrics such as:
Sales data
Customer behavior
Identify trends and areas for improvement
New opportunities for growth.
Resource usage
This valuable insight enables companies to fine-tune their Magento B2B strategies, With Magento's robust analytics tools, you get latest business insights to get ahead of the competition.
Summary
Magento stands out as the ideal B2B e-commerce platform. You can easily optimize operations and streamline the purchasing process.
It offers a suite of features such flexible pricing options, inventory managing. You can create custom account, have quick orders and price negotiations.
Magento equips store owners with the tools they need to increase revenue. It's advanced analytics help deliver personalized content to their target audience.
It enables businesses to cultivate customer loyalty and streamline purchase transactions. Ultimately, Magento's capabilities allow for sustained growth and efficiency in the B2B landscape.
Get the latest news about the Magento platform at the MGT Commerce blog.