7+ Magento Reports: Sales, Product, Customer Reports to Drive Sales
Analyzing your store's performance has never been easier with Magento Reports. Magento 2 offers seven key resources, including Marketing, Sales, Business Intelligence and Customer Engagement reports. Discover how Magento 2 Reports can transform your data analysis game and drive your business towards unparalleled success. Stay tuned for insights that can elevate your online store to the top!
Key Takeaways
Magento 2 offers numerous types of reports including sales, marketing, customer, product, and review reports.
Magento reports provide valuable insights into your shop's performance, helping you make informed, data-driven decisions.
Sales reports can track revenue and evaluate the effectiveness of sales strategies.
Marketing reports can gauge the success of marketing campaigns and find potential improvements.
Customer reports can help tailor marketing strategies by understanding customer behaviors and preferences.
Product reports analyze inventory and identify best-selling and low-stock products.
Advanced reports and business intelligence features in Magento offer in-depth analysis and customizable reports.
Successfully managing and analyzing Magento reports can optimize e-commerce operations and drive sales increase.
Magento reports offer an essential tool to gain insights into the customer behavior and optimize marketing, sales, and customer engagement strategies.
What are Magento 2 Reports?
Magento 2 offers a wide range of advanced reports to help store owners analyze their store's performance and make data-driven decisions.
These reports provide valuable insights into sales, customer behavior, and website traffic. In this section, we will discuss the different types of Magento 2 reports, including sales reports, marketing reports, reviews reports, customer reports, and product reports.
1. Sales Report
Sales reports are crucial for monitoring your store's revenue and understanding the effectiveness of your sales strategies. Magento 2 provides various sales stats, such as:
Orders: Displays the total number of orders, items ordered, and revenue.
Tax: Shows the tax collected for each tax rate and region.
Invoiced: Displays the total invoiced amounts for each order.
Shipping: Provides information on shipping methods, amounts, and destinations.
Refunds: Lists the total refunded amounts for each order.
Coupons: Shows the usage of coupon codes, including the number of times they were used and the generated revenue.
2. Marketing Reports
Marketing reports help you measure the success of your marketing campaigns and identify areas of improvement. Magento 2 offers several marketing reports, including:
Search Terms: Analyzes the search terms used by customers on your website.
Abandoned Carts: Lists the abandoned carts and the products left in them.
Newsletter Problem Reports: Provides information on issues related to newsletter delivery.
3. Reviews Reports
Reviews reports provide insights into customer feedback and help you identify popular products and areas for improvement. Magento 2 offers two types of reviews reports:
Reviews by Customers: Displays the number of reviews submitted by each customer.
Reviews by Products: Shows the number of reviews received for each product.
4. Customer Reports
Customer reports help you understand your customers' behavior and preferences, enabling you to tailor your marketing strategies accordingly. Magento 2 and Adobe commerce edition offers various customer reports, such as:
New Accounts: Lists the newly created customer accounts.
Wish Lists: Displays the products added to customers' wish lists.
Segmentation: Provides insights into customer segments and their behavior.
5. Product Reports
Product reports help you analyze your inventory and identify best-selling items, low-stock products, and products with high views. Magento 2 offers several product reports, including:
Views: Displays the number of views for each product.
Bestsellers: Lists the best-selling products based on the number of items sold.
Low Stock: Shows products with low stock levels.
Analyzing Sales Performance through Magento 2 Reports
Magento 2 reports provide valuable insights into key metrics and statistical data, such as sales by country, number of orders, and total amount. By analyzing these metrics, you can identify trends, optimize marketing strategies, and improve customer satisfaction.
Magento Sales Reports: A Comprehensive Overview
Magento 2 offers a wide range of sales data to help you track your store's progress. Some of the most important reports related to sales performance include:
Orders: This report shows the total number of orders, their tax, invoiced amounts, shipping fees, and any refunds or coupons applied. By analyzing this sales data, you can identify patterns in customer behavior and adjust your pricing or promotional strategies accordingly.

Tax: The tax report provides detailed information on collected taxes, helping you ensure accurate tax reporting and compliance.

Invoiced: This report displays the total invoiced amounts, allowing you to track your store's revenue and monitor its financial performance.

Shipping: The shipping report offers insights into shipping fees and methods, helping you optimize your logistics and shipping strategies to minimize costs and maximize customer satisfaction.

Refunds: By analyzing the refunds report, you can identify common reasons for returns and take corrective action to reduce refund rates.

Coupons: The coupons report helps you track the effectiveness of your promotional campaigns and adjust your marketing strategies and category sales data for better results.
Analyzing Sales by Country
The sales by country report provides a geographical breakdown of your store's orders, allowing you to identify your most profitable markets and tailor your marketing efforts accordingly. By focusing on high-performing country sales, you can maximize your store's revenue and expand your global reach.
Number of Orders and Total Amount
The number of orders and total amount reports offer insights into your store's overall sales performance. By monitoring these metrics, you can identify trends in customer behavior, such as peak shopping periods or seasonal fluctuations and weak sales.
The information can help you make data-driven decisions, such as adjusting your inventory levels, running promotions, or optimizing your website for better conversion rates.
Gaining Insights into Customer Behavior with Magento 2 Reports
Magento 2 reports are an essential tool for online businesses to gain valuable insights into various aspects of their operations, including customer behavior. Businesses can make data-driven decisions to optimize their marketing, sales, and customer engagement strategies.
In this section, we will discuss how Magento 2 reports can provide insights into customer behavior, focusing on search terms, abandoned carts, and newsletter problem reports.
1. Search Terms
One of the key reports for understanding customer behavior is the search terms report. This report showcases the most popular search queries used by customers while browsing your Magento 2 store.
This information can be used to improve your site's search functionality, optimize product placements, and tailor your marketing campaigns to match customer interests.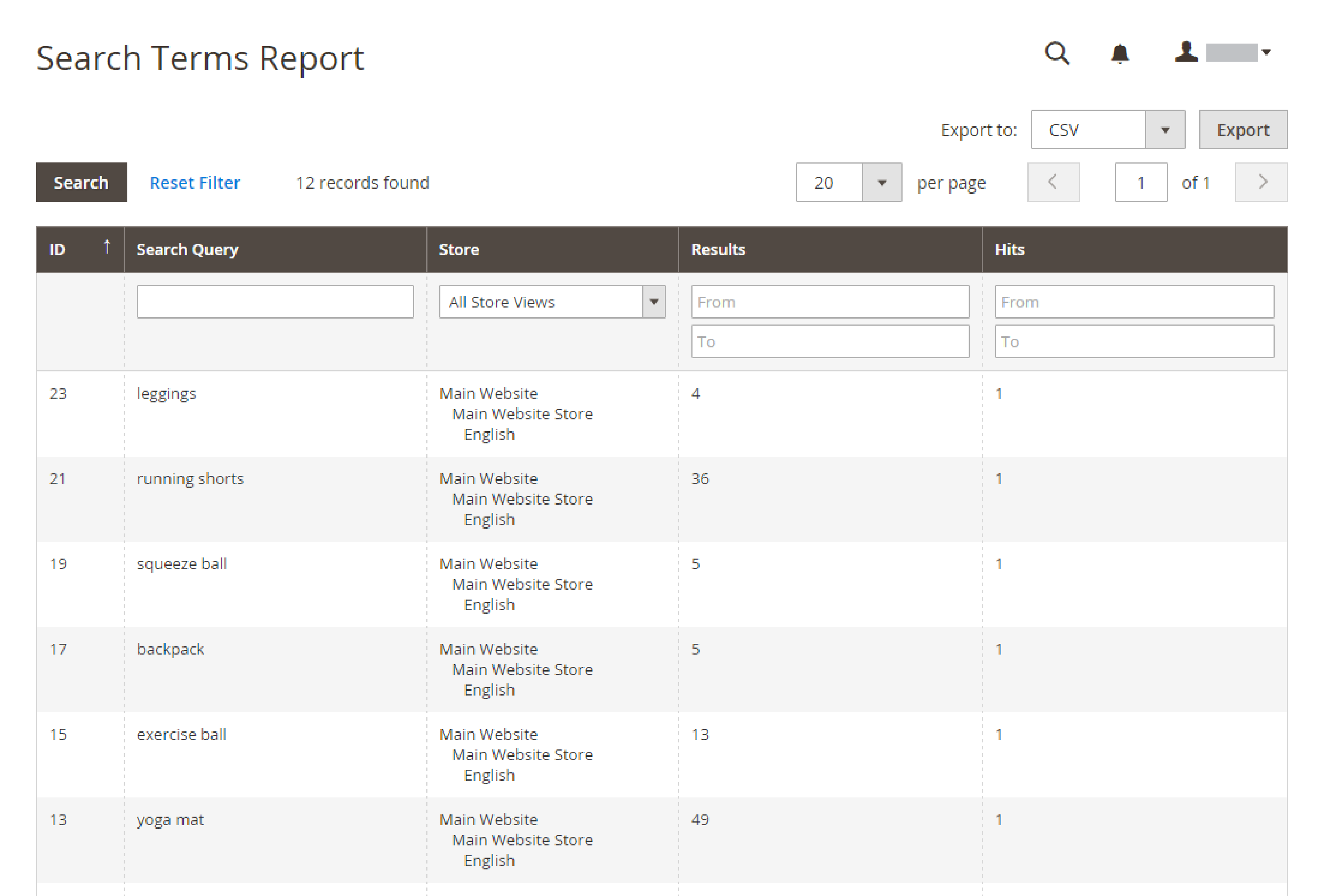 2. Abandoned Carts
Another critical aspect of customer behavior is understanding why customers abandon shopping carts without completing their purchase. Magento 2's abandoned carts report provides detailed information about customers who have added items to their carts but have not proceeded to checkout.
The report includes data on the customer's contact details, cart contents, and the date and time the cart was abandoned.
You can identify patterns and potential issues that may be causing customers to leave without making a purchase. For example, high shipping fees, complex checkout processes, or lack of payment options could be factors contributing to cart abandonment. Addressing these issues can help improve the customer shopping experience and increase conversion rates.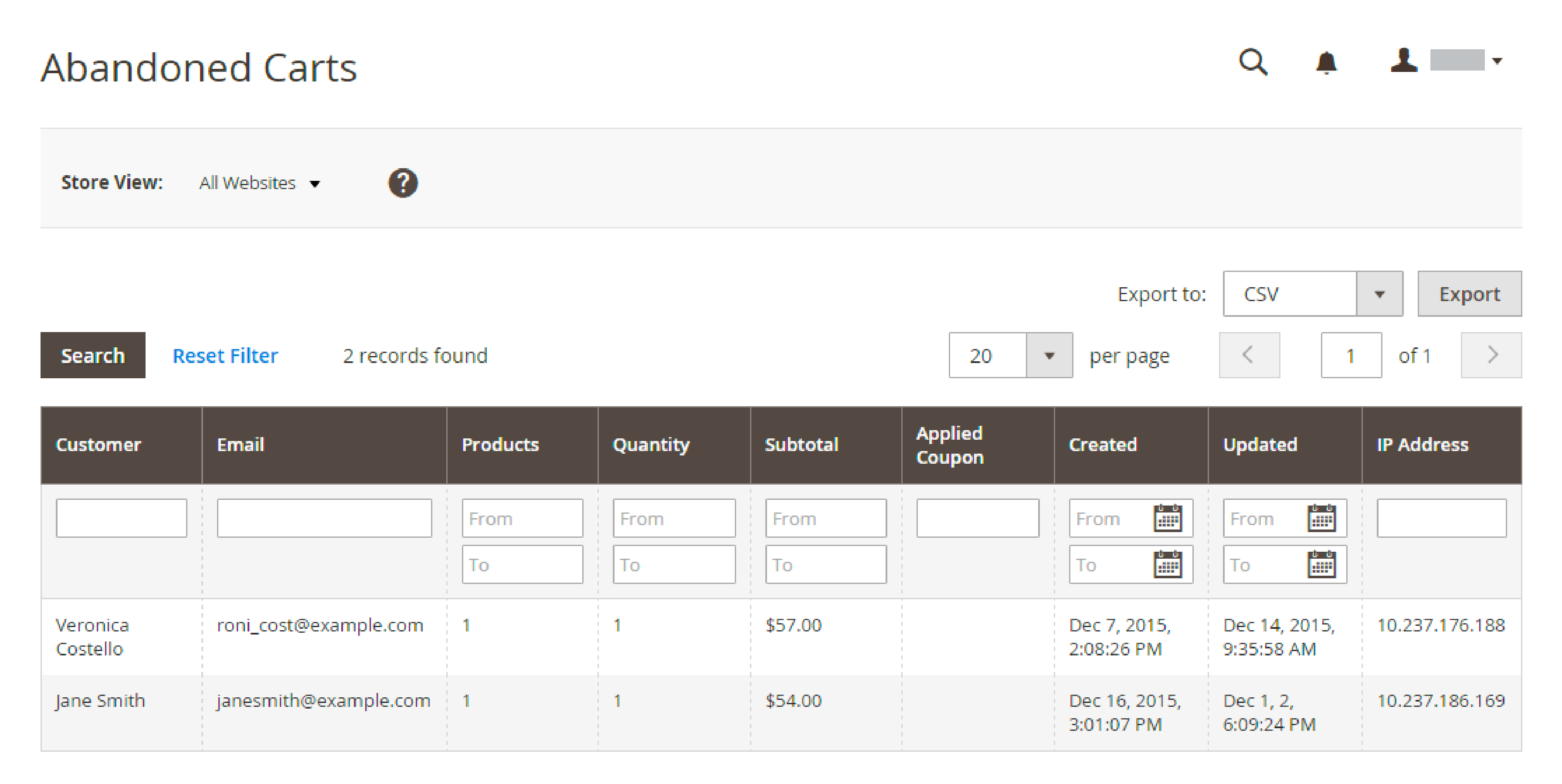 3. Newsletter Problem Reports
Email newsletters are a crucial marketing tool for online businesses, enabling them to reach out to customers with promotions, updates, and other relevant content.
However, technical issues or poor content quality can lead to customers not receiving or engaging with these emails. Magento 2's newsletter problem reports provide insights into any issues that may be affecting your email campaigns, such as delivery failures, spam complaints, and unsubscribe requests.
This can lead to improved email deliverability, increased customer engagement, and ultimately, higher revenue through more effective marketing campaigns.

Using Advanced Reports and Business Intelligence
Magento 2 offers a wide variety of reports that can help eCommerce businesses make prudent business decisions. One of the most powerful features of Magento 2 is its advanced reports extension, which allows users to generate more detailed and actionable insights.
Using advanced reports and business intelligence features can significantly improve store performance, leading to increased profits and customer satisfaction.
Benefits of Magento 2 Advanced Reports
Magento 2 advanced reports provide businesses with a deeper understanding of their store's performance, enabling them to make better-informed decisions. Some of the key benefits of using advanced reports in Magento 2 are:
In-depth analysis: Magento 2 advanced reports provide detailed data on various aspects of store performance, such as revenue, customer behavior, and product popularity. This information helps businesses understand which areas are performing well and which need improvement.

Customizable reports: The advanced reports extension allows businesses to create customized reports tailored to their specific needs. This enables them to focus on the data that matters most to them, leading to more effective decision-making.

Visual representations: Magento 2 advanced reports include visual representations of data, such as charts and graphs, making it easier for businesses to understand and analyze the information.

Easy export: The advanced reports extension allows businesses to export the data in various formats, such as CSV, Excel, or PDF, for further analysis or sharing with stakeholders.
Business Intelligence in Magento 2
Business intelligence (BI) is a critical component of modern eCommerce operations. It involves analyzing data to gain insights and make informed decisions that can improve store performance. Magento 2 offers several features and tools that support business intelligence, including:
Advanced Reporting: Magento 2 offers native advanced reporting capabilities, powered by Adobe Analytics. This feature provides in-depth insights into store performance, customer behavior, and marketing efforts. Businesses can use this feature to identify trends, patterns, and opportunities for improvement.

Integration with third-party BI tools: Magento 2 can be integrated with various third-party business intelligence tools, such as Google Analytics, Power BI, and Tableau. These tools can provide additional insights and help businesses make more informed decisions.

Data warehousing: Magento 2 supports data warehousing, which involves storing, processing, and analyzing large volumes of data. This enables businesses to analyze historical data and make long-term strategic decisions.

Real-time analytics: Magento 2 supports real-time analytics, allowing businesses to monitor store performance and customer behavior in real-time. This enables them to make quick decisions and respond to changing market conditions.
Adobe Commerce Reports
1. Site-wide Analysis Tool Access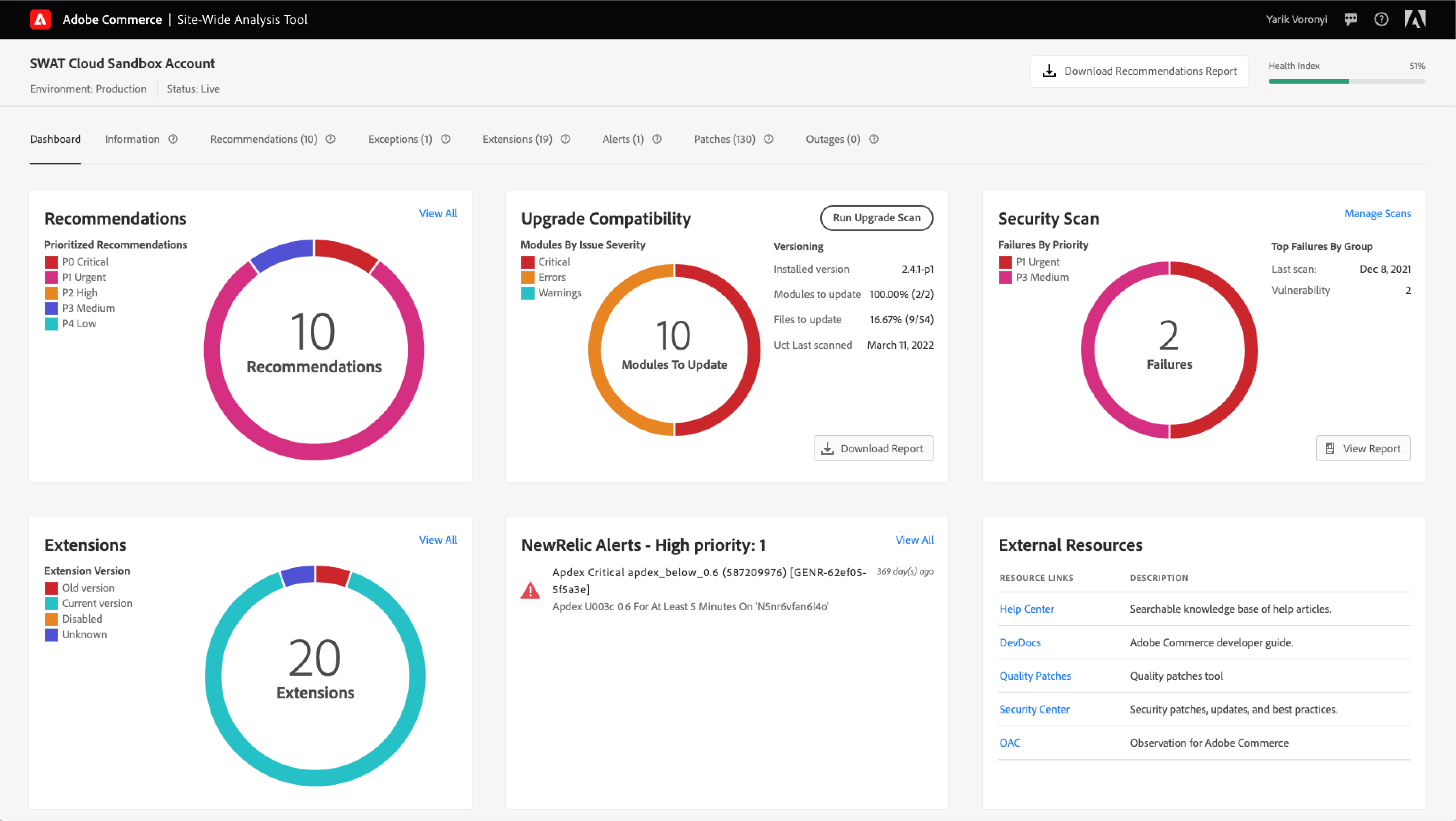 Adobe Commerce has a premium tool known as the Site-wide Analysis Tool in Magento which serves as an all-in-one solution for website analysis. This tool offers a complete and wide range of features for tracking website interactions and conversions.
Main features include tracking user interactions, conversion tracking, segmentation of user data, and visualizing analytics data in a user-friendly manner.
This tool also provides a simplified dashboard for easy understanding and access to all the data insights.
Magento Users can access this tool directly from the Adobe Commerce Admin.
2. Customer Reports on Magento
The Magento platform also includes customer reports that provide a comprehensive analysis of customer activities.
Some of these reports include Orders and Accounts, Order Total, and New Accounts. These reports give valuable insights into customer behavior and preferences.
Each report can be customized according to business needs. For example, reports can be filtered by time periods, order status, and more to get specific data.
These reports on Magento are beneficial in understanding customer trends and help in making informed marketing and sales decisions.
Managing Magento 2 Reports
To make the most of Magento 2 reports, it is essential to manage them effectively. Here are three steps to manage Sales Reports in Magento 2:
Accessing the Reports: Navigate to the Magento 2 admin panel and click on the 'Reports' menu to access the available reports.

Applying Filters: Use the filters provided to customize the data based on specific criteria such as date range, order status, and customer group.

Exporting the Data: Export the report data in CSV or Excel XML format for further analysis or sharing with your team.
By following these steps, you can efficiently manage your Magento 2 reports and derive actionable insights from the data.
Why Should I Use Magento 2 Reports?
The ability to analyze your store's performance using Magento 2 reports is vital for making informed, data-driven decisions that can drive the success of your eCommerce business. By leveraging the insights gained from these reports, you can:
Identify trends and patterns in sales, customer behavior, and website traffic
Evaluate the effectiveness of your marketing strategies and make necessary adjustments
Optimize product offerings, inventory management, and pricing strategies
Improve overall customer satisfaction and user experience on your website
By effectively managing and analyzing these reports, businesses can optimize their operations and drive success in the competitive eCommerce landscape.
FAQs: Magento 2 Reports
1. What is Magento Advanced Reporting?
Magento Advanced Reporting is a powerful feature in Magento Reports module that provides dynamic view of sales, orders tax invoiced, shipping refunds, and coupons. It helps you monitor your store's performance over a week, month, and custom date ranges.
2. How do I create Custom Sales Reports in Magento 2?
Custom Sales Reports are created in Magento 2 through the 'Reports' section on the dashboard. With it, you can monitor specific products, customers, and even calculate the average order according to your specific needs.
3. What is the role of the 'Advanced Reports Extension' in Magento 2 for generating Sales Reports?
The Advanced Reports Extension in Magento 2 enables detailed and sophisticated sales reports. It aids in creating specific reports like customer group sales efficiently.
4. How are Reports for PayPal managed in Magento?
Magento offers a special feature where Reports for PayPal are handled. This provides a detailed analysis of PayPal transactions which helps in managing finances and business strategies.
5. How does the Magento dashboard help in understanding Customer Group Sales?
The Magento Dashboard offers a comprehensive overview of customer group sales. It shows the range of products in carts, completes an appraisal of user trends and helps devise effective sales strategies.
6. How does Magento reports help in understanding Products Customers' preferences?
The insightful Magento Reports demonstrate how products are performing, which group of customers are most interested in them. This way, you gain insight into customer behavior that can lead to optimizing the average order.
Summary
In this article, we covered the different types of Magento 2 Reports: Marketing, Review, Sales, Customer, Product, Business Intelligence, and Customer Engagement.
Using these reports can provide valuable insights into your eCommerce business, drive smarter decisions, and enhance your store's performance. More success is within reach when paired with reliable Magento hosting for high performance. We hope this knowledge will help you run your online store more effectively.