Opencart vs. Magento: Which Ecommerce is Right for You?
Starting an online store can be exciting. But you need to pick the right eCommerce platform to be successful. Magento vs. OpenCart are two popular choices, and this guide will help you understand which one is better for your needs. Both Magento and OpenCart have things they do well and things they don't. So it's essential to know how they work for different businesses.
We'll examine their user interface, features, support, and hosting costs. We'll check the SEO features, security, and more. You'll also see how managed Magento hosting services can help you.
By the end, you'll know which suits your online store. Let's get started with Opencart vs. Magento.
Similarities between Magento and OpenCart
Magento and OpenCart are different but have some things in common. It's what makes them popular in online stores. Here are a few:
1. Open-source
Magento and OpenCart are both open-source ecommerce platforms. You can change their code to make them work just how you want for your business needs. This is great because you can make your store unique and control all its features.
2. Support for Multiple Languages and Currencies
A good online store can work with customers from all over the world. Magento and OpenCart can handle many languages. It lets you configure currencies for your store. You can easily sell your products and services to people in different countries.
3. Extensions and Add-ons
You can add extra features to Magento and OpenCart using extensions from their marketplaces.
These plugins can help with things like searching your store. It enhances working with other services and offers more ways to analyze your sales. You can customize and grow your store as required with so many options.
User Interface and Ease of Use
Picking an eCommerce platform means looking at how easy it is to use. You have to examine the admin panel and usability. It will give you an idea of how much technical knowledge you need.
1. Admin Panels of Magento Store and Opencart
Magento's admin panel has lots of features and options. It can be a little hard for beginners, but experienced magento users can greatly customize their store. It takes time to learn but gives you more control.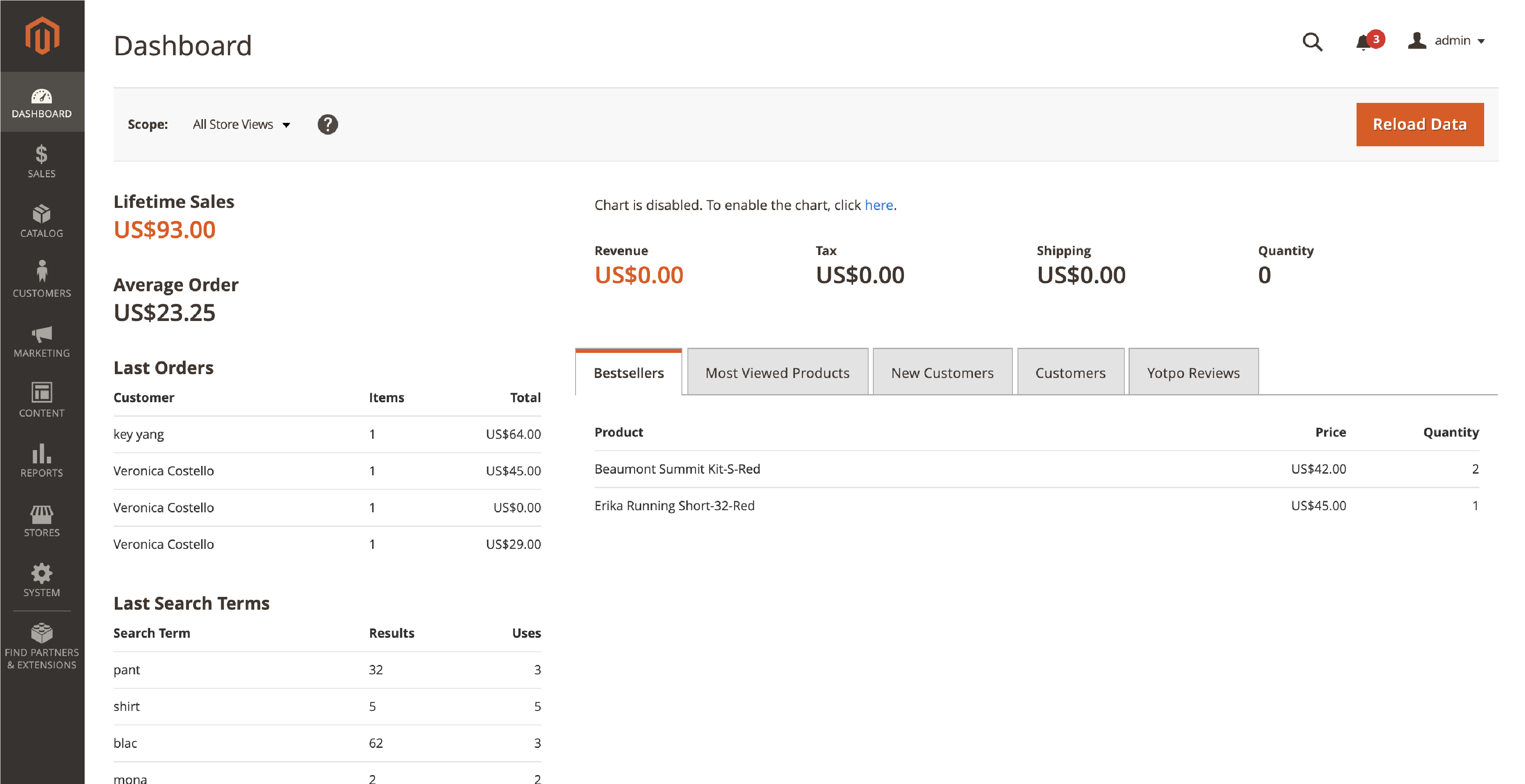 Magento 2 admin panel has a clean and easy-to-use interface with all functions right in one place.
OpenCart's admin panel is simpler and easier to use. It has a clean layout, and even beginners can manage their store without knowing much about technology. OpenCart is better for store owners who want an easy and simple admin experience.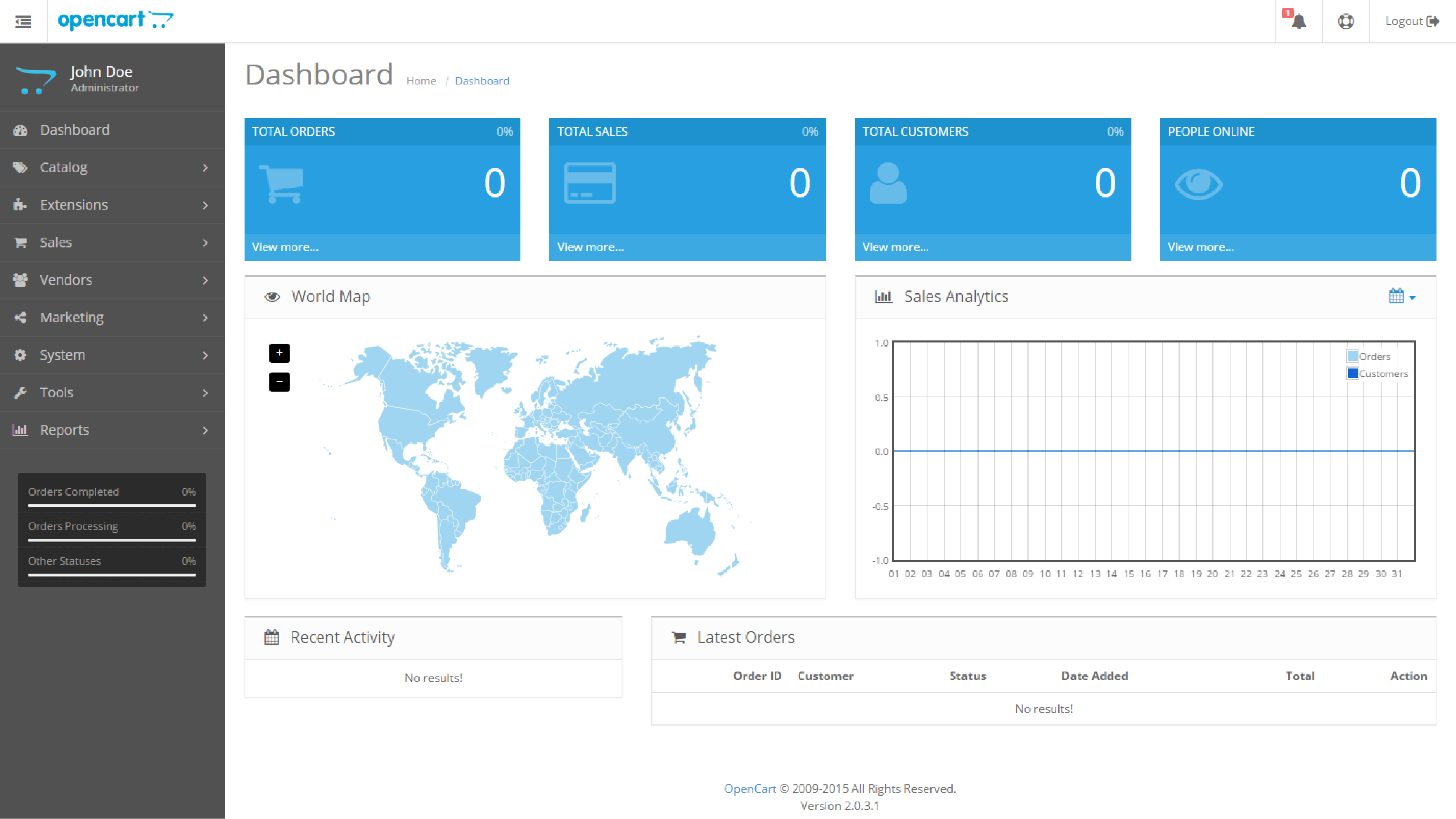 2. Required Technical Knowledge
Magento requires more technical knowledge to use well. You need to know about web development, coding, and Magento server management.
Magento lets you customize and grow your store. b ut it can be challenging for people without technical skills.
OpenCart is more user-friendly and works well for people with less technical knowledge. It's easier to set up and manage an OpenCart store.
OpenCart suits small businesses and people who want a simple eCommerce platform. It will not be helpful if you're looking to create a customized, feature-rich e-commerce store.
Features and Functionality of Ecommerce Platforms
We'll look at what Magento and OpenCart offer and compare their extensions, plugins, and customization abilities.
1. Features Comparison
Comparison of Available Extensions and Plugins
Magento has 5000+ extensions and plugins to add features to your store. It has both free and premium options in the Magento marketplace. You can make your store work just how you want it with thousands of options.
Magento presents more than 350 built-in features by default. The add-ons from the Magento marketplace are easy to install and set up at the Magento backend. Learn about the top 6 Magento Security extensions to protect your ecommerce store.
OpenCart has fewer extensions and plugins than Magento. But it still has enough for a primary online store. OpenCart's options are suitable for small to medium-sized businesses.
Magento vs OpenCart Features
| Feature | Magento | OpenCart |
| --- | --- | --- |
| Product Management | Advanced product management and inventory control | Basic product management with essential options |
| SEO | Extensive SEO features and extensions | Basic SEO features and plugins |
| Multi-Store Management | Supports multiple stores and websites from one Magento backend. | Limited multi-store management. |
| Payment Gateways | Supports a wide range of Magento 2 payment gateways | Supports common payment gateways |
| Shipping Methods | Comprehensive shipping options and integrations. | Standard shipping options and extensions. |
| Customization and Extensibility | Highly customizable with a large number of Magento extensions. | Moderate customization options with fewer extensions |
| Performance and Scalability | High-performance and scalable for large businesses | Better suited for small and medium-sized businesses |
| Security | Robust security features and frequent updates | Basic security features |
2. Customization
Magento lets you extensively customize your store with powerful tools and options. You can create unique features, change existing ones, and design particular themes. Magento is great for businesses that need specific things or a unique design.
Customize the store with 3rd-party Magento themes and add-ons. With some coding skills, you can change Magento's open-source code.
OpenCart is more accessible to customize than Magento but has fewer options. OpenCart is suitable for simple stores but might not work for businesses with more complex needs.
Support and Developer Communities
Choosing an eCommerce platform means looking at how much help and support is available. Both Magento and OpenCart have different ways to help you with your online store.
Magento's Support System
Magento has tens of thousands of people working to make it better. They have forums, user guides, and helpful resources to help you with problems. If you need more help, you can hire Magento experts.
OpenCart's Support System
OpenCart also has a community to help you with questions and issues. They have forums, user guides, and video tutorials to teach you about the platform. OpenCart's community is much smaller than Magento's, but you can still find experts to help you if needed.
Importance of a Strong Developer Community
A good community is essential for an eCommerce platform. It keeps the platform updated and safe. It also adds new features and improvements over time. A strong community can support you when you need help with your online store.
Hiring Magento Commerce Developers
Magento developers are wanted because they know a lot about the platform. They can help you set up your store, add Magento extensions, and make it suitable for your needs. Hiring a Magento developer might be a good idea if you want to grow your business.
In conclusion, both Magento and OpenCart have support systems and communities. The Magento community is more active, but OpenCart's community can still help you.
Security and Data Protection
Keeping your online store safe is crucial for protecting your customers' information. Magento and OpenCart focus on security but have different ways of handling updates and patches.
Security Patches and Updates for the Ecommerce Platform
Magento Security:
Magento often releases security patches and updates to keep the platform safe. You should use these patches immediately to protect your store from threats.
Magento also has a Security Scan Tool that helps you find and fix problems to keep your store safe.
OpenCart Security:
OpenCart also has security updates, which might not come as often as Magento's. You must keep your OpenCart store updated and use security patches when needed. It's essential to know about OpenCart updates to keep your store safe.
Best Practices for Ensuring Data Security
Here are some good things to do to keep your Magento or OpenCart store safe:
1. Keep your platform updated Always use the latest security patches and updates to stop problems. Learn how to upgrade to Magento 2 latest version.
2. Use strong passwords Make unique, hard-to-guess passwords for your admin accounts to keep people out.
3. Use SSL Encryption Secure Sockets Layer (SSL) encryption keeps data safe when sent. Ensure your store uses SSL for all pages, especially during checkout and log-in.
4. Limit admin access Only let trusted people use your store's backend, and use two-factor authentication for extra security.
5. Backup your data often Make regular backups of your store's data to recover from any security problems or loss.
SEO and Search Engine Friendliness
A store that searches engines like is essential for attracting more people to visit and buy things. Magento and OpenCart both help with this, but they do it differently. Let's look at their SEO features and tips for making your store better for search engines.
SEO Features for Both Platforms
Magento has strong SEO features built-in. It helps with URLs, meta tags, and image optimization. Magento also has extra tools you can add to make your store even better for search engines.
OpenCart SEO:
OpenCart also has basic SEO features, like URLs and meta tags. It might not be as good as Magento's features, but you can add other tools to make OpenCart better for search engines.
Tips for Making Stores Better for Search Engines
Here are some tips for making your Magento or OpenCart store easier to find on search engines:
1. Use target keywords Put essential keywords in your product titles, descriptions, and meta tags.
2. Make your images better. Give your pictures good names and alt tags, and make them smaller so pages load faster.
3. Write unique content Ensure your product descriptions and other content differ so search engines like your store more.
4. Organize your online store Use categories and subcategories to make finding things easier for search engines and people.
5. Use good URLs Make your URLs clear and use important keywords. Add canonical URLs to avoid dublicate pages and content.
6. Get good websites to link to you. Make exciting content and talk to other people in your industry so they link to your store.
Hosting Solutions: MGT Commerce Managed Magento Hosting Services
Picking the right place for Magento hosting is essential to running your store. It shows how well your store works, how safe it is, and how it can grow. If you pick Magento for your store, you might want to use MGT Commerce's managed Magento hosting.
Benefits of Managed Magento Hosting
Managed Magento hosting is better than regular hosting because of the following benefits:
1. Optimal performance Managed Magento hosting ensures the servers work well with Magento, making your store faster. MGT Commerce offers Magento page loading time of under 0.3 seconds.
2. Server security Managed hosting providers make your store safer with server-side updates, patches, and watching for threats.
3. You get 24/7 expert help Managed hosting gives you a team of Magento experts to help you with problems and save time.
4. Your data is backed up The store's data is backed up hourly, so you don't lose anything important.
5. It scales with your business Managed hosting providers can give your store more resources as your business grows.
Magento hosting offers AutoScaling plans for larger stores. It adjusts resources automatically, giving your customers an exceptional shopping experience.
👉 Find out all the benefits of managed Magento hosting for your business.
Which Platform is Best for Your Business?
Now that you better understand Magento and OpenCart, you may wonder which platform is best for your business.
This section will guide you through choosing between Magento and OpenCart. It will ultimately be based on your unique business needs.
Evaluating the Needs of Your Business
It is crucial to assess your business's requirements. Consider the following factors:
1. Budget
Determine your budget for your eCommerce store's initial setup. It includes ongoing maintenance and hosting costs.
OpenCart is generally more budget-friendly. Magento Open Source will require an external hosting provider, but it can be cost-effective. Adobe Commerce Cloud offers more advanced features at a higher price.
2. Technical expertise
Assess the technical skills of your team. OpenCart's more simple interface and lower learning curve. Having limited technical expertise or a small group may be better.
On the other hand, your team may be proficient in web development. If you're willing to hire Magento developers, you can use Magento's advanced customization capabilities.
3. Customization and features
Identify the features and level of customization you need for your store.
Magento offers more built-in features and a larger extension marketplace. It can be essential for businesses looking for extensive customization options. OpenCart, while more limited in features. It is suitable for smaller companies with less complex needs.
4. Scaling Options
Consider your plans for growth and the scalability of each platform.
Magento is designed to handle large-scale eCommerce stores with high traffic volumes. OpenCart is more suitable for small to medium-sized businesses with lower traffic.
Deciding between Magento and OpenCart
Choose Magento if:
You require advanced customization and a wide range of features.

You have the budget for a more expensive platform. It includes the cost of hiring Magento developers if needed.

Your team has the technical expertise. You can effectively manage a more complex platform.

You plan to scale your business and need a platform to handle high traffic volumes.
Choose OpenCart if:
You have a limited budget and require a more cost-effective ecommerce solution.

Your team has limited technical expertise. Or you prefer a simpler user interface.

You don't need extensive custom or advanced features.

The business is small to medium-sized. It doesn't require a highly scalable platform.
Summary
Magento and OpenCart offer unique advantages for businesses building a successful eCommerce store.
You decide between these powerful platforms by carefully evaluating your business goals and resources. Remember that selecting the right eCommerce platform ensures your online store's success and growth.
If you decide that Magento is the best fit for your business, consider the benefits of managed Magento hosting services.
By choosing a reliable hosting partner, you can focus on the essential aspects of your business. You'll be assured that your eCommerce store is in good hands.
Ready to take your Magento store to the next level? Learn more about managed Magento hosting and discover how they can help your business thrive. Explore the Magento hosting plans today.