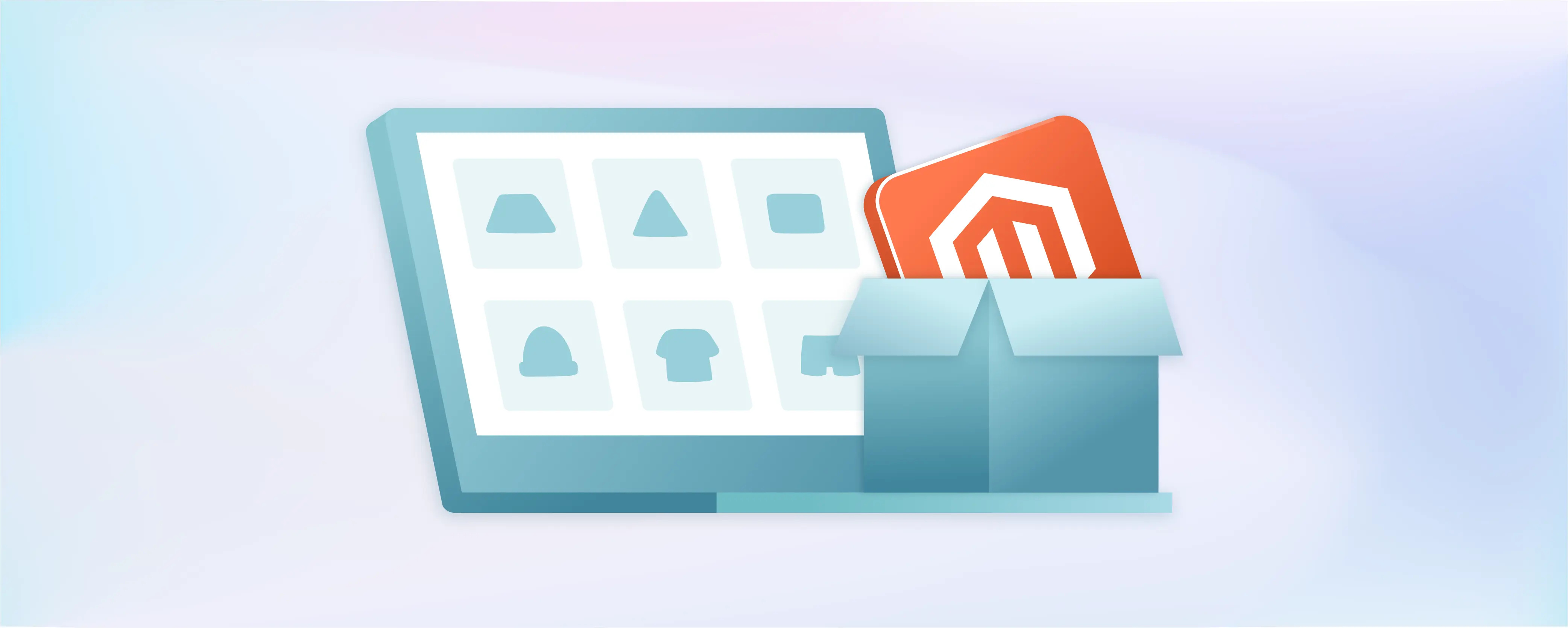 Magento Community Edition Review: Features and Benefits
Magento Community Edition is an ecommerce platform enabling ecommerce businesses to create online stores. It serves as a popular ecommerce software for SMBs and enterprise clients. In 2022, studies identified over 140,000 live sites using Magento Community. The blog offers a detailed review of this open-source platform, covering its features, user feedback, and more. It will help you determine whether Magento Community Edition is the right choice for your business.
Key Takeaways
Discover Magento Community Edition and its many features for your online store.

Explore Magento Community Edition's high-performance capabilities for businesses with large product catalogs.

Learn how to utilize the available community support to navigate ecommerce challenges.

Understand from user reviews the flexibility and functionality of Magento Community Edition.
Overview of Magento Community Edition
Magento offers three primary editions tailored to the needs of e-commerce businesses. Paid Magento editions, Adobe Commerce, and Commerce Cloud serve larger enterprises.
Magento Open Source (formerly known as Magento Community) is a free and open-source platform edition. This particular version is well-suited for small to medium-sized B2C retailers who aim to expand their online presence.
Magento Open Source operates on PHP-based e-commerce software under the Open Software License 3.0. It offers flexibility by allowing you to incorporate core files and extend its functionality using plugins created by other developers. In 2017, Permira rebranded it as Magento Open Source.
What is Magento Open Source?
Magento is an open-source e-commerce content management solution initially developed by Varien Inc. and backed by Adobe.
There are two primary versions of Magento:
Magento Open Source version, formerly Community Edition
Adobe Commerce Edition (formerly called Magento Enterprise Edition.)
The Magento Open Source is a free version with frequent upgrades from the Magento Community. Being open-source, users can modify the code to suit their specific needs. It offers mobile-accessible sites, SEO optimization, and targeted promotions. It even provides various themes, layouts, and shipping management, among other features.
Note- While the software is free, you may incur the costs of hosting, set up, and development based on your needs
Magento Community Edition Review
1. Ease Of Use
The Magento open-source Admin dashboard is designed to enhance daily operations, making them more straightforward and user-friendly. It presents all the essential admin functions through a simple interface. It also equips users with a valuable Business Overview, further enhancing their decision-making capabilities.
The menus, placed in the sidebar, ensure easy navigation. This layout makes it simple to access sales reports and real-time analytics, allowing users to view order details precisely.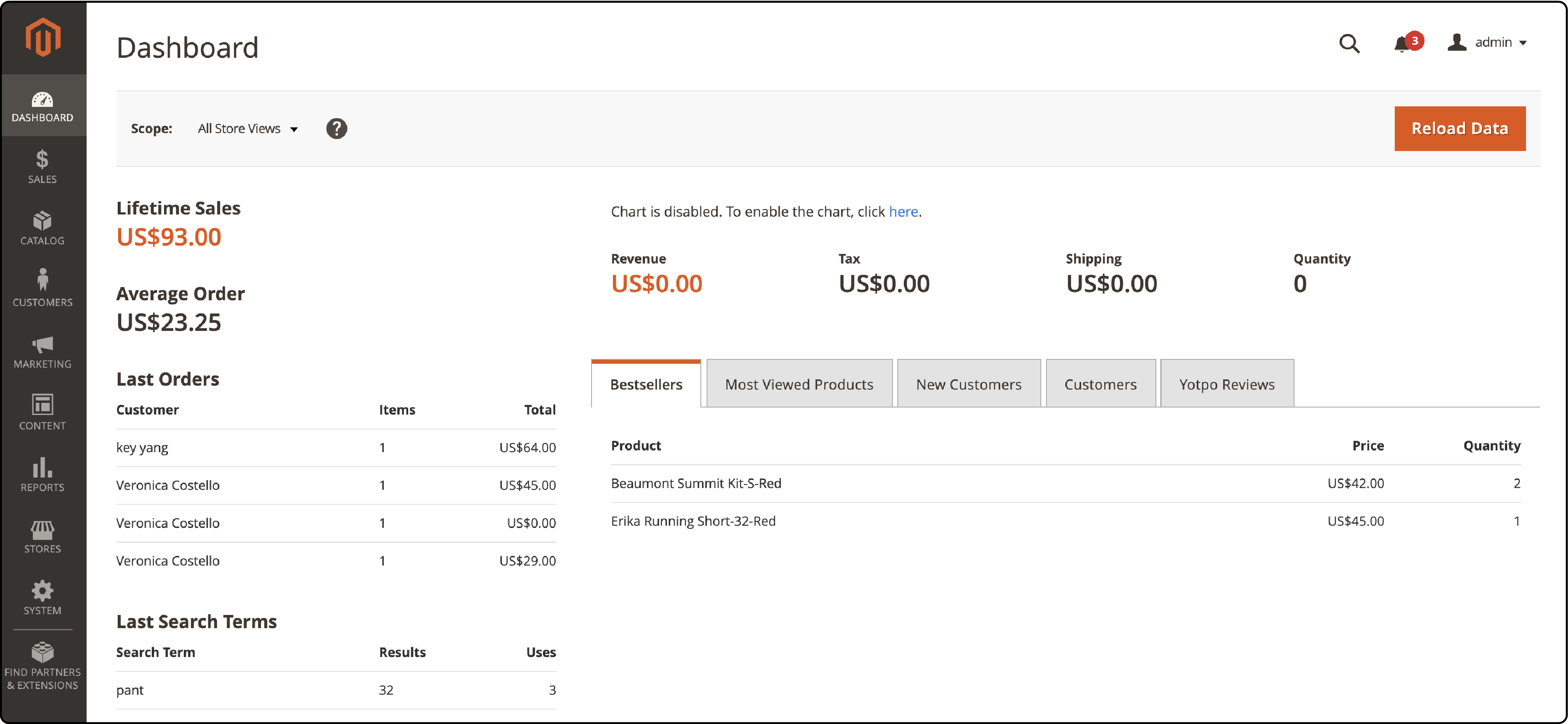 2. Security Features
Magento's open-source platform ensures security through essential features to safeguard your online store. Here's an overview of its key security measures:
1. Payment Security
PCI Certification: Magento boasts a Level 1 Solution Provider PCI certification. This certification guarantees the implementation of robust payment security standards.

Secure Data Transfer: Credit card data is transferred securely to the payment gateway, bypassing the Magento system entirely. This extra layer of security ensures the protection of sensitive information.

Chargeback Protection: Magento allows you to integrate extensions like Signifyd. These extensions effectively shield against chargebacks, further enhancing your payment security.
2. System Security
Password Encryption: Magento employs password encryption keys, utilizing the Advanced Encryption Standard (AES-256) algorithm for data encryption. It ensures that sensitive information is well-protected.

Data Hashing: The Secure Hash Algorithm (SHA-256) is employed to enhance data protection. This hashing method adds an extra layer of security, making it difficult for unauthorized individuals to access and misuse your data.

Two-Factor Authentication (2FA): Magento offers Two-Factor Authentication (2FA) as an added security measure for your admin panel. It helps prevent unauthorized access by requiring users to provide a second verification form, such as a code from their mobile device. It can also deter fake login attempts through ReCAPTCHA, enhancing overall security.

Session Management: Session management features include validating session variables ensuring that user sessions remain secure throughout their interactions with your online store.

Security Scan Tool: Magento provides a useful Security Scan tool, allowing you to monitor your store's security proactively. This tool informs you about the latest system threats, helping you avoid potential security issues. You can also subscribe to their mailing list to receive prompt alerts regarding security concerns.

Security Patches: Magento Community Edition regularly releases security patches. These patches are essential for maintaining data integrity and updating your online store with the latest security enhancements.
3. Popular features and capabilities
Below are a few impressive Community edition features. You can find more details in the Magento General Feature List.
1. Website Management
Centralized admin area for multiple stores.
Integrated content management system.
Google Optimizer integration.
2. SEO
SEO-friendly URLs.
Google Content API for shopping.
3. Analytics & Reporting
Google Analytics integration.
Sales and tax reports.
Product reviews and tag reports.
4. Catalog Management
Support for various product types.
Advanced pricing rules.
Media Manager for images.
Batch catalog import/export.
5. Product Browsing
Elasticsearch for improved search.
Wishlist and related products.
Multiple images per product.
6. Checkout & Shipping
Guest and account-based checkout.
SSL security support.
Multiple payment options.
Real-time shipping rates.
7. Marketing & Promotions
Newsletter and poll management.
Catalog pricing and coupons.
Multi-tier pricing and upsells.
8. Order Management
Admin order management.
Invoices and packing slip printing.
Email notifications of orders.
9. Customer Service & Accounts
Customer accounts with order history.
'Contact Us' form and password reset.
Wishlist and newsletter subscription.
10. Catalog Browsing
Static Block for category pages.
Configurable search and filtering.
11. International Support
Support for multiple currencies and accented characters.
Shipping and billing address options.
12. Mobile Commerce
4. Third-Party Plugins
Magento Community Edition provides a strong foundation for your online store. You can explore over 3,700 plugins on the Magento Marketplace. These plugins encompass various aspects of your store, such as accounting, marketing, and themes. Before integrating any plugins, ensuring they are compatible with your specific edition of Magento is important. Note: Consider the reputation and support the plugin provides to make informed decisions for your online store.
5. Scaling
Magento 2 has a layered framework with a specific focus on optimization for scaling. Magento Community Edition, built on the same architecture, incorporates these four tiers to enable scalable operations. They are:
1. Client Tier
Code compression and effective browser caching mechanisms.

Asynchronous processing during the checkout process. It means that various tasks related to the checkout process can occur simultaneously, improving the efficiency of the process.
2. Page Cache
Effective server-side page caching to store page content. It leads to significantly faster response times for users.
3. Application Tier
Integration of asynchronous order updates for improved system responsiveness.
Enhanced handling of product updates to boost system efficiency.
4. Database Tiers
Implement separate master databases for checkout and product data. This segregation optimizes database performance.
This approach allows for independent scaling of different aspects of your online store. With Magento Community Edition, you can accommodate a vast product catalog and efficiently process more orders per hour.
6. Templates & Web Design
Magento Community Edition offers a diverse selection of themes for your online store. One notable theme is the default Luma theme, known for its simplicity and sophistication.
It provides both free and paid template options available in the marketplace. Numerous third-party providers, like ThemeForest, offer a variety of themes to choose from.
You can personalize these themes to create unique, visually appealing Magento storefronts that resonate with your target audience.
7. Support
There is no technical support for the Magento Community edition. If you require assistance, you must seek help from an external support team specializing in Magento. However, an active community of members & resources are available:
Magento DevBlog: Source for updates and insights into the platform.

Best Practices Guides: Offering tips and recommendations for optimizing your Magento experience.

Community Forums: Online forums where you can connect with other Magento users, ask questions, and share knowledge.

User Guides: Detailed guides to help you navigate and make the most of Magento's features.

Resource Center: Resources, marketing tools, and materials to aid your journey with Magento.

Tutorials and Blogs: Educational content created by experienced users and experts to guide you through various aspects of Magento.
8. Price and cost considerations
Magento Open Source is free to download and use without license fees. However, it's important to consider additional expenses. These may include expenditures for hosting, obtaining a domain name, and securing an SSL certificate for your online store. Hiring developers or seeking help from Magento partners may incur additional costs if you need extra support.
Pros and Cons of Magento Community Edition
1. Pros of Magento Community Edition
1. Scaling and Performance
Magento Community's scaling options suit enterprises with expanding product catalogs. It means it can efficiently accommodate the growth of your online business.
2. Flexible Customization
The platform is built on PHP technology, which allows users to incorporate extensions to enhance its functionality easily. This flexibility ensures you can tailor your online store to meet your needs.
3. Community Support:
Magento boasts a strong community of users and developers. Regular updates and contributions from this community ensure your online store stays optimized for high performance. You can rely on this collective expertise to keep your e-commerce platform running smoothly.
4. Suitable for Businesses of All Sizes
It offers increased scaling and performance to help large and small businesses meet their goals. It's a versatile platform that caters to businesses of varying sizes.
5. Diverse Payment Gateway Options
Magento Community Edition offers a wide range of payment gateways to accommodate the diverse preferences of your customers. You can provide convenient payment options like PayPal and Braintree to enhance the shopping experience for your online customers.
6. SEO-Friendly
Magento Community Edition is designed with search engine optimization to help improve the visibility of your online store on search engines. This feature ensures that potential customers can easily find your products or services when searching online.
7. Multichannel Capabilities
It allows you to manage multiple sales channels. This functionality makes expanding your online presence and reaching a broader audience easier.
2. Cons of Magento Community Edition:
1. Complexity and Resource Intensive
Magento's complexity and steep learning curve can be daunting for new users. Understanding and utilizing it effectively might require an initial investment in terms of time and effort.
2. Technical Expertise Required
Magento often requires coding skills to harness its full potential. It is better suited for experienced developers who are familiar with web development.
3. Limited In-House Support
Businesses typically have to rely on external developers for customizations and troubleshooting. It's important to be prepared for this reliance on external expertise when using Magento Community Edition.
User Reviews and Ratings of Magento Community Edition
TrustRadius ratings and feedback
TrustRadius is a reputable platform renowned for collecting user reviews. On this platform, there are numerous comments provided by actual users regarding their experiences with the Magento Community Edition. These reviews offer impartial insights into utilizing Magento Community Edition.
| Name | Rating (out of 10) | Feedback |
| --- | --- | --- |
| Jay Moore | 9 | "Great open source commerce platform" |
| Kim Murphy | 7 | "Use Magento Open Source If You Are A Medium-Sized Business Who Wants A Simple And Affordable Website" |
| Chris Putnam | 8 | "Magento is a Heavy Hitter; Make Sure You Can Carry It" |
| Brendon Brown | 3 | "Apparently Open Source means lower publishing standards. Be prepare to hire a software developer." |
These reviews emphasize the functionality of Magento Community Edition. However, they also acknowledge its complexity and the requirement for technical skills to unlock its capabilities.
Comparison with other ecommerce platforms
Several factors come into play when comparing Magento Community Edition with different eCommerce platforms. They are:
| Platform | Cost | Scalability | Ease of Use | Customization Options |
| --- | --- | --- | --- | --- |
| Magento Community Edition | Free, but requires hosting and domain. | Highly scalable with the right hosting solution. | It can be complex for beginners. Offers extensive customization | Extensive - themes, plugins, and coding options available |
| Shopify | Monthly subscription-based pricing | Scalable, but can become expensive at high volumes | User-friendly, with drag and drop interface | Limited- compared to Magento, but still offers a range of apps and themes. |
| WooCommerce | Free, but requires hosting and domain. | Scalable, but performance may degrade with numerous products. | User-friendly for those familiar with WordPress. | Extensive - themes, plugins, and coding options available |
| BigCommerce | Monthly subscription-based pricing | Scalable but can become expensive at high volumes | Easy to use, with a user-friendly interface | Reasonable - offers a range of themes and apps. |
Magento Community Edition stands out for its ease of scaling and customization options. However, it's important to note that it might involve a more challenging learning curve for users.
FAQs
1. What is Magento Community Edition?
Magento Community Edition, often called Magento CE, is a no-cost version of the Magento software. It operates as an open-source project overseen by the Magento Association. This association is responsible for providing bug fixes and enhancements related to security.
2. How does Magento CE compare to Adobe Commerce?
Although part of the same platform, Magento Community Edition (CE) and Adobe Commerce differ in their pricing structures and feature sets. Adobe Commerce is a paid version with functionalities such as secure payment bridges, PCI compliance, and purchase order capabilities.
3. Can my online business benefit from using Magento open-source community edition?
Yes, Magento community edition can be highly advantageous for your online business. It has tools that encompass content management and list-sharing capabilities. It also regularly updates features derived from pull requests.
4. Are there any differences between earlier versions of Magento and the latest version?
Yes, there are differences between earlier versions of Magento and the latest version. The newer versions have more features and functionality. Community members typically contribute these additions as part of the open-source project.
5. Is moving from Adobe Commerce Edition to the Open Source Version of Magento a complex process?
Switching between these platforms is simple. However, it's essential to exercise caution when ensuring data, such as transferring customer information, order history, and CSV files, synchronizes correctly during the transition.
v
6. Is Magento 2 Enterprise Edition the same as the Community Edition?
No, Magento 2 Enterprise Edition is a different version of Magento. While the Community Edition is free, Magento 2 Enterprise Edition is a premium, paid platform version. It offers advanced features and built-in capabilities designed for scaling and enhancing the check-out process.
Summary
Magento Community Edition is a powerful and highly customizable ecommerce platform that offers many advanced features for online store owners. This guide covers the key aspects of Magento Community Edition to help you make the right decision for your business. It also includes insights into its features, pros, and cons.
Ready to start using Magento Community Edition? Explore Magento hosting that cater to your unique ecommerce business.