Magento Community Edition Review
Magento Community Edition is an ecommerce platform that enables you to extend the source code. It is free to use & downloaded more than 2.5 million times.
The platform offers all the core functions to set up an online shop. More than 140,000 live sites are using Magento 2 Community as of 2022.
It serves as a popular ecommerce software for SMBs and enterprise clients.
This article explores the Magento Community edition review.
What is Magento Community Edition?
Magento offers three main editions for ecommerce merchants. Adobe Commerce and Commerce Cloud are the paid Magento editions.
Magento Open Source (formerly known as Magento Community) is the free & open-source edition.
It is PHP-based ecommerce software shared under the Open Software License 3.0. You can add core files and extend its functions with plugins built by other developers.
After the first edition was released in 2008, the platform went through many updates over the decade. It was renamed Magento Open Source in 2017 by its then-owner, Permira.
The free edition supports the same technology stack as the paid editions.
Magento Community Edition Review
1. Ease Of Use
The Magento Admin dashboard is user friendly for daily operations. It offers all the admin functions on a clean and simple interface.
The menus are tucked into the sidebar for easy navigation.
You can see the sales reports and order details with real time analytics.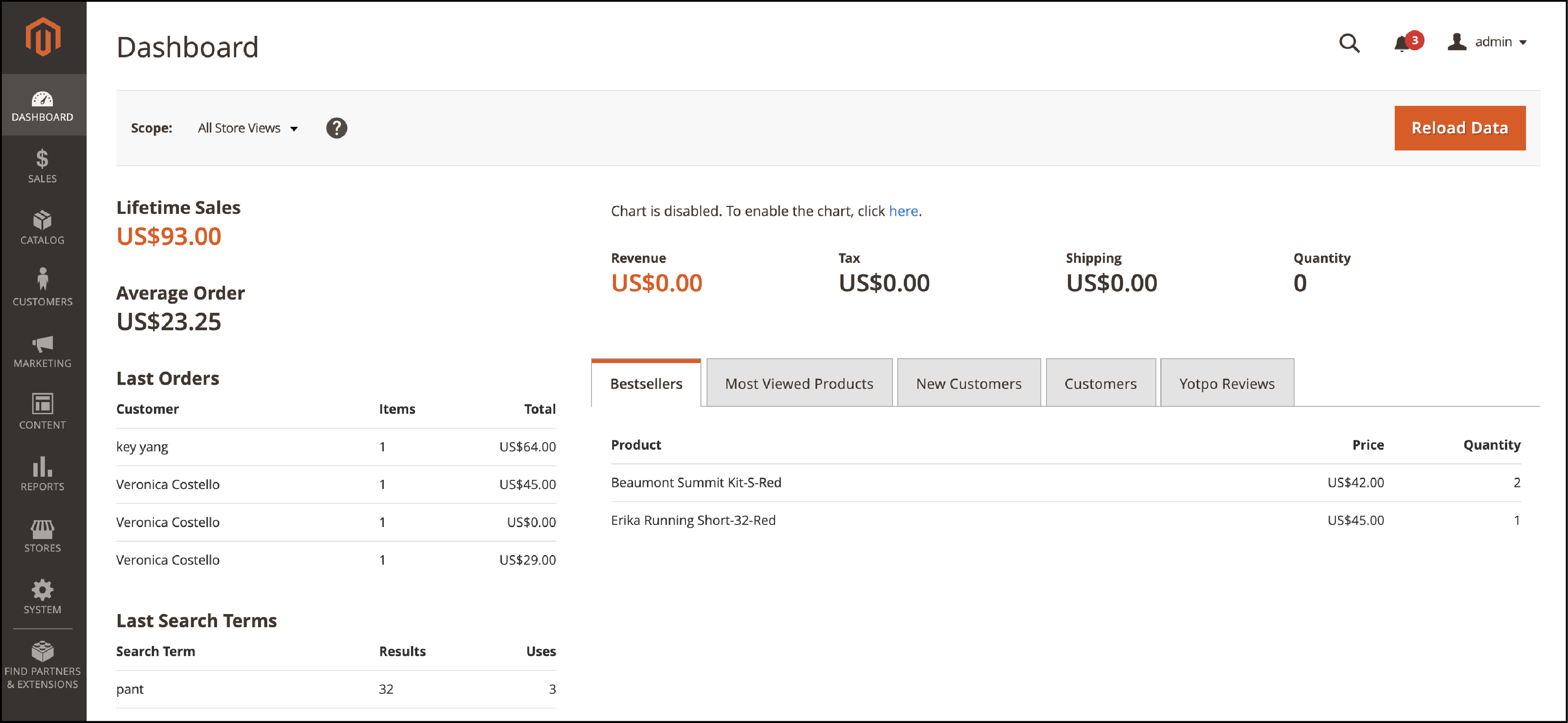 However, the actual setup and customizing are not beginner friendly. It requires some technical skills and know-how.
You have to learn about the Magento system and its requirements.
If you have the requieremnt of a customized shopwe recommend hiring a developer.
2. Magento Security
Payment Security -
Magento is PCI certified as a Level 1 Solution Provider.
You can securely transfer credit card data to the payment gateway. It bypasses the Magento system during transfer.
Get chargeback protection from extensions such as Signifyd.
System Security -
Magento Community edition offers encryption keys for passwords. The Advanced Encryption Standard (AES-256) algorithm is used to encrypt data.
Secure Hash Algorithm (SHA-256) is used to hash data.
You can add 2FA and prevent fake logins with ReCAPTCHA.
Session management prevents attacks on user sessions. You can also validate session variables.
Magento also offers a free Security Scan tool. The Security Alert Registry has the latest news on system threats. You can sign up to their mailing list to get alerts.
Check the guide on Magento Security best practices for your store.
Magento Community edition also offers regular security patches. It is a software release from Magento with the latest updates to fix security issues.
You should apply the security patch as soon as its released. Patches help maintain data integrity and keep your store up to date.
3. Magento Features
The Magento Community edition is packed with hundreds of features. However, these are not promoted well on its download page.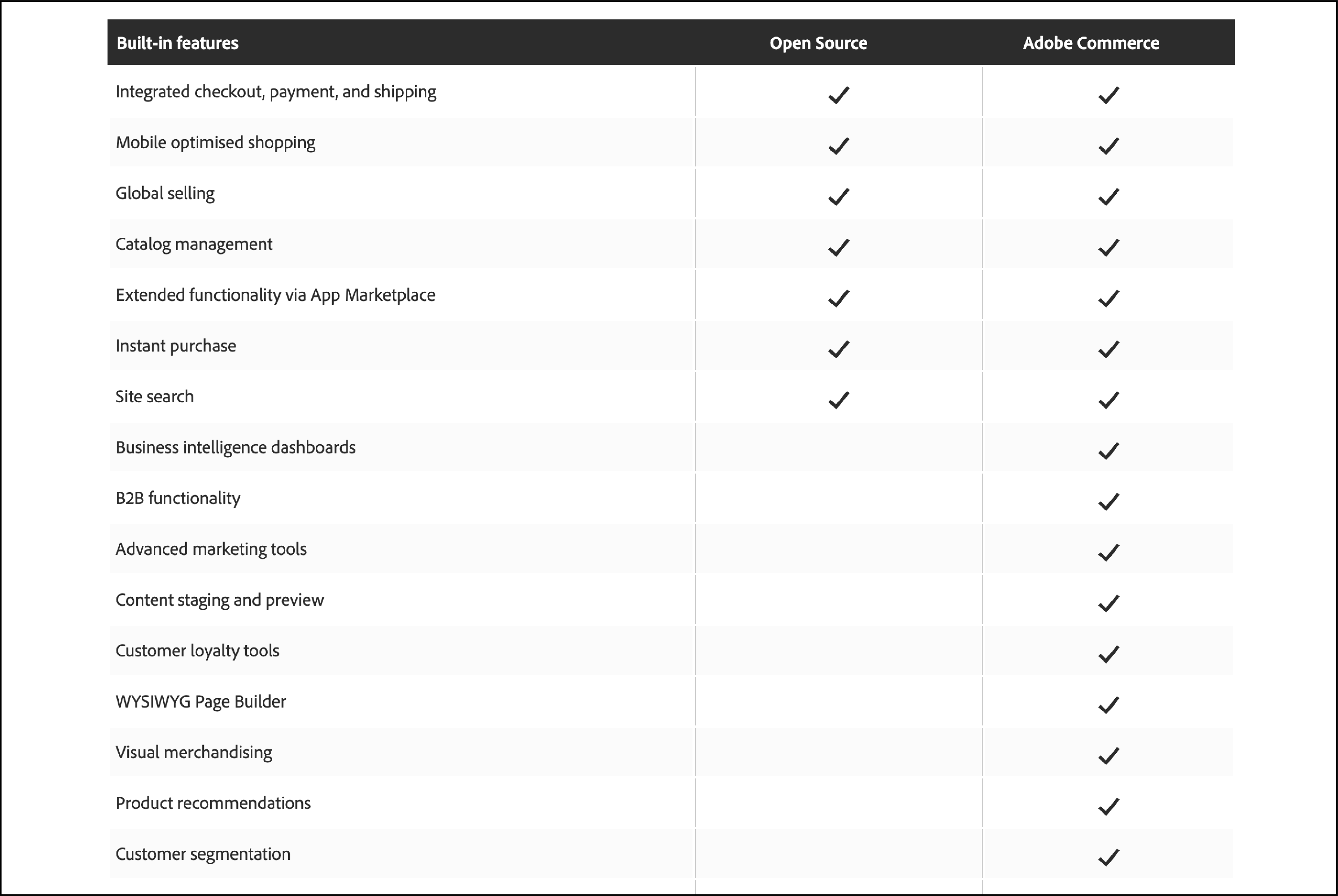 We have listed the most impressive features of the Community edition. You can find more details in the Magento General Feature List.
Track inventory quantities and complete orders.
Product and catalog browsing
Filter products in categories and search results. Add product comparisons, recently viewed items, and more.
Integrated checkout and shipping
One page instant checkout for faster conversions. Add many payment gateways and save shopping carts. It lets you ship to many addresses in the same order.
Create storefronts that are optimized for mobile devices with HTML 5. Get mobile friendly UI with easy swipes, product zoom-ins, and more.
Support for localized sites, multi language & currency support. Convert localized tax such as European Union VAT ID.
Speed the checkout process with instant purchase. Allow one-click payments and save shipping details of customers.
Search engine friendly with Sitemaps and URL rewrites. It also allows product tagging with keywords.
Built-in SEO features to add metadata and image optimizing.
Marketing and promotional tools
Set up related products, upsells & cross-sells. You can create product bundles and add discounts on products.
It also allows newsletters and marketing campaigns.
Magento Community also offers reporting & analytics tools.
Get sales & tax reports on the admin dashboard. You can see the best viewed & best purchased products.
It allows you to add Google analytics to reporting. You can look for search terms, coupon usage, sales, and more.
Some features are not present in the Community edition:
Gift registry
Gifting Options
Reward points
Store credits
Wish lists
Customer segmentation
These small feature limits can be added using third-party plugins.
4. Third-Party Plugins
Magento Community plugins edge over other ecommerce platforms. You get more than 3700+ free and paid plugins from the Magento Marketplace.
You also get hundreds of plugins from third-party sites like Amasty.
The plugins extend to many store functions:
Accounting & Finance
Content Optimizing
Customer Support
Marketing
Payments
Reporting
Sales
Shipping & Fulfillment
Themes
You should research carefully before adding the plugins. Check whether the plugins are compatible with the edition.
5. Scaling
Magento 2.0 version offers a layered framework. It has four tiers that are optimized for scaling.
Magento Community edition works on the same architecture. It uses a model view controller framework. Along with that, you get entity attribute value (EAV) models to store data.
The four tiers include:
Client tier -Use of minifying code and browser cache. Asynchronous processing during the checkout process.

Page cache – Caching page content on the server for faster response times.

The application -Asynchronous order and product updates.

Database tiers -Using different master databases for checkout and product data.
Magento Community edition offers the four tiers to scale separately.
As a result, you can add an extensive catalog and process more orders per hour. Magento Community can handle hundreds of thousands of SKUs.
6. Templates & Web Design
Magento Community edition has a wide range of themes.
The software has a default theme called Luma, which is easy and elegant.
You can get free and paid template options on the marketplace. There are many third-party providers such as ThemeForest.
Because the code is open source, you can customize the themes to build highly creative storefronts for your audience.
7. Support
Technical support is not available for the Magento Community edition. It is a drawback as you'll have to go for an external support team with Magento experts.
Adobe includes in-house support only for its paid customers. However, there is an active community of members & resources available:
Magento DevBlog
Best practices guides
Community Forums
User Guides
Resource Center
Tutorials and blogs
8. Costs
Even though the Community edition price is $ 0, you should know the costs associated with a Magento store.
These include:
Magento hosting
Extensions
Developer costs
Technical support costs
The pricing also depends on your budget and business size. You could have a small business or an enterprise level store.
Overall, the Magento Community edition is excellent value for money. It gives you plenty of built-in features, customizing & scaling.
Pros & Cons of Magento Community Edition
Pros of Magento Community Edition
Cons of Magento Community Edition
Summary
Magento Community edition is one of the best solutions for an open-source ecommerce platform.
Its native features with extensive plugin support add a lot of flexibility.
Magento Community edition is recommended for all business sizes. You can build a successful online store with this software.
To learn more about Magento, check out the MGT-Commerce Blog.